Chelsea Taylor
Time
Monday, January 22, 2018 | 5:05 PM
GNCC Racers Earn Top Honors at the 2017 AMA Championship Banquet
Walker Fowler and Tayla Jones Win Respective Athlete of the Year Awards
MORGANTOWN, W.Va. (January 22, 2018) – The 2017 American Motorcyclist Association (AMA) Championship Banquet took place this past weekend at the Hilton Downtown Columbus in Columbus, Ohio. Many top racers from the AMSOIL Grand National Cross Country Series (GNCC), an AMA National Championship, were in attendance to receive their 2017 AMA National No. 1 plates and compete for the AMA's highest competitive honors.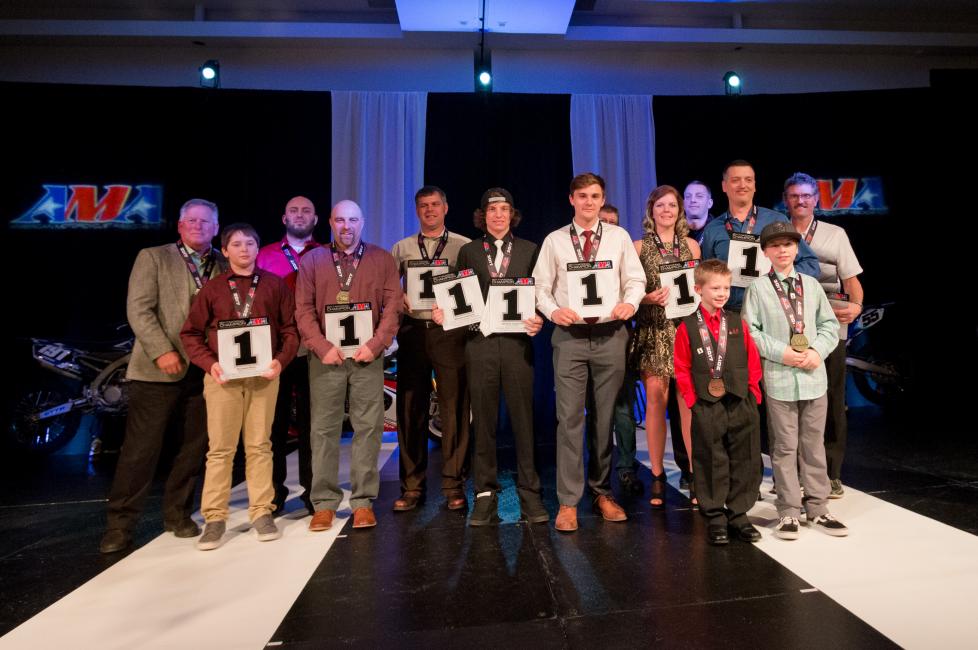 The 2017 GNCC Overall ATV National Champion, Walker Fowler, was selected as the 2017 AMA ATV Athlete of the Year. After a near perfect season, where he won 12 out of 13 rounds, Fowler broke the record for most wins in a single-season out of any discipline. This feat allowed for WFR/Yamaha's Walker Fowler to rise to the top and earn his third-straight GNCC title in a dominate fashion.
"I am excited to once again earn the ATV Athlete of the Year award and represent the GNCC series, and all of my incredible sponsors and supporters," said Fowler. "Thank you to all AMA members that voted for us, we very much appreciate it."
KR4/Husqvarna's Tayla Jones was the recipient of the 2017 AMA Female Racer of the Year Award. This award is designed to identify an outstanding female racer, where Jones was acknowledged for her 2017 GNCC championship, in addition to earning two other titles last season.
"I had a great time at the AMA Championship banquet," said Jones. "It was really cool to see everyone in all the different disciplines be recognized for their achievements. I was nominated for AMA Female Racer of the Year, which in itself was an honor, and to win against some amazingly talented women was incredible. I am extremely happy with how the year went and that just topped it off and made it extra special."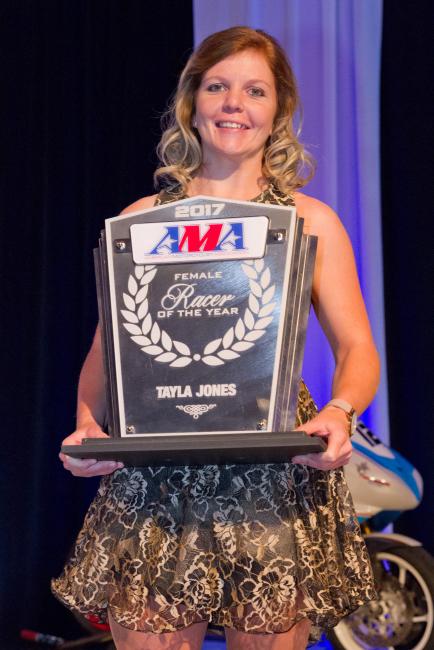 The 2018 AMSOIL GNCC series kicks off February 24 and 25 in Union, South Carolina with the Big Buck GNCC. The series continues along the East Coast before ultimately concluding in Crawfordsville, Indiana with the AMSOIL Ironman GNCC October 27 and 28.
For more information on the GNCC series, visit the official website at www.gnccracing.com or call (304) 284-0084. Join the conversation on the series Facebook page, follow us on Twitter and Instagram, and be sure to always hashtag #GNCC.
About GNCC Racing
The AMSOIL Grand National Cross Country Series is America's premier off-road racing series. Founded in 1975, the 13-round championship is produced exclusively by Racer Productions. Cross-country racing is one of the most physically demanding sports in the world. The grueling three-hour GNCC races lead as many as 2,400 riders through tracks ranging in length from eight to 12 miles. With varied terrain, including hills, woods, mud, dirt, rocks and motocross sections, GNCC events are tests of both survival and speed. The series draws talent from all over the U.S., Central America, South America, Europe, Japan, Australia and New Zealand. GNCC Racing is televised weekly on NBC Sports and RacerTV.com. For more information, please visit www.gnccracing.com.
How to Watch:
Racer TV and NBC Sports Network (NBCSN) are the official homes for coverage of the AMSOIL Grand National Cross Country (GNCC) events. All 13 rounds, from the season opening Big Buck GNCC in South Carolina to the finale at Ironman Raceway in Indiana, will air in 30-minue; taped-delayed telecasts on NBCSN, while Racer TV provides live streaming coverage of the 1 p.m. ATV and motorcycle races from each event, in addition to the six UTV rounds. Catch all the action at http://www.nbcsports.com/ and http://www.racertv.com/.
About the American Motorcyclist Association
Founded in 1924, the AMA is a not-for-profit member-based association whose mission is to promote the motorcycle lifestyle and protect the future of motorcycling. As the world's largest motorcycling rights and event sanctioning organization, the AMA advocates for riders' interests at all levels of government and sanctions thousands of competition and recreational events every year. The AMA also provides money-saving discounts on products and services for its members. Through the AMA Motorcycle Hall of Fame in Pickerington, Ohio, the AMA honors the heroes and heritage of motorcycling. For more information, visit www.americanmotorcyclist.com. Not a member? Join the AMA today: www.americanmotorcyclist.com/membership/join.