Chelsea Taylor
Time
Friday, November 10, 2017 | 2:35 PM
FOR IMMEDIATE RELEASE
Chelsea Taylor
(304) 284-0084
[email protected]
Steward Baylor Clinches 2017 Kenda National Enduro Championship
Baylor Finds Success in both GNCC and NEPG Series
MORGANTOWN, W.Va. (November 10, 2017) – Only three points separated GNCC competitors Steward Baylor Jr. and Thad Duvall heading into the final race of the Kenda AMA National Enduro (NEPG) series this past weekend in Stanton, Alabama. In a winner-take-all-affair, Baylor rose to the occasion taking the Gobbler Getter National Enduro win along with his second National Enduro title.
Baylor, a permanent podium fixture at both the NEPG and AMSOIL Grand National Cross Country (GNCC) series presented by Maxxis, has experienced his most successful year to date. Baylor kicked off his 2017 season with his first-ever career overall victory at the Big Buck GNCC in his home state of South Carolina, and went on to make six more podium appearances on his SRT-backed KTM 350 XC. Baylor also started his quest for the NEPG title with a win, and graduated to produce three other wins where he never finished worse than fourth.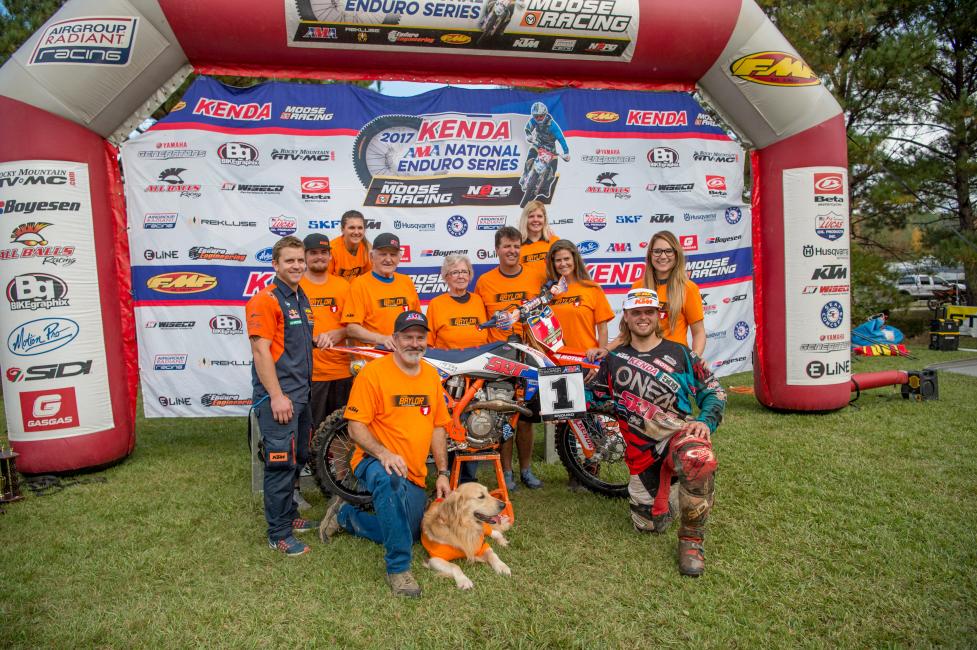 "I'm pumped to finally get another national championship after the last five years with the injuries it was tough to get back on top," said two-time NEGP champion, Baylor. "I'm so thankful for the support of SRT and KTM backing me the whole way even after a few tough years."
With all 13 rounds of the 2017 AMSOIL Grand National Cross Country Series in the history books, the series moves to Morgantown, West Virginia on December 1 and 2 for the season ending award banquets. Baylor will be awarded on Saturday night for fourth overall in America's premier off-road racing series.
For more information on the GNCC series, visit the official website at www.gnccracing.com or call (304) 284-0084. Also follow us on Facebook, Twitter and Instagram for exclusive content and to catch the latest news.
About GNCC Racing:
The AMSOIL Grand National Cross Country Series presented by Maxxis is America's premier off-road racing series. Founded in 1975, the 13-round championship is produced exclusively by Racer Productions. Cross-country racing is one of the most physically demanding sports in the world. The grueling three-hour GNCC races lead as many as 2,400 riders through tracks ranging in length from eight to 12 miles. With varied terrain, including hills, woods, mud, dirt, rocks and motocross sections, GNCC events are tests of both survival and speed. The series draws talent from all over the U.S., Central America, South America, Europe, Japan, Australia and New Zealand. GNCC Racing is televised weekly on NBC Sports and RacerTV.com. For more information, please visit www.gnccracing.com.
About the AMA National Enduro Series:
Enduros are one of the oldest forms of motorcycle competition. Run on a challenging route that includes wooded and desert terrain, more difficult "test" sections are connected with roads, fire roads or easy two-track trail. The Enduros are one of the most thrilling and fulfilling forms of motorsports competition. The discipline's top riders compete in the AMA National Enduro Championship Series. Find out more at www.nationalenduro.com.
About the American Motorcyclist Association:
Founded in 1924, the AMA is a not-for-profit member-based association whose mission is to promote the motorcycle lifestyle and protect the future of motorcycling. As the world's largest motorcycling rights and event sanctioning organization, the AMA advocates for riders' interests at all levels of government and sanctions thousands of competition and recreational events every year. The AMA also provides money-saving discounts on products and services for its members. Through the AMA Motorcycle Hall of Fame in Pickerington, Ohio, the AMA honors the heroes and heritage of motorcycling. For more information, visit www.americanmotorcyclist.com. Not a member? Join the AMA today: www.americanmotorcyclist.com/membership/join.
-RP-