Layne Michael Claims 3rd Overall and the XC2 Victory at Unadilla GNCC
TimeTuesday, September 12, 2017 | 11:25 AM
Layne Michael Claims 3rd Overall and the XC2 Victory at Unadilla GNCC
Craig DeLong Extends his Consistency With a Podium Finish
NEW BERLIN, N.Y. (September 12, 2017) - One week after claiming a podium finish with the USA Junior World Trophy Team at the International Six Days Enduro (ISDE) in France, Coastal Racing/Husqvarna's Layne Michael put forth his most impressive ride of the season at Round 10 of the Grand National Cross Country Series (GNCC). Michael not only captured his second-straight victory in the XC2 250 Pro (16-24) class, but he also finished atop the overall podium in 3rd behind two of the nation's top XC1 Open Pro riders. Additionally, team rider Craig DeLong captured his eighth podium finish of the season in the same class to give the Coastal Racing camp a big presence atop the afternoon podiums.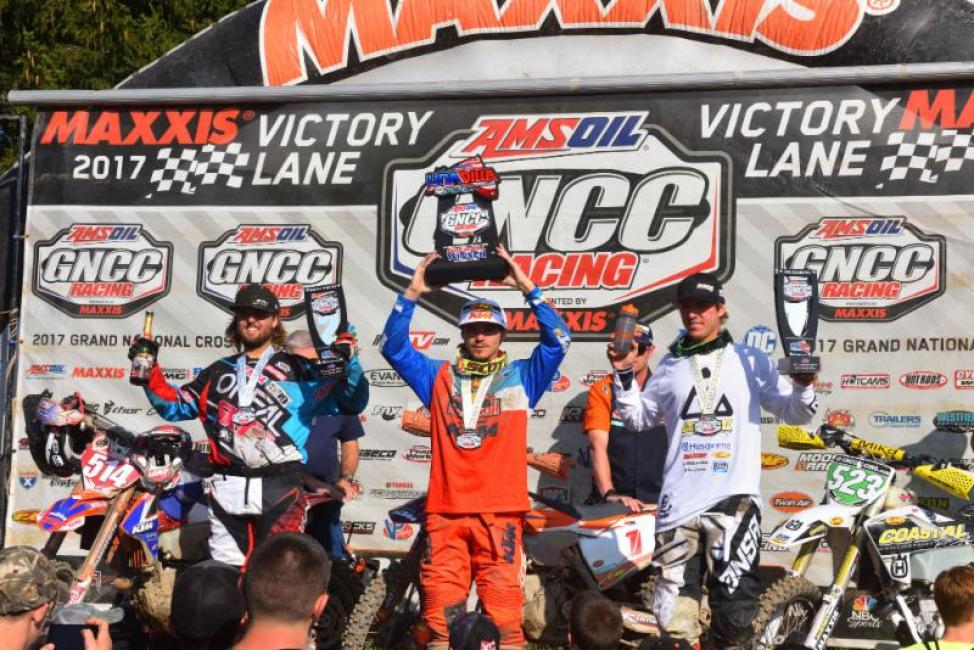 XC2 250 Pro (16-24)
Both Coastal Racing/Husqvarna riders got off to a great start but it was Michael who assumed the early lead after the opening lap and DeLong followed close behind. Michael took advantage of a clear path ahead as he began climbing his way through the XC1 class by lap two. The West Virginia native continued to excel in the overall running until he was sitting in a favorable 3rd place position.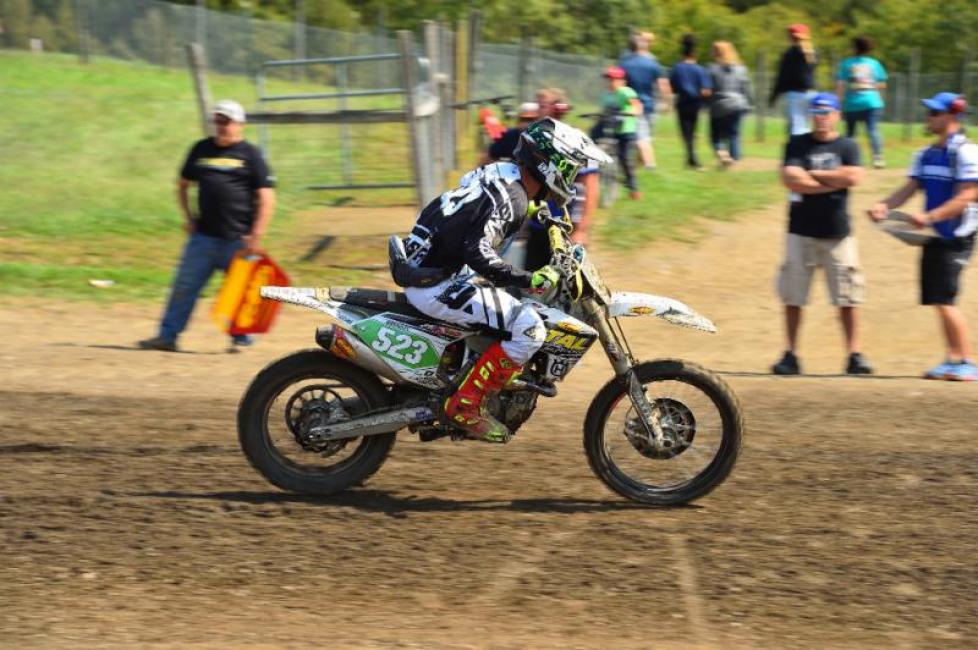 Despite a run-in with a lapped rider that caused him to go down on the final lap, Michael was able to hold strong to capture 3rd overall for the day, where he topped the XC2 250 Pro class by 15 seconds after nearly three hours of racing.
"I got off to a good start, I caught a couple XC1 guys on the second lap and just kept picking them off when I could," Michael said. "I rode with Jordan Ashburn and Trevor Bollinger for a couple laps but with two laps to go I was about spent. Ben Kelley caught and passed me so I knew I had to step it up - I knew the MX track was my advantage so I got around him and tried to sprint from there. I had a good last lap, it was clean and I was able to make good passes on a couple lappers but I ended up clipping one and went down on the last lap. After that I dug deep and hammered down to the finish where I was able to get the win and 3rd overall, which was pretty cool. I don't expect to be up here by any means but it's definitely an honor to finish on the overall podium. The main focus is the class, though - go out and win that and the rest will come."
DeLong maintained a solid 2nd place position in the first two laps, where he eventually dropped back to 3rd by lap three. From there, DeLong rode a consistent pace to maintain his 3rd place position despite the fact that the leaders were nowhere in sight.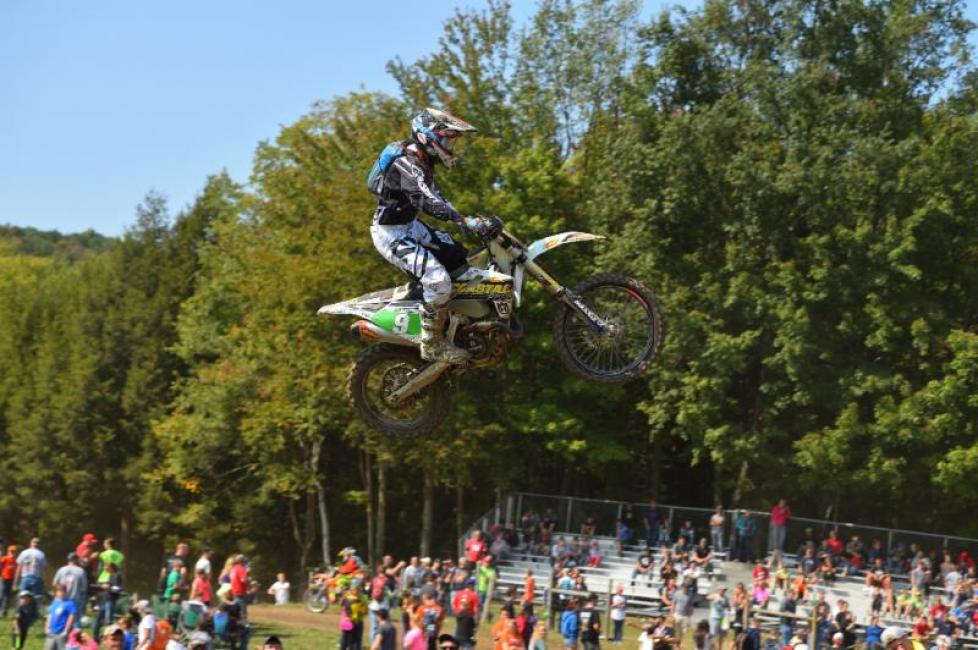 "I got off to a good start and was into 2nd for the first couple laps," DeLong said. "I could see Layne up ahead on the moto track and just tried to stay close to him but I kind of pumped up a little bit and Ben caught and got around me. I was kind of riding by myself and stayed like that all day. I did cut the gap to Ben down from a minute and a half to about 30 seconds but at the end, he pulled it out on me."
With three rounds remaining, Michael now sits 2nd in the championship standings, knocking his teammate, DeLong, nine points back to 3rd place.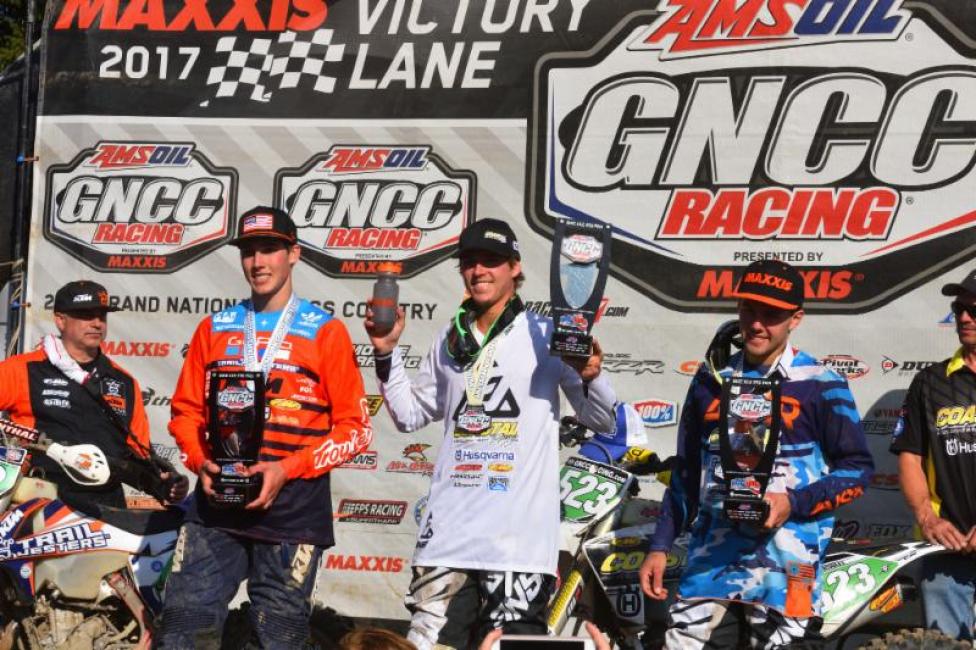 XC1 Open Pro
It was another tough day for Coastal Racing/Husqvarna's Ryan Sipes, who had a great start to the afternoon - putting himself into the lead on lap two. However, Sipes was eventually forced to call it quits after one hour of racing due to a pre-existing arm injury that he sustained while competing for the USA World Trophy Team at the ISDE.
Despite a hard effort to push through the pain, Sipes wasn't able to hold on enough to continue on for the remainder of the grueling three-hour race.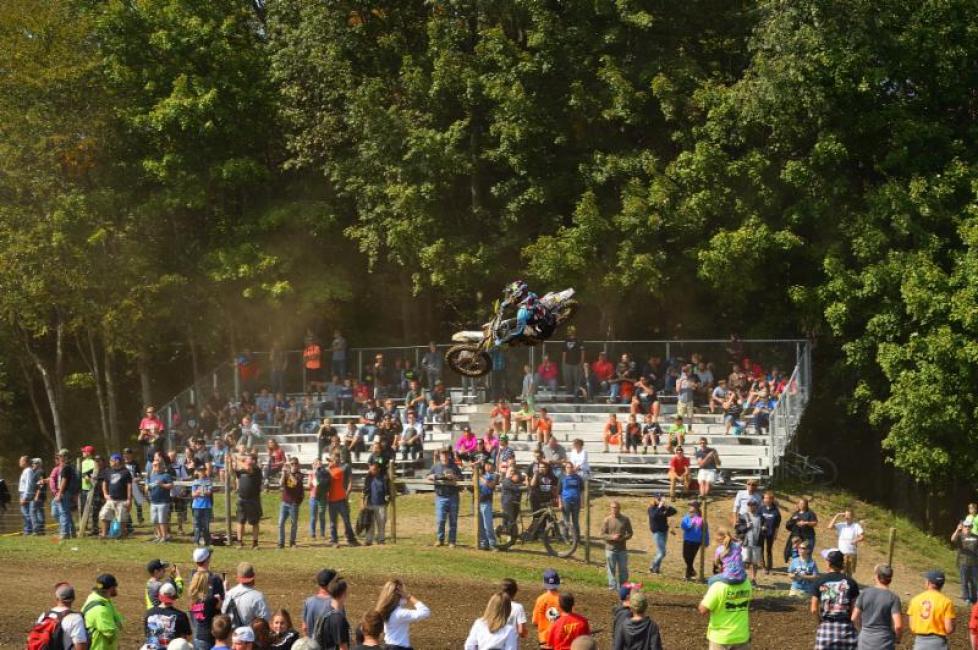 "It's a bummer," Sipes commented. "I was so pumped to get back to GNCC Racing after Six Days and I felt pretty good off the start. I was able to pass my way into 1st but there was a lapper on one of the hills on the second lap and I got hung up and lost the lead but I was still in the battle. My arm flared up on day five of the ISDE so I took the whole week off before Unadilla and as soon as I was out of the lead battle on Sunday it came back again and I couldn't hang on or pull the clutch in. It's not what I wanted to do but if you can't hang on, you can't ride. My arm is super swollen right now so I'm going to go to the doctor and figure out what's going on and how to fix it. I'm really thankful for the support of my sponsors, I feel like we had what it took to get the win. Hopefully in two weeks we'll get right back up there."
FMF XC3 125 Pro-Am
Coastal Racing/Husqvarna's Jack Edmondson made his return to GNCC Racing after missing four rounds due to injury. Edmondson didn't seem to miss a beat as he jumped into the lead position on the opening lap where he battled with Jason Thomas for the lead position through the first three laps. Edmondson soon ran into a mechanical issue that ultimately kept him from finishing the race past the fourth lap.
"I'm happy to be back racing in the states again with the team after what's been a tough summer for me with a wrist injury," Edmondson said "I made my way to the front early on and led the way for the first quarter of the race. However, my back brake began to lock itself on which meant I had to poor water from my camelback onto it so I could make it back to the pits. From then on, we tried to get going but nothing was working so I had to DNF this race. Tough day for sure but ready to come back in 2 weeks and try again."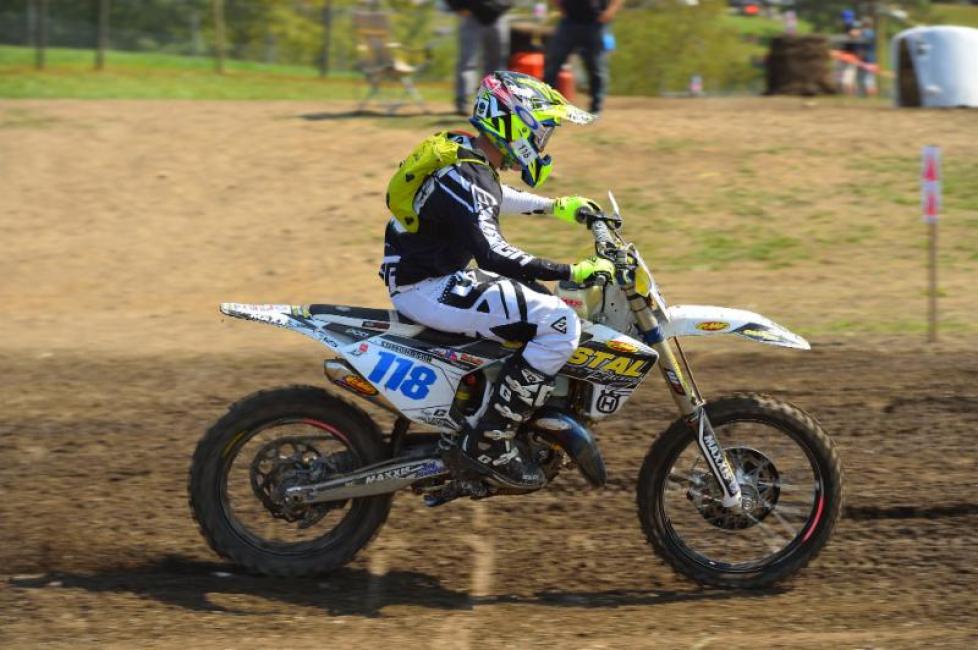 With four victories behind him, Edmondson sits 4th in the FMF XC3 125 Pro-Am class with three rounds remaining in the series where he will look to finish the season strong.
Next Event: GNCC Round 11 - Sept. 24, 2017
Results from the Unadilla GNCC - Sunday, September 10, 2017
XC1 Open Pro Results
Kailub Russell
Steward Baylor Jr.
Ricky Russell
10. Ryan Sipes (HQV)
XC2 250 Pro (16-24) Results
Layne Michael (HQV)
Ben Kelley
Craig DeLong (HQV)
XC1 Open Pro Championship Standings
Kailub Russell (235)
Thad DuVall (202)
Steward Baylor Jr. (177)
Ryan Sipes (82)
XC2 250 Pro (16-24) Championship Standings
Josh Toth (261)
Layne Michael (207)
Craig DeLong (216)
FMF XC3 125 Pro-Am Championship Standings
Jason Thomas (262)
Hunter Neuwirth (201)
Mark Heresco Jr. (193)
Jack Edmondson (157)