Chelsea Taylor
Time
Monday, September 11, 2017 | 12:50 AM
FOR IMMEDIATE RELEASE
Chelsea Taylor
(304) 284-0084
[email protected]
AMSOIL GNCC Racing Bike Highlights: Parts Unlimited Unadilla GNCC
Kailub Russell, Stew Baylor and Layne Michael Fill Overall Podium
NEW BERLIN, N.Y. (September 11, 2017) – New Berlin, New York was jam-packed with America's fastest off-road racers as they competed in the 13th Annual Parts Unlimited Unadilla GNCC at the famous Unadilla MX this weekend, Sunday, September 10. At the end of the three-hour race, it was FMF/KTM Factory Racing's Kailub Russell claiming the win at the tenth round of the 43rd Annual AMSOIL Grand National Cross Country (GNCC) Series presented by Maxxis, an AMA National Championship.
With anticipation at an all-time high with the return of racing after a two-month "summer break" hiatus, it was N-Fab/AmPro Yamaha's Ricky Russell rocketing off the start to claim the $250 All Balls Racing Holeshot Award. Even though FMF/KTM Factory Racing's Russell Bobbitt was second through the holeshot, it would be Beta USA's Jordan Ashburn in the runner-up position as they entered the woods.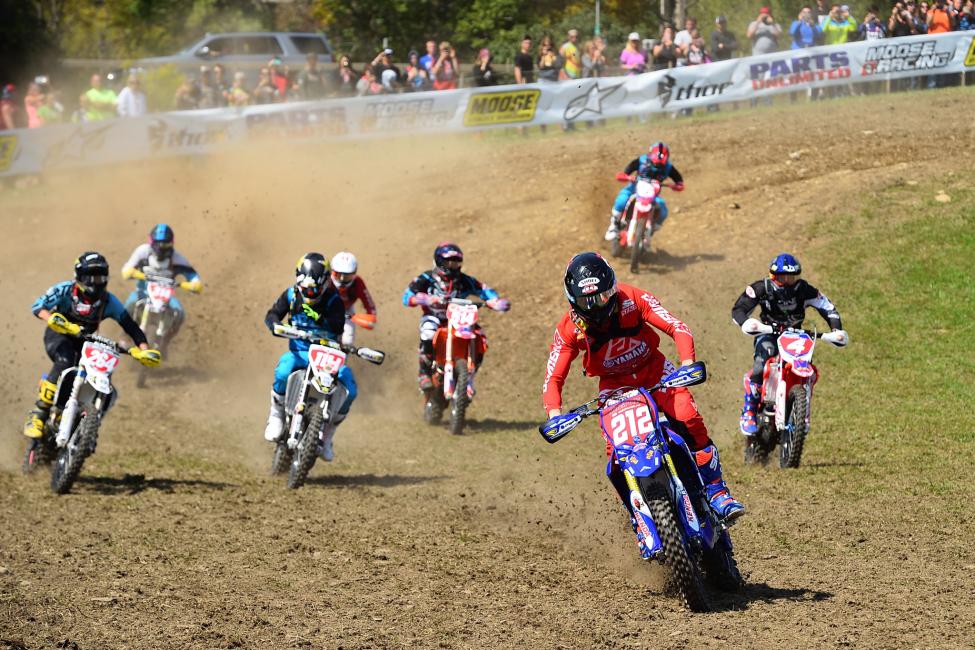 As the group settled into pace on the first lap, R Russell continue to lead with pressure from Coastal Racing/Husqvarna's Ryan Sipes. Throughout the remainder of the first lap they continued swapping positions, but when they checked through scoring for the first time it was R Russell accredited with the lead. K Russell was in third after working his way through the pack after getting a bad start.
The FMF Powerpoint came to be the biggest obstacle of the race throughout the entire three hours. Once K Russell secured the lead, it didn't last long due to becoming victim of the hill climb. R Russell was so close to him that when K Russell went down, he was stuck right behind him – this allowed Ashburn to move into the lead.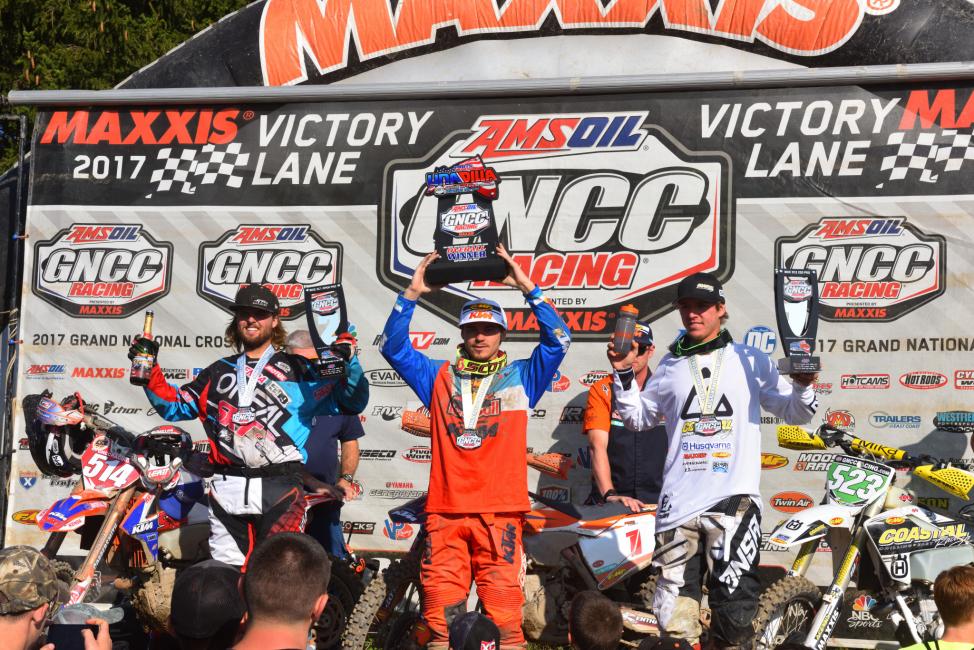 K Russell and R Russell quickly recovered and moved back into second and third behind Ashburn on lap four. K Russell took the lead back on the fourth lap and attempted to gap his competitors, where he neglected to pit and keep going for an additional lap. R Russell also skipped his pit and passed Ashburn, who did pit, for second.
R Russell kept the momentum rolling and passed K Russell again on the fifth lap, but K Russell was back into the lead when they jumped the Sky Shot obstacle on the motocross track. Unfortunately Sipes was forced to end his race early after suffering from tendinitis that occurred at the ISDE.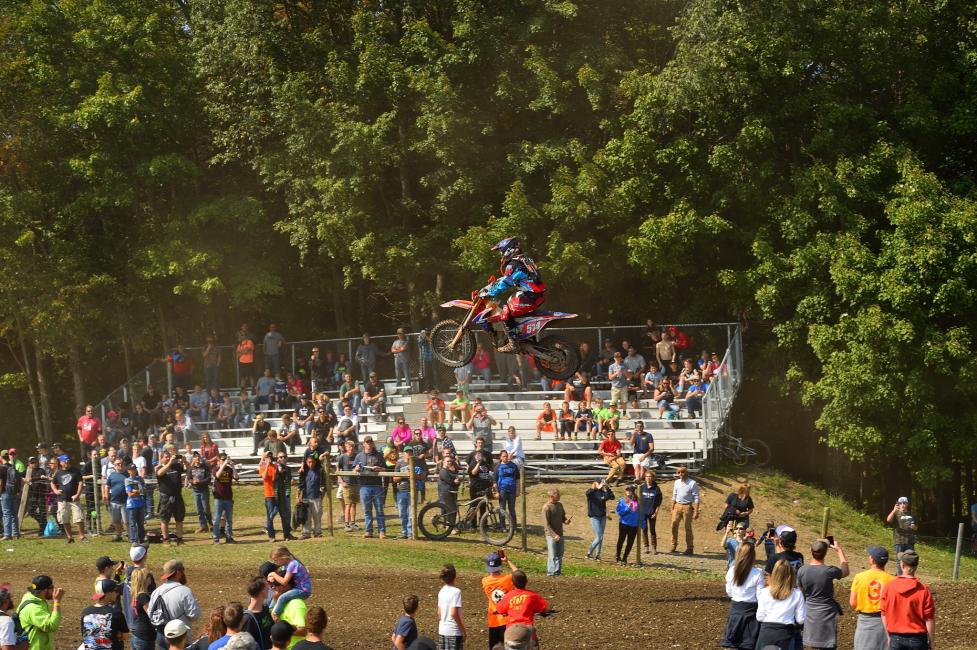 When the race reached the halfway point, SRT/KTM's Stew Baylor had put himself in podium contention and began pushing to catch R Russell. When the two-lap board came out, Baylor moved in second behind K Russell. R Russell struggled up the FMF Powerpoint again, but still sat in third.
K Russell was the first rider through the finish, taking the overall win with Baylor following in second, but attention was turned to the third overall position where the XC2 250 Pro class leaders were in contention. R Russell was pushed to the finish by JCR Honda's Trevor Bollinger.
However, Coastal Racing/Husqvarna's Layne Michael was awarded with third overall on adjusted time. Trail Jesters/KTM Racing's Ben Kelley was in a close second in class and fifth overall. R Russell finished third in XC1 Pro and fifth overall, and Bollinger finished sixth overall and just off the XC1 podium in fourth. Coastal Racing's Craig Delong, Ashburn, Toth and Bobbitt rounded out the top ten overall.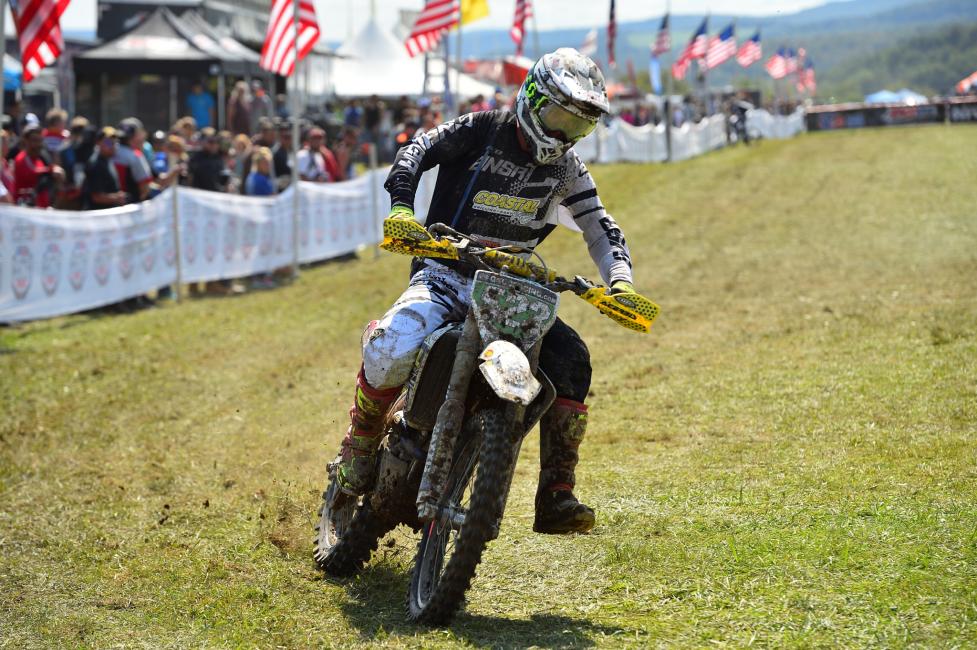 Rockstar Energy/Factory Husqvarna Racing's Josh Strang bobbled into a mud hole on the second lap and had to take an extra long pit stop to get a fresh set of gloves. However, more bad luck came Strang's way and he was forced to end his race early with a mechanical issue.
Zach Nolan found himself in a favorable position to earn the $100 Hot Cams XC2 Holeshot Award, and finished the race in thirteenth. Nate Smith was accredited with the FMF XC3 125 Pro-Am class holeshot.
Jason Thomas, N-Fab N-Fab/AmPro Yamaha's Paul Whibley and Rocky Mountain ATV*MC/KR4/ Husqvarna Team's Hunter Neuwirth stood on the box for the FMF XC3 125 Pro-Am class.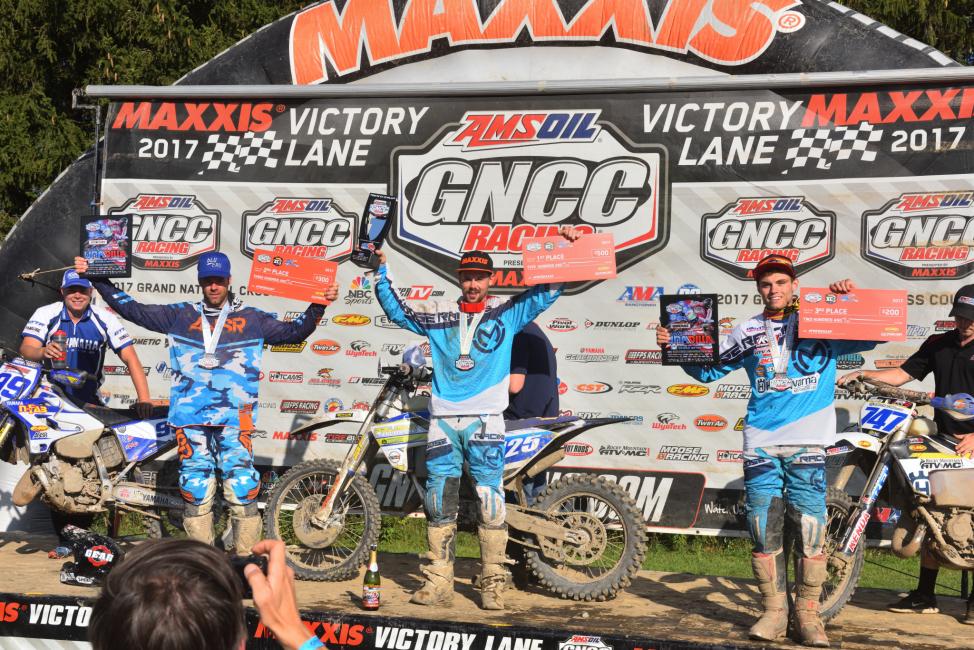 With 15th overall Alex Teagarden was awarded the top amateur award. Levi Keller and Jonathan Johnson followed in second and third for the amateur overall podium in the 1 p.m. Pro Race.
The WXC division dominated the 10 a.m. overall standings. Fly Racing/Maxxis/Seat Concepts/KTM's Becca Sheets kept Rocky Mountain ATV*MC/KR4/Husqvarna Team-backed Tayla Jones honest, but had to settle for second. Jones' win vaulted her to the top of the championship standings where she secured the No. 1 plate three rounds early. The Motorcycle Shop/Kenda/Bell/V3 Off-Road's Brooke Cosner finished third overall, respectively.
Michael Beeler Jr. had an exceptional race in the youth division, winning the overall on adjusted time and crossing the line physically in second after starting on the second row. Super Mini Sr. class winner Zack Davidson placed second overall and Peyton Whipkey rounded out the podium.
The 1 p.m. race was broadcast LIVE in its entirety on RacerTV.com and can be viewed as an archived video now by visiting the GNCC LIVE page online. A highlight show featuring the event will air on NBC Sports Network on Saturday, October 28 at 4:30 p.m.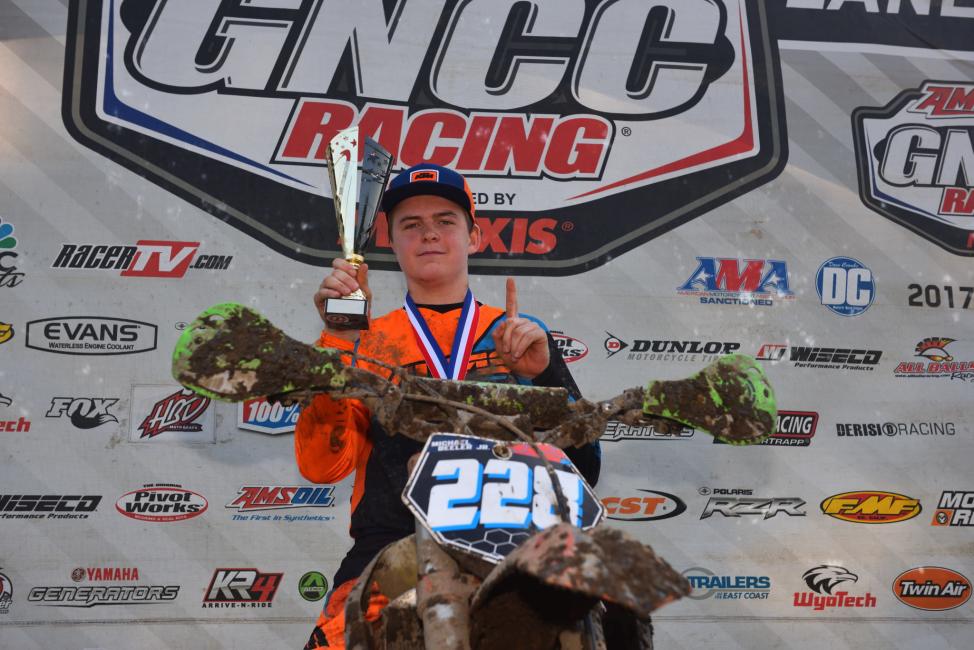 The 2017 AMSOIL Grand National Cross Country Series travels to Masontown, West Virginia in two weeks for the Rocky Mountain ATV/MC Mountaineer Run GNCC on September 23 and 24.
Parts Unlimited Unadilla GNCC
New Berlin, New York
Round 10 of 13
Sunday, September 10
XC1 Open Pro Event Results:
Kailub Russell (KTM)
Steward Baylor (KTM)
Ricky Russell (YAM)
Trevor Bollinger (HON)
Jordan Ashburn (BET)
Russell Bobbitt (KTM)
Grant Baylor (HSQ)
Philippe Chaine (KTM)
Josh Strang (HSQ)
Ryan Sipes (HSQ)
*Overall National Championship Standings:
Kailub Russell (235)
Thad Duvall (202)
Steward Baylor (177)
Ricky Russell (163)
Josh Toth (149)
Grant Baylor (129)
Trevor Bollinger (115)
Jordan Ashburn (112)
Layne Michael (104)
Craig Delong (101)
*Indicates that the Overall National Championship Standings will determine the 2017 National Champion.
XC2 250 Pro Event Results:
Layne Michael (HSQ)
Ben Kelley (KTM)
Craig Delong (HSQ)
Josh Toth (YAM)
Austin Lee (HON)
Mike Witkowski (KTM)
Ryder Lafferty (KTM)
Brendan Riordan (YAM)
Zack Hayes (KTM)
Trevor Barrett (YAM)
XC2 250 Pro Series Standings:
Josh Toth (261)
Layne Michael (216)
Craig Delong (207)
Mike Witkowski (174)
Ben Kelley (143)
Austin Lee (142)
Jesse Groemm (140)
Zack Hayes (121)
Sam Evans (95)
Zach Nolan (87)
FMF XC3 125 Pro-Am Event Results:
Jason Thomas (HSQ)
Paul Whibley (YAM)
Hunter Neuwirth (HSQ)
Luke Renzland (YAM)
Michael Stryker (KTM)
Nate Smith (HSQ)
Conor Sheridan (KTM)
Mark Heresco Jr. (KTM)
Jack Edmondson (HSQ)
Josh Adkins (YAM)
FMF XC3 125 Pro-Am Points Standings:
Jason Thomas (262)
Hunter Neuwirth (201)
Mark Heresco Jr. (193)
Jack Edmondson (157)
Josh Adkins (126)
Jaryn Williams (124)
Devan Welch (97)
Paul Whibley (92)
Nate Smith (62)
Dustin Gibson (61)
For more information on the series, visit the official website at www.gnccracing.com call (304) 284-0084. Join the conversation on the series Facebook page, follow us on Twitter and Instagram, and be sure to always hashtag #GNCC.
About GNCC Racing
The AMSOIL Grand National Cross Country Series presented by Maxxis is America's premier off-road racing series. Founded in 1975, the 13-round championship is produced exclusively by Racer Productions. Cross-country racing is one of the most physically demanding sports in the world. The grueling three-hour GNCC races lead as many as 2,400 riders through tracks ranging in length from eight to 12 miles. With varied terrain, including hills, woods, mud, dirt, rocks and motocross sections, GNCC events are tests of both survival and speed. The series draws talent from all over the U.S., Central America, South America, Europe, Japan, Australia and New Zealand. GNCC Racing is televised weekly on NBC Sports and RacerTV.com. For more information, please visit www.gnccracing.com.
About the American Motorcyclist Association
Founded in 1924, the AMA is a not-for-profit member-based association whose mission is to promote the motorcycle lifestyle and protect the future of motorcycling. As the world's largest motorcycling rights and event sanctioning organization, the AMA advocates for riders' interests at all levels of government and sanctions thousands of competition and recreational events every year. The AMA also provides money-saving discounts on products and services for its members. Through the AMA Motorcycle Hall of Fame in Pickerington, Ohio, the AMA honors the heroes and heritage of motorcycling. For more information, visit www.americanmotorcyclist.com. Not a member? Join the AMA today: www.americanmotorcyclist.com/membership/join.
-RP-