Coastal Racing's Layne Michael Claims his First XC2 Victory of the Season
Time
Wednesday, July 12, 2017 | 3:15 PM
It was another stellar day for the Coastal Racing/Husqvarna motorcycle team as all three riders earned top positions at the John Penton GNCC for Round 9 of the Grand National Cross Country Series. Team rider Layne Michael led the way with his first victory of the season in the XC2 250 Pro (16-24) class, joined atop the podium by teammate Craig DeLong in 3rd. Ryan Sipes put forth an impressive ride to secure 4th overall amongst a stacked field of riders in the XC1 Open Pro division.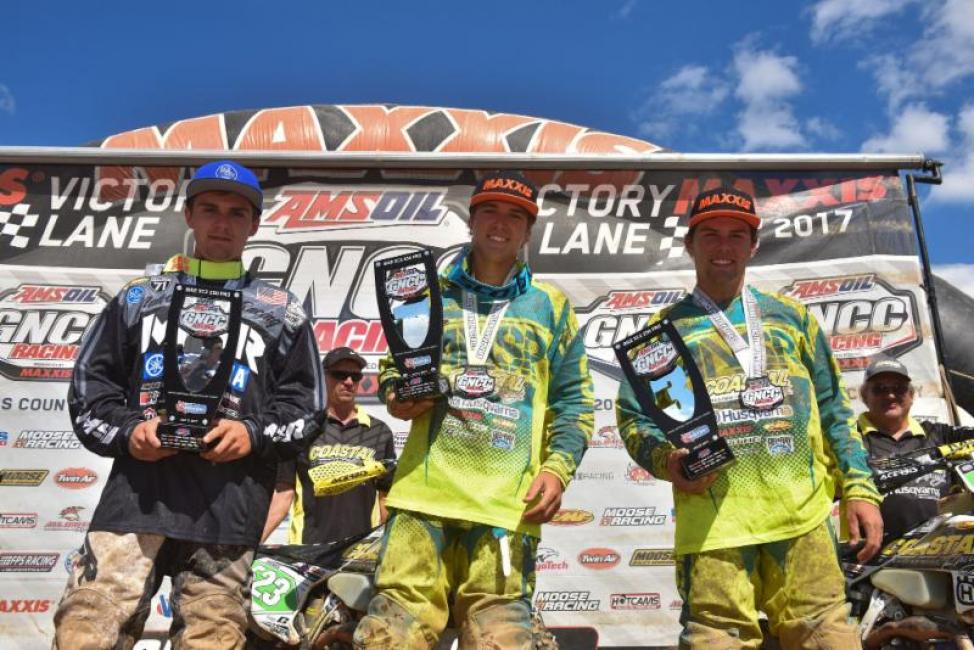 XC2 250 Pro (16-24)
Michael put himself into a favorable position early on as he jumped into the lead after the first few corners of the race. Michael set a fast pace on the opening lap where he was able to create a one-minute gap over the rest of the class heading into lap two.
From there, the West Virginia native continued to latch onto the XC1 riders ahead, where he ultimately finished over one-minute in front of the 2nd place XC2 rider.
"It's been a tough season for me so it feels pretty amazing to finally get the first win out of the way," Michael said. "We've experienced a few ups and downs this year and after Round 5 I was honestly done mentally after putting in so much effort to not be winning races. I have to give a big thanks to my team, my girlfriend and my family for picking me up and getting me back on track. It's a good way to head into the summer break."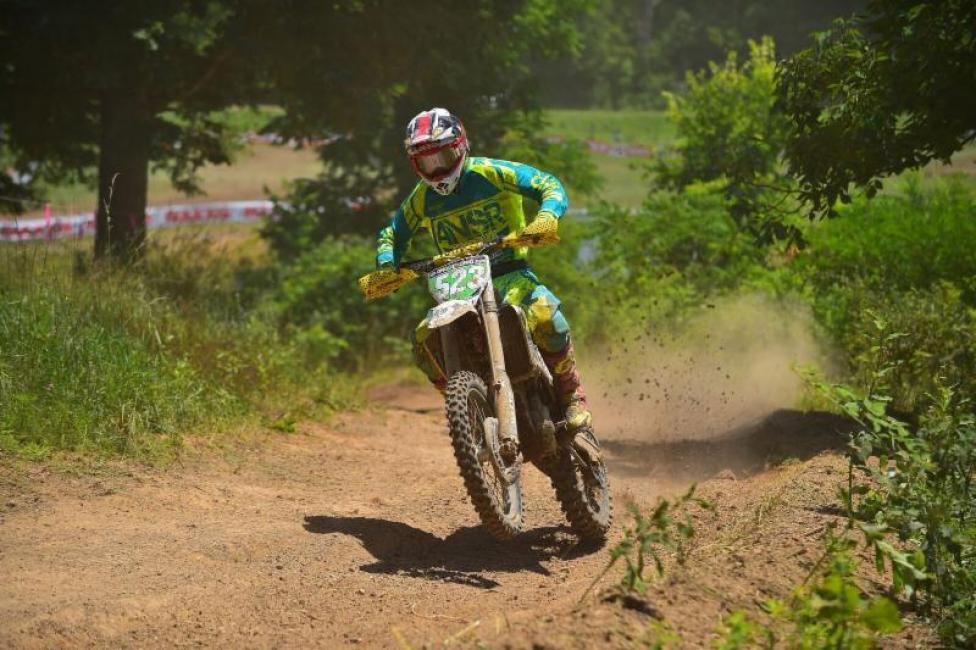 DeLong didn't get off to the greatest start as he rounded the opening lap in the 7th place position but he finally got into the groove on lap two where he was able to climb his way up to 4th place to begin his battle for a podium position. At the halfway point, DeLong pushed his way into the 3rd place position and he wasn't stopping there as he continued to battle Josh Toth for the 2nd place spot on the final lap.
DeLong eventually made his way around Toth to take over the 2nd place position until he went down in the tricky FMF Powerpoint section, allowing Toth to reclaim the runner-up spot. DeLong was able to remount but he couldn't salvage the lost time, finishing 3rd for the day.
"It was definitely a tough one out there and the heat didn't help," DeLong said. "I battled with Josh back and forth on the last lap but I fell in the FMF Powerpoint going down the hill and he got around me. After that I couldn't make the time back up. Going into the summer break I've got some stuff to work on and we'll be back stronger for the last four rounds."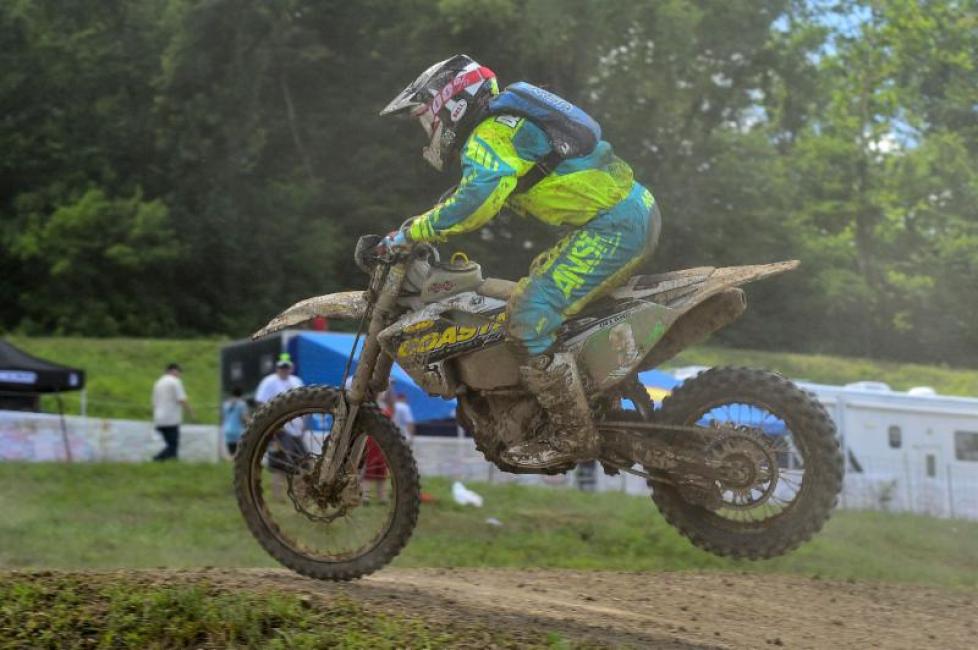 After nine rounds of racing, DeLong and Michael sit tied for 2nd place in the XC2 250 Pro Championship Standings with 186 points each.
XC1 Open Pro
Sipes got off to a mid-pack start in the XC1 Open Pro class as he began the race just inside the top ten. The Kentucky native upped the pace on lap two, quickly vaulting himself into podium contention as he engaged in battle for the 3rd place position. Sipes was able to move into 3rd at one point but eventually settled into the 4th place position.
With about a lap and a half to go, Sipes began to struggle with hydration issues that ultimately caused him to lose a position on the final lap. However, that rider was later docked a position due to a course infraction, which allowed Sipes to reclaim the 4th overall position after a long afternoon of racing.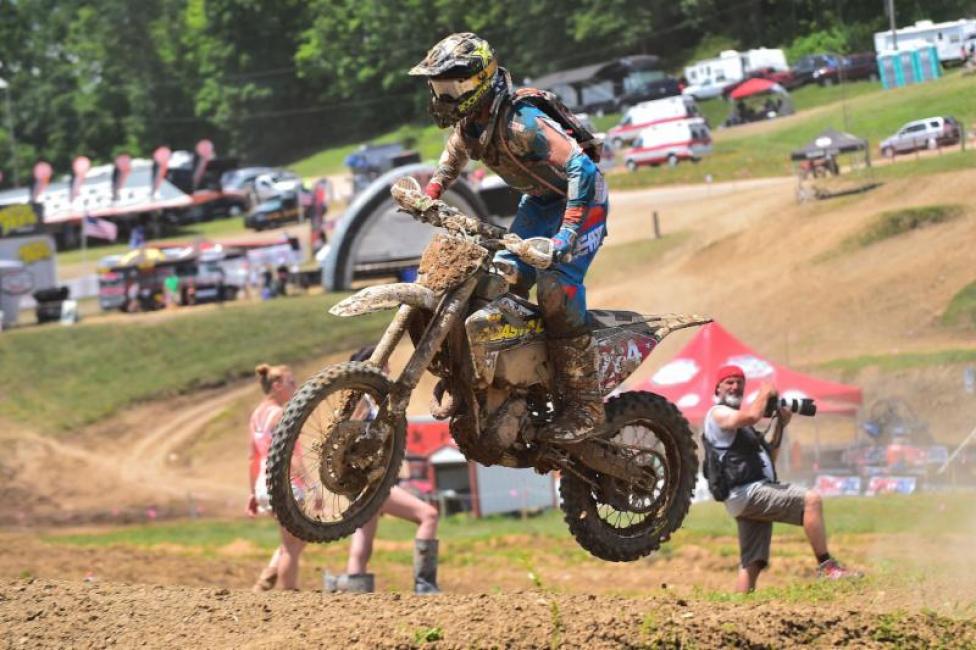 "The race was good, I didn't get a good start but by the second lap I was up into 4th and battling for a podium spot," Sipes said. "I was riding good - running good lap times and all of that - but I ran out of water with a lap and a half to go and I've always kind of had a problem with hydration so I got cramps real bad and was struggling to ride very fast so I slowed down at the end and ended up getting passed. I'm happy with my riding but going into summer break my plan is to train and ride really hard. My goal is to win a race and I need to work all summer to do it and I plan on making that happen."
FMF XC3 125 Pro-Am rider Jack Edmondson has missed the last four rounds of racing due to injury, where he maintains the 4th place position in the championship standings with four consecutive victories this season.
Next Event: GNCC Round 10 - Sept. 10, 2017
Results from the John Penton GNCC - Sunday, July 9, 2017
XC1 Open Pro Results
Grant Baylor
Thad DuVall
Kailub Russell
Ryan Sipes (HQV)
XC2 250 Pro (16-24) Results
Layne Michael (HQV)
Josh Toth
Craig DeLong (HQV)
XC1 Open Pro Championship Standings
Kailub Russell (205)
Thad DuVall (202)
Steward Baylor Jr. (152)
14. Ryan Sipes (82)
XC2 250 Pro (16-24) Championship Standings
Josh Toth (243)
Craig DeLong (186)
Layne Michael (186)
FMF XC3 125 Pro-Am Championship Standings
Jason Thomas (232)
Mark Heresco Jr. (180)
Hunter Neuwirth (180)
Jack Edmondson (145)