Coastal Racing/Husqvarna Teammates Sipes and Michael Earn a Pair
TimeWednesday, June 14, 2017 | 5:10 PM
Coastal Racing Husqvarna's Ryan Sipes earned his best finish of the season on Sunday with an impressive 2nd overall at Round 7 of the Grand National Cross Country (GNCC) Series in Odessa, New York. His teammate, Layne Michael, also put forth a solid performance to match his best finish of the year with 2nd place in the XC2 250 Pro (16-24) class.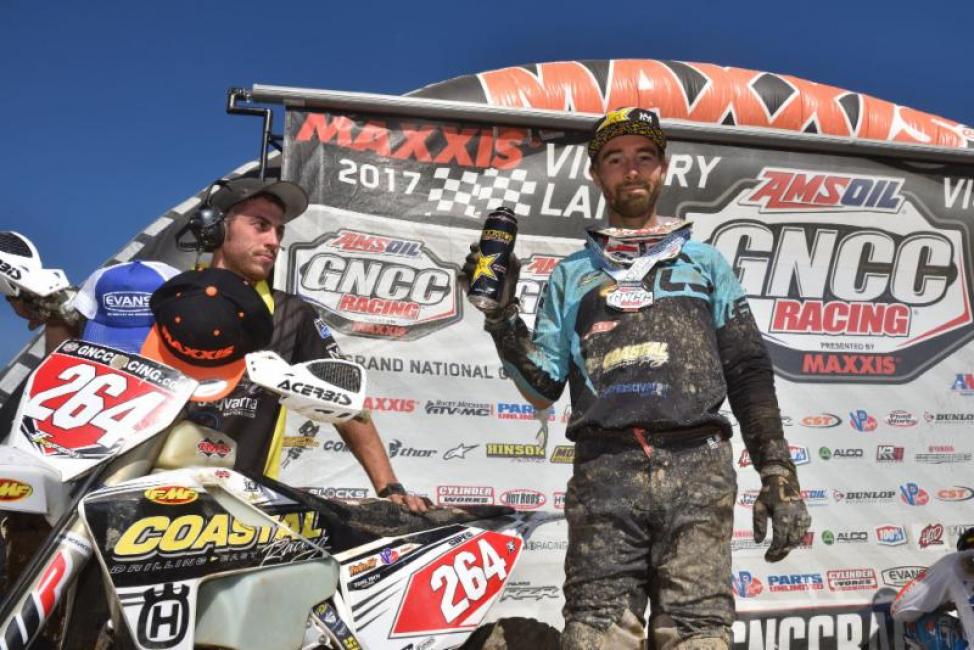 XC1 Open Pro
Coastal Racing Husqvarna rider Ryan Sipes was ready to go from the start as he shot off the line and into a top position around the first turn. After going back and forth with a couple of riders, Sipes was able to vault himself into the lead position with the fastest lap time of anyone on the opening lap. Sipes continued to lead the way through the first hour of the race before engaging in a battle with reigning GNCC Champion Kailub Russell.
Sipes maintained a solid 2nd place position throughout the second half of the three-hour race where he held strong to finish over a minute ahead of the 3rd place rider.
"It was a pretty good race, I led quite a bit and felt like I was riding good and had some speed. I think a few mistakes kept me from winning but the other guys were pinning it," Sipes said. "When we were all riding together we were going super-fast, it was sketchy but fun. It's about time I got back up where I belong on the podium so I want to try to keep the ball rolling and finish out the year on the box - I believe I can, so that's the plan."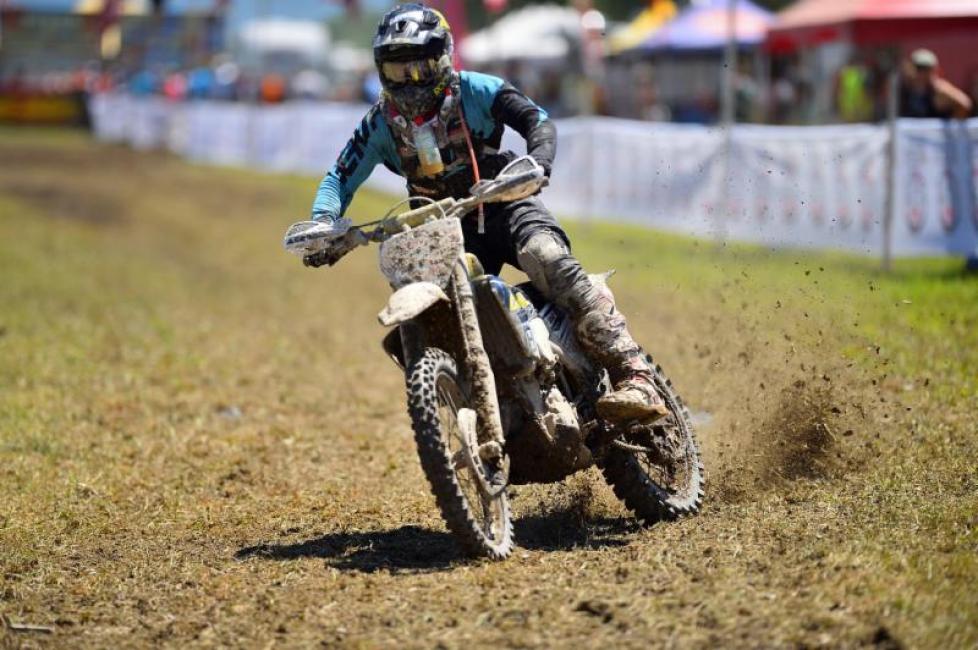 XC2 250 Pro (16-24)
As the green flag dropped for the XC2 250 Pro (16-24) class, Coastal Racing Husqvarna teammates Layne Michael and Craig DeLong both got a good jump off the line. However, DeLong got caught behind a downed rider off the start, forcing him to go down and ultimately begin the three hour race from the back of the pack.
Michael made it through a chaotic first turn, where he came through the opening lap in the 3rd place position. It wasn't long before the West Virginia native moved himself into 2nd where he went to work chasing after the leader. Despite a great ride by Michael, he wasn't able to catch the 1st place rider of Josh Toth, where he ultimately finished 2nd for the day.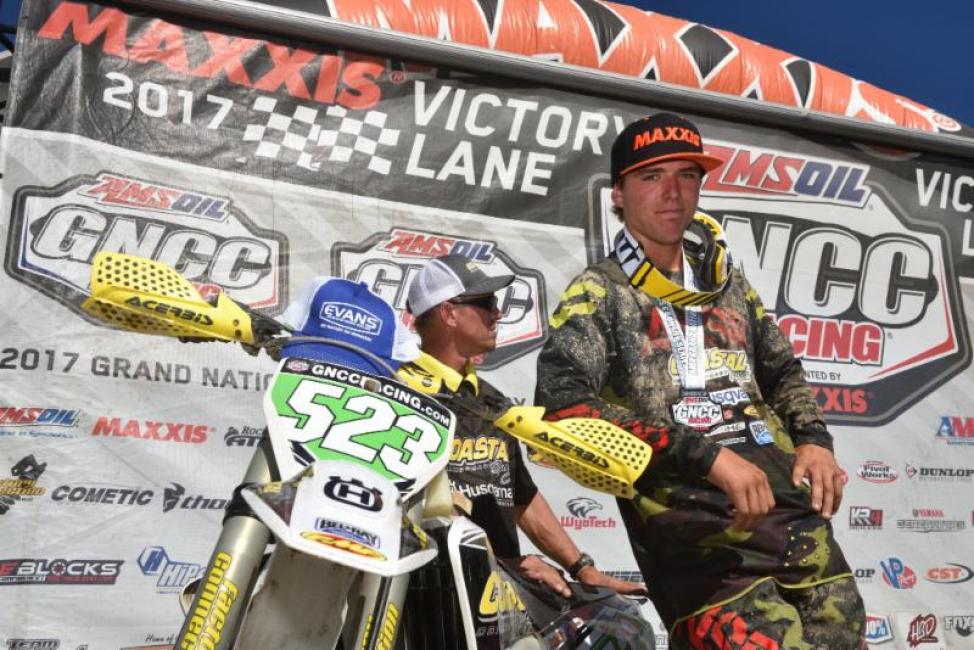 "I didn't get the best start but I tried to work my way through the pack and remain smooth," Michael said. "I didn't try to force any issues. I was riding okay and then I pumped up a little bit but I was able to eventually catch the leaders out front. Josh [Toth] started pulling away but he made a mistake and I was able to get on his rear tire for a while but around lap four or so he put a gap on me and that was it. After that I rode by myself for the rest of the day. I feel like I rode well on the last lap, I'm happy with how I felt at the end. It's good to be back on the podium, it's been a tough year for me so to be up here on a tough track, it feels pretty good."
DeLong fought his way into a top-ten position on the opening lap and he continued to pick his way into the top five by the halfway point. From there he continued to charge, ultimately finishing 30 seconds away from a podium position.
"I had a good jump off the line and was towards the front of the pack but someone fell right in front of me and I went down too," DeLong said. "I picked myself up in last and charged through the pack and up to 4th but I hurt my wrist/hand pretty good in the crash and had to adapt to riding the bike a little differently because I had a hard time holding on. I'm happy to finish 4th after a rough start but I'm looking for a rebound after a tough race. I'm ready for Snowshoe!"
Coastal Racing's Jack Edmondson sat out for Round 7 due to an injured wrist. Edmondson is slated to return at Round 9 in Ohio.
Next Event: GNCC Round 8 - June 25, 2017
Results from the Tomahawk GNCC - Sunday, June 11, 2017
XC1 Open Pro Results
Thad DuVall
Ryan Sipes (HQV)
Steward Baylor Jr.
XC2 250 Pro (16-24) Results
Josh Toth
Layne Michael (HQV)
Benjamin Kelley
Craig DeLong (HQV)
XC1 Open Pro Championship Standings
Kailub Russell (166)
Thad DuVall (156)
Steward Baylor Jr. (139)
Ryan Sipes (54)
XC2 250 Pro (16-24) Championship Standings
Josh Toth (188)
Craig DeLong (144)
Layne Michael (131)
Mike Witkowski (129)
Jesse Groemm (109)
FMF XC3 125 Pro-Am Championship Standings
Jason Thomas (186)
Jack Edmondson (145)
Mark Heresco Jr. (137)