Chelsea Taylor
TimeTuesday, June 13, 2017 | 2:25 PM
FOR IMMEDIATE RELEASE
Chelsea Taylor
(304) 284-0084
[email protected]
Dunlop Tomahawk GNCC WXC Race Report
Katelyn Osburn and Tayla Jones Top the Charts
ODESSA, N.Y. (June 13, 2017) – After a three-week hiatus, the 2017 AMSOIL Grand National Cross Country (GNCC) series presented by Maxxis, an AMA National Championship, continued this past weekend in Odessa, New York. The Dunlop Tomahawk GNCC hosted an impressive 91 female competitors throughout the course of the weekend, June 10 and 11.
Angel Knox kicked off the WXC racing action on Saturday morning taking the holeshot and leading her competitors into the woods. Defending champion, Alicia McCormick and Dillinger's Celtic Pub Katelyn Osburn followed behind Knox.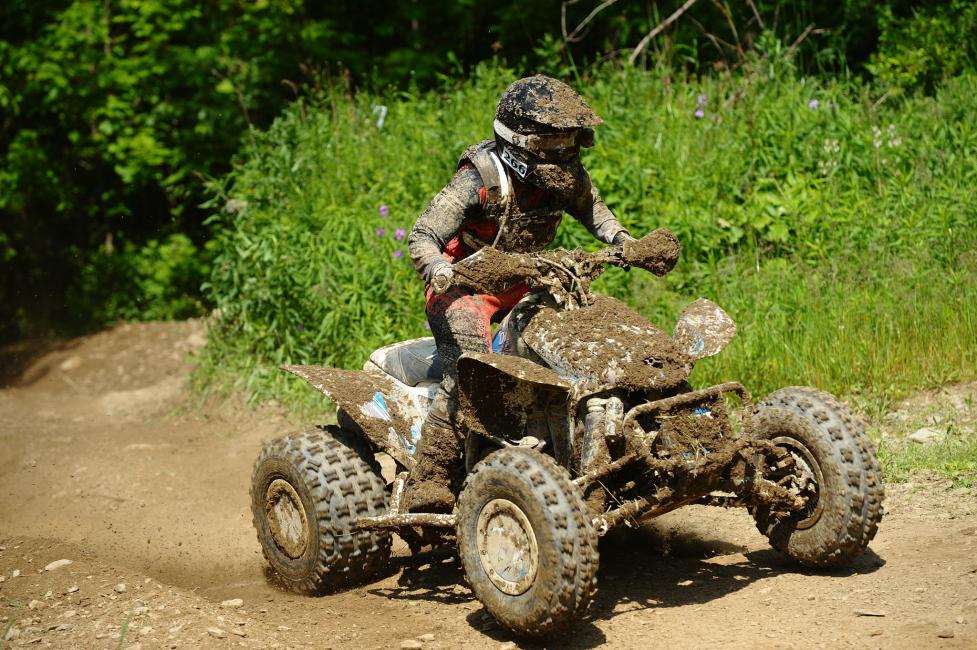 Knox continued setting the pace in the front as she approached timing and scoring, but Osburn made the pass to secure the lead just as they checked in. Osburn elected to pit on the second lap, allowing for McCormick and Traci Pickens to get by. The three continued swapping positions through the mid-way point of the race.
After getting off to a dead last start, Pickens made some quick passes to catch up to the leaders where she kept the momentum rolling as she moved into second as they maneuvered through a bottle neck. Knox began to fade back through the pack, but regained her focus at the halfway point of the race and began fighting for the podium positions.
"The track was fun, and I had a good day battling with the girls once I shook off my air pump," said Knox. "There was a lot of traffic to go through, but all in all it was a good day."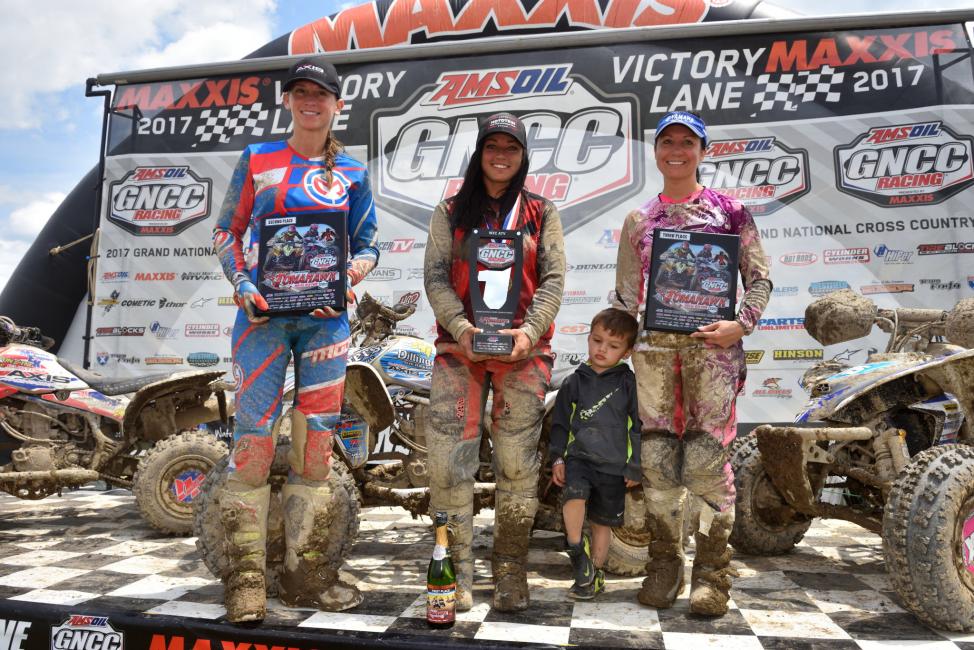 Osburn quickly rebounded from her pit on the second lap and caught back up to pass the leaders in one of the more technical track sections. From there, she ran her own race and continued to push herself to the checkered flag was flying.
Meanwhile, Knox worked her way back to second, while Pickens found herself caught up with a lapped rider on the last lap. Osburn would end up taking the win, followed by Knox in second and Pickens in third. McCormick and Kamren Bobb rounded out the top five.
"All in all, I had a fun, action packed day of racing," reported Pickens. "I was just really happy that I made the podium to see Kate receive her first win trophy of the season – she was flat out hauling. Great ride Kate!"
Track conditions stayed challenging for the second day of racing, where Trail Jesters' Mackenzie Tricker raced out to earn the WXC holeshot. Rocky Mountain ATV*MC/KR4/Husqvarna Team's Tayla Jones stayed on the gas and moved into the lead as they entered the woods, but crashed allowing for most of the class, including Tricker and Fly Racing/Maxxis/Seat Concepts/KTM's Becca Sheets, to get back around her.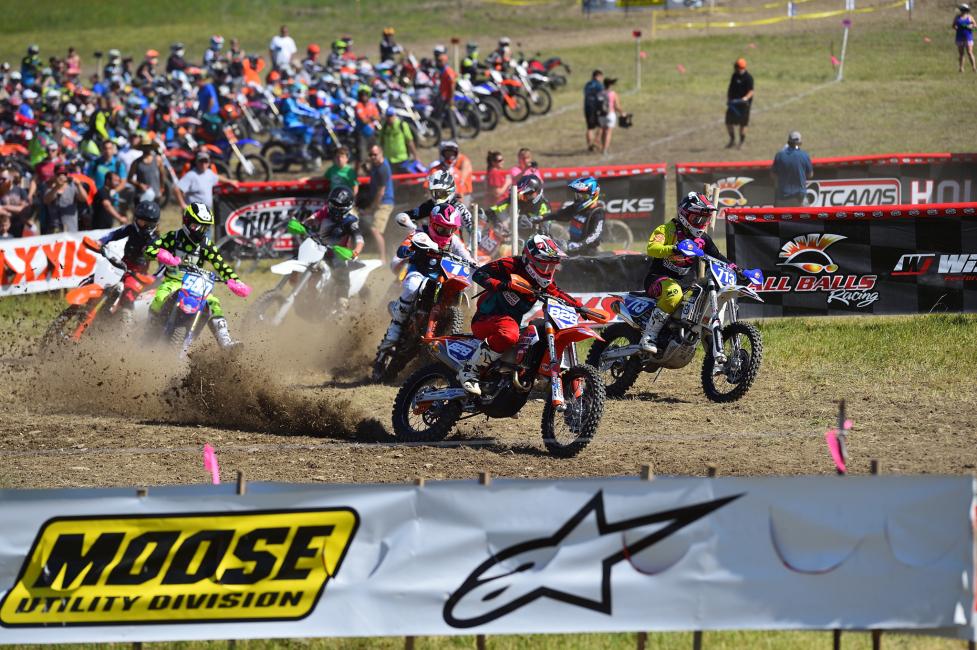 As they approached timing and scoring for the first time, Sheets grabbed the lead with Tricker right behind her. StuxMX Graphix/Bell Powersports/Kenda Tires/Cosner Racing/Full Gas Fitness' Brooke Cosner ran in third, with Jones making her way back to fourth.
The four leaders continued passing each other back-and-fourth, until they hit a bottle neck and spread out a little bit more. This put Jones back in the lead, with Cosner, Sheets and Tricker in tow. Sheets regained the second place position on the third lap and attempted to catch Jones, but by the time the two-hour race was over Jones was the first to see the checkered flag. Sheets crossed the line in second, and Cosner made her first podium appearance of the year in third. Tricker finished just off the podium in fourth, and Carolina KTM's Kendall LaFollette rounded out the top five.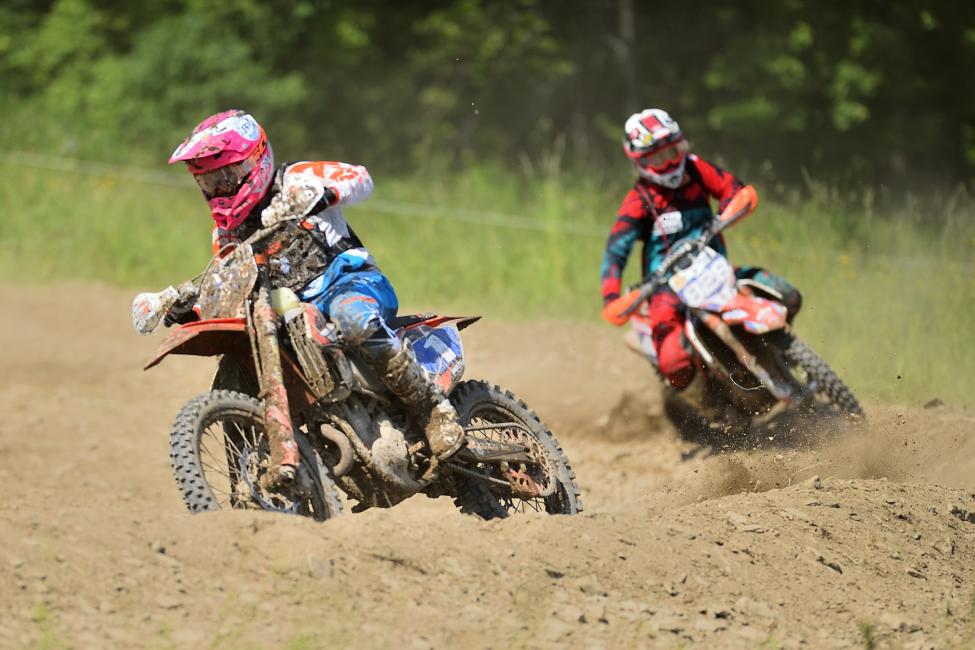 "This weekend was tough both mentally and physically," explained Jones. "A couple of big crashes put me back a bit and the track conditions were very demanding. I am happy with how I rode though the last couple of laps and stoked to get win."
"On the last lap I just hit all the lappers, at all the wrong times and wasn't able to stay close enough to the finish," said Sheets. "I'm still happy with the way I rode and feeling more comfortable on the KTM each round."
"I had a great race, and I'm definitely happy with the day," reported Cosner. "I rode well, sticking up front and getting to the lead, but fell off a little at the end and blew all the oil out of my bike – so honestly it was a good day to even finish, let alone finish on the podium!"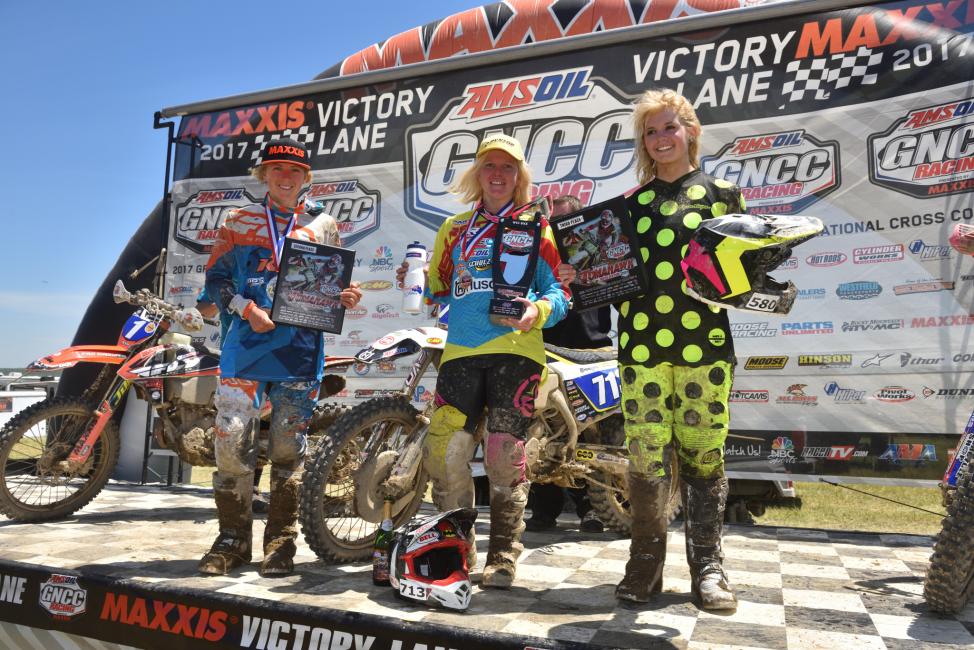 The 2017 AMSOIL Grand National Cross Country Series resumes in two weeks, June 24 and 25, with the popular AMSOIL Snowshoe GNCC in Snowshoe, West Virginia.
For more information on the series, visit the official website at www.gnccracing.com or call (304) 284-0084. Join the conversation on the series Facebook page, follow us on Twitter and Instagram, and be sure to always hashtag #GNCC.
Tomahawk GNCC
Odessa, New York
Round 7 of 13
June 10-11, 2017
WXC ATV Event Results:
Katelyn Osburn (HON)
Angel Knox (HON)
Traci Pickens (YAM)
Alicia McCormick (SUZ)
Kamren Bobb (HON)
Kara Merritt (YAM)
Becki Wheeler (HON)
Hailey Labar (SUZ)
Melanie Sill (HON)
Jaida Phillips (YAM)
WXC ATV Series Standings:
Angel Knox (135)
Traci Pickens (134)
Katelyn Osburn (125)
Alicia McCormick (116)
Kara Merritt (111)
Kamren Bobb (89)
Jaida Phillips (68)
Melanie Sill (61)
Megan Shepherd (52)
Abbi Troy (39)
WXC Bike Event Results:
Tayla Jones (HSQ)
Becca Sheets (KTM)
Brooke Cosner (YAM)
Mackenzie Tricker (KTM)
Kendall LaFollette (KTM)
Taylor Johnston (KTM)
Natasha Lachapelle (KTM)
Nina Cobb (KTM)
Eden Willow Netelkos (KTM)
Shelby Rolen (KAW)
WXC Bike Series Standings:
Becca Sheets (132)
Mackenzie Tricker (126)
Tayla Jones (120)
Rachel Gutish (100)
Brooke Cosner (68)
Kendall LaFollette (64)
Shelby Rolen (57)
Natasha Lachapelle (31)
Rachael Archer (30)
Allie Spurgeon (26)
About GNCC Racing
The AMSOIL Grand National Cross Country Series presented by Maxxis is America's premier off-road racing series. Founded in 1975, the 13-round championship is produced exclusively by Racer Productions. Cross-country racing is one of the most physically demanding sports in the world. The grueling three-hour GNCC races lead as many as 2,400 riders through tracks ranging in length from eight to 12 miles. With varied terrain, including hills, woods, mud, dirt, rocks and motocross sections, GNCC events are tests of both survival and speed. The series draws talent from all over the U.S., Central America, South America, Europe, Japan, Australia and New Zealand. GNCC Racing is televised weekly on NBC Sports and RacerTV.com. For more information, please visit www.gnccracing.com.
About the American Motorcyclist Association
Founded in 1924, the AMA is a not-for-profit member-based association whose mission is to promote the motorcycle lifestyle and protect the future of motorcycling. As the world's largest motorcycling rights and event sanctioning organization, the AMA advocates for riders' interests at all levels of government and sanctions thousands of competition and recreational events every year. The AMA also provides money-saving discounts on products and services for its members. Through the AMA Motorcycle Hall of Fame in Pickerington, Ohio, the AMA honors the heroes and heritage of motorcycling. For more information, visit www.americanmotorcyclist.com. Not a member? Join the AMA today: www.americanmotorcyclist.com/membership/join.
-RP-