Chelsea Taylor
Time
Saturday, June 25, 2016 | 12:00 AM
FOR IMMEDIATE RELEASE
Chelsea Taylor
304-284-0084
[email protected]
Adam McGill Scores Big at the AMSOIL Snowshoe GNCC
Kevin Yoho Rises to the Top in XC2 Pro-Am
SNOWSHOE, W.Va. (June 25, 2016) – The 2016 AMSOIL Grand National Cross Country (GNCC) Series presented by Maxxis, an AMA National Championship, continued today, June 25, with the AMSOIL Snowshoe GNCC held at the popular Snowshoe Mountain Resort in West Virginia. "America's toughest race" lived up to its nickname after an abundant amount of rain fell in the days prior to the race creating slick and muddy conditions for the world's fastest off-road ATV racers.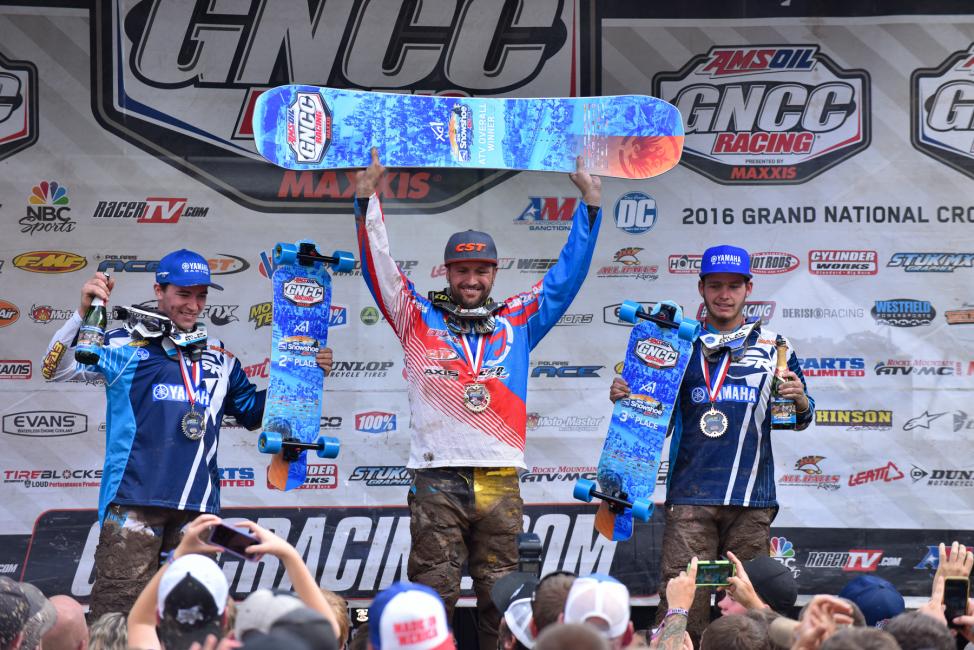 With the unique live engine start modeled after the famed Blackwater 100 race, Maxxis/Fly Racing/HMF/Ye Olde Cycle Barn/Suzuki's Chris Borich would find himself in a favorable position and lead the way into the woods. Once they checked through timing and scoring for the first time Fast Traxx/Wolf Racing's Brian Wolf had taken over and was running in the lead position.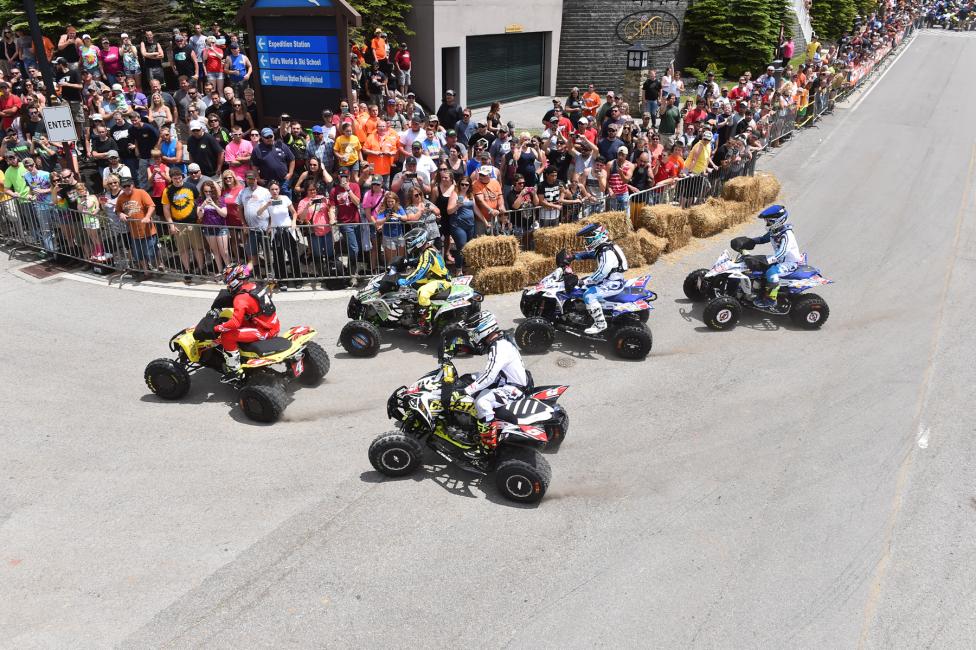 However, CST/LSR/Induction Solutions/DeRisi/SG/Tire Blocks' Adam McGill would move into the lead by the conclusion of the second lap with N-Fab/Maxxis/AmPro Yamaha/Lonestar/MXP's Walker Fowler on his back tires.
While following McGill, Fowler would get stuck where he dropped back to the sixth place position. This allowed JMR/ATVriders.com/DWT's Jarrod McClure to slide into second. By the third lap, Coastal Racing/MSR/Maxxis' Brycen Neal had swapped positions for second place.
N-Fab/Maxxis/AmPro Yamaha/Lonestar/MXP's Cole Richardson started off in seventh, but slowly work his way throughout the pack. Richardson's consistency proved to be one of the biggest benefits of the entire race.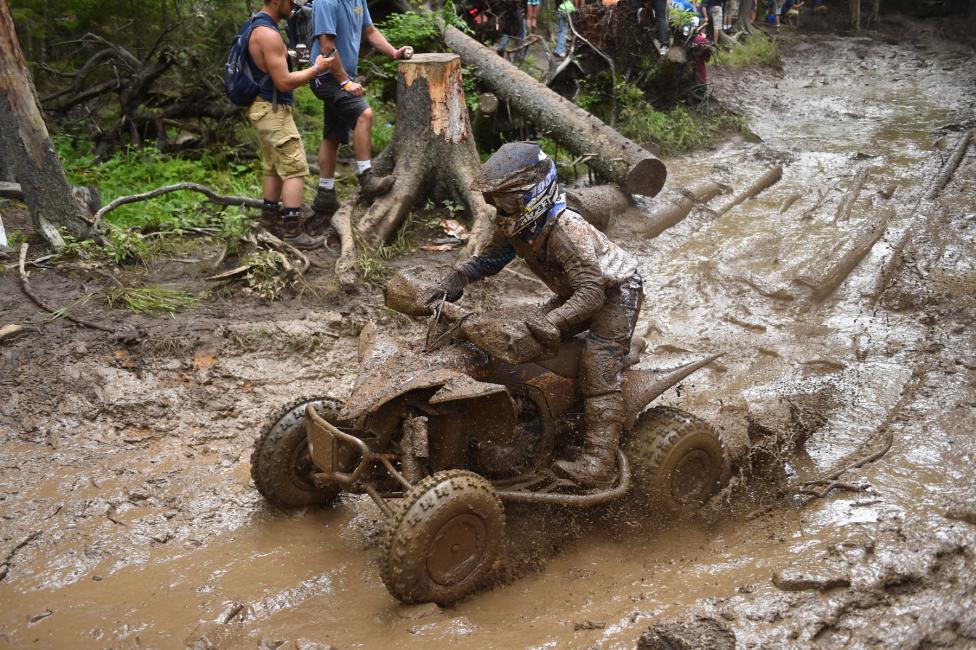 Neal would have a quick sprint in the lead position during the white flag until McGill would recover and take back over the lead. McGill held the lead position throughout the last lap where he would see the checkered flag first and take the win in front of his hometown friends and family.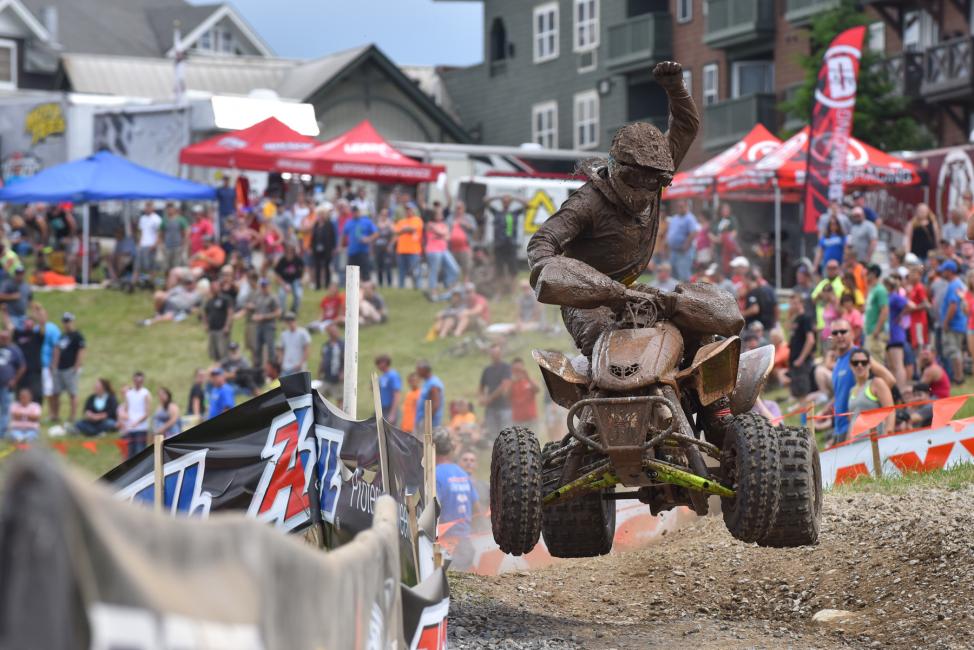 Fowler was able to comeback from sixth to land a spot on the podium in second and Richardson made a much anticipated podium appearance in third overall. Borich scored a top-five finish with fourth overall and Neal followed in fifth. McClure crossed the line in sixth and Show Hauler/Canyon Motorsports/GBC's Landon Wolfe placed eighth overall.
In the XC2 Pro-Am division, BNR Motorsports/GBC/Moose Racing's Kevin Yoho put forth an impressive ride earning his fourth podium and second win of the season. JMR/ATVriders.com/DWT's Randy Hamilton and Dillinger's Celtic Pub & Eatery/GBC Motorsports/Moose Racing's Marty Christofferson rounded out the class podium.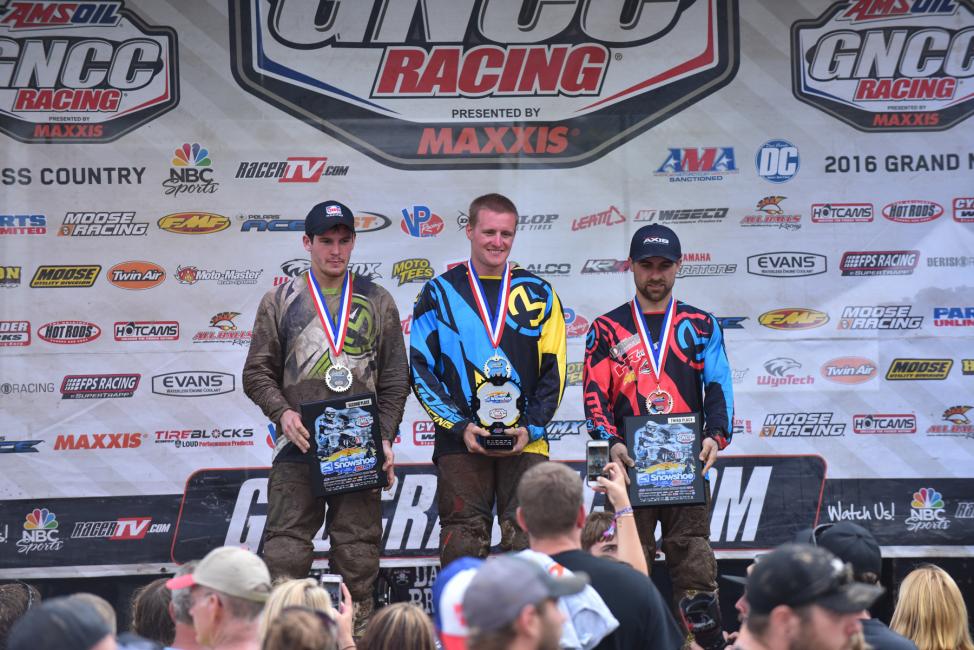 Ithaca Recreation Sports/Maxxis/Seat Concepts/Quad Tech/Stormpeak Crossfit's Hunter Hart claimed the top amateur honors with a twelfth place overall finish and College A (16-21) division win. Devon Feehan and Thomas Koontz Jr. rounded out the amateur overall podium.
The 4x4 Pro class made a clean sweep of the 10 a.m. race overall podium with Can-Am/QuadBoss' Bryan Buckhannon returning the middle of the box. Team UXC Racing's Kevin Trantham crossed the line in second with Cunningham Racing/Can-Am/Spider Graphix/Gold Speed's Kevin Cunningham behind him in third.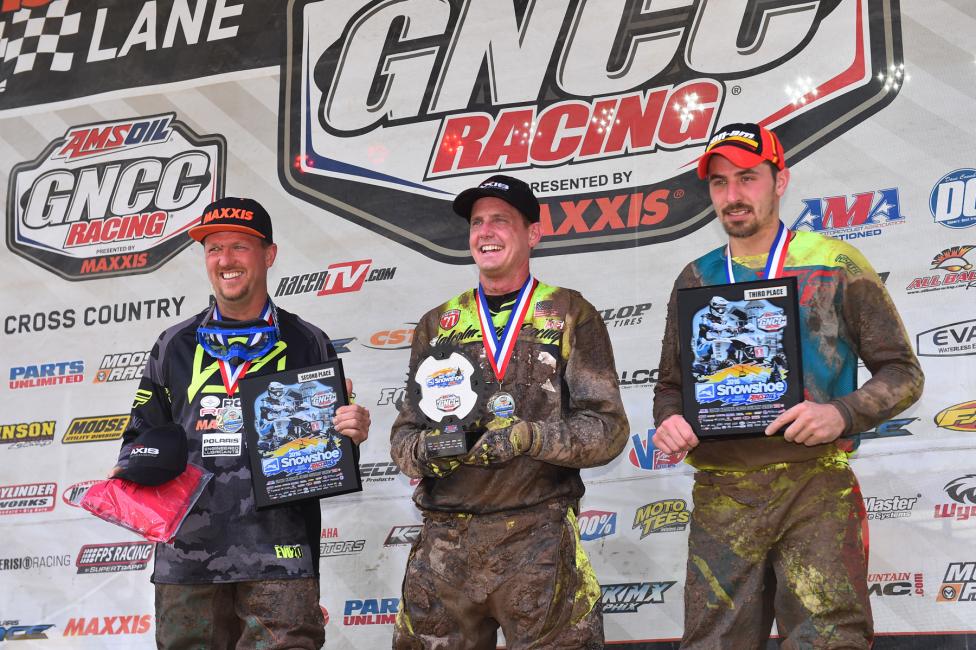 With a seventh overall and Schoolboy Sr. (14-17) class win, Pierce Performance/Maxxis/Waynesburg Yamaha/FLY Racing's John Glauda Jr. earned the $125 GT Thunder Overall Amateur Award.
Houser Racing/Maxxis/Ye Olde Cycle Barn's Kara Frederick took home the WXC victory with Ye Olde Cycle Barn/Maxxis/Fox Shocks' Alicia McCormick and Teixeira Tech/KAhart Racing/Honda's Kylie Ahart rounding out the podium.
The 8 a.m. youth race kicked off the action with Super Mini (12-15) competitor Dylan Walraven taking the overall win. This victory marked Walraven's third win of the season. Bailey Morgerson and Joel Ocel followed in second and third overall.
The 1 p.m. ATV Pro race was broadcast LIVE in its entirety on RacerTV.com and can be viewed as archived video online by visiting the GNCC LIVE page.
The 2016 AMSOIL Grand National Cross Country Series continues in the fall, September 10 and 11, with the Parts Unlimited Unadilla GNCC at the popular Unadilla MX in New Berlin, New York.
For more information on the GNCC series, visit the official website at www.gnccracing.comor call (304) 284-0084. Join the conversation on the series Facebook page, follow us on Twitter and Instagram, and be sure to always hashtag #GNCCLIVE.
The AMSOIL Snowshoe GNCC
Snowshoe, West Virginia
Round 9 of 13
Saturday, June 25
XC1 Pro Event Results:
Adam McGill (HON)
Walker Fowler (YAM)
Cole Richardson (YAM)
Chris Borich (SUZ)
Brycen Neal (YAM)
Jarrod McClure (HON)
Landon Wolfe (HON)
Johnny Gallagher (YAM)
Jay Shadron (YAM)
Josh Merritt (YAM)
*Overall National Championship Standings:
Walker Fowler (241)
Adam McGill (218)
Chris Borich (186)
Brycen Neal (179)
Cole Richardson (129)
Jarrod McClure (120)
Landon Wolfe (106)
Greg Covert (99)
Marty Christofferson (84)
Jay Shadron (83)
*Indicates that the Overall National Championship Standings will determine the 2016 National Champion.
XC2 Pro-Am Event Results:
Kevin Yoho (YAM)
Randy Hamilton (HON)
Marty Christofferson (HON)
Greg Covert (YAM)
Matthew Lindle (HON)
Westley Wolfe (SUZ)
J.D. Brown (HON)
Wes Kinsley (SUZ)
James Green (HON)
Cody Collier (YAM)
XC2 Pro-Am Series Points Standings:
Greg Covert (2014)
Marty Christofferson (178)
Westley Wolfe (174)
Randy Hamilton (148)
Cody Collier (132)
Matthew Lindle (128)
Kevin Yoho (124)
James Green (114)
Bryson Hoppes (114)
Kenny Shick (77)
About GNCC Racing
The AMSOIL Grand National Cross Country Series presented by Maxxis is America's premier off-road racing series. Founded in 1975, the 13-round championship is produced exclusively by Racer Productions. Cross-country racing is one of the most physically demanding sports in the world. The grueling three-hour GNCC races lead as many as 2,000 riders through tracks ranging in length from eight to 12 miles. With varied terrain, including hills, woods, mud, dirt, rocks and motocross sections, GNCC events are tests of both survival and speed. The series draws talent from all over the U.S., Europe, Japan, Australia and New Zealand. GNCC Racing is televised weekly on NBC Sports and RacerTV.com. For more information, please visit www.gnccracing.com.
-RP-