Jared Bolton
Time
Saturday, September 12, 2015 | 10:35 AM
For the first time in the 102-year history of the International Six Days Enduro, and American rider has claimed the individual overall win. After six days of intense racing AirGroup/Rockstar Energy/Husqvarna's Ryan Sipes would come away with the hard-earned overall win in Kosice, Slovakia. Considered to be the Olympics of off-road motorcycle racing, the ISDE win is huge for Sipes and GNCC Racing would like to extend huge congratulations to Ryan for this great achievement.
Ryan was on the gas from the get-go as he started the week with a solid 2nd place overall on day 1 behind American teammate Kailub Russell. Day 2 would see Australian Daniel Milner claiming the win over Sipes with Russell in third. The event would see big changes on day 3 as Kailub Russell's 2015 ISDE would come to an early end due to mechanical issues after a crash. Sipes would claim the day 3 overall win ahead of Milner and American rider Taylor Robert.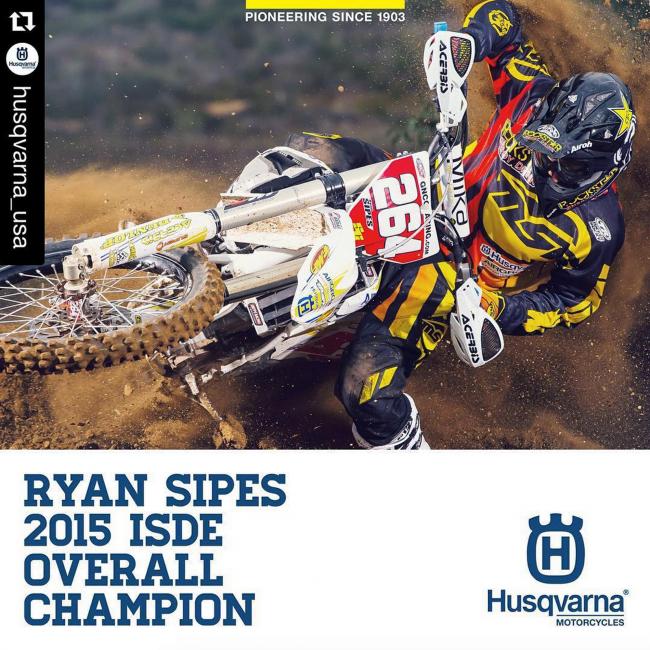 As day 4 approached, it would become obvious that Sipes had a good shot to claim the individual overall win. After putting together a solid performance on day 4, Sipes would extend his overall win. Unfortunately, mechanical issues for Thad Duvall would eliminate the US team from their hopes of claiming the World Trophy win, however, the remaining American riders would still put together excellent rides, including Sipes who would hang in there while the French team would charge hard to try to improve their scores on the week with the hopes of claiming their 3rd consecutive World Trophy win.
The 6th and final day of racing at the ISDE traditionally consists of a motocross race, or similar. With his motocross/Supercross background, all eyes would be on Sipes for the final moto. It would actually be Italian rider Davide Guarneri claiming the win with Sipes just 3 seconds behind. However, the 2nd place would still be good enough to give Sipes the individual overall win.
After 6 days of racing, Sipes finished just 43.39 seconds ahead of Daniel Milner with French rider Loic Larrieu in third. Congratulations once again to Ryan for making history and achieving something that no other American has ever accomplished before. Way to go Ryan, we're all extremely proud!