Kayla Bolton
Thursday, June 18, 2015 | 1:00 PM
FOR IMMEDIATE RELEASE
Media Inquiries:
304-284-0084
[email protected]
Kailub Russell Aims to Extend Points Lead at AMSOIL Snowshoe GNCC
Nick Davis Looks to Earn Third Consecutive XC2 Pro Lites Win
MORGANTOWN, W. Va. (June 18, 2015) – The 2015 AMSOIL Grand National Cross Country Series presented by Maxxis, an AMA National Championship, heads to Snowshoe Mountain Resort for the AMSOIL Snowshoe GNCC this weekend, June 20 and 21. The ninth round serves as a pinnacle moment in the 13-race championship as it is one last chance for riders to build confidence before heading into the two-month break for the summer. For Factory FMF/KTM and current points leader Kailub Russell, momentum hasn't been a problem this season as the defending champion looks to keep his momentum rolling with his eighth win of the season this weekend.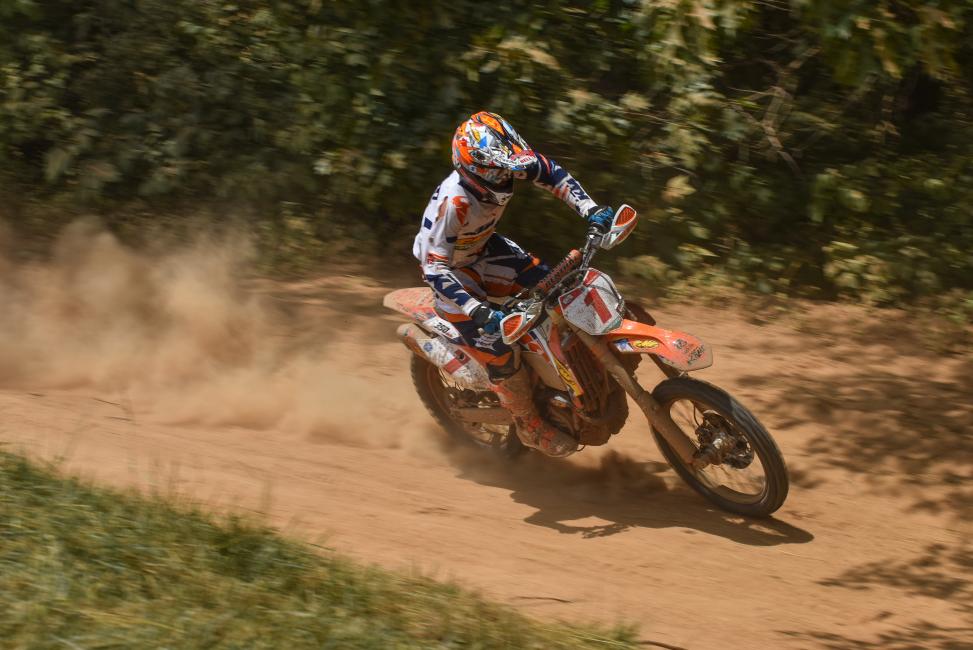 The Snowshoe GNCC is the roughest, most spectacular and most unique race on the entire GNCC circuit, as the race is set in the upscale ski village at West Virginia's largest ski resort -Snowshoe Mountain. However, with all the beauty that Snowshoe has to offer, there are a whole slew of obstacles to keep racers on their toes. Deep mud bogs, massive tree roots and hills going both up, and down, are enough to stop almost everyone.
This season Russell will attempt to become the second person to win three consecutive bike championships since Scott Summers dominated from 1990 to 1992. Russell made history last year by becoming the next back-to-back champion on the bike since UK's David Knight in 2008 and 2009, and the next American-born champion to win back-to-back championships since Rodney Smith in 2001 and 2002.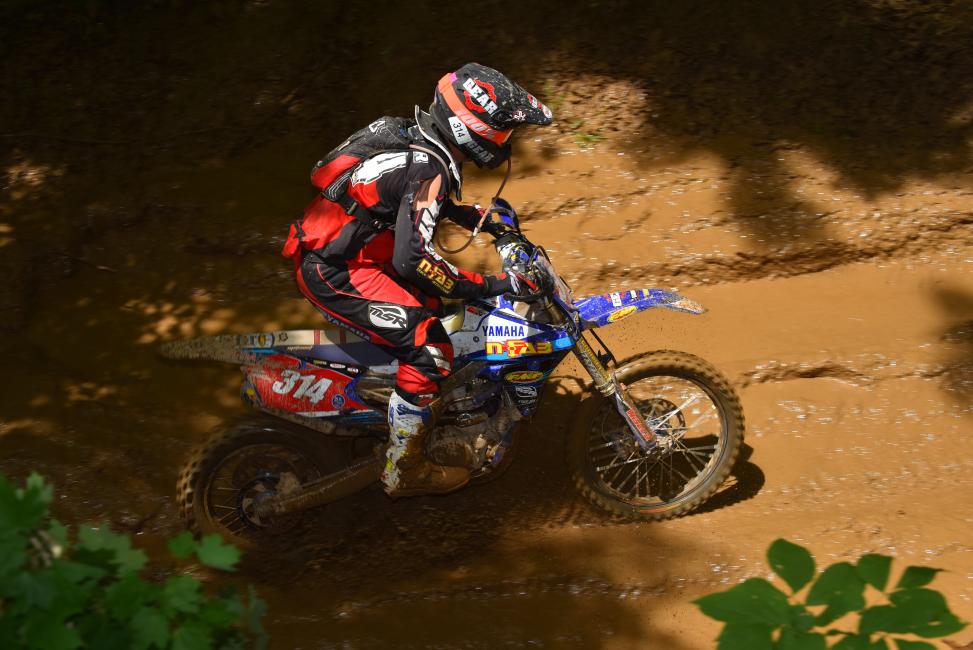 There are just five rounds remaining in the 2015 season, and a hard-charging field of competitors looking to stand atop the center of the podium. Russell has been a dominating force this season, winning all but one race so far, but as everyone knows anything can happen at the AMSOIL Snowshoe GNCC.
N-Fab AmPro Yamaha's Grant Baylor has had quite the season with finishes as good as second place, to round one where he finished 10th place. Baylor has run up front with Russell and swapped positions more than once with the current points leader. Baylor currently sits second in the points championship, but is looking to earn his first overall win in the XC1 Pro class.
JCR Honda's Chris Bach got his first taste of winning this season at round six in New York. Bach has had his ups and downs this season, but will be looking to run up front again and earn that spot in the center of the podium. AirGroup/Rockstar Energy/Husqvarna backed rider Ryan Sipes has been pretty busy lately racing both Pro Motocross and GNCC.
Sipes, who has been improving all season long, has finished atop the podium in second at the past two races, and third at round six. After racing the Muddy Creek Pro Motocross National, the John Penton GNCC and the High Point Pro Motocross National, Sipes will look to continue is streak of GNCC podium finishes this weekend.
Rocky Mountain ATV*MC/KR4/FAR's Thad DuVall will look to earn the overall win this weekend in front of his hometown crowd. After some bad luck at rounds four and six, DuVall currently holds the fifth place position in the point standings just two points behind Sipes. Rockstar Energy Husqvarna's Josh Strang was plagued with a shoulder injury causing him to ride cautiously at round six and eight and ultimately sit out of round seven. Strang looks to be gaining his strength back each weekend, and even captured the XC1 All Balls Racing Holeshot award at the Wiseco John Penton just two weeks ago.
N-Fab AmPro Yamaha's Jordan Ashburn finished second at last year's AMSOIL Snowshoe GNCC, but has also been troubled with bad luck this season. Ashburn is looking to return to the podium this weekend, and improve his seventh place position in the points championship standings.
In the XC2 Pro Lites class DirtWise/Maxxis/KLIM's Jason Thomas is aiming to return to his winning ways this weekend, however Rocky Mountain ATV*MC/KR4/FAR's Nick Davis is looking to keep his win streak alive making it three-in-a-row this weekend. Thomas and Davis were early championship contenders, however after having some unfortunate crashes and mechanical issues Davis has seen himself move back to sixth in the XC2 point standings, while Thomas has surged by winning four rounds. Thomas finds himself with a 52-point lead with only five more rounds of racing to go.
Raines Riding university/Atlas Yamaha/OffRoadViking.com's Ricky Russell finds himself in second place in the XC2 point standings. Even after missing rounds two and three with a wrist injury, Russell has managed to never finish outside of the top four at every other round. Husqvarna Support Rider Craig DeLong is having a standout year in the XC2 Pro Lites class, and is currently third in points, only one point behind Russell. DeLong has proven he can run at the front of the pack by pulling holeshots, and is looking to improve his second point standings in XC2 Pro Lites class this weekend.
Also expected to compete this weekend on motorcycles will be local racers Jacob Cooper, Craig Daft, Tyler Haddix, Kenny Hawkins, Lucas Herron, Lakota Jonese, Alec Karlen, Wesley Lantz, Samuel Nestor, Coalton Raines, Garrett Skidmore, and Garrett Smyton
Youth bike racing will take place Sunday at 8 a.m., followed by amateurs and Women at 10 a.m., while the top amateurs and pros race at 1 p.m. Local racers are invited to compete at this event, as GNCC Racing offers classes for riders of all skill and experience levels. The amateur racer entry fee is $40 and riders can sign up at the track.
Adult (12+) gate admission is $25 for the full weekend and $15 for kids (6-11). Kids five and under are free. All admission includes a ski lift ticket. For more information on the series, please visit www.gnccracing.com.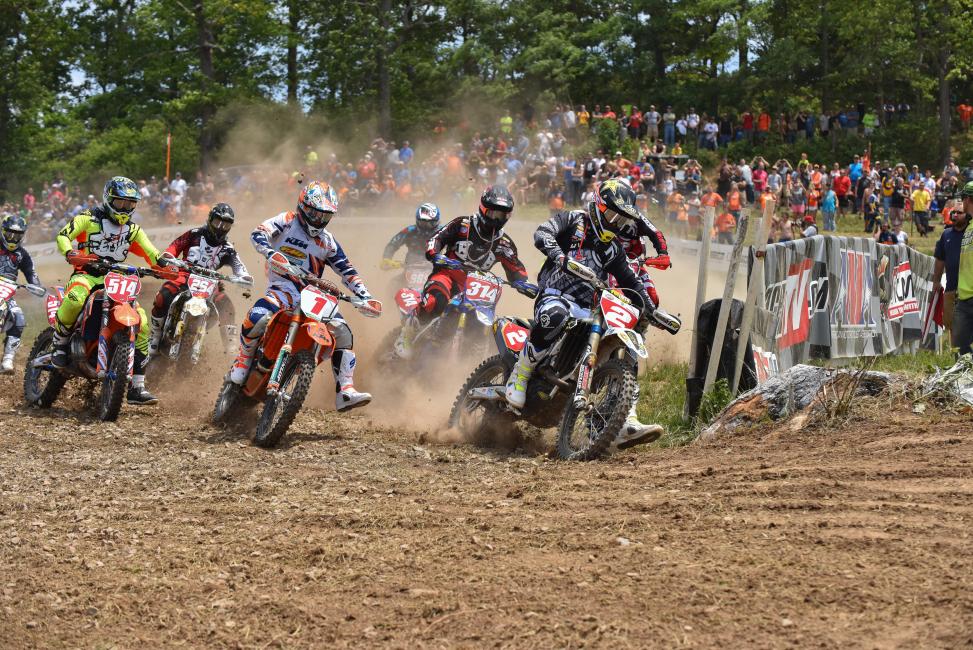 Tune into RacerTV.com on Saturday at 1 p.m. EST to catch LIVE coverage of the Pro Bike race at Round 9. For more information on GNCC Live coverage, visit www.racertv.com. A highlight show featuring the event will air on NBC Sports Network on Saturday, November 21 at 5:00 p.m.
Stay up-to-date with exclusive content from the AMSOIL GNCC Series by following the series Facebook, Twitter and Instagram.
Previous Round Results
Millfield, OH
Round 8 of 13
Sunday, June 7
XC1 Event Results:
Kailub Russell (KTM)
Ryan Sipes (HSQ)
Grant Baylor (YAM)
Thad DuVall (HSQ)
Andrew DeLong (HSQ)
Jordan Ashburn (YAM)
Steward Baylor (KTM)
Chris Bach (HON)
Takeshi Koikeda (HON)
Chris Douglas (KTM)
*Overall National Championship Standings:
Kailub Russell (235)
Grant Baylor (147)
Chris Bach (126)
Ryan Sipes (122)
Thad DuVall (120)
Josh Strang (118)
Jordan Ashburn (89)
Jason Thomas (87)
Ricky Russell (70)
Craig DeLong (67)
*Indicates that the Overall National Championship Standings will determine the 2015 National Champion.
XC2 Event Results:
Nick Davis (HSQ)
Jason Thomas (KTM)
Ricky Russell (YAM)
Craig DeLong (HSQ)
Callan May (YAM)
Cory Buttrick (BET)
Ian Blythe (KTM)
Jesse Groemm (BET)
Michael Witkowski (KTM)
Austin Lee (YAM)
XC2 Series Standings:
Jason Thomas (192)
Ricky Russell (140)
Craig DeLong (139)
Layne Michael (127)
Trevor Bollinger (118)
Nick Davis (117)
Cory Buttrick (109)
Tegan Temple (99)
Austin Lee (88)
Callan May (81)