Kayla Bolton
Thursday, May 21, 2015 | 4:20 PM
Walker Fowler Looks to Earn Fourth Victory at Rocky Mountain ATV/MC Mountaineer Run GNCC
Cody Collier Comes into Round Seven Fresh off his First XC2 Win
Morgantown, W.Va (May 21, 2015) – After a come-from-behind win at the Dunlop Tomahawk GNCC two weeks ago, N-Fab/AmPro Yamaha's Walker Fowler looks to come away with his fourth win of the 2015 AMSOIL Grand National Cross Country Series presented by Maxxis, an AMA National Championship at this weekend's Rocky Mountain ATV/MC Mountaineer Run GNCC in Masontown, West Virginia.
However, a repeat win may not come easy for Fowler as a number of challengers will also be looking to bid for an overall win. CST/Lonestar/DeRisi/Tire Blocks/Spider Graphics rider Adam McGill leads the points chase into round seven, and is sure to put up a fight for the win in his home state of West Virginia. JMR/ATVRiders.com-backed Jarrod McClure will also look to improve this weekend. McClure has finished third at the past three GNCC rounds and currently sits third place in the championship standings.
Bithell Racing/Maxxis/Precision's Chris Bithell will aim to land on the center of the podium once again at the Rocky Mountain ATV/MC Mountaineer Run this weekend. After earning his first victory since 2013 at round five this season, Bithell has shown he has the ability to be a front-runner and challenger in this championship chase.
Another challenger is that of Maxxis/B. Neal Motorsports Brycen Neal, who is currently tied for fifth in the championship standings with defending champion, Team Maxxis' Chris Borich. Bad luck has struck Borich at more than one round this year causing him to fall back to sixth in the championship point's standings. Borich was running in podium contention at the Dunlop Tomahawk GNCC two weeks ago before his machine overheated just one mile from the finish, costing him valuable time.
Fasttrax/Wolf Racing's Brian Wolf has also made his way into the top five at the previous two rounds, and currently sits eighth in points ahead of Coastal/Waynesburg Yamaha's Jay Shadron who has shown multiple times this season that he has what it takes to run with the front of the XC1 pack. Showhauler/Maxxis/Cycle Barn's Landon Wolfe rounds out the top ten in championship standings and sits just one point behind Shadron.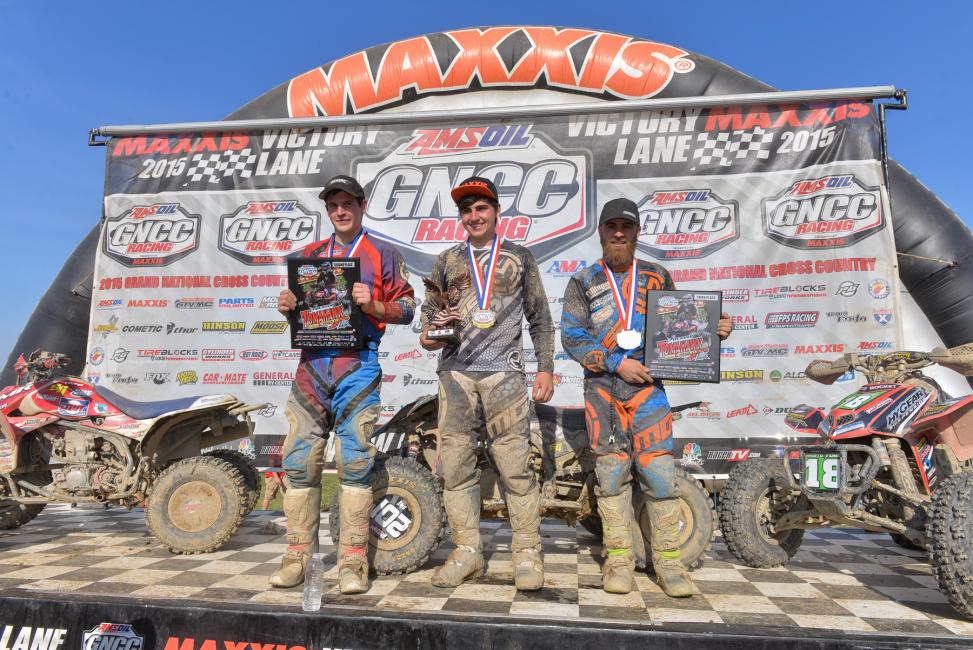 In the XC2 Pro Am class, RYCO Racing's Cody Collier claimed his first-career XC2 win two weeks ago at the Dunlop Tomahawk GNCC, and is currently the only one to stop N-Fab AmPro Yamaha/Maxxis/Lonestar's Cole Richardson from his dominant start to the season.
Richardson had been on a dominant win streak for the first six races, but Richardson would suffer a mechanical issue at the Dunlop Tomahawk GNCC while he was leading, not only ending his day early, but also ending his season winning streak. Honda's Martin Christofferson has been a consistent podium threat in the XC2 class throughout the 2015 season and currently sits third place in the XC2 Pro Am standings ahead of JMR/ATVRiders.com's Randy Hamilton and Coastal/Waynesburg Yamaha's Blake Tornes who round out the top five, respectively.
Local racers competing Saturday on ATVs will be: Pete Arbonais (Vet B 30+), Payton Dalton (125 Sr 12-15), Brandon Golden (Novice 16-18), Steven Golden (XC2 Pro-Am), Mike Isaacson (Novice 19+), Wes Kinsley (XC2 Pro-Am), Kaden Lambruno (70cc CVT) and his father Nick Lambruno (Super Senior 45+), Michael Lancaster (XC2 Pro-Am), Richard Little II (4x4 C), and Haden Nicholson (125 Sr 12-15).
Saturday's race schedule is as follows: Youth ATV racing begins at 8 a.m., followed by amateurs, 4x4 Pro and Women at 10 a.m., and the top amateurs and pros begin at 1 p.m. Following Saturday's afternoon race, UTV racing will take place at 4 p.m.
Adult (12+) gate admission is $20 for the full weekend and $10 for kids (6-11). Kids five and under are free. All admission includes pro pit access. Local racers are invited to compete at this event, as GNCC Racing offers classes for riders of all skill and experience levels. The amateur racer entry fee is $40 and riders can pre-register online or sign up at the track.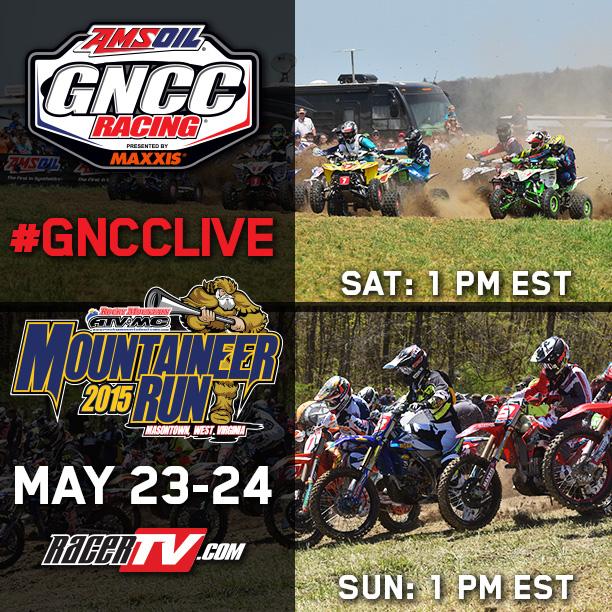 Tune into RacerTV.com on Saturday at 1 p.m. EST to catch LIVE coverage of the Pro ATV race, and at 4 p.m. EST to catch LIVE coverage of the UTV race. For more information on GNCC Live coverage, visit www.racertv.com. A highlight show featuring the event will air on NBC Sports Network on Saturday, August 1 at 12:30 p.m.
The 2015 AMSOIL Grand National Cross Country Series heads to Masontown, West Virginia this weekend, May 23 and 24, for the Rocky Mountain ATV/MC Mountaineer Run GNCC. For more information on the series, please visit www.gnccracing.com.
Catch Saturday's ATV racing on RacerTV.com starting at 1 p.m. ET followed by UTV racing at 4 p.m. ET!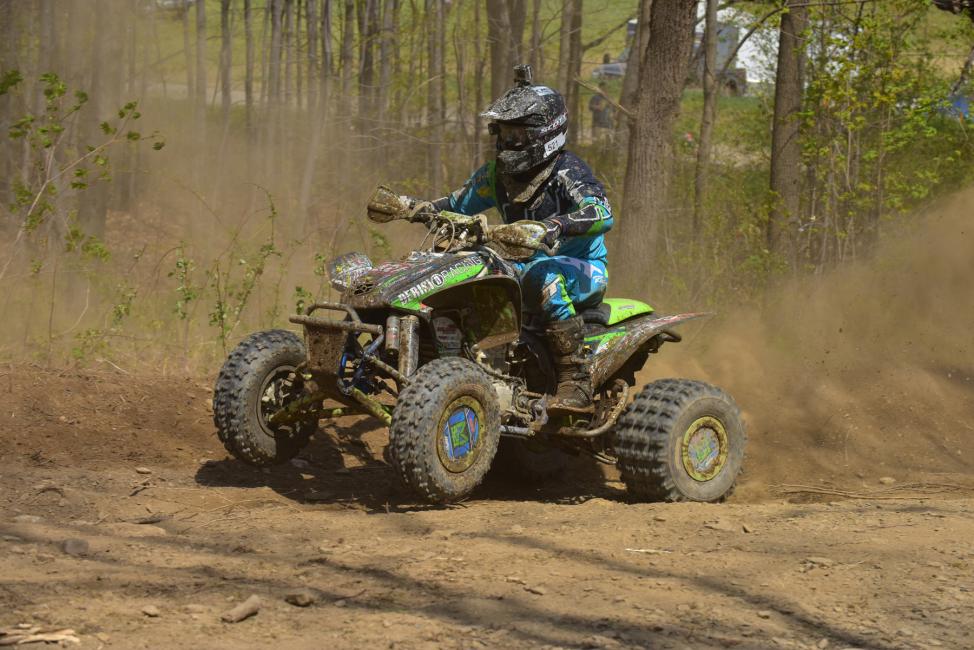 Previous Round Results and Point Standings
Dunlop Tomahawk GNCC
Odessa, NY
Round 6 of 13
Saturday, May 9
XC1 Event Results:
Walker Fowler (YAM)
Adam McGill (HON)
Jarrod McClure (HON)
Chris Bithell (SUZ)
Brian Wolf (HON)
Kevin Yoho (YAM)
Brycen Neal (HON)
Landon Wolfe (YAM)
Josh Merritt (YAM)
Jay Shadron (YAM)
*Overall National Championship Standings:
Adam McGill (149)
Walker Fowler (136)
Jarrod McClure (110)
Chris Borich (104)
Chris Bithell (102)
Brycen Neal (102)
Jay Shadron (81)
Brian Wolf (77)
Kevin Yoho (76)
Landon Wolfe (75)
*Indicates that the Overall National Championship Standings will determine the 2015 National Champion.
XC2 Event Results:
Cody Collier (YAM)
Randy Hamilton (HON)
Martin Christofferson (HON)
Thomas Koontz (YAM)
Brad Aman (HON)
Cameron Bruce (YAM)
James Green (HON)
Michael Lancaster (HON)
Nathan Wallpe (HON)
Eric Wilczek (HON)
XC2 Series Standings:
Cole Richardson (143)
Cody Collier (132)
Martin Christofferson (128)
Randy Hamilton (96)
Blake Tornes (77)
James Green (63)
Michael Lancaster (61)
Byrson Hoppes (59)
Jonathan Fugate (58)
Cameron Bruce (51)