Kayla Bolton
Friday, May 8, 2015 | 12:15 PM
FOR IMMEDIATE RELEASE
Media Inquiries:
304-826-7716
[email protected]
Kailub Russell Looks to Remain Undefeated at Inaugural Tomahawk GNCC
XC2 Pro Lites Championship continues to heat up
MORGANTOWN, W.Va. (May 8, 2015) – The 2015 AMSOIL Grand National Cross Country Series presented by Maxxis, an AMA National Championship, heads to Odessa, New York this weekend for the inaugural running of the Dunlop Tomahawk GNCC. Leading the way into round six of the 2015 season will be Factory FMF/KTM's Kailub Russell.
Russell enters round six with five consecutive wins and a thirty-two point lead in the championship standings. Not since Finland Juha Salminen's 2006 championship performance has a rider claimed six consecutive wins in the first six rounds of the GNCC Racing season.
Rockstar Energy Husqvarna rider and Australian import Josh Strang, currently second in the championship standings, looks to rebound from his worst finish of the season at the previous round. N-Fab AmPro Yamaha's Grant Baylor has worked his way up to third in the championship standings with an impressive ride at round five. Baylor battled up front with Russell for most of the Limestone 100 in Indiana two weeks ago, and comes into this weekend with a confidence boost.
Rocky Mountain ATV/MC KR4/FAR Husqvarna's Thad DuVall rounded out the podium in Indiana with a stellar third place finish despite the muddy conditions. DuVall managed to lead the XC1 Pro class through the first two laps at the Limestone before battling with front-runners Baylor and Russell.
JCR Honda's Chris Bach and N-Fab AmPro Yamaha's Jordan Ashburn currently sit fifth and sixth in the championship standings with only five points separating them. Both Bach and Ashburn have had a consistent season thus far, finishing inside the top ten all but once. Ashburn was able to claim the $250 All Balls Racing Holeshot Award in Indiana.
The XC2 Pro Lites championship continues to heat up with intense racing and close point battles through the top five. DirtWise/Maxxis/KLIM's Jason Thomas was able to add another victory to his season two weeks ago in Indiana. Thomas leads the way in the championship standings.
Husqvarna Support Rider Craig DeLong has made his way into second in the championship standings after finishing inside the top five throughout the first five rounds, while RideMPS.com/AMSOIL Honda's Layne Michael sits in third in the championship standings, with only four points separating him and DeLong.
MotoTech KTM's Trevor Bollinger has been steadily working his way up through the pack, and finds himself fourth in the championship standings. After missing rounds two and three, Raines Riding University/AtlasYamaha/OffRoadViking.com rider Ricky Russell has made his way into fifth in the points.
The event also offers great opportunity for local racers to showcase their talents in front of their hometown crowd. Teenage phenom Hunter Hart, from nearby New Field, New York, is currently ranked 3rd in the highly-competitive Schoolboy Sr. (14-17) ATV class and 9th in the Super Mini (14-15) motorcycle class. Competing both days, Hart has earned a reputation as an "Ironman" within the series.
Hunter Hart, rider no. 211, grabs the checkereds at an earlier round of GNCC Racing this year. Hart will be competing on both ATV's and motorcycles this weekend at the inaugural Tomahawk GNCC in Odessa, New York.
Also competing this Sunday on motorcycles will be the racing Steiner family, from Van Etten, New York. 21-year old Samantha Steiner competes in the highly-competitive WXC class – the premiere pro women's class. Younger brother, Timothy Steiner, rips up the trails in the Super Mini (14-15) bike class, where he is currently ranked 5th in the series. Father James Steiner, rounds out the family trio by competing in the Vet A (30+) division against racers much younger than himself.
Sunday's race schedule is as follows: Youth Bike racing begins at 8 a.m., followed by amateurs and Women at 10 a.m., and the top amateurs and pros begin at 1 p.m.
Adult (12+) gate admission is $20 for the full weekend and $10 for kids (6-11). Kids five and under are free. All admission includes pro pit access. Local racers are invited to compete at this event, as GNCC Racing offers classes for riders of all skill and experience levels. The amateur racer entry fee is $40 and riders can sign up at the track.
The Tomahawk GNCC takes place at Seneca Highlands – a riding facility that has hosted off-road racing for several years with the Western New York Off-Road Association (WYNOA), earning honors as the "Best Hare Scramble of the Year" in the WYNOA Series in 2012. A mere few miles from Watkins Glen International, Seneca Highlands has quickly earned the reputation as a premier off-road racing destination.
To get to the track, from I-86 take Exit 52B, Route 14 (Watkins Glen). Follow Route 14 north to Route 224. Turn right onto Route 224 east, then left onto Route 228 north. Turn left at stop sign, travel 1 mile, then left onto Carley Road for 3 miles and look for the GNCC race signs.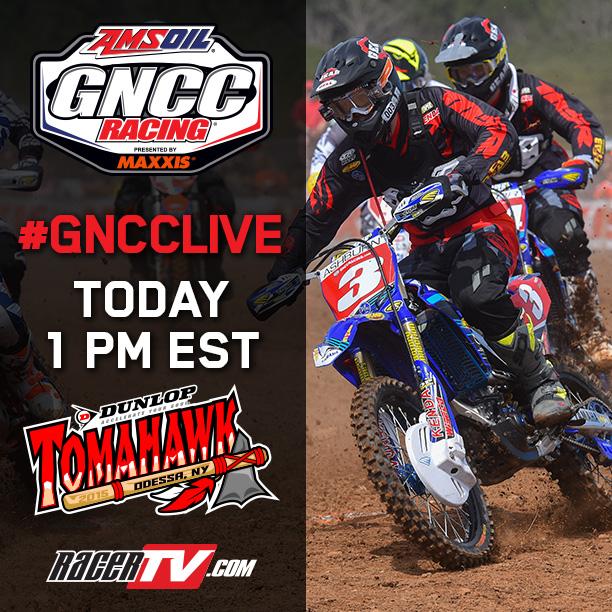 Tune into RacerTV.com on Sunday at 1 p.m. ET to catch LIVE coverage of the Pro Bike race. For more information on GNCC Live coverage, visit www.racertv.com. Race coverage will also be broadcast on NBCSN on Sunday, June 28 at 3:30 p.m.
For more information on the series, visit the official website www.gnccracing.com or call (304) 284-0084.
Previous Round Results and Point Standings
Limestone 100 GNCC
Springville, Indiana
Round 5 of 13
Sunday, April 26
XC1 Event Results:
Kailub Russell (KTM)
Grant Baylor (YAM)
Thad DuVall (HSQ)
Josh Strang (HSQ)
Jordan Ashburn (YAM)
Ryan Sipes (HSQ)
Chris Bach (HON)
Andrew DeLong (HSQ)
Chris Douglas (KTM)
10. Adam Bonneur (KTM)
*Current Overall National Championship Standings:
Kailub Russell (150)
Josh Strang (118)
Grant Baylor (90)
Thad DuVall (81)
Chris Bach (69)
Jordan Ashburn (60)
Ryan Sipes (51)
Jason Thomas (50)
Craig DeLong (47)
Trevor Bollinger (42)
*Indicates that the Overall National Championship Standings will determine the 2015 National Champion.
XC2 Event Results:
Jason Thomas (KTM)
Craig DeLong (HSQ)
Ricky Russell (YAM)
Trevor Bollinger (KTM)
Tegan Temple (KTM)
Austin Lee (YAM)
Cory Buttrick (BET)
Jesse Groemm (BET)
Ryder Lafferty (HSQ)
10. Philippe Chaine (KTM)
Current XC2 Series Standings:
Jason Thomas (119)
Craig DeLong (95)
Layne Michael (91)
Trevor Bollinger (83)
Ricky Russell (76)
Cory Buttrick (69)
Nick Davis (57)
Austin Lee (51)
Scott Grills (50)
Callan May (46)
About GNCC Racing
The AMSOIL Grand National Cross Country Series presented by Maxxis is America's premier off-road racing series. Founded in 1975, the 13-round championship is produced exclusively by Racer Productions and is sanctioned by the American Motorcyclist Association (AMA) as a National Championship. Cross-country racing is one of the most physically demanding sports in the world. The grueling three-hour GNCC races lead as many as 2,000 riders through tracks ranging in length from eight to 12 miles. With varied terrain, including steep hills, woods, meadows, mud, dirt, rocks and motocross sections, GNCC events are tests of both survival and speed. The series draws talent from all over the U.S., Europe, Japan, Australia and New Zealand. GNCC Racing is televised weekly on NBCSN and RacerTV.com. For more information, please visit www.gnccracing.com.