TimeMonday, April 14, 2014 | 12:05 AM
Round 4 of the 2014 AMSOIL Grand National Cross Country Series presented by Maxxis, an AMA National Championship, presented some of the most favorable weather conditions of the season with sunny skies and temperatures nearing the 80-degree mark. While the South Carolina temperatures were a welcomed change for spectators on Sunday, the track conditions were nothing short of brutal for the racers competing in the 18th Annual VP Racing Fuels Big Buck GNCC in Union County.
Factory FMF/KTM's Kailub Russell extended his winning streak to three-in-a-row at the fourth stop of the 13-round series, topping his teammate and closest competitor Charlie Mullins by approximately one minute in the end. However, like his other two wins this season, Russell had to work for this one.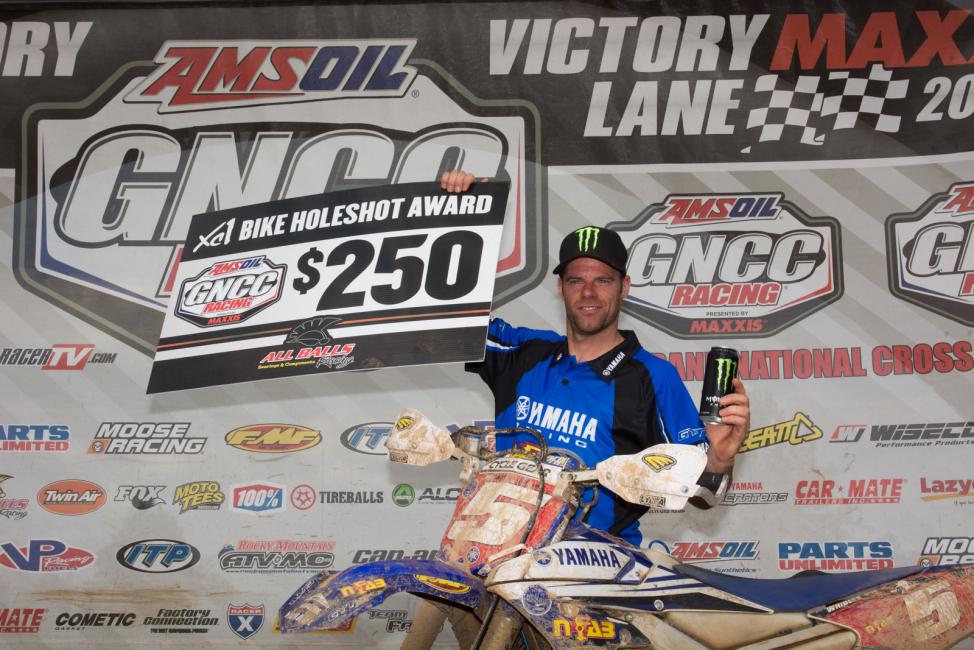 N-Fab AmPro Yamaha's Paul Whibley secured the $250 All Balls Racing XC1 Holeshot Award, while his teammate Jordan Ashburn grabbed the lead on the opening lap. While the rest of the pack was rounding the second corner, Russell was just getting through the start straight after another rider went down in front of him. From there, Russell charged his way through the pack, eventually taking over the lead from Mullins on Lap 3. Russell's quick pace was enough to earn the $150 KR4 Performance Fastest Lap once again.
"I was about 30 seconds down from Charlie's lead and it was tough to make moves real fast and get around those guys quick so I just chose good lines. I knew that if I could catch him [Mullins] I was going to win," Russell said.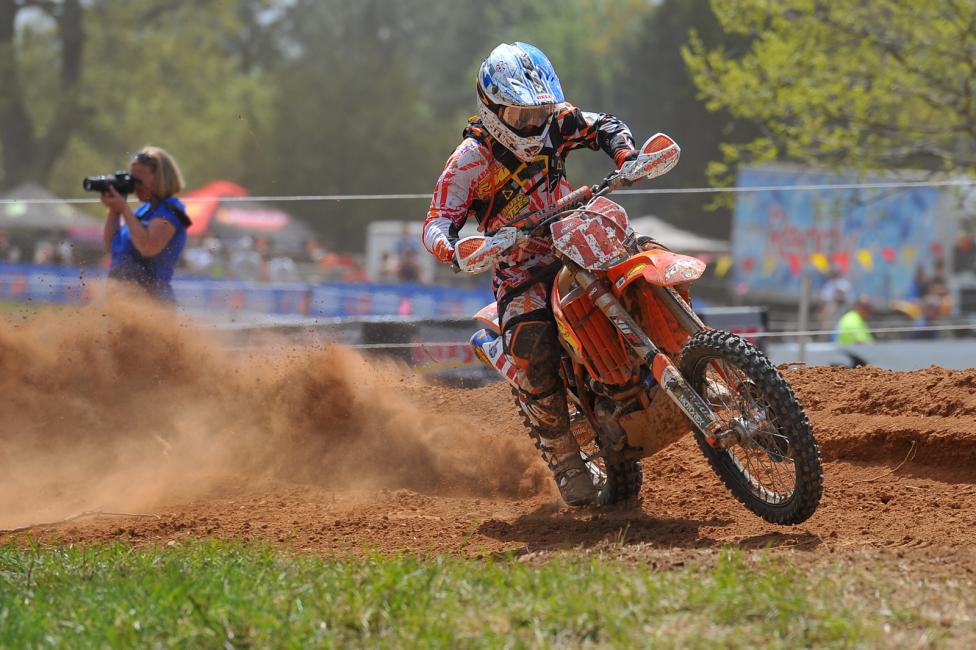 Mullins kept the pressure on Russell throughout much of the race, but a couple of mistakes cost him a substantial amount of time in the final laps of the three-hour race.
"I clipped a lapper and ended up hitting a tree and hitting my hand pretty good," Mullins said. "The last few laps were pretty tough but I just did the best I could and didn't really make up any time."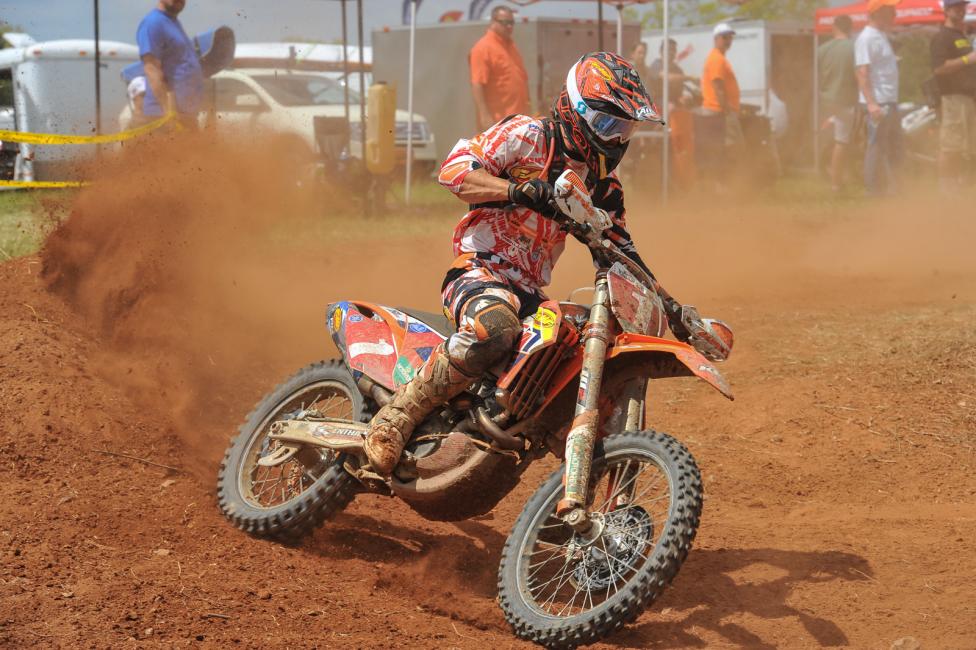 Russell's Round 4 victory will give the reigning champ the overall points lead and white number plate background for the first time this season, with only a two point advantage over Mullins heading into the fifth round.
Rocky Mountain ATV*MC/N-Fab AmPro Yamaha's Josh Strang ran into issues firing his bike up on the start, where he immediately tucked in behind Russell on the opening lap. Strang made his way into the third place position and set his sights on Mullins for second place. Just as he reeled the KTM duo in, Strang had a crash that set him back a little further. Despite a valiant effort on the final lap, Strang wasn't able to catch the leaders in time for the checkered flag.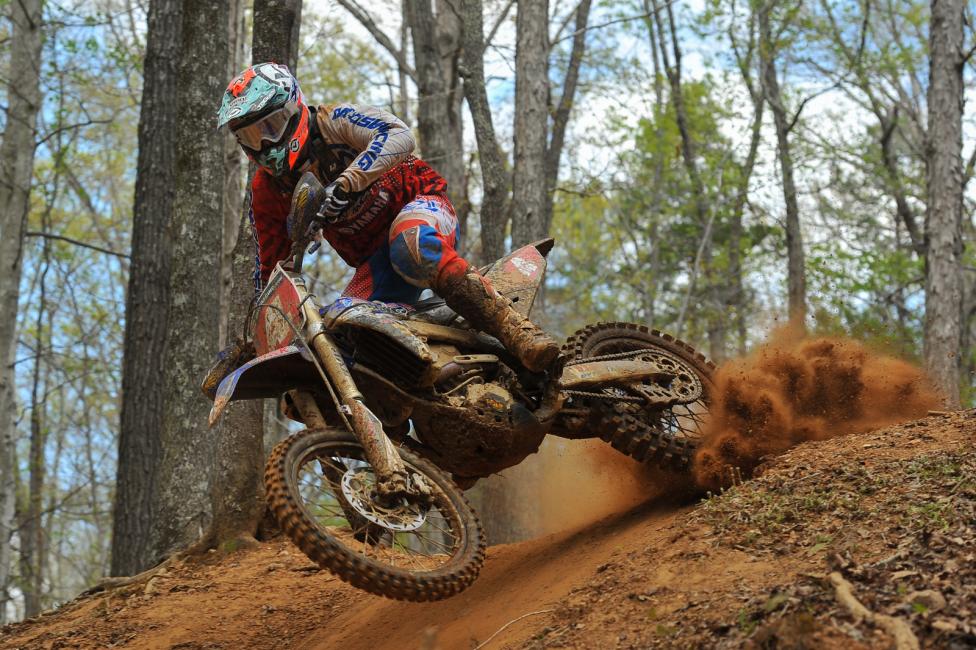 "I caught Charlie and he picked up the pace and I couldn't hang there at the end of the race," Strang said. "I used a little more energy trying to catch those guys. I wanted to give it a go and I nearly did at the end but once I had that crash I was pretty much done."
Factory Husqvarna's Andrew Delong put forth the best ride of his XC1 Pro Class rookie season in South Carolina. Delong didn't get the best start but the former XC2 Pro Lites standout put himself inside the top five soon enough, where he locked in the fourth place position. N-Fab AmPro Yamaha's Paul Whibley finished in fifth after an impressive come-from-behind charge, while his teammate Jordan Ashburn followed in sixth.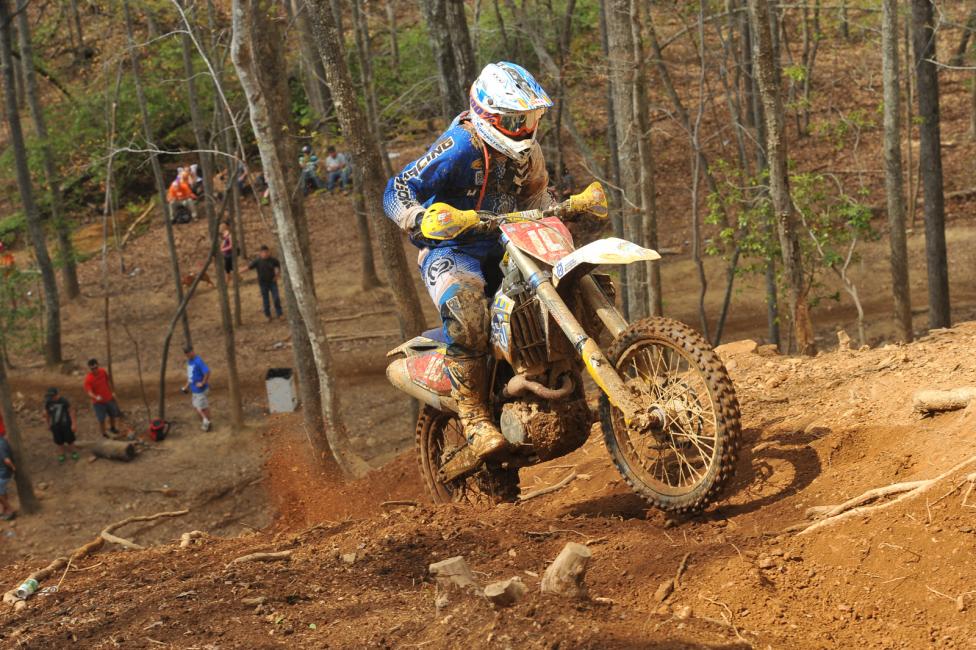 Factory FMF/KTM's Steward Baylor finished seventh in the XC1 Pro Class, followed by Maxxis/KLIM/DirtWise KTM Race Team's Jason Thomas, Rockstar Energy/WMR/KTM's Ryan Sipes and HR Motorsports-backed Takeshi Koikeda rounded out the top 10 in XC1.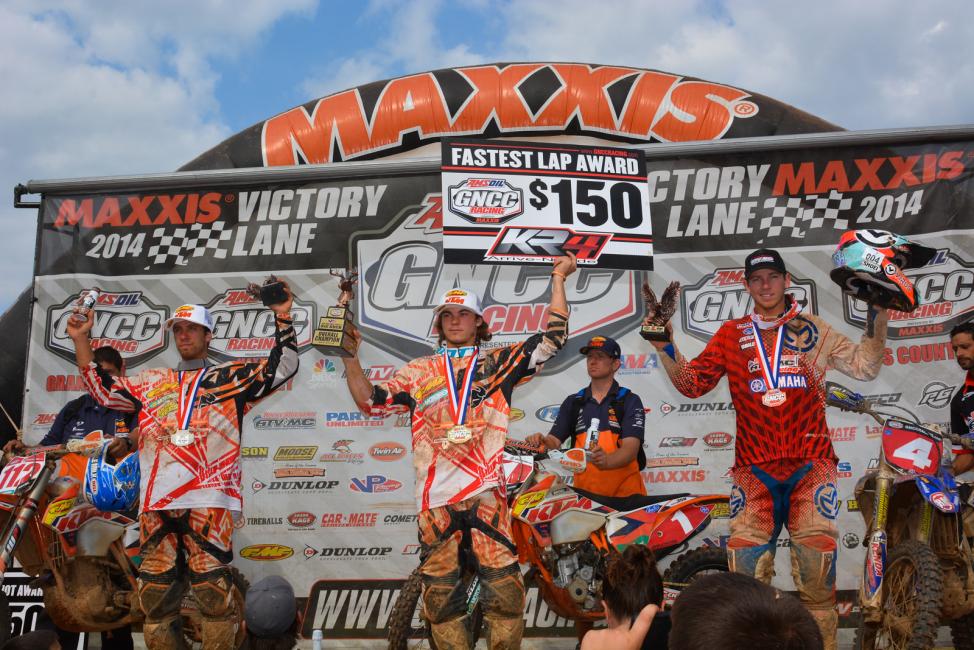 It was a tough day for the Honda-backed rides of RideMPS.com/AMSOIL/Honda's Thad DuVall and Johnny Campbell Racing (JCR) Honda's Chris Bach, who both succumbed to the vicious conditions out on the course. Both riders spent some time in their pit areas making suspension adjustments, but neither was able to score championship points at Round 4.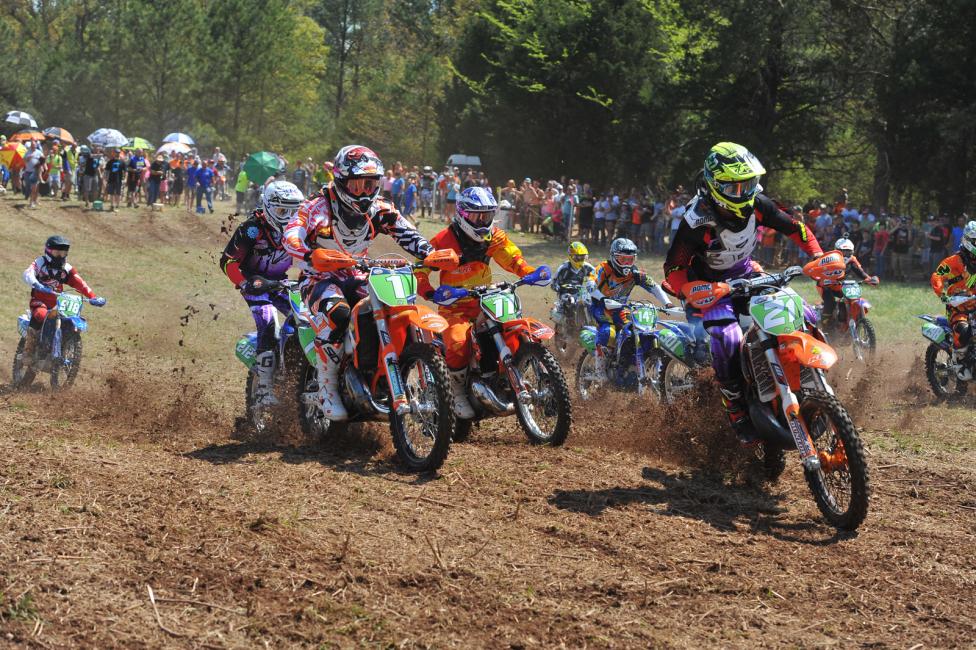 The XC2 Pro Lites championship battled heated up as reigning champ Grant Baylor took over the points lead with a big win in his home state. It wasn't Baylor's from the beginning, though, as Raines Riding University/Yamaha-backed Ricky Russell led five of the six laps out there. Russell experienced a crash on the final lap that allowed Baylor to move by for the win.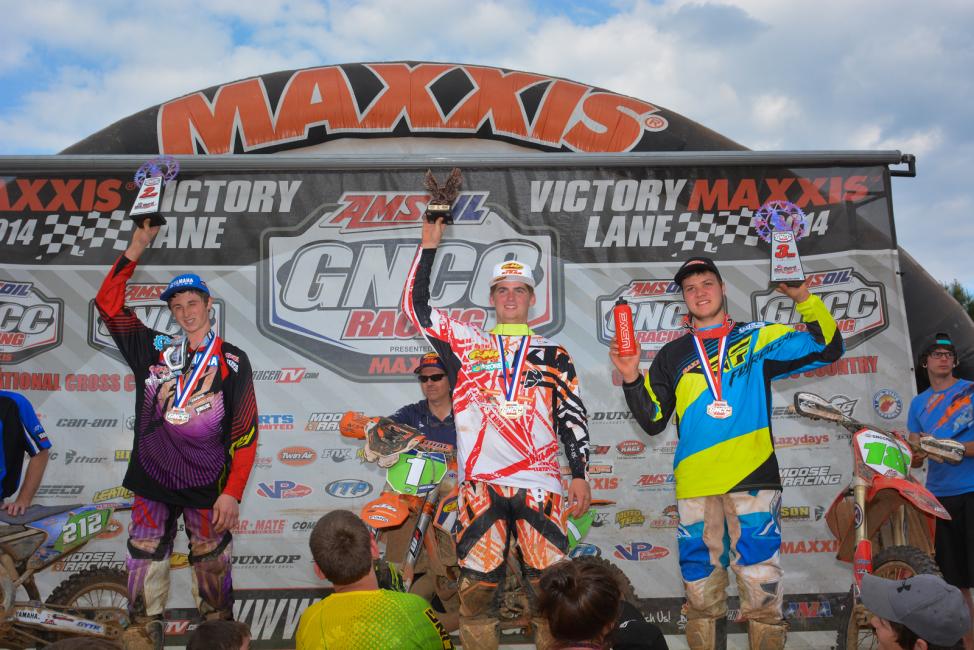 Russell held on to finish second, while North Carolina's Trevor Bollinger, Round 3 XC2 winner, rounded out the class podium with a third place finish.
West Virginia's Sam Evans captured the $100 DigitalOffroad.com XC2 Holeshot Award and finished seventh place in the XC2 Pro Lites Class.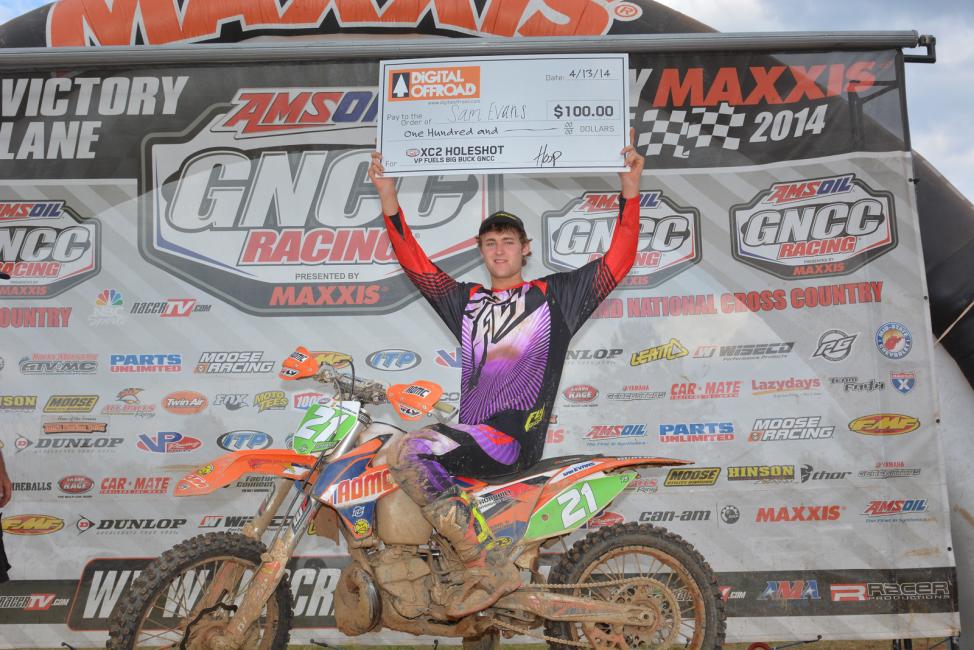 Pennsylvania's Craig Delong grabbed the $125 American Kargo Top Amateur Award with sixteenth overall for the day, while also topping the 250 A Class.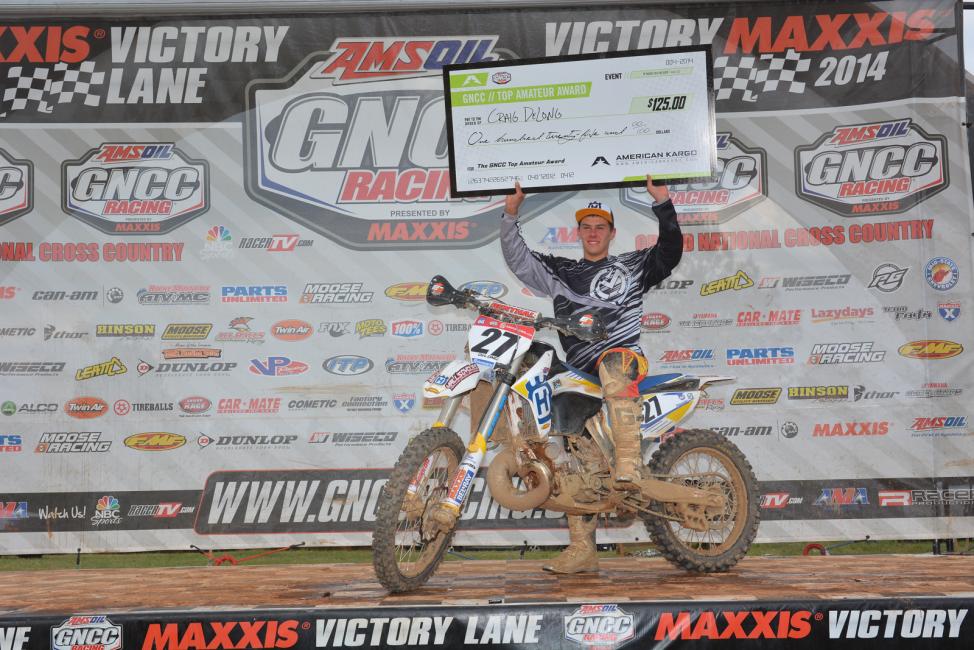 Master's A (50+) winner Vance Earl earned his first Amateur Overall victory of the season, where he was joined by the Master's A runner-up Michael Crane with second place overall. Super Senior A (45+) Class' Rick Matteson rounded out the overall podium with yet another class win.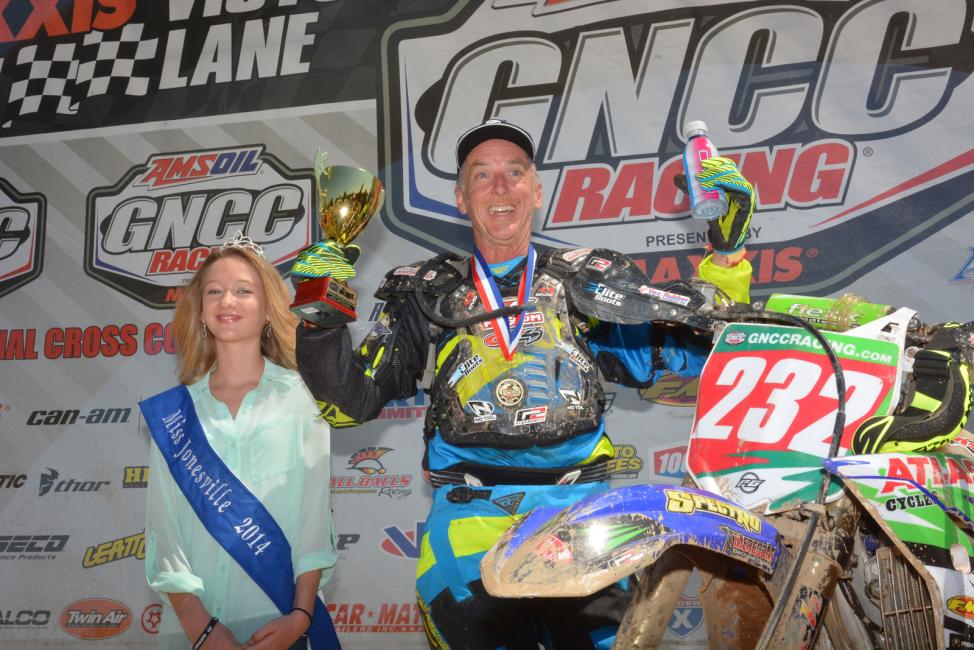 N-Fab/AmPro Yamaha's Jessica Patterson secured her first WXC Class win battling it out with second place finisher Factory FMF/KTM's Kacy Martinez. Ashley Copeland earned her first podium finish of the season at Round 4 in South Carolina.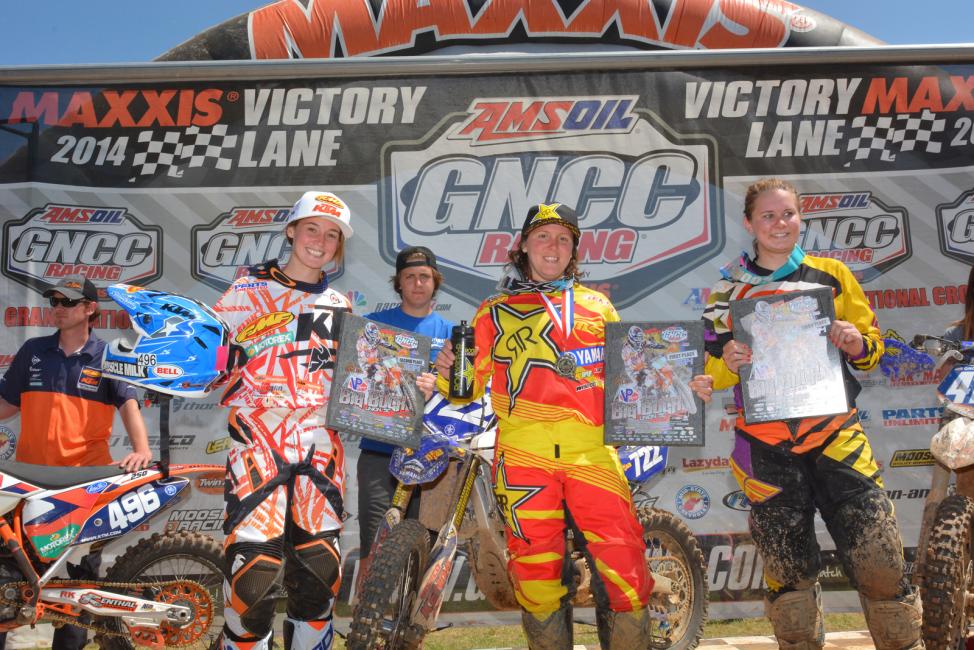 In the 8 a.m. Youth race, the Super Mini (14-15) riders once again dominated the overall podium. South Carolina's very own Cole Mattison captured his first overall victory of the season, with Tennessee's Sam Thurman in second and Alabama's Kyler Godwin rounded out the podium.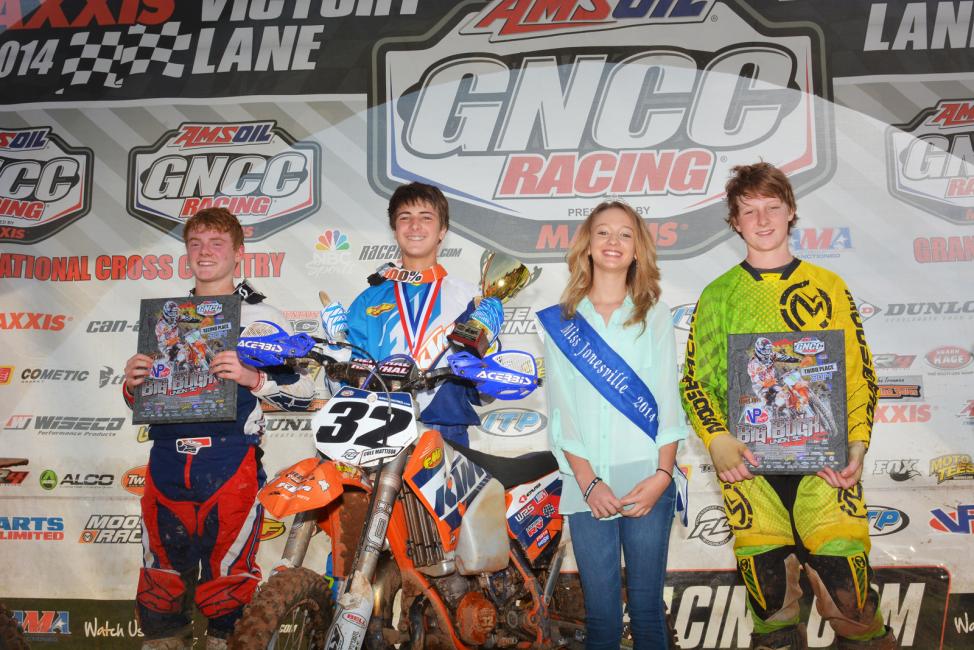 The 2014 AMSOIL Grand National Cross Country Series resumes April 26 and 27 with the Dunlop Limestone 100 in Springville, Ind. For more information on the series, visit www.gnccracing.com.
Stay up-to-date with exclusive content from the AMSOIL GNCC Series by following the series Facebook, Twitter and Instagram.
VP Racing Fuels Big Buck GNCC
Union, S.C.
Round 4 of 13
Sunday, April 13
XC1 Event Results:
Kailub Russell (KTM)
Charlie Mullins (KTM)
Josh Strang (YAM)
Andrew Delong (HSQ)
Paul Whibley (YAM)
Jordan Ashburn (YAM)
Steward Baylor (KTM)
Jason Thomas (KTM)
Ryan Sipes (KTM)
Takeshi Koikeda (HON)
*Overall National Championship Standings:
Kailub Russell (97)
Charlie Mullins (95)
Josh Strang (79)
Jordan Ashburn (65)
Paul Whibley (59)
Steward Baylor (57)
Grant Baylor (52)
Andrew Delong (48)
Ricky Russell (44)
Trevor Bollinger (44)
*Indicates that the Overall National Championship Standings will determine the 2014 National Champion.
XC2 Event Results:
Grant Baylor (KTM)
Ricky Russell (YAM)
Trevor Bollinger (HON)
Layne Michael (HON)
Jesse Groemm (KTM)
Callan May (YAM)
Sam Evans (YAM)
Shane Hufford Jr (KTM)
Jedediah Haines (YAM)
Mark Heresco Jr. (KTM)
XC2 Series Standings:
Grant Baylor (96)
Ricky Russell (93)
Trevor Bollinger (90)
Shane Hufford Jr (65)
Rory Mead (56)
Callan May (56)
Layne Michael ()
Sam Evans (51)
Chris Douglas (36)
Jesse Groemm (31)