TimeMonday, September 23, 2013 | 2:30 AM
The stage was set for what appeared to be a tough mudder at Sunday's inaugural Car-Mate Gusher GNCC as a substantial amount of rain fell in Northwestern Pennsylvania the previous day. But just as quickly as the storms came in, they soon vanished and a combination of sunshine and wind created favorable afternoon track conditions for Round 11 of the 2013 AMSOIL Grand National Cross Country Series. Thousands of race fans were on hand all weekend long to witness the spectacle of events that took place at the RiverStone Estate in Foxburg, Pa., including an epic battle between XC1 Pro riders Kailub Russell and Charlie Mullins, which resulted in a fifth consecutive overall victory for Russell.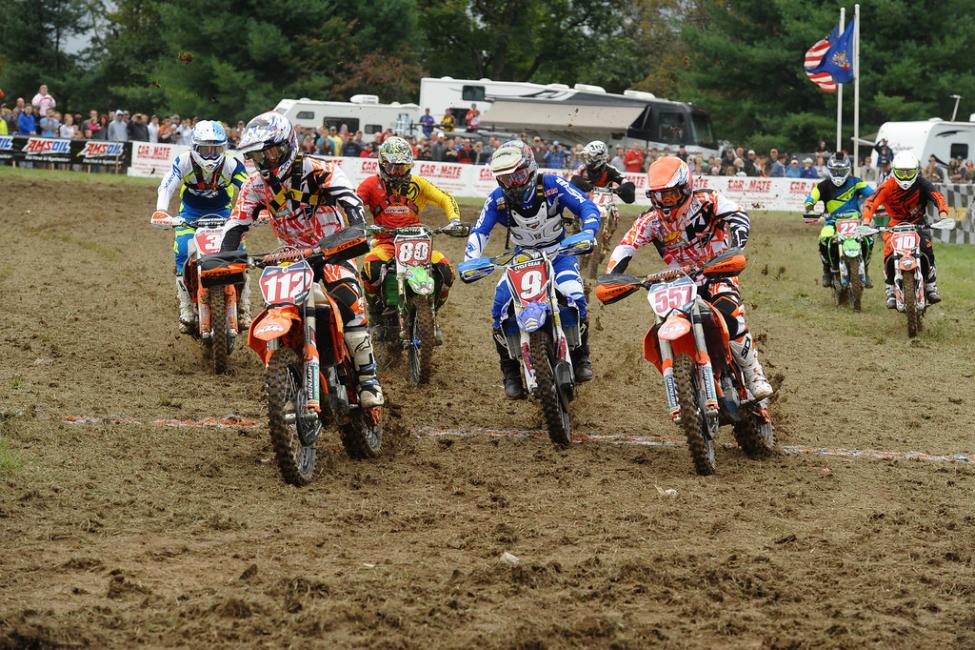 It was Factory FMF/KTM's Mullins who got the early jump after claiming the $250 All Balls Racing Holeshot Award, where he led the XC1 field into the woods, followed closely by his teammate Russell, along with AmPro Yamaha's Jordan Ashburn, Shenandoah Honda/USWE-Sports.com's Thad DuVall and Rocky Mountain ATV/MC's Josh Strang. The lead pack stuck together throughout the first half of the three-hour race but the running order changed several times from first through fifth place.
By Lap 2, Russell had made his way into the lead and Ashburn settled into the second place position after Mullins made a mistake early on to drop back to the third place position. DuVall was close in tow for the fourth place position as the top four riders created over a minute gap on the rest of the field. However, Duvall lost substantial time when he was forced to take a pit stop in order to make adjustments on his bike. From there, it was a game of catch up for the West Virginia native as he put on the charge to catch the lead pack.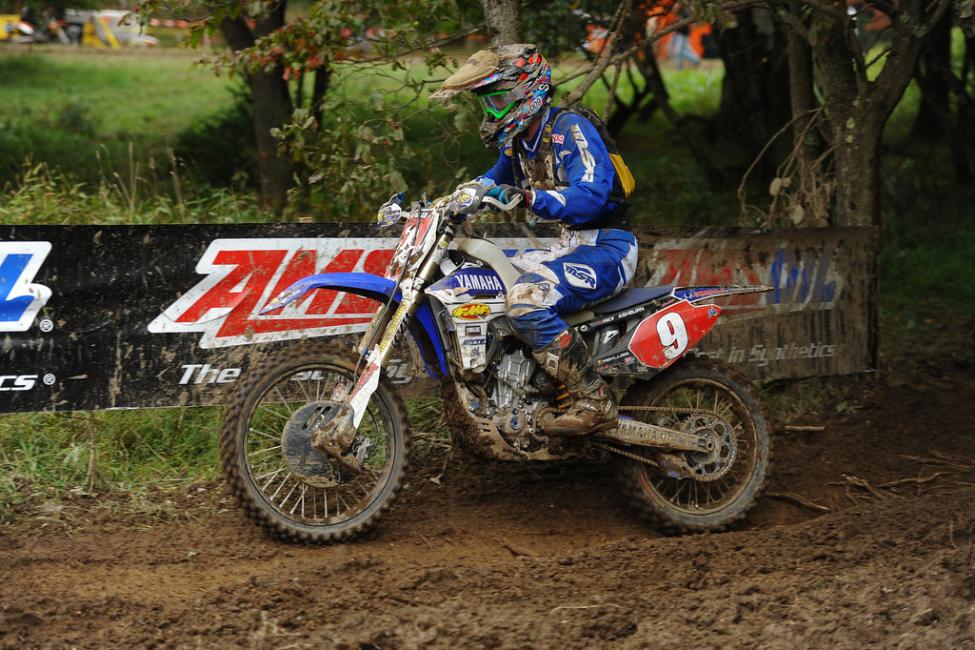 It wasn't long before Mullins made the pass on Ashburn to regain the second place position, engaging in a battle for the lead with his teammate Russell. The duo swapped back and forth for the lead position during the second half of the seven-lap race where Russell held the advantage as the two-lap card fell. Mullins ran into issues with his hand guards where he was forced to pull over to allow his pit crew to make minor adjustments. From there, Russell was able to extend his lead into a comfortable gap where he rode on to claim his fifth straight victory of the season at the inaugural Car-Mate Gusher GNCC.
"The dirt was great and it had good traction. For a track up north I couldn't believe how well it managed the rain, I was pretty pumped once I got out there!" Russell said after the race. "We're just taking it race by race [for the championship]. Charlie has been riding really good this year and so have the rest of the guys so it's going to be a tough next couple of rounds for sure."
Mullins finished second for the day, earning valuable points toward the overall championship standings, where he now sits seven points behind Russell with two rounds remaining in the 2013 season.
"It was an okay day today but I felt like I made a lot of mistakes. Kailub and I went back and forth a couple times and I felt like we had a good pace going out there," Mullins said. "I got out of here with some okay points and I'm healthy to go to Italy, and then we'll come back strong for Ohio."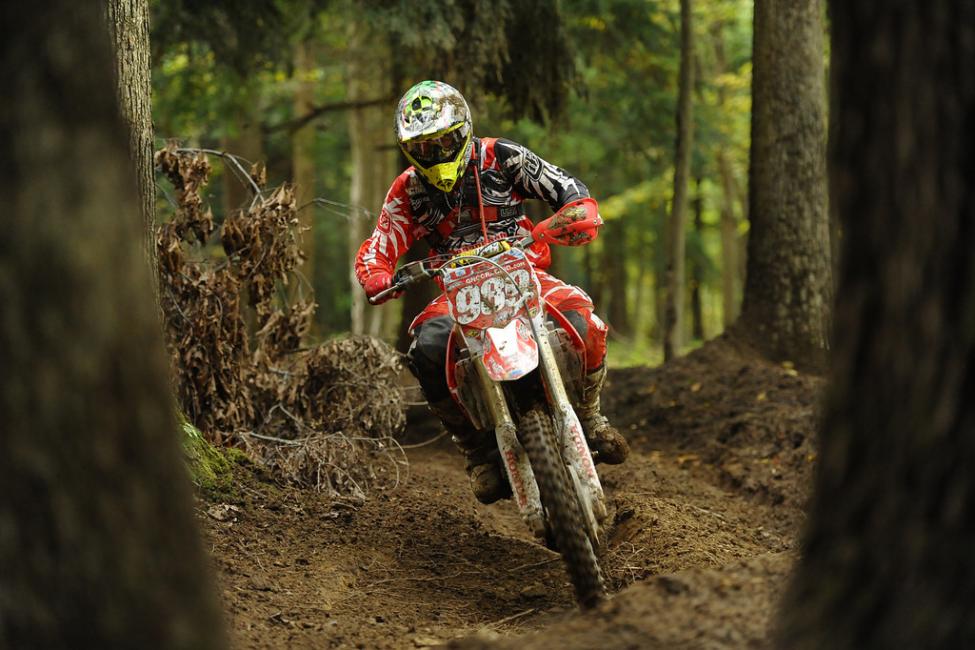 Despite a short setback in the middle of the race, DuVall was able to put a charge at the end to reel in Ashburn and make the pass for third, capturing the final podium position for the day.
"I'm happy with third but it's just one of those days where I wish I could have done better," DuVall said. "I wanted to come out of here healthy and on the podium before heading to the ISDE and that's what I did."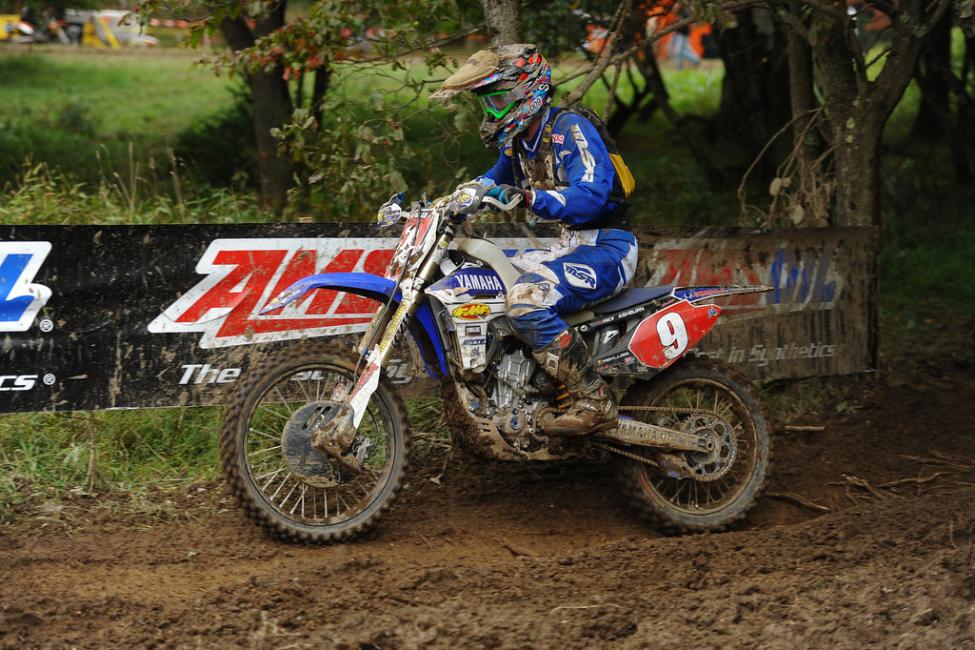 Ashburn put forth an impressive ride, battling for a podium position all afternoon. Ashburn made it as high as second place in the opening laps, where he maintained the third place position for a majority of the race. Ashburn wasn't able to hold off the hard-charging Duvall for a podium finish but he did match his season best finish of fourth overall for the day, while Strang rounded out the top five overall.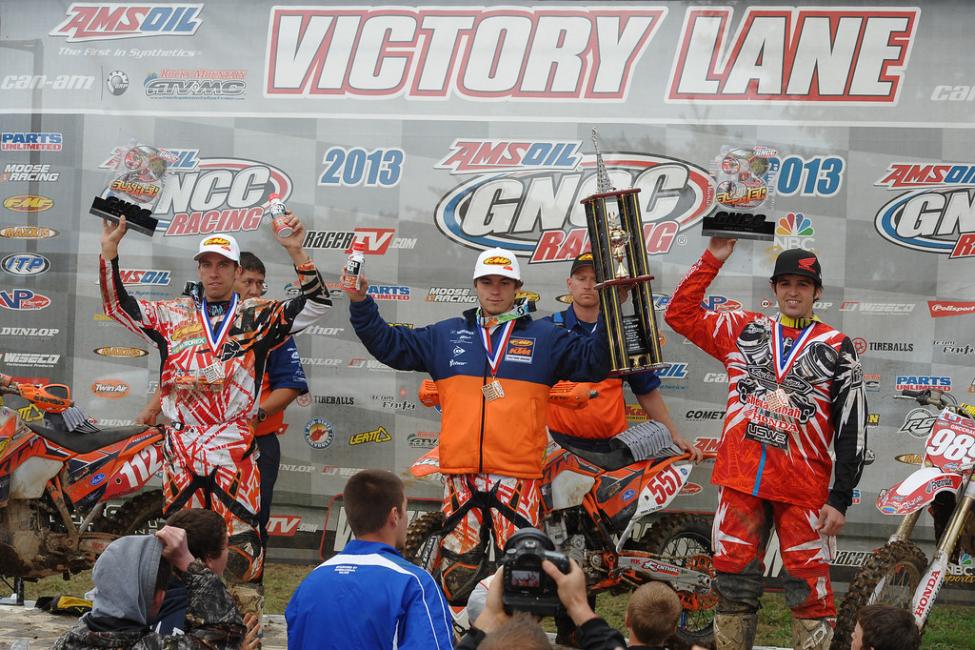 The XC2 Pro Lites Class produced yet another exciting battle for the lead position as F.A.R Husqvarna's Andrew Delong and DirtWise Schools/KTM-Parts.com/Maxxis rider Jason Thomas went head to head for a majority of the three-hour race. It was Ryan Echols who claimed the $100 DigitalOffroad.com Holeshot Award before Delong grabbed the early lead, followed by a hard-charging Thomas not far behind.
Thomas chose to line up on a KTM 125, which seemed to have been a good fit for the 2012 XC2 Pro Lites Champion as he immediately applied pressure on Delong for the first place position. Thomas took over the lead just before the halfway point but Delong did everything he could to keep the UK native in his sights long enough to reclaim the lead on Lap 5. From there, Delong put his head down and charged through the pack where he ultimately finished fifth overall with the adjusted time, also earning his second straight win in the XC2 Class. Thomas dropped back on the final lap, finishing over one minute behind Delong for the second place position.
"Today it was all about the person who made the least mistakes," Delong said. "It was really technical out there and I had trouble getting into the groove at the beginning but when I started finding my flow, I got my speed up and then I had a good time riding. It was a blast today!"
Ohio's Scott Grills began the afternoon inside the top five where he steadily began moving his way through the pack. By the 2-Lap card, Grills had made his way into a podium position where he ultimately secured his second straight podium appearance with a third place finish at The Gusher.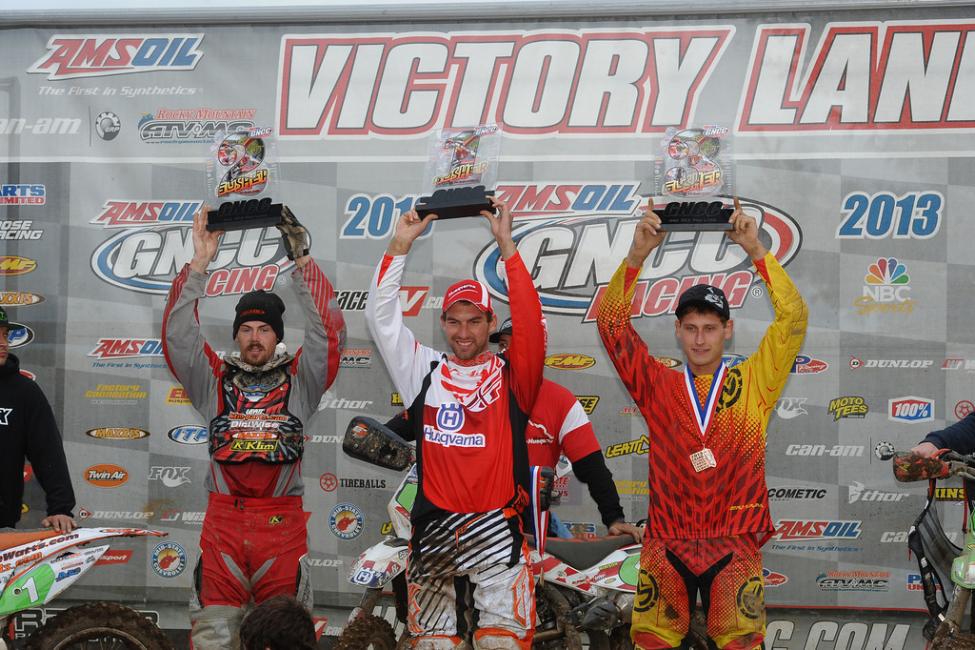 One rider who did not engage in the lead battle was XC2 points leader Grant Baylor, who experienced issues off the start and struggled to make up time throughout the three-hour competition. Baylor eventually made his way up to fifth place in the class after being forced to pull into the pit area as his crew swapped out his rear brakes. Baylor continues to lead Thomas by 28 points in the XC2 Pro Lites championship standings with two rounds remaining in the season.
North Carolina's Trevor Bollinger grabbed another victory in the 4 Stroke A Lites Class, also securing the Top Amateur Award with 13th overall for the day. Craig Delong was next closest amateur, finishing in the 20th position overall and second in the 4 Stroke A Lites Class.
It was Factory FMF/KTM's Maria Forsberg who once again topped the AM Overall win after a hard fought battle through time adjustment with off-road racing legend Jeff Fredette, who finished about 40 seconds behind Forsberg to take second overall and first place in the Silver Masters (55+) class. Third place overall went to West Virginia native Coalton Cupp, who claimed first place in the 250 C Class. FMF/RPM/KTM's Kacy Martinez finished second in the Women's Class, while Sarah Baldwin rounded out the top three in the Women's Class division.
North Carolina's Braxton McGee topped the Youth Overall podium, besting his biggest opponent in the Super Mini (14-15) Class, South Carolina's Cole Mattison, who finished second overall for the day. Indiana's Vincent Smith secured the victory in the Super Mini (12-13) Class while taking third overall for the day.
The 2013 AMSOIL Grand National Cross Country Series heads to St. Clairsville, Ohio on October 12 and 13 for the ITP Powerline Park GNCC. For more information on the series, please visit www.gnccracing.com.
Stay up-to-date with exclusive content from the 2013 AMSOIL GNCC Series by following the series Facebook, Twitter and Instagram.
Car-Mate Gusher GNCC
RiverStone Estate – Foxburg, Pa.
Round 11 of 13
Sunday, September 22
XC1 Event Results:
Kailub Russell (KTM)
Charlie Mullins (KTM)
Thad DuVall (HON)
Jordan Ashburn (YAM)
Josh Strang (KAW)
Chris Bach (KTM)
Takeshi Koikeda (HON)
Adam Bonneur (KAW)
Rory Mead (KTM)
Mark Fortner (BET)
*Overall National Championship Standings:
Kailub Russell (280)
Charlie Mullins (273)
Chris Bach (177)
Thad DuVall (161)
Josh Strang (158)
Grant Baylor (129)
Paul Whibley (127)
Jordan Ashburn (124)
Jason Thomas (119)
Andrew DeLong (93)
*Indicates that the Overall National Championship Standings will determine the 2013 National Champion.
XC2 Event Results:
Andrew DeLong (HSQ)
Jason Thomas (KTM)
Scott Grills (KAW)
Shane Hufford Jr (KTM)
Grant Baylor (KTM)
Chris Douglas (HSQ)
Sam Evans (KTM)
Nick Davis (HSQ)
Ryan Lojak (YAM)
Zach Love (KTM)
XC2 Series Standings:
Grant Baylor (243)
Jason Thomas (215)
Andrew DeLong (181)
Shane Hufford Jr (149)
Scott Grills (118)
Travis Coy (106)
Samuel Evans (105)
Layne Michael (104)
AJ Stewart (102)
Chris Douglas (101)
About GNCC Racing
The AMSOIL Grand National Cross Country series is America's premier off-road racing series. Founded in 1975, the 13-round championship is produced exclusively by Racer Productions. Cross-country racing is one of the most physically demanding sports in the world. The grueling three-hour GNCC races lead as many as 1,500 riders through tracks ranging in length from eight to 12 miles. With varied terrain, including hills, woods, mud, dirt, rocks and motocross sections, GNCC events are tests of both survival and speed. The series draws talent from all over the U.S., Europe, Japan, Australia and New Zealand. GNCC Racing is televised weekly on NBC Sports and RacerTV.com. For more information, please visit www.gnccracing.com.