Sunday, June 2, 2013 | 10:00 PM
Russell Takes the Victory at Wiseco John Penton GNCC
Grant Baylor Secures Second Career XC2 Pro Lites Victory

MILLFIELD, Ohio (June 2, 2013) – The 2013 AMSOIL Grand National Cross Country Series took to Sunday Creek Raceway in Millfield, Ohio on Sunday for the 23rd running of the Wiseco John Penton GNCC. The National Championship title chase became much more exciting as Kailub Russell inched his way toward points leader Charlie Mullins by securing his second victory of the season in his home state of Ohio. Rookie Grant Baylor outlasted his veteran competition, taking his second win of the season in the XC2 class.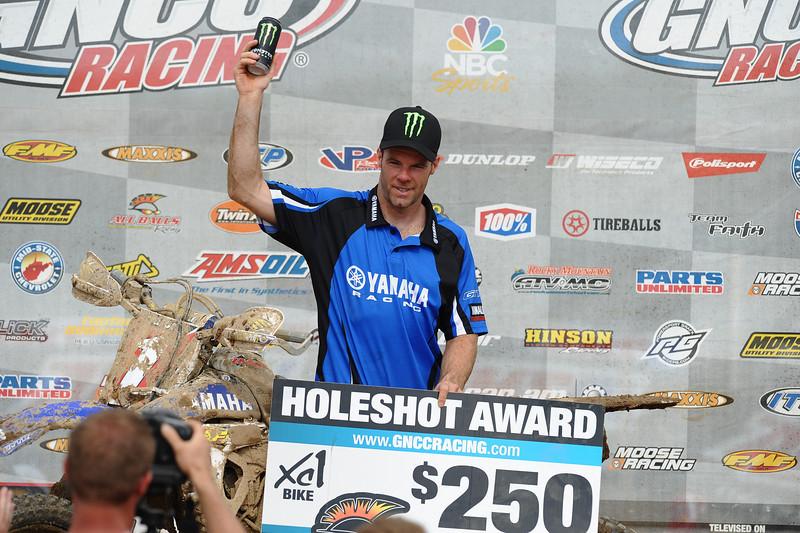 AmPro Yamaha's Paul Whibley grabbed yet another $250 All Balls Racing XC1 Holeshot Award but the Factory FMF/KTM duo of Mullins and Russell put themselves out front on the opening lap. Shenandoah Honda/USWE-Sports.com's Thad DuVall made his way past the defending champ Whibley, where he began his battle with Russell and Mullins in the lead pack.
Whibley battled early on with Rocky Mountain ATV/MC's Josh Strang and AmPro Yamaha teammate Jordan Ashburn before inserting himself into the lead position just before the halfway point. There were several lead changes throughout the seven-lap race and it didn't take long for Russell to reclaim the lead around Lap 4. From there, Russell and Mullins took command of the race, where the KTM duo eventually rode to a 1-2 finish for the day.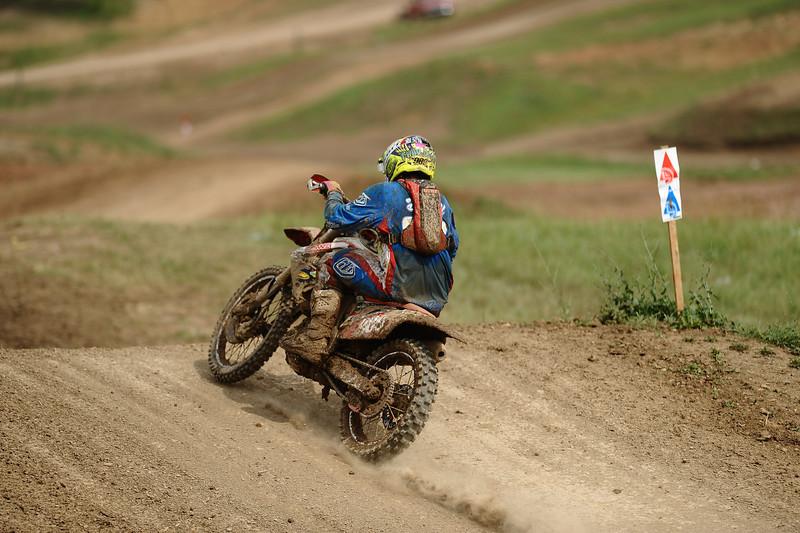 While running in podium contention, DuVall experienced issues with his rear shock that ultimately dropped the West Virginia native in the running order. DuVall's pit crew made the decision to pull him into the pits and replace the shock, where he finished ninth place in the XC1 class and 15th overall.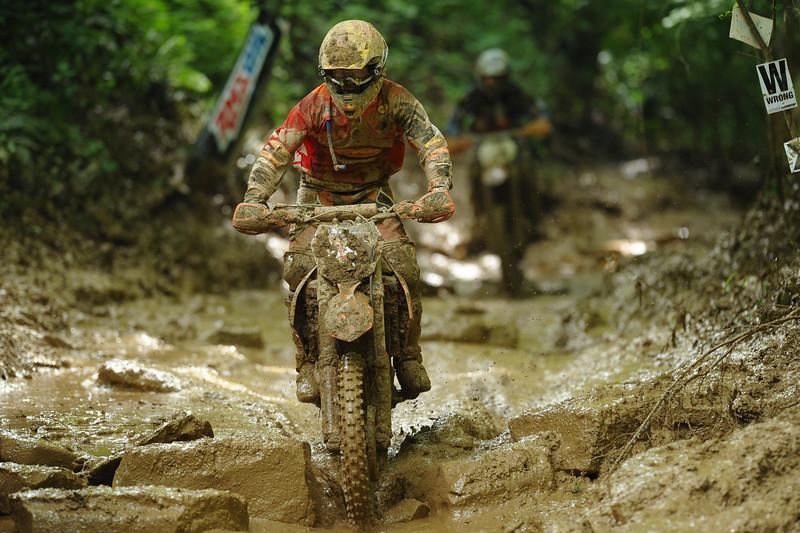 Strang took advantage of DuVall's misfortune, putting himself into podium contention at the end of the three-hour race. Strang was able to hold on for third, while Whibley came through in fourth and Carolina KTM/RidePG.com's Chris Bach rounded out the top five overall.
Mullins and Russell top the National Championship standings after seven rounds of racing, while DuVall and Bach sit in third and fourth place respectively.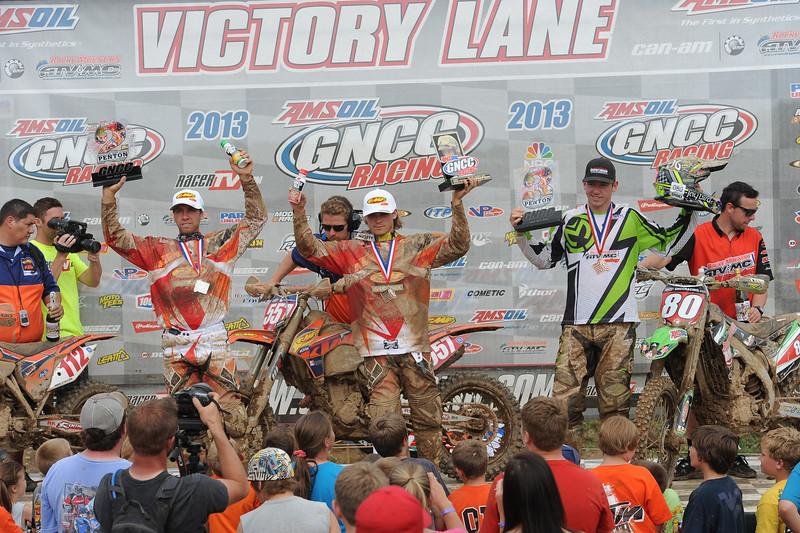 The championship chase for the XC2 Pro Lites class became much more interesting as rookie Grant Baylor secured his second win of the season and the all-new points lead after Round 7. Coming into the John Penton, F.A.R Husky's Andrew DeLong injured himself in a pre-race affair, causing the previous championship contender to miss the Ohio round on Sunday.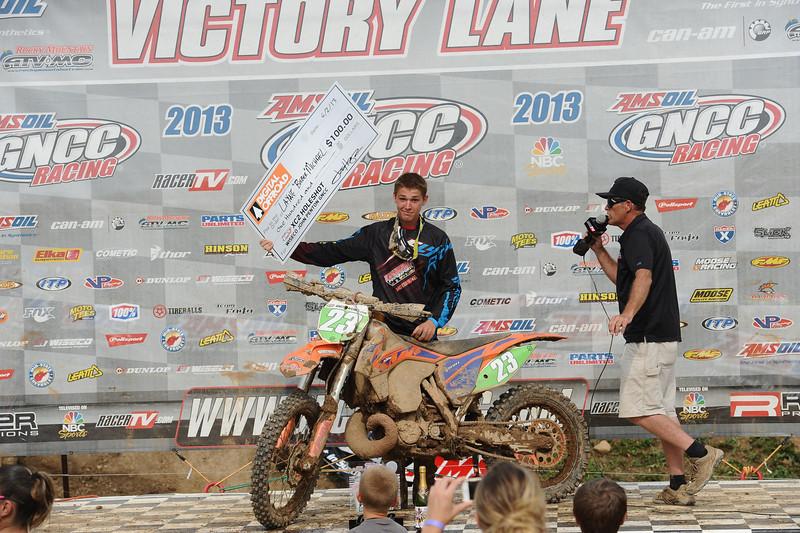 With DeLong out, several XC2 competitors looked to find a place atop the podium, including Morgantown Powersports-backed rider Layne Michael, who secured his first-ever $100 Digitaloffroad.com Holeshot Award to take the early lead. But it was DirtWise Schools/KTM-Parts.com/Maxxis rider Jason Thomas who claimed the lead on the opening lap and the defending champ led until Lap 4 when he experienced issues that ultimately took him out of the race.
DeLong's F.A.R Husky teammate Nick Davis, who charged through the pack after getting a tenth place start, moved his way into podium contention. Davis battled it out for the second place position with West Virginia's Zach Nolan and Pennsylvania's Michael McGinnis throughout the afternoon, where he eventually prevailed to secure a season-best second place finish in the class. Nolan was able to hold off McGinnis to take his second podium finish of the season with third place.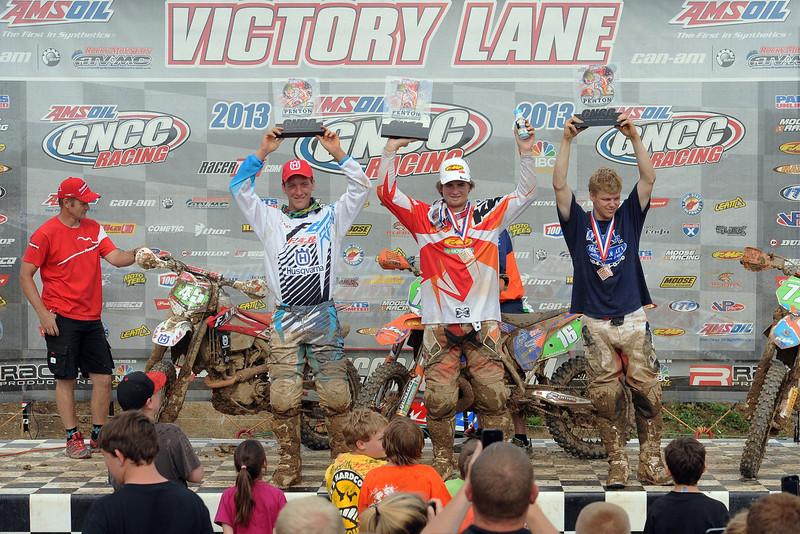 Grant Baylor now holds the points lead heading into Round 8 in two weeks. Thomas sits second in the class standings and DeLong holds the third place position, despite sitting out Sunday's John Penton GNCC.
North Carolina's Trevor Bollinger took the 4 Stroke A Lites class win once again and secured the Top Amateur honors by taking sixteenth overall. The next placing amateur was Indiana's Zach Love, finishing in twenty-first.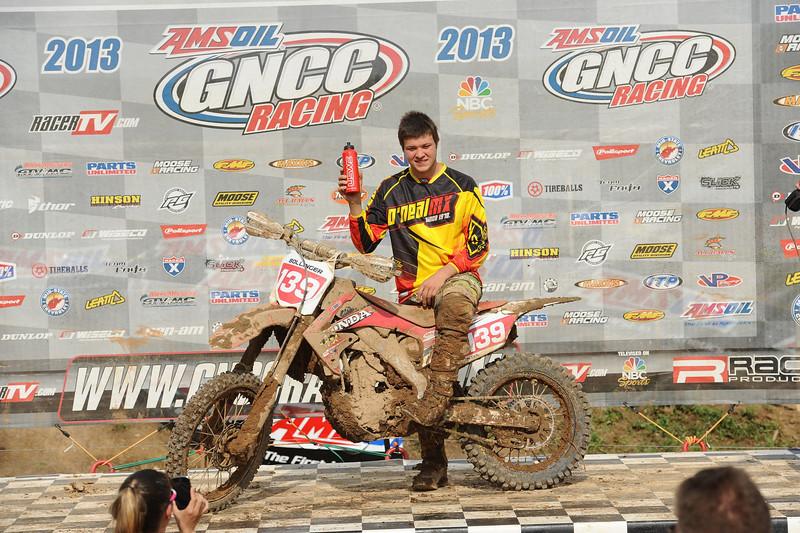 The 2013 AMSOIL Grand National Cross Country Series continues June 15 and 16 with the Mountaineer Run GNCC. For more information on the series, visit www.gnccracing.com.
Stay up-to-date with exclusive content from the 2013 AMSOIL GNCC Series by following the series Facebook, Twitter and Instagram.
About GNCC Racing
The AMSOIL Grand National Cross Country series is America's premier off-road racing series. Founded in 1975, the 13-round championship is produced exclusively by Racer Productions. Cross-country racing is one of the most physically demanding sports in the world. The grueling three-hour GNCC races lead as many as 1,500 riders through tracks ranging in length from eight to 12 miles. With varied terrain, including hills, woods, mud, dirt, rocks and motocross sections, GNCC events are tests of both survival and speed. The series draws talent from all over the U.S., Europe, Japan, Australia and New Zealand. GNCC Racing is televised weekly on NBC Sports and RacerTV.com. For more information, please visit www.gnccracing.com.
XC1 Event Results:
Kailub Russell (KTM)
Charlie Mullins (KTM)
Josh Strang (KAW)
Paul Whibley (YAM)
Chris Bach (KTM)
Jordan Ashburn (YAM)
Takeshi Koikeda (HON)
Adam Bonneur (KAW)
Thad DuVall (HON)
Ricky Russell (YAM)
XC2 Event Results:
Grant Baylor (KTM)
Nick Davis (HSQ)
Zach Nolan (KTM)
Michael McGinnis (KTM)
Layne Michael (KTM)
Ian Blythe (KTM)
Chris Douglas (HSQ)
Sam Evans (KTM)
AJ Stewart (YAM)
Jedediah Haines (YAM)
XC1 Series Standings:
Charlie Mullins (184)
Kailub Russell (170)
Thad DuVall (126)
Chris Bach (122)
Josh Strang (119)
Paul Whibley (111)
Jordan Ashburn (98)
Takeshi Koikeda (87)
Adam Bonneur (85)
Ricky Russell (84)
XC2 Series Standings:
Grant Baylor (154)
Jason Thomas (135)
Andrew DeLong (121)
Jedediah Haines (87)
Zach Nolan (86)
Shane Hufford Jr (85)
AJ Stewart (74)
Travis Coy (70)
Michael McGinnis (69)
Justin Sode (58)
*Overall National Championship Standings:

Charlie Mullins (177)
Kailub Russell (160)
Chris Bach (117)
Thad DuVall (114)
Paul Whibley (99)
Josh Strang (97)
Grant Baylor (80)
Jordan Ashburn (77)
Jason Thomas (73)
Andrew DeLong (61)
*Indicates that the Overall National Championship Standings will determine the 2013 National Champion.