Jason Weigandt
Strang Bests Mullins in Pennsylvania
Monday, May 18, 2009 | 1:00 AM
Contact: Jason Weigandt
[email protected]
For Immediate Release
Strang Bests Mullins in GNCC Battle to the Finish
Hawk on podium, Russell takes XC2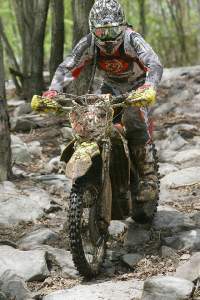 Somerset, PA (May 16, 2009) - Team FMF/Makita Suzuki turned the Mountain Ridge round of the Can-Am Grand National Cross Country Series into a private affair, with Josh Strang defeating his teammate Charlie Mullins after a dramatic three-hour battle in the rocks, mud, forests and fields of Western Pennsylvania. Am-Pro FMF Yamaha's Barry Hawk finished third to collect his first podium of the season, while Shock Doctor KTM's Kailub Russell won the XC2 Lites class ahead of Monster Energy/Andrews Yamaha's Jason Thomas and Shock Doctor KTM's Cory Buttrick.

Strang's win marked his fourth in the last five GNCC races, and also the second time this season that he and Mullins finished 1-2. In contrast, championship rival Paul Whibley had a tough day. The New Zealander smashed a waterpump cover and put a hole in his radiator, but still dug out a seventh-place finish in the XC1 class. Strang now holds the points lead for the second time this year.
Mullins snagged the $250 MotorcycleUSA.com Holeshot Award, but Whibley grabbed the early lead and pulled a big gap early. Eventually Strang and Mullins hooked up, and along with Am-Pro FMF Yamaha rookie Thad DuVall, mounted a charge and caught Whibley. DuVall's run of bad luck continued when his ignition failed, marking his fourth-straight race with mechanical troubles. The Suzuki teammates battled Whibley, and when Whibley began dropping back with his own mechanical issues, it boiled down to a Strang versus Mullins duel for the win. The duo kept the fans excited by going back and forth all the way down to the finish.
"I was worried when Whibs got away like that, because he normally starts slow and gets arm pump and stuff, and he would be hard to reel in if we waited too long," said Strang, a 21-year-old Australian. "We were able to catch back up to him.  I didn't really feel that good in the rocks today, and I went over the bars one time in the mud. But I have some confidence after winning three races earlier in the year, so I just tried to go fast where I could and stay smooth in the other areas. It was good fun racing with Charlie like that, the last three laps were like a motocross, so that's a 90-minute moto right there!"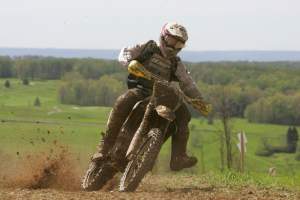 "It was good, I really have been working hard and wanted to stay strong to the end," said Mullins. "With the rocks, I was never a big fan of this track before, but I guess I like it now. I was able to get by Josh on the last lap, but then he got right back by me. I really tried to push through the rocks on the last lap, but I made a big mistake and he got away right before the finish."
Hawk overcame pressure from Shock Doctor KTM's Nathan Kanney to claim third. "Normally, I'm not happy with just getting on the podium unless I win," said Hawk. "But I've been having some bad races and I realize I maybe need to back my goals down a bit. I had a good start, but then we got to a really bad hill, I thought I had a good line but some guys got around me, and I was saying "Oh here we go again." I had a little arm pump, too. But I managed to work through it, put my head down, and get back up there. I think I have the speed to run with these guys, but they go the same speed the whole race. I need to be more aggressive on the opening laps, and just go for it."
Kanney took fourth ahead of Husqvarna's Glenn Kearney. Kurt Caselli, Whibley, Jimmy Jarrett, Kenny Gilbert and Dustin Gibson rounded out the XC1 top ten.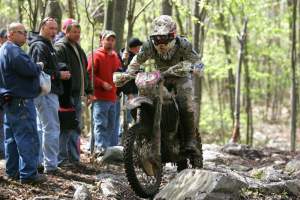 Whibley came into the race leading the GNCC standings, but a slew of bad luck led to a tough day. "Yeah I kept it exciting," joked Whibley. "I had a nice lead, but I had a bad line on a hill and Josh (Strang) and those guys caught me. Josh was riding awesome, he was coming." Whibley settled into a battle with the Suzuki riders and Duvall, but then he crashed and hurt his shoulder, and later damaged his water pump and radiator. His GEICO/JG Racing Monster Kawasaki team worked to fix the problems in the pits on the last lap, and Whibley nursed it home for some points.
In XC2, Russell and Thomas battled so closely for the $100 Rekluse Holeshot Award that they decided to split the money between them. They passed each other a few times early, then Russell made a mistake, and then Thomas made another, allowing Buttrick into the battle. Russell put in a strong charge to get the lead back and open enough of a gap to hold it to the finish.
"After a few mistakes early on, I was okay just getting behind Cory and riding smooth," said Russell. "I was able to get by him and put in a good charge and get away."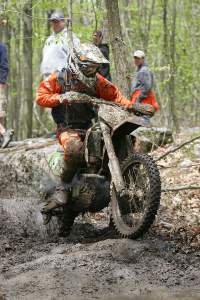 Thomas ended up way back after his first lap problems, but he never stopped charging and caught Buttrick on the last lap. They battled back and forth before Thomas nailed down the spot before the finish.
"I just tried to not give up," said Thomas. "Kailub got away from us there, but Cory and I had a great battle."
"We were going really fast in some of the open sections," said Buttrick. "It was pretty scary on a 250F, I can't imagine how fast those guys must have gone on a 450. Jason and I, we really pushed each other."
Russell's win, his fifth of the year, helps him extend his points lead.
Monster Energy Kawasaki's Jordan Ashburn collected Top Amateur honors.
In the two-hour morning race, Super Senior A rider Randall Riggs collected the overall win, and Greg Vise of the Golden Masters class won the Coppersmith Suspension Holeshot Award.

The 2009 Can-Am Grand National Cross Country Series continues with the Wiseco John Penton GNCC in Millfield, Ohio, in three weeks, on June 6 and 7. GNCC racing airs in HD on Versus every Saturday at 2:30 p.m.

Mountain Ridge GNCC
Somerset, Pennsylvania

XC1 Finish:
1. Joshua Strang (Suz)
2. Charlie Mullins (Suz)
3. Barry Hawk (Yam)
4. Nathan Kanney (KTM)
5. Glenn Kearney (HSQ)
6. Kurt Caselli (KTM)
7. Paul Whibley (Kaw)
8. Jimmy Jarrett (Kaw)
9. Kenny Gilbert (Kaw)
10. Dustin Gibson (Kaw)

XC2 Finish
1. Kailub Russell (KTM)
2. Jason Thomas (Yam)
3. Cory Buttruck (KTM)
4. Scott Watkins (Kaw)
5. Jake Korn (KTM)

XC1 Point Standings: (After 7 of 13 races): 1. Josh Strang (165/4 wins); 2. Charles Mullins (161/1 win); 3. Paul Whibley (159/2 wins); 4. Jimmy Jarrett (119); 5. Nathan Kanney (107); 6. Barry Hawk (103); 7.Kurt Casselli (95); 8. Glenn Kearney (74); 9.
Jesse Robinson (70); 10.Thad Duvall (63).