Jason Weigandt
Borich Outduels McGill at The Ridge
Saturday, May 16, 2009 | 9:00 PM
Borich Outduels McGill for Mountain Ridge GNCC Win
Kirkland takes XC2 class, Benson wins morning overall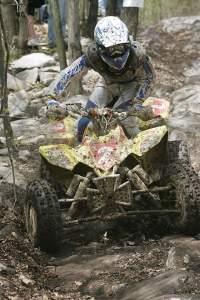 Somerset, PA (May 15, 2009) - Rockstar/Makita Suzuki's Chris Borich claimed his second-straight Can-Am Grand National Cross Country Series victory after a stirring two-hour duel with FRE KTM's Adam McGill at the Mountain Ridge GNCC in Somerset, Pennsylvania. On a course that was fast in spots and rocky and technical in others, under sunny skies, McGill took second, finishing just inches away from Borich's back bumper. GT Thunder Yamaha's Brandon Sommers took his third-straight podium finish with a third.
"It was so much fun, that might have been the best battle me and Adam we've had," said Borich. "I got an okay start, I was hooked up with (Chris) Bithell there in third, then he made a mistake in a rock section and I went around him. They told me I was down 45 seconds to McGill, so I just decided to put the hammer down and see what we had."
McGill had the early lead after passing $250 MotorcycleUSA.com Holeshot Award Winner Jeff Pickens, and then braced for a battle. "I know Borich and Bithell go really strong on the rocks, so I knew they were coming," said McGill. It took Borich two laps to catch McGill, and on the last lap and then the race was on, the duo going back and forth on the final 11-mile loop. "We passed each other a bunch of times," said McGill. "It was fun, we were yelling at each other and waving. He had a great line in a field, it was straighter than mine and he got around, then I got to another section and just wanted to show him what this Baldwin motor can do. I was like "see ya!"
Borich fought back, though and gained the lead one more time, but then his engine started to go south."I knew it was barely gonna' hold on, all I could do was dump the clutch and hope it kept pulling," said Borich. "In those fields, I could smell him, so I just hoped I could push him enough so he could rev it out and blow It up."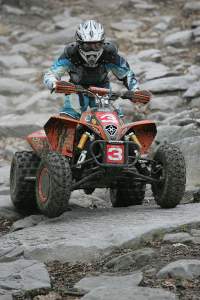 Borich's engine held together, barely, billowing smoke as he crossed the finish two seconds ahead of McGill. Sommers overcame fellow Yamaha rider Taylor Kiser, who ran third early. "I caught up to Taylor and it looked like something was wrong," said Sommers. "But as soon as I passed him he went back after me, of course. It was fun, but then I saw his handlebars had actually come loose, so I was able to get away."
Kiser, despite the loose bars, hung on for fourth ahead of nine-time and defending GNCC Champion Bill Ballance. "I had a bad bad bad bad start," said Ballance. "It was dusty in some sections on the first lap, I was going first gear in some fifth-gear sections just fighting it."
Ballance passed Houser Racing's Bryan Cook on the last lap to get fifth, while Cook held on for sixth. "He was just blasting through the rock section, I was trying to save my equipment."

ATVRiders.com-backed privateer Jarrod McClure took seventh, followed by Don Ockerman, Ryan Lane and Duane Johnson.
In XC2 action, FRE KTM's Josh Kirkland rallied for the win after a but battle with Yamaha's Brian Wolf, who had won three-straight races coming into the event. "It was good clean racing, but I did tag Brian in the pits once," said Kirkland, who grabbed the $100 Rekluse Holeshot Award to start the race. "I didn't know he was going to pull in to pit and I got locked up in his wheel."
"It was good racing," said Wolfe. "I'm glad to be up here, these have been some good battles."
Third went to Parker Jones, who mounted a comeback effort from out of the top ten. "I'm really happy with this," said Jones. "I would like to be up there with those two, but they're really going fast right now."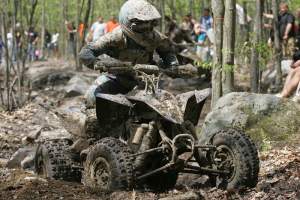 In the morning race, Four-Stroke Tech's Mike Benson finally broke through for an overall win after three years of close calls. He was awarded the $100 GT Thunder Morning Race Overall Award. "I started racing this series on bikes in 1980, and switched over the ATVs in 1985," said Benson, who races on a Kawasaki KFX700 in the U2 class. "We've been so darned close to being up here, this is just a dream come true for me and my family."
Second overall went to 4x4 Limited Class Winner Michael Swift on his Warnert Racing Can-Am. Third went to the previous morning race overall winner, Super Senior (50+) rider Glenn Pritchard. FRE KTM's Angel Atwell finished fourth overall and took her fifth win of the season in the Women's class. Lexie Coulter and Kristen Atwell followed her home, while defending Women's Class Champion Traci Cecco saw her two race win streak end while she ran into electrical problems on the first lap.
The 2009 Can-Am Grand National Cross Country Series continues with the Wiseco John Penton GNCC in Millfield, Ohio, in three weeks, on June 6 and 7. GNCC racing airs in HD on Versus every Saturday at 2:30 p.m.

Mountain Ridge GNCC
Somerset, Pennsylvania

XC1 Finish:
1. Chris Borich (Suz)
2. Adam McGill (KTM)
3. Brandon Sommers (Yam)
4. Taylor Kiser (Yam)
5. Bill Ballance (Yam)
6. Bryan Cook (Houser)
7. Jarrod McClure (Yam)
8. Donald Ockerman (Yam)
9. Ryan Lane (Hon)
10. Duane Johnson (Hon)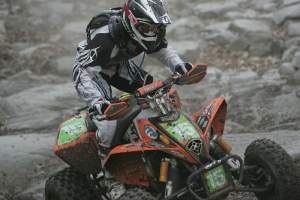 XC2 Finish
1. Joshua Kirkland (KTM)
2. Brian Wolf (Yam)
3. Parker Jones (Hon)
4. Rob Hertz (Hon)
5. Josh Beavers (KTM)
6. Eric Hoyland (Hon)
7. Eric Wilezek (Suz)
8. Blake Kramer (Suz)
9. Corbin Knox (Hon)
10. Jeremy Rice (Pol)

XC1 Point Standings: 1. Chris Borich (162/ 4 wins); 2. Adam McGill (150); 3. Taylor Kiser (144/1 win); 4. Brandon Sommers (122); 5. Bryan Cook (114/1 win); 6. Bill Ballance (113/ 1 win); 7. Donald Ockerman (91); 8. Duane Johnson (86); 9. Jarrod McClure (80); 10. Johnny Gallagher (67).