Jason Weigandt
Borich Takes Maxxis General GNCC
Saturday, March 7, 2009 | 10:45 PM
For Immediate Release

Contact: Jason Weigandt
[email protected]
Borich Wins Spectacular Battle at Maxxis General GNCC
Kiser, McGill on podium

WASHINGTON, GA (March 7, 2009)
-- Rockstar Makita Suzuki's Chris Borich battled past a deep pack of contenders to win the Maxxis General GNCC, round two of the 2009 Can-Am Grand National Cross Country Series. The race demonstrated the depth of this year's championship field, as well as Borich's determination to take this year's title. Yamaha's Taylor Kiser, FRE KTM's Adam McGill, and Warnert Can-Am's Chris Bithell were in the hunt for the win, but on the last lap Borich pulled through.
"It was a really fun race, we were just battling all day," said Borich. "It was good to ride with Chris (Bithell) and those guys, it seemed like we were just on a trail ride together. It's good to ride with people you know won't take you out."
Bithell led Borich late in the race, but the event came down to pit strategy. Borich pitted for a splash of gas while Bithell failed to finish the last lap, reportedly running out of fuel. That opened the door for Kiser, who started near the back of the pack but charged hard all day long to net second. Kiser's spirited run from the back proves his win last weekend in Florida was no fluke. McGill, who started the race by grabbing the $250 MotorcycleUSA.com Holeshot Award, took his second third-place finish in as many weeks.
GT Thunder Yamaha's Brandon Sommers took fourth, ahead of ATVRiders.com-backed Yamaha rider Jarrod McClure.
GT Thunder Yamaha rookie Don Ockerman finished sixth, Duane "The Rock" Johnson was seventh, and Yamaha's Johnny Gallagher took eighth. Ryan Lane and Jeff Pickens rounded out the top ten.
Defending GNCC Champion Bill Ballance, still struggling just four weeks after having injured ribs surgically removed, completed four of five laps to collect 14th in the XC1 Pro class.
In the XC2 Pro-Am class, David Crane grabbed the $100 Rekluse Holeshot Award, but Yamaha's Brian Wolf pulled through for the win. Kirkland finished just behind in second, with Eric Hoyland third. Sixteen-year-old Walker Fowler netted top amateur honors again with 17th overall and a win in the College A class.
In the GNCC morning race, FRE KTM's Angel Atwell matched her win from last weekend's race in Florida with another in Georgia. Atwell collected another $100 from GT Thunder for her efforts, with Kristin Atwell and Traci Cecco in second and third overall. Bryan Buckhannon, Michael Swift and Cliff Beasley won the 4x4 Open, Limited and Lites Classes, respectively, on their Warnert Can-Ams, and Robert Smith won the U2 Class on a Kawasaki.
The Maxxis General GNCC continues tomorrow with bike racing. The Can-Am Grand National Cross Country Series then moves to Morganton, North Carolina for the FMF Steele Creek GNCC on March 21 and 22.

Results:
Maxxis General GNCC
Washington, GA
March 7, 2009XC1 Class
1. Chris Borich (Suz)
2. Taylor Kiser (Yam)
3. Adam McGill (KTM)
4. Brandon Sommers (Yam)
5. Jarrod McClure (Yam)
6.. Donald Ockerman (Yam)
7. Duane Johnson (Hon)
8. Johnny Gallagher (Yam)
9. Ryan Lane (Hon)
10. Jeff Pickens (Yam)
XC2
1. Brian Wolf (Yam)
2. Josh Kirkland (KTM)
3. Eric Hoyland (Hon)
4. David Crane (KTM)
5. Scottie Rich (Kaw)
6. Dustin Canipe (Kaw)
7. Parker Jones (Hon)
8. Rob Hertz (Hon)
9. Gabe Phillips (Hon)
10. Nathan Thomas (Hon)
About GNCC Racing:
The Can-Am Grand National Cross Country series is America's premier off-road racing series. Founded in 1973, the 13-round championship is produced exclusively by Racer Productions. Cross-country racing is one of the most physically demanding sports in the world. The grueling three-hour GNCC races lead as many as 1,800 riders through tracks ranging in length from eight to 12 miles. With varied terrain, including hills, woods, mud, dirt, rocks and motocross sections, GNCC events are tests of both survival and speed. Riders compete for more than $3 million in prize money, which draws talent from all over the U.S., Europe, Australia and New Zealand. GNCC Racing is televised and will air beginning April 4th on the Versus Network. For more information, please visit www.gnccracing.com.

About Racer Productions:
A West Virginia-based motorcycle and ATV event production company, Racer Productions has been a leader in the off-road racing industry for more than 30 years. It's repertoire of events includes the 13-round Can-Am Grand National Cross Country Series, held since 1973; The Kawasaki/Monster Energy High Point National in Mount Morris, Pa., held since 1977; The ATV Dirt Days at Loretta Lynn's Ranch in Hurricane Mills, Tenn., held since 1985; The U.S. World Motocross Gran Prix at Steel City Raceway in Delmont, Pa. in 1987; The Monster Energy/Kawasaki Steel City National, held since 1988; The ATV Stampede National Motocross at High Point Raceway, held since 1994; The AMA Pro ATV Open at Steel City in 2007; as well as numerous other amateur motocross events. In addition, Racer Productions staffs the prestigious Air Nautiques/AMA Amateur National Motocross Championship at Loretta Lynn's Ranch, held since 1982.  For more information, please visit www.racerproductions.com.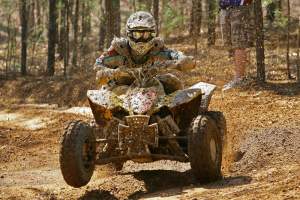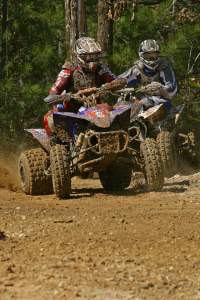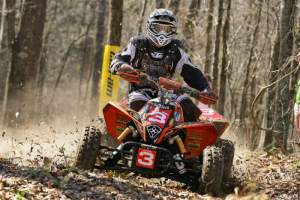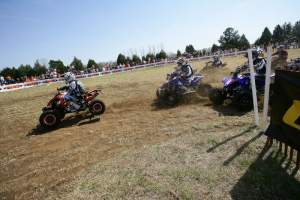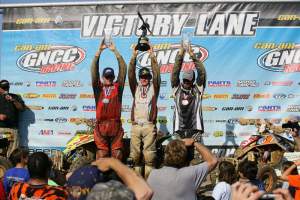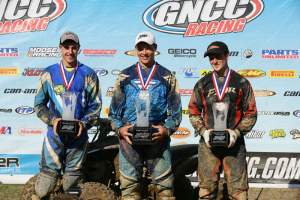 ###