Jason Weigandt
Special Interview: Rita Coombs
Thursday, February 26, 2009 | 9:45 AM
While at the Indy Tradeshow last weekend, our staff was pleasantly surprised to see the latest issue of Cycle News (Issue #5), which featured a great story on the patriarch of the Coombs family and the GNCC visionary, Dave Coombs. But while the patriarch will never be forgotten, the article reminded us that the
matriarch
of GNCC Racing, Rita Coombs, hasn't been heard from in awhile. Here in the office, her considerable presence is never far, because Rita still works here every day and, over the last few weeks, has been putting in her typical overtime hours to get ready for Florida. These are strange times in our industry and in many others around the world. For assurance that we will get through it, we decided to interview her for the first time ever on this site. Consider this the GNCC equivalent of the fireside chat.

GNCCRacing.com: So are we ready to go?
Rita Coombs: Ready to go? I don't think we're ever totally ready, honey.
When is everyone leaving?
We're going to leave on Thursday morning.
Rita, you've been at this for a long time...
What do you mean by 'a long time', buddy? Have you not noticed how young I look?

Oh trust me I have. And your hair looks so good today, might I add.
That's better.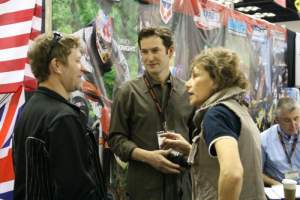 Okay, but, you do have, uh, experience. And these are tough times, and I think people would like to know how our series will be affected.
Well Jason, you're right. It seems like things are pretty bad all around. We had the gas prices, now everyone is talking about the economy, and then this silly lead law thing. So I think everyone is just going into survival mode right now. We have been doing this a long time, and people have to remember how small this was when we all started. We used to hold all of our races within a few hours of West Virginia. We used to work out of our house from the kitchen table. We used to do a lot of things differently, and we've been through all kinds of problems and changes, but we're still here. I don't want people to forget that we were the first to do this type of thing. We started the Blackwater in the 70's. We were racing motocross nationals before people even knew what they were. We've been through a lot, and we're not going anywhere. We will get through this - we all will.
Fuel prices have gone down, but the economic news is bad everywhere you look.
We've had recessions before, and it's like I said, we know how to hunker down and go into survival mode. We're not going to change anything this year. It's like the financial people always say, don't sell, don't panic when the market is down. Last year we brought in transponders and live scoring on the website and things like that. We're not going to add anything big like that this year, but we're not taking things away, either. We're going to run these races just like we did last year, and we know people are going to come and race and have a great time, because that's the way we do it.  That's what they expect of us and that's what they deserve.

With some bad news everywhere, maybe people will show up just to get away from it all.
Jason, I've met so many friends over the years with racing. And they all come and go. They'll go away because they're building a house, or they start a family, or they move... whatever. But then they come back. This is what these people like to do. I know these people who race our series, and they're good people. They find a way to get to the races because it's just what they do. Some of them, they don't even care how they do at the races, they just like to race. We'll always be there for them. We're not going anywhere and we're not changing anything. We are even going to add online registration after the first couple rounds.  The system wasn't ready yet, but we'll have it soon.
Yeah, I hear about people just racing last year's bike to save money, stuff like that.
You don't need the latest thing to go race. Like I said, I've heard it all - I've heard every frickin' reason why someone isn't going to come back next year or whatever. And then, one day, I'll be in the registration trailer and that guy will be standing right there saying, "Remember me?" So, we've been through a lot, and we keep going to the races and people keep coming to them. All of these people know how to survive.
Yeah, and then they're all over you wanting to talk about "the good old days."
Oh Lord shut up! Everyone wants to just reminisce. That's because they all love it, they have so many great memories they want to relive.  Our boys will get through this - this is their life.  And ours.
What about this lead law thing?
We're going racing, honey. We're not dropping youth classes, we're not getting rid of anything. Like I said, we're not changing anything this year. We'll have youth classes, we'll have transponders, we'll have the same staff.  The lead thing is ridiculous. What kid licks a motorcycle, anyway!
And what about you? Why do you keep doing this? You could just hang out at home and skip all of this work....
I know, I could stay here and wait for someone to take me dancing. But to me, we've done so much work, it's like going to all the rehearsals and not being in the actual show. I need to be there. This is what we do, we go to the races.