Jason Weigandt
Husaberg Signs Dustin Gibson
Tuesday, December 2, 2008 | 11:39 AM
Husaberg Press Release
FOR IMMEDIATE RELEASE
December 1, 2008

Husaberg Signs Dustin Gibson for 2009 Season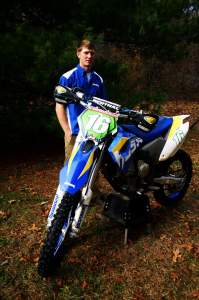 Murrieta, CA - Husaberg North America, a division of KTM Motorsports, Inc, is proud to welcome Dustin Gibson to the Husaberg Factory Racing effort for the 2009 season.

Gibson, a Tennessee native, will be competing in the Grand National Cross Country (GNCC) Series XC1 class and Mid-South Series aboard the Husaberg FE450. Gibson, who finished second in the 2008 GNCC XC2 Series, is excited to move up to the XC1 class full time.

Riding the new Husaberg on his home practice track for the first time, Gibson was very impressed claiming, "My lap times were 8 seconds faster my first time on the Husaberg than with my old race bike." In addition, to his improved lap times Gibson is also excited to ride a larger displacement bike, "I am a tall guy and it was hard riding the XC2 class last year on a 250. Now that I have joined with Husaberg I will be able to ride the FE450 in the XC1 class and I feel that I can be a real contender in that class."

"We have been impressed with Dustin's riding all season and were even more pleased the first time we saw him on the Husaberg turning faster lap times than on his other bike," commented Husaberg National Sales Manager, Clay Stuckey. He continued, "In addition to Dustin's determination to win and his speed on the bike, his personality and attitude toward racing have always been top-notch. He is always positive and friendly to all he meets in the motorcycle community. That is one of the main reasons we believe he will be a great representative for Husaberg in the 2009 season."

####