Jason Weigandt
KTM Creates New Contingency Program
Thursday, November 20, 2008 | 10:52 AM
FOR IMMEDIATE RELEASE
KTM to Launch ATV Contingency and "Ready to Race" Rider Support Program
 
MURRIETA, Calif. - KTM is proud to announce its first-ever ATV contingency and rider support programs geared toward the "Ready to Race" ATV customer. With KTM's racing heritage and four race-ready ATVs in the line-up, supporting ATV racers was the next step in stamping KTM's name in the ATV industry.
To reward current KTM ATV racers who are competing on 2008 or 2009 models, riders will now have the opportunity to earn their share of $529,000 in KTMCASH available in 12 different ATV racing series, making it the most comprehensive contingency package available to the ATV racer to date. Once all event schedules are finalized, racers will be able to log on to www.xtrm.com/KTM to review the eligibility requirements, rules, series information and earn KTMCASH.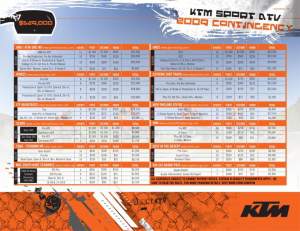 In line with KTM's "Ready to Race" philosophy, KTM is also offering racers the opportunity for factory rider support packages. Racers are encouraged to submit their rider résumé to [email protected], fax 951-600-8866 or by mail at ATTN: ATV Racer Support 38429 Innovation Court, Murrieta, CA 92563. Competitive racers may receive a rider support package valued at up to $6,000, along with a KTM E-Z-Up and select KTM PowerPart or PowerWear items. Résumés will be evaluated on the race series, class and past rider performance. There are a limited number of rider support packages available and résumés should be submitted as early as possible.
"KTM has always supported racing from a grassroots level," Kurt Nicoll, Director of KTM Racing, said. "Being involved in ATV racing on the national and regional level is a great way to showcase how competitive our product is."
The ATV contingency program covers multiple disciplines of ATV racing and includes the following national and regional race series: AMA / ATVA GNC motocross, Grand National Cross Country, OMA Nationals, WORCS, Extreme Dirt Track Nationals, ITP QuadCross, SCORE, Best In The Desert, New England ATV MX, TQRA - Texhoma Quad Racing, Mid-South Hare Scramble winter series and D37 Big Six Grand Prix.
"Providing a full package of contingency and rider support is a great way to reward our KTM loyalists and welcome new riders to the KTM family," said Chris Vogtman, Specialty Vehicle Product Line Manager. "KTM is committed to the sport, racing and our ATV product. After a successful first year on the market, our KTM XC ATVs have proven KTM is serious about the ATV business. With the expansion of our "Ready to Race" product line to include the all-new and well-received motocross SX models, it was a natural progression to support racers at a higher level in year two."
About KTM
 KTM, founded in 1953, is the second largest European motorcycle manufacturer specializing in ''Ready to Race'' street and off road motorcycles and ATVs.
 
Proven successes in worldwide competition are embodied into the design and function of each KTM race machine. KTM has built a reputation for high-quality premium race ready machines suitable for street and off road race competition and recreation. With more than 160 World Championships and counting, the technology, design and performance of KTM continues to race past the competition time and again.
####