Jason Weigandt
Quick Fill #44: This Week in GNCC
Thursday, November 13, 2008 | 12:00 AM
Welcome to Quick Fill. We're moving forward.
Thanks so much to all the people that sent us email last week with their thoughts on the series. It really helps. Our staff will meet before the banquet to discuss your comments, and then we'll bring those concerns to our rider's meetings after the banquets in a few weeks and hash these ideas out some more.
And if you still have an idea you want to share, share it with us. Email me: [email protected]
We're heading toward 2009 in a variety of ways. First, our 2009 National Numbers are out to be official! We posted a quick preview last week, and based on some feedback we tightened everything up and now we're all set. We will post the numbers tomorrow. We know everyone wants to go out and buy their numbers ASAP (or get them ordered for Christmas), but our best advice is to wait until the banquet rolls around. You never know if things may have to change, although we believe these numbers are perfect. Come on back here tomorrow and we'll roll them out.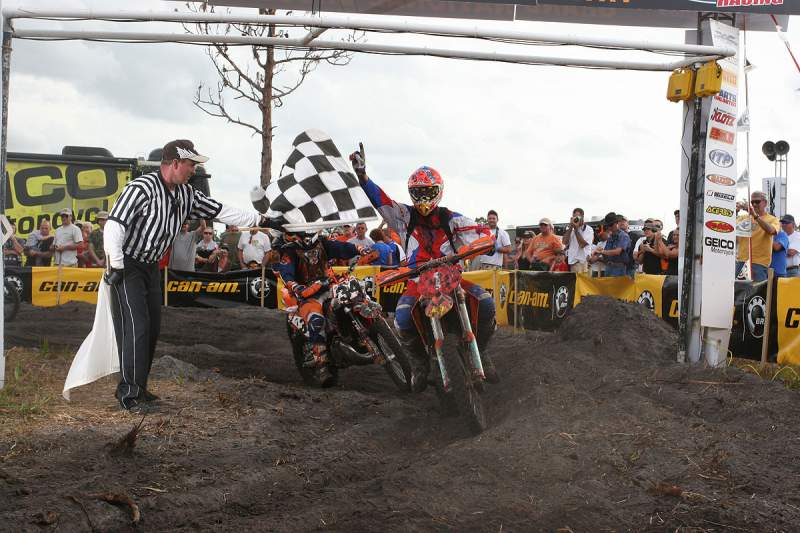 One and done for GNCC Racing in Melbourne, Florida.
We're also looking at new locations to race in next year. We have once again lost our track in Florida--this is getting crazy. So if you're keeping track at home, we raced in Okeechobee in 2002, Palatka in 2003-2004, De Leon Springs in 2005--2006, Vero Beach in 2007, and Melbourne in 2008. Now we've gotten the boot again!
The whole land deal in GNCC is always complicated, as you could guess when you bring in a few thousand racers onto someone's property (It's dangerous! It's scary! It will tear up our land!). The Florida races are even tougher, because we try to work around the Daytona Bike Week Schedule, and that leads to more complications (we had to leave De Leon because it was to close to Daytona and the county won't let people camp there--they want tourists to spend money in hotel rooms).
This week Jeff Russell, Tim Cotter and Buren Hamrick headed to the Sunshine State to scout out a new place, and they think they may have found it. We should know in a few weeks.
We still have other locations to work out on our schedule, and that's why we have only announced the dates. We can tell you this: rounds 1-5 of the series will be the same as they were in 2008 (FL, GA, NC, SC, TN). The next three rounds will probabably consist of the John Penton GNCC in Millfield, Ohio, the Mountain Ridge GNCC in Pennsylvania and a race in Kentucky, possibly in Sparta or in a new location. We just don't know the order of those events, but we're pretty sure they'll all be back. Then we'll follow that up with Snowshoe, Unadilla, Yadkinville, St. Clairsville and the Ironman. So the only new locations will be somewhere in Florida and possibly some place new in Kentucky.
The bosses probably didn't want me to leak that information, so this is all between us.
Here's a belated GNCC Congrats to the new Senior ATV Champion Thomas Wright. Wright ended the zillion-year championship streak in that class for Dave Simmons, after Simmons got the better of him last year. Dave won the Senior crown from '04-'07, but ultimately an injury derailed his chance to win it again, as he and Wright were going back at forth every weekend.
Anyway, Wright did the, wait for it wait for it, the Wright thing (heh) and with the championship wrapped up early, he entered the Ironman in the XC1 class. He didn't have the best race day, but I'm sure it was cool to try it. Now Thomas has been nominated for an AMA Sports Award for Vet/Senior rider of the year. Good luck, Thomas.
And if anyone has contact info for Mr. Wright, please send me an email. I need to get in touch with the man.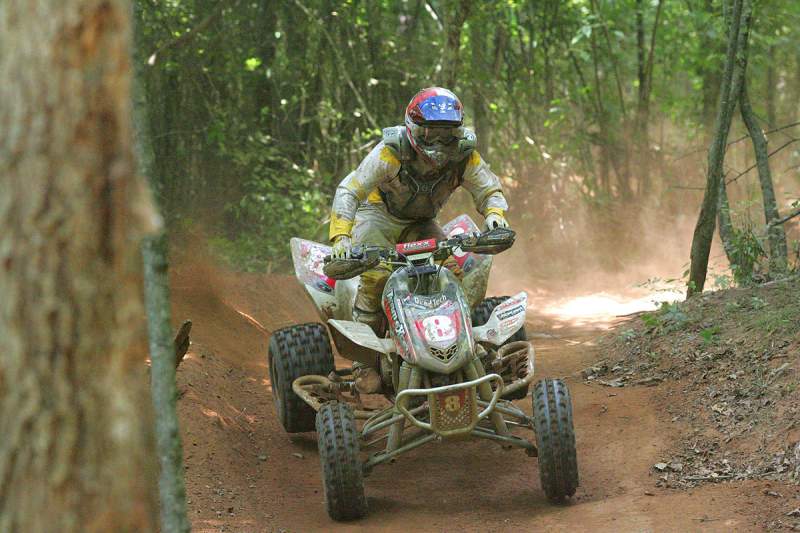 No factory love for Bryan Cook.
Hooper photo
Also on the ATV front, I talked to privateer king Bryan Cook yesterday about his prospects for 2009. After a phenomenal year which saw Bryan grab five podiums, a win and fourth overall in the final series rankings, there's no doubt some factory teams should be looking at the guy. But alas, they're not.
"Times are just really hard right now, there just wasn't anything going around," said Cook.
So Cook will be back fighting the good fight for Team DeRisi Racing in 2009, and he and his teammate Santo DeRisi are already making plans to keep on battling the factories. Good luck, boys!
So our GNCC Banquet is coming up. Just got confirmation that David Knight will make the show this year, so this will be out last chance to hang with the big man. Last year Knighter missed the banquet because he had to go to Vegas for the AMA Banquet and the EnduroCross, too. This year he's coming to us.
I also got a note from bike #3, Josh Strang. Strang wanted to go to the banquet badly, but when he priced tickets to fly back to the US from Australia, they were over $3000! Josh went home a few days after Ironman because it's summer time down there, and he said next year he wants to go to the banquet bad. With the influx of talent we're having in this series from Europe, New Zealand and Australia it might be worth it to move the banquet forward in the future and get it off of Thanksgiving weekend. What do you guys think?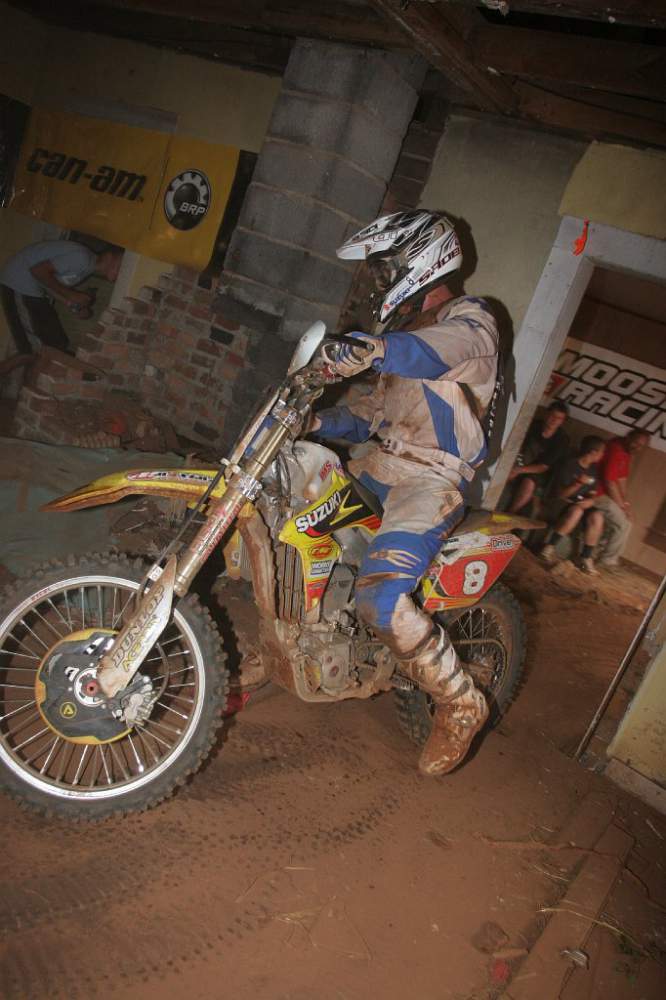 Strang just moved back into his house.
Hooper photo

Anyway, here's a note from Strang:

Hey Jason,

Just so you know, home is good. Nice and warm, t-shirts and shorts so I'm not complaining being back here.  Although because I'm in a small town I'll be ready to come back just after Christmas to start all over again!

I just got a new 450 to practice on so that will keep me occupied until it's time to head back, and I'm also helping the old man out with his shop sometimes.

Really wish I could make the banquet. I want to come, Racer Productions runs an awesome series and I reckon we should turn up for them but it needs to be sooner for some people who live far away, like me, Whibs, GK, Thomas, etc.

Anyway there's my 5 cents worth of info hope it helps.

Have a good one.

Josh

Josh is a good guy and he means well. Hope to see him there next year. Will he be holding the number-one plate?

As far as the banquet, we need your input. On every banquet form, we ask for your votes for Rider of the Year, Youth Rider of the Year, Most Improved Rider, Sportsmanship Award, Bad Ass, Hard Luck, Good Samaritan, Rough and Ready Pit Crew, Sport Ambassador and Award of Media Excellence. Some of those awards are decided on a straight vote, like Rider of the Year.

But some aren't. We want to give everyone a chance to go for them, these are not supposed to be pro-only awards. So, if you think your Pit Crew is exceptional, or someone you know had terrible luck, or is a Good Samaritan, or just an all-around Bad Ass, send us a letter. We know they good stories are out there; we just need to hear 'em.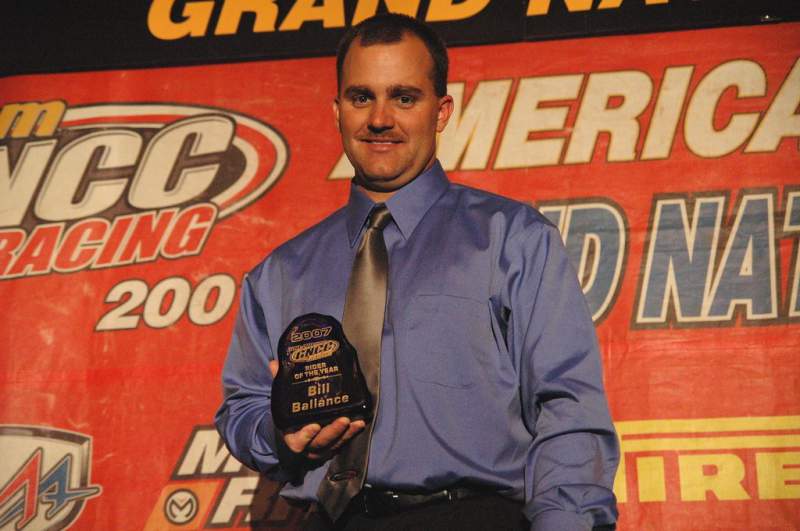 Bill may win Rider of the Year every year, but can your pit crew out do his? Send us a letter!
We wish luck to our buddy Jesse Robinson, who has a lot of fun stuff coming up soon. Next weekend Jesse competes in the EnduroCross in Vegas, then he heads all the way to African to compete in the Roof of Africa Rally, along with our Team South African GNCC buds Louwrens Mahoney and Kenny Gilbert. I know the South African boys have had a good time racing here, now we'll see how Jesse likes playing the foreigner role. Here's a note from Jesse's team.

Jason,
Jesse was invited by the South Africians, Louwrens Mahoney and Kenny Gilbert, to come over to do the race. This is a big time event over there. Louwrens Mahoney has won this race the last 4 years. There is going to be a number of European riders that KTM will is bringing and also BMW is sending riders.  I don't think its Knight or Juha, though.
Louwrens wanted Jesse to come because he knows that Jesse is very good in the technical terrain. He thinks Jesse would have a good shot, although Jesse will be riding a KTM over there. We could have got a Kawasaki but would not have had any support. Team KTM (South Africa) will be there for support.
Thur. Nov.,27 is the first day of racing and its a 60km time trial for position to start day 2. Fri. 28 is a 200km loop that starts at 6:00am till you finish. Sat. 29 is a 150km loop to the finish.
Hope Jesse can get enough rest because we fly home from Vegas on Sun. afternoon and have to be back in Charlotte Mon. morning. He gets to Johannasburg Tues. afternoon, late. Has to be ready to race 8:00 Thur. morning.
You can check it out at www.roof-of-africa.com

Hey, here's a letter I got from a proud GNCC mom. But it's in all caps. Sorry, but it's still a cool letter to share:

I WANT TO LET YOU KNOW THAT I ENJOYED THIS SEASON VERY MUCH ESPECIALLY THAT I COULD WATCH IT THROUGH THE EYES OF MY SON, SEAN DAUGHERTY, WHO IS JUSTIN WILLIAMSON'S MECHANIC.
I DID GET TO GO TO THE FIRST RACE IN FLORIDA, WHICH WASN'T TOO FAR FROM OUR HOME.   TO START THE SEASON WITH HIM, AS A FAMILY WAS AN EXPERIENCE ANY MOTHER SHOULD GO THROUGH.    I KNOW THERE ARE THE RIDERS, BUT THEN THERE IS THE PEOPLE BEHIND THEM AND ALSO THE MECHANICS!!!!
EVERY RACE I WATCHED FROM THE COMPUTER BUT I LOVED "WATCHING" THE LIVE TIMING AND I WOULD SIT WITH MY DRINK AND GOODIES AND WAIT FROM THE FIRST RIDER THROUGH TO THE LAST MINUTE.   AND THEN I CAN RELIVE IT WATCHING GNCC ON TV. IT IS THE BEST!
SEAN USED TO ACTUALLY RACE HARE SCRAMBLES WHEN HE WAS YOUNGER AND I LOVED THE FEELING WE HAD AS WE ALWAYS FELT WE WERE PART OF THE RACE, FROM GETTING HIM TO THE TRACK TO PUTTING GAS IN THE BIKE.
SO WHEN HE WAS ASKED BY KTM TO WORK FOR THEM IT WAS THE GREATEST FEELING A MOTHER COULD HAVE, ESPECIALLY AFTER THE COST OF HIM WITH SCHOOL AND THE OTHER MECHANIC JOBS ALONG THE WAY.
WE ALSO GOT TO GO TO THE YADKINVILLE RACE. SEAN'S GRANDFATHER HAPPENED TO LIVE THERE, SO WE ALL PACKED UP TO GO TO IT AND SHARE ANOTHER RACE WITH SEAN.
I LOVE THESE TOWNS THAT THE RACES ARE IN.   THEY ARE ALL SO FITTING WITH THE NAMES AND EVENTS THAT GO WITH THEM!
I'M SORRY THAT SEAN CAN'T GO TO THE BANQUET. I WISH HE COULD BUT UNFORTUNATELY SEAN'S JOB HAS COME TO AN END DUE TO BUDGET CUTS.
SO YOU KNOW WHAT THAT MEANS.     ANYBODY HIRING????
I ALSO WANT TO COMMEND HOOP FOR ALL THOSE PICS HE TOOK.    FOR ALL US WHO COULDN'T ATTEND WE WERE RIGHT THERE WITH YOU.
NOW I GUESS JUST LIKE ANY OTHER SPORT THERE'S THAT FEW MONTHS OF DOWN TIME BUT GUESS WHAT, MARCH ISN'T SO FAR DOWN THE ROAD AND I'M COUNTING THE DAYS.
THANKS GUYS!
CAROL LAFOLLETTE
And, in the wake of the JNCC race in Japan, we have this letter from Masami Hoshino, the JNCC president.
Hello. How have you been?  AAGP in this year also was a great success
and was able to finish.  We own our success to you.
Nathan Kenny and Thad Duvall were great racers, they shown great
riding techniques which were different level to us.  They gave a lot
of excitement and deep emotion to Japanese racers and funs.  We were
so happy to see such a great racers.
http://www.jncc.jp/
We wish always to express our gratitude to us for your friendship act.
Thank you so much.
President
Masami Hoshino
JNCC
P.S. In next year, I will take 5 racers from Japan to opening race of
GNCC.
FIve JNCC Riders. Nice!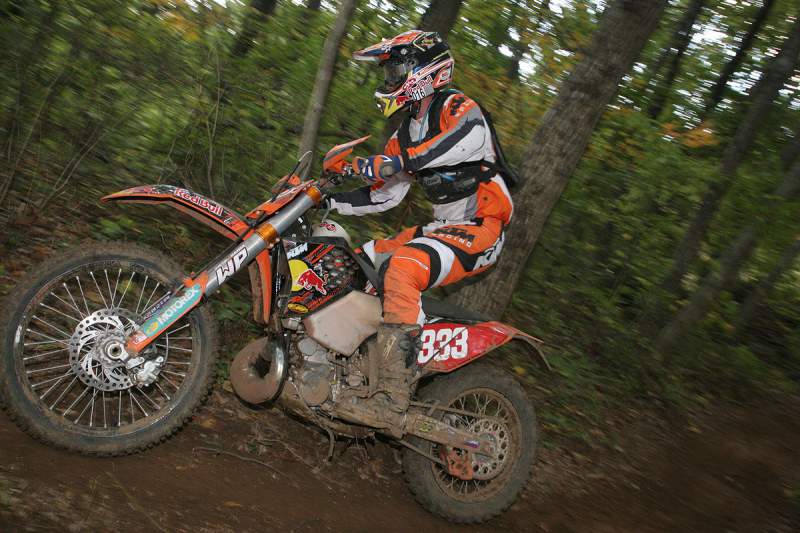 Kanney was a hit in Japan.
Hooper photo
Talked to Nate Kanney about his trip to Japan, and he really had a good time. Not only did Nate win the race, but he was able to get a girl's phone number even though she spoke absolutely no English. The man is in the zone right now! I figured that's pointless since you can't really call her and talk if you can't speak Japanese. Nate said you can just send a text and run a translator. That boy is smart!
KTM put a lot of effort into Nate's win there, sending a 300XC straight from Austria, and also sending three mechanics to set it up. But Nate felt like doing his own work, so he basically only let the wrenches watch. Nate told me that on occasion he'll tell his mechanic here, Tony Hall, to go check out a mud hole in the morning just so he can sneak a wrench or two onto his race bike. Only off-road racers are that into it!
Anyway, Nate had an awesome time and he hopes to return to Japan again someday. And Thad DuVall does, too. After mechanical troubles got the best of Thad, he said on the podium, "I'll pay my one way to come back over here next year and win this!"
Thad's a determined guy.
Last weekend, Harlen Foley and the folks at ATVRiders.com put together the first-annual GBC ATV Heartland Challenge in Iowa. This was an endurance event, with a 10-hour ATV race and a 3-hour UTV race. From everything I heard, it was a fantastic event, and except for the cold weather, everyone enjoyed it. And congrats to the winners, the team of Johnny Gallagher, Brandon Sommers and Taylor Kiser, who represented the GNCC Series well with the victory!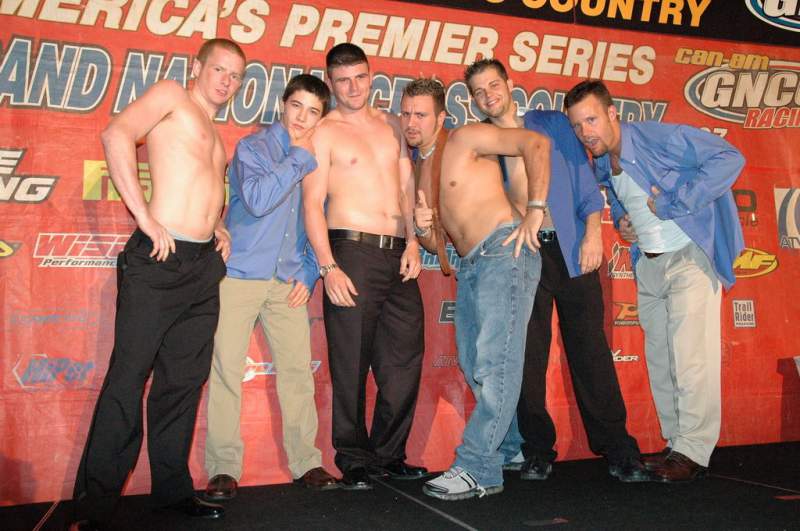 The GBC Heartland Challenge Champs celebrate on the podium!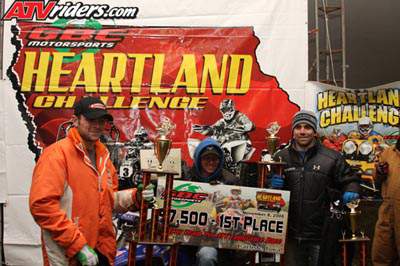 Oops! Ingnore the previous photo. These are your champs at the Heartland challenge.
Courtesy ATVRiders.com
For full results and race coverage, click here.
Okay, that's it for Quick Fill this week. Thanks for reading!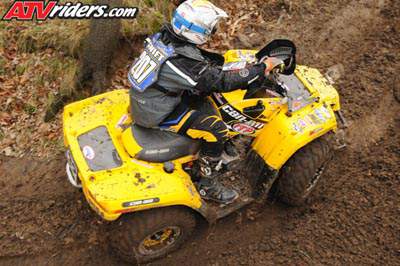 Michael Swift at the GBC Heartland Challenge. 10 hours is a long time to race a 4x4.
Courtesy ATVRiders.com