Jason Weigandt
Bithell Bags First Can-Am Win at Unadilla GNCC
Saturday, September 27, 2008 | 12:00 AM
For Immediate Release
Contact: [email protected]
Bithell Brings Can-Am to Victory Lane at Unadilla GNCC
Kiser, Cook, second and third, Ballance fifth after mechanical troubles
Note: This is a revised copy of the GNCC press release from Saturday, September 27. Please note that the fourth-place finisher mentioned in the first paragraph was Chris Borich, and not Chris Bithell.
NEW BERLIN, N.Y. (September 27, 2008) -- In dramatic fashion, Chris Bithell ended a string of disappointing results by taking the win at the Can-Am Unadilla GNCC at Unadilla Valley Sports Center. The Pennsylvanian's first win of the 2008 Grand National Cross Country Season marks the first XC1 Overall win ever for the Warnert Racing Can-Am team and the Can-Am DS450. FRE KTM's Taylor Kiser took second ahead of Team Excell Motorsports Bryan Cook, with Rockstar Yoshimura Suzuki's Chris Borich and Yamaha's Bill Ballance rounding out the top five.
"This one feels even better than my first (race win last year)," said Bithell. "I knew I still had it, but we've just had so much bad luck. These guys, the team definitely worked hard and hopefully was can keep it up here for the last two races."Â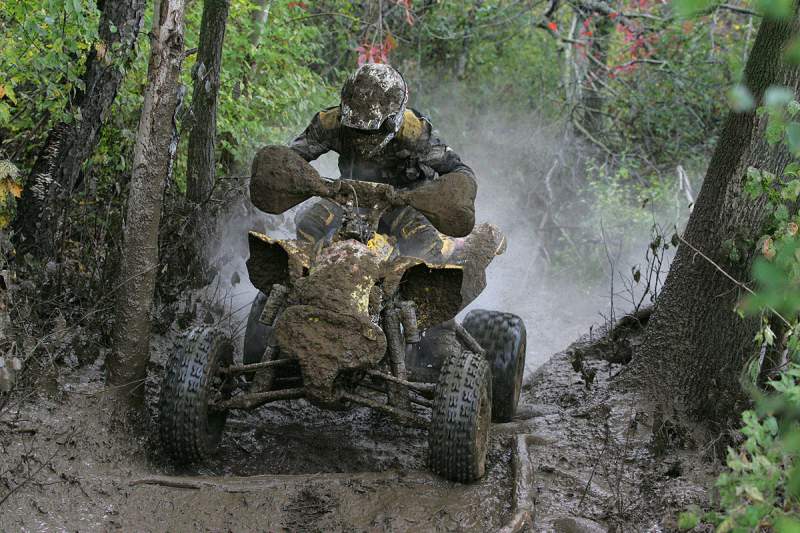 Chris Bithell turned back the bad luck of Can-Am's first-year DS450 effort with a win at Unadilla.
Bithell's win came after a hard battle with defending GNCC Champion Ballance. With rain falling on a dry race track, Bithell started the race nearly last, but he, Cook and Borich worked their way through traffic quickly, joining Kiser and Ballance at the head of the pack. Bithell gambled and pitted a lap early, and he passed Ballance for the lead when Ballance pitted a lap later. On the last lap, Ballance closed the gap on Bithell and the duo banged bumpers throughout the final few miles.
"I started running low on gas," said Bithell. "It started sputtering, and Bill was right behind me. He bumped me from behind and that actually got me going again, and then I heard he had problems."Â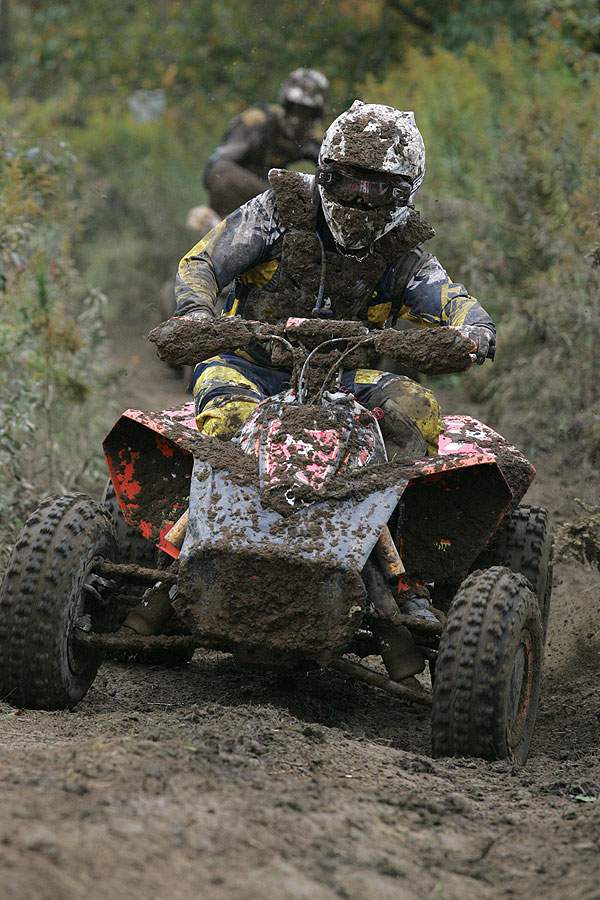 KTM's Taylor Kiser finished second.
Indeed Ballance's chain came off in the last turn, cracking his engine case. With his wheels locked, Ballance and his crew pushed his machine to the finish line, and then Ballance had to push through the finish by himself. He could barely get the machine to move as he lifted it uphill, and Kiser, Cook and Borich managed to pass him while he pushed.
"The chain came off and the cases broke, so the wheels were locked up," said Ballance. "I pushed it with everything I had. I don't feel too bad now, and with (Adam) McGill so far back, I think we still gained some points."Â
McGill, second in the points coming into the race, took the wrong route on the first lap. He was able to fight his way back to a 11th place finish in the XC1 Class.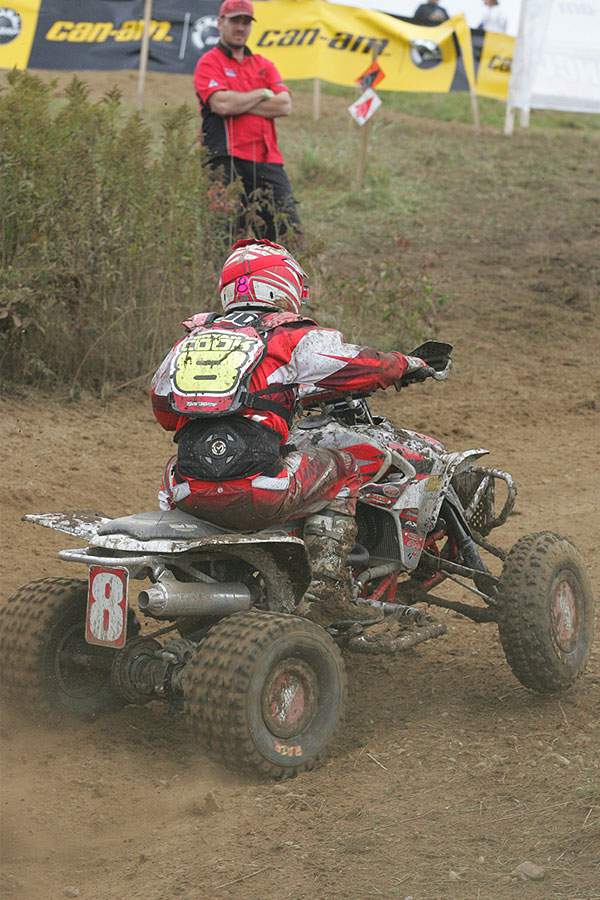 Bryan Cook scored yet another podium finish with third.
GT Thunder Yamaha's Brandon Sommers took the ITP Holeshot Award in the XC1 Class and finished seventh.
In the XC2 Pro-Am Class, GT Thunder Yamaha's Don Ockerman took the race victory, the Rekluse Holeshot Award, and, most importantly, the 2008 XC2 Class Championship.
"It feels good to do it," said Ockerman. "I don't know what I'm going to do next, though. I had a chance to run with some of the pros today, but those guys, they're crazy."Â
XCBob.com Yamaha's Tyler Lenig finished second and The National Guard's Mark Nottman was third.
In the XC1 Class, Kiser was proud of his second-place overall finish. "I knew my speed was good, but I was pretty down on myself after a few bad races," said the Florida rider. "I want to get up here at the last two races and get one of those glass cups (first place trophy)."Â
Cook also suffered through two tough races before this return to the podium. "The last two, I made a few bad decisions and didn't look before I leaped," said Cook. "I knew we could be back here if we just rode smart."Â
Thanks to McGill's misfortune, Ballance still enjoys a solid points lead and is in position to wrap up his record ninth-straight GNCC Title at the next race, the ITP Power Line Park GNCC in St. Clairsville, Ohio, on October 11.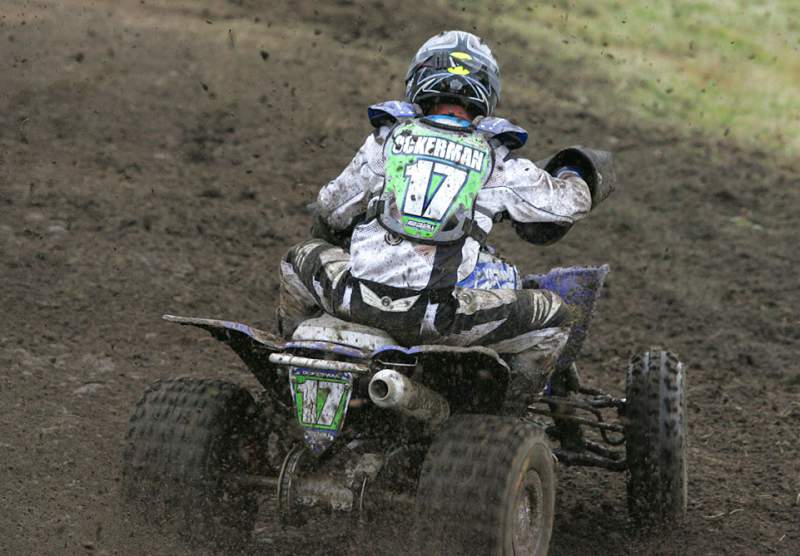 Don Ockerman is the XC2 Champion for 2008.
In the two-hour ATV Morning Race, LTERacing.com Can-Am Rider Bryan Buckhannon took the ATVRiders.com Morning Race Overall Victory, and also won the Open 4x4 Class. Yamaha's Traci Cecco finished second overall and won the Women's class over Stefanie Verkade. Cecco made the move on the last lap by picking a line around Tom Clark Motorsports' Angel Atwell, who got stuck in a bottleneck.
Josh Merritt won the Youth ATV Race over JD Welch and Ryan Ratliff.
Racing continues tomorrow with the motorcycle portion of the event. Full ATV results are posted at www.gnccracing.com
PHOTOS BY JASON HOOPER JasonH@racerxonlinecom
Results:
Can-Am Unadilla GNCC
Unadilla Valley Sports Center
New Berlin, N.Y.
September 27, 2008
Overall
1. Chris Bithell (Can)
2. Taylor Kiser (KTM)
3. Bryan Cook (Hon)
4. Chris Borich (Suz)
5. Bill Ballance (Yam)
6. Don Ockerman (Yam)
7. Brandon Sommers (Yam)
8. Matt Smiley (Hon)
9. Jeff Pickens (Hon)
10. Tyler Lenig (Yam)
XC1 Points Standings (After 11 of 13 rounds)
1. Bill Ballance 232
2. Adam McGill 200
3. Bryan Cook 195
4. Chris Borich 191
5. Brandon Sommers 190
6. Taylor Kiser 164
7. Matt Smiley 152
8. William Yokley 151
9. Jarrod McClure 146
10. Ryan Lane 136
XC2 Point Standings
1. Don Ockerman 278
2. Mark Nottman 180
3. TIE Josh Kirkland/Brian Wolf/Tyler Lenig 159
About GNCC Racing:
The Can-Am Grand National Cross Country series is America's premier off-road racing series. The 13-round championship series is produced exclusively by Racer Productions and has run since 1973. Cross country racing is one of the most physically demanding sports in the world. The nearly three-hour long GNCC races lead over 1,500 riders through tracks ranging from eight to twelve miles in length. With varied terrain including hills, woods, mud, dirt, rocks and motocross sections, GNCC events are tests of both survival and speed. GNCC Racing will air weekly television shows on the Versus network starting August 2. GNCC featured sponsors include Can-Am, Parts Unlimited, Moose Racing, Maxxis, Pirelli, Wiseco, Acerbis, Elka, Geico, Klotz, FMF, ITP and Weekend Warrior, and riders compete for over $3 million in series prizes and contingency money. Associate sponsors include Alpinestars, Cometic, HiPer Technology, Laegers, Moose Utility Division, The National Guard, Powersport Graf X, REM, Scott, Thor, Tire Balls, Twin Air, Ogio, Rekluse, and MotoTee's. For more information log on to www.gnccracing.com.
###

-###-