Jason Weigandt
Rnd 9 - GEICO Mountain Ridge Bikes: Knight, DuVall, Victorious
Monday, July 7, 2008 | 12:00 AM
For Immediate Release:
Contact: Jason Weigandt
[email protected]
Somerset, PA (July 6, 2008)Â -- Red Bull KTM's David Knight sent a reminder to his competition in the Can-Am Grand National Cross Country Series. The defending GNCC Champion had missed the ride to victory lane at the last three GNCC rounds, but on a rough, rocky race track in Pennsylvania, the Isle of Man native showed everyone why he holds the number-one plate by leading every lap and taking his fifth victory of the season.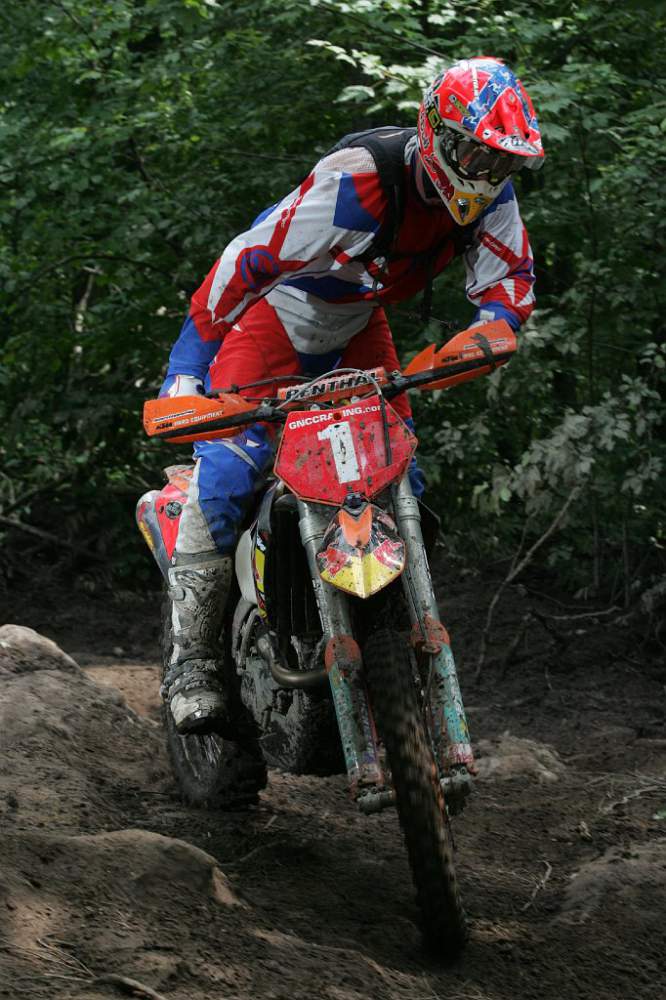 Isle of Man's David Knight returned to the GNCC Winner's Circle in Pennsylvania.
Jason Hooper photo
"This was my favorite track of the year, so it was a good time to get back up here," said Knight. "I was able to build a nice gap, but then something was happening with the bike and it was missing just a bit, so I just kind of cruised once I had a minute lead. It's good to get a win before the (summer) break."Â
Knight now heads into the GNCC Series' two month summer break with a solid points lead, although surging FMF Suzuki pilot Josh Strang rode strong again to take a second place finish. The Australian battled Knight's teammate Nathan Kanney hard for the spot, and the duo really picked up the intensity during a fierce last lap battle. After nearly three hours of racing, Strang edged Kanney by just one second for the runner up position. Strang's teammate Paul Whibley then brought his RM-Z450 home just seconds behind Kanney to take fourth, with Am-Pro FMF Yamaha's Jason Raines rounding out the top five.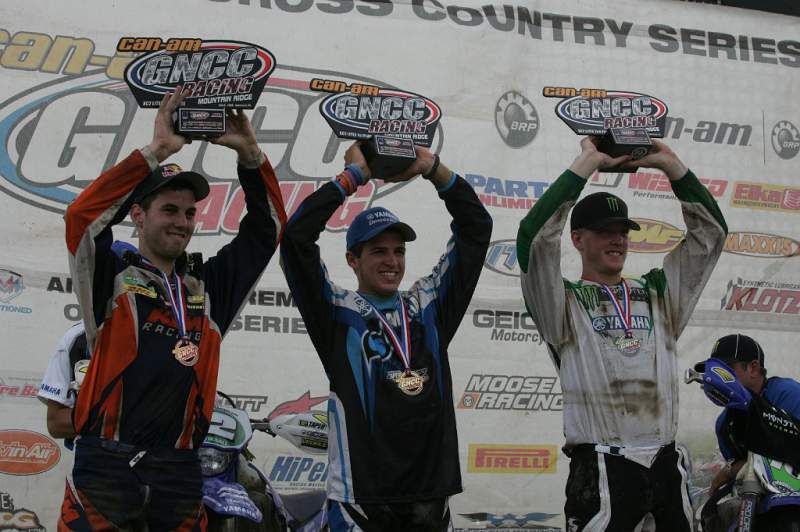 Thad DuVall (center) topped Dustin Gibson (right) and Justin Williamson (left)
on the XC2 podium.
Jason Hooper photo
Similar to Knight, XC2 Pro Lites points leader Thad DuVall used the Pennsylvania race to remind everyone why he's leading the series. DuVall simply checked out on his 250 four-stroke competition to claim his sixth win of the year. "I just wanted to remind everyone that I'm still here," said DuVall after missing the podium at the last two races.
Behind DuVall came a fierce battle for second. Monster Energy/Andrews Yamaha's Dustin Gibson took the spot, just ahead of Red Bull KTM's defending XC2 Champion Justin Williamson and Powersports GrafX KTM's Kailub Russell. Just three seconds separated the trio at the finish as they battled the through the final corner of the race. Virginia's Eric Bailey rounded out the XC2 top five.
Veteran contender Barry Hawk made his return to action in the XC1 class after breaking his shoulder a few months ago at a race in South Carolina. Hawk, a Pennsylvania native, ran at the front of the pack for the first two hours of the event but dropped his pace slightly in the final hour, finishing up sixth in the premier class.
Seventh in XC1 went to Husqvarna's Australian Glenn Kearney, ahead of FMF Suzuki's Charlie Mullins, who crashed hard and managed to salvage some points. Florida's Garrett Edmisten and South African Louwrens Mahoney rounded out the top ten.
GNCC Notebook:
The GEICO Mountain Ridge GNCC marked a return to the rough, rocky, technical terrain where Knight does his best work. Patches of rain throughout the weekend kept dust down and created a few deep mud holes, which only further added to the challenge.
FMF Suzuki's Jimmy Jarrett snagged the Racer X Holeshot Award in the XC1 class, and Gibson claimed the Thumpertalk.com Holeshot Award in XC2. Jarrett ran into trouble when a rock smashed his water pump, while Gibson hung on to finish second in his class. To help out privateer racers, AXA Financial Advisors also handed out two holeshot awards to Novice class racers in the 10 a.m. amateur race
The Independence Day Weekend event featured a free concert from the rock band Ten Man Push, and two different free dinners for racers, one courtesy of Moose Racing and another by QuadZone.com.
Once again, Powersports GrafX KTM's Cory Buttrick claimed the top amateur overall finish, taking 15th overall and winning the Four-Stroke A Lites Class. He just edged Open A winner and 16th overall finisher Joe "Dirt" Scherer, who races for the Am-Pro FMF Yamaha team. With his A class championship wrapped up, Buttrick plans on graduating to the XC2 Lites class when the GNCC Series resumes in September.
GNCC Youth Bike Champion Steward Baylor made his big bike debut, racing the 200 A class. The 13-year-old ran with the class leaders early before finishing third, with Georgia's Josh Monsrud topping Robby Norwood for the class win. The 250 A class win went to Powersports GrafX KTM's Jordan Ashburn.
With Baylor finished with the Youth class, the door was open for a new minicycle winner. Tarentum, Pennsylvania's Ryan Lojak delivered his legendary off-road racing family an overall win for the day, just edging West Virginia's Zach Nolan. Pennsylvania's AJ Stewart was third.
The Can-Am Grand National Cross Country Series begins its annual summer break, and racing will resume on September 13 and 14 with the Snowshoe GNCC in West Virginia.
Results:
GEICO Mountain Ridge GNCC
Somerset, PA
July 6th, 2008
XC1 Pro
1. David Knight Isle Of Man (KTM)
2. Joshua Strang Australia (Suz)
3. Nathan Kanney High Falls, NY (KTM)
4. Paul Whibley New Zealand (Suz)
5. Jason Raines Belfair, WA (Yam)
6. Barry Hawk Jr Smithfield, PA (Yam)
7. Glenn Kearney Australia (HSQ)
8. Charles Mullins Hamilton, OH (Sus)
9. Garrett Edmisten Vero Beach, FL (Kaw)
10. Louwrens Mahoney South Africa (KTM)
XC2 Pro Lites
1. Thaddeus Duvall Williamstown, WV (Yam)
2. Dustin Gibson Cumberland Furnace, TN (Yam)
3. Justin Williamson Sanford, FL (KTM)
4. Kailub Russell Kingston, OH (KTM)
5. Eric Bailey King George, VA (OTH)
6. Scott Watkins Leetonia, OH (Kaw)
7. Brian Lawson Adams, MA ( Yam)
8. Nick Gentry Dawsonville, GA (KTM)
9. Kevin Korn Toledo, OH (Kaw)
10. Ian Blythe Sedalia, CO (Yam)
XC1 Points Standings (After 9 of 13 rounds)
1. David Knight (226/5 wins); 2. Paul Whibley (184/2 wins) 3. Joshua Strang (184/1 win); 4. Charles Mullins (159/1 win); 5. Nathan Kanney (150); 6. Jim Jarrett (132); 7. Glenn Kearney (124); 8. Jason Raines (123); 9. Garrett Edmisten (108); 10. Jesse Robinson (83).
XC2 Point Standings (After 9 of 13 rounds)
1. Thad DuVall (229/5 wins); 2. Dustin Gibson (197/1 win); 3. Kailub Russell (161/1 win); 4. Josh Weisenfels (134); 5. Justin Williamson (123); 6. Brian Lawson (112); 7. Andrew Matusek (111); 8. Eric Bailey (98); 9. Scott Watkins (92); 10. Johnny Barber (85).
For full race results, CLICK HERE
About GNCC Racing:
The Can-Am Grand National Cross Country series is America's premier off-road racing series. The 13-round championship series is produced exclusively by Racer Productions and has run since 1973. Cross country racing is one of the most physically demanding sports in the world. The nearly three-hour long GNCC races lead as many as 1,800 riders through tracks ranging from eight to twelve miles in length. With varied terrain including hills, woods, mud, dirt, rocks and motocross sections, GNCC events are tests of both survival and speed. GNCC Racing will air weekly television shows on the Versus network starting August 2. GNCC featured sponsors include Can-Am, Parts Unlimited, Moose Racing, Maxxis, Pirelli, Wiseco, Acerbis, Elka, Geico, Klotz, FMF, ITP and Weekend Warrior, and riders compete for over $3 million in series prizes and contingency money. Associate sponsors include Alpinestars, Cometic, HiPer Technology, Laegers, Moose Utility Division, The National Guard, Powersport Grafx, REM, Scott, Thor, Tire Balls, Twin Air, Ogio, Rekluse, and MotoTee's. For more information log on to http://www.gnccracing.com/.
###