Jason Weigandt
Tuesday Toolbox with ... Jarrod McClure
Tuesday, July 1, 2008 | 12:00 AM
GNCC XC1 Pro ATV Racer Jarrod McClure, has only been racing for a few years, but he has quickly moved up in the ranks. Now in his second year in the premier GNCC class, the Pennsylvania is currently running in 9th in the GNCC Pro Points & 10th Overall. At the previous GNCC, Jarrod claimed his first-ever Pro podium finish by placing third overall in round eight at Yadkinville, North Carolina.
Jarrod is yet another one of the true privateers showing how heart and determination can create results. Now he's hoping to turn in his best ride yet at his home race this weekend in Pennsylvania. Read on to find out how Jarrod got here, and where he plans on going next.
Interview courtesy ATVRiders.com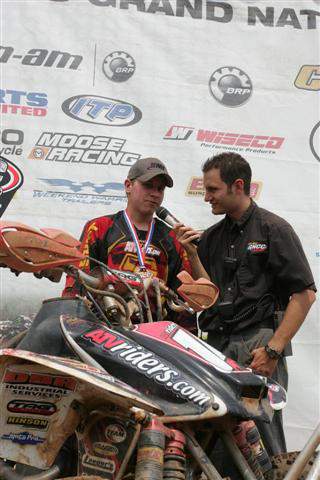 McClure has now notched podium finishes
in the morning and afternoon races.
Krista Shaw photo
This past weekend was you first time on the Pro Podium, how did that feel?
It was an overwhelming experience because Bill Ballance passed me and I actually thought I had dropped back to 4th place, so I was in shock when I found out that I actually earned the final spot on the Podium.
Was it pretty intense for you running up in the top three like that?
The first time I ran like that was at Tennessee and that was a great experience being up there with the top guys. At North Carolina I was a little more relaxed. I just tried to put my head down and ride smart.
You've been doing really well this season, what changes have you made this year?
I've definitely been training a lot harder. I actually started a whole new program with Marc Spataro at motoprotraining.com. He has me doing all kinds of stuff that I never did; more sport-specific type of training. It seems a lot more helpful than what I was doing in the past. He stresses side-to-side movements and lots of legwork and things like that.
When did you first start riding ATVs?
I started riding ATVs in 1998 when I was ten years old. My uncle gave me his Yamaha Blaster, and that is what I learned on. I used to ride with my dad and some of his friends, and they would give me pointers on how to ride and do wheelies.

How did you get involved in cross country racing?
I actually started working at a local motorcycle shop, and the owner, and now my mechanic, Jonathan Bowers, told me to try it out. He knew I could ride pretty good, and loaned me one of his full race 400EX's to give racing a try. I raced C class at a local, and knew it was something I wanted to do. I got a 400EX of my own and raced the next whole season. That was the 2003 season.
When did you decide to start racing the GNCC Series?
I gave GNCC racing a try in 2004 at a few rounds, but I waited until I graduated high school before racing the entire season in 2005 in the Stock Class

What were some of your biggest accomplishments GNCC racing prior to your
Pro Podium?
During my fist full year of running the GNCC in 2005, I raced in the Stock Class. I won my first GNCC Morning overall at Unadilla that year and again at next round at Powerline Park. I ended that year earning the top Morning Overall number of 201, and second place in the stock class behind Billy Good. The following year I ran Pro-Am and finished fourth in class and 20th overall. Last year was my first year pro, and I finished out the season 12th in the class and 14th overall. This year I've had a lot of top ten finishes and with counting the podium and three top five finishes.

I see you run ATVriders.com graphics on your quad. How long have you
been involved with ATVriders.com and Harlen Foley?
I have been involved with Harlen since I began racing. That 400EX I said that I picked up, was actually Harlen's! He sold me my first race quad, and since then we've have always been friends. We even raced together during the 2005 GNCC season, and I got to share my first overall win on podium with him, because Harlen finished second Overall at the Unadilla GNCC.

How do you feel about heading to your homestate of Pennsylvania for the
final round GNCC Series before the summer break?
I feel super-confident in myself. After finishing on the podium I know I can do it again. I know that I am going to have a lot of fans at this race. Like Bryan Cook said in North Carolina, the fans make you dig a little deeper and push a little harder. That's the truth and I am hoping I can put together another great race in front of a home crowd.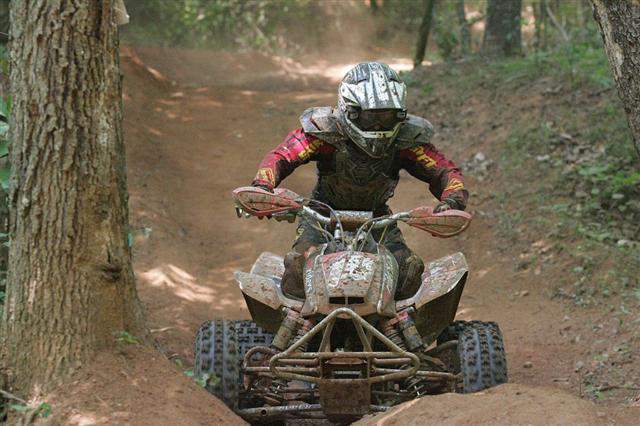 McClure will have the home-state fans on his side this weekend.
Krista Shaw photo

What are you plans for the summer break?
I am going to run some local races when I can, and on over the last weekend in July I'm going to the MotoPro Training summer camp to get a little faster! Then in August I plan on flying out with Harlen to run a WORCS Race in Washington. Maybe sometime in there I'll be able to relax at the beach with my girlfriend!
The WORCS racing series is a little different than a GNCC, how do you feel about that format of racing with some motocross involved?
I really just want to go out and meet some new people and race in different terrain. I feel I will do well out there. Motocross is not one of my strong points, but I think the time I would lose on the MX track, I will make up in the woods. The races are shorter than a GNCC, so I don't think getting tired will be an issue. I am really looking forward to giving it a try.
What are you hoping to accomplish this year in the GNCC?
My main goal this year was to finish in the single digits at the GNCC. When you place in the top ten it just seems to open up more opportunities for sponsorships.

When you are not racing, what do you do for a full time job?
I am still working at the same shop I was working at in high school. Bowers Motorcycle Supplies. They are one of my main sponsors, and really help me out. At the shop, I do anything from engine repairs to mounting tires, and John even lets me go riding in the morning, and come in a little late. I wouldn't think of doing anything else. Except getting paid to race!


How long have you been wrenching on ATVs?
My dad got me into wrenching when I was ten. He used to show me how to fix anything I broke on the Blaster. It made me respect it a little more.


Do you get a lot of support from family and friends?
Oh yeah! My dad goes to all the races. I work at a motorcycle shop and my boss, he kind of acts as my manager. He's always there and helps me out with everything from the financial end of it to working on the bike. I do a lot of wrenching myself, but he's like the go-to guy ifs I have any questions or need a second opinion. He's always there for me.
Is there anything else you would like to add?
I'd like to thank all of my sponsors: Bowers Motorcycle Supplies, ATVriders.com, Motoprotraining.com, Maxxis, Elka, HMF, SHIFT, DWT, Team-Ind, Tag, IMS-Roll, Clarke, DP Brakes, DBR Industrial services, Hinson, Laeger's, Maier, Rage ATV Racing, The Sligo Press, 317 Graphics, Leumas Enterprises, and my parents.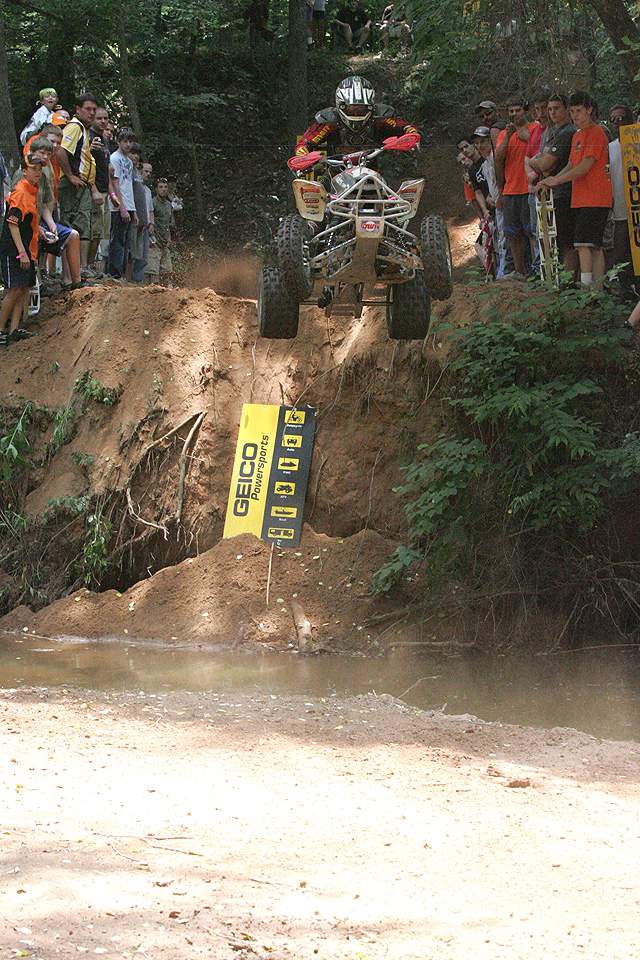 This privateer is flying high.
Krista Shaw photo