Jason Weigandt
Rnd 8 - Elka Yadkin Valley Stomp ATVs: Carolina Cook
Saturday, June 21, 2008 | 12:00 AM
Yadkinville, N.C. (June 21, 2008)Â -- The home state fans roared when North Carolina's own Bryan Cook grabbed the win at the Elka Yadkin Valley Stomp GNCC. The privateer Team Excell Motorsports Honda rider has run strong all year, but this time he took advantage of a good start on a dry track to outlast Yamaha's Bill Ballance and ATVRiders.com's Jarrod McClure to take the win.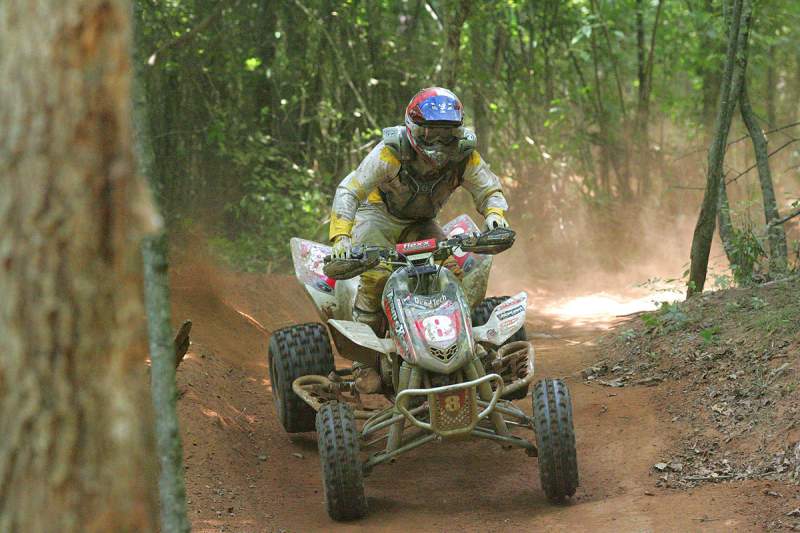 Casar, North Carolina's Bryan Cook romped home the winner of the Elka Yadkin Valley Stomp GNCC.
Krista Shaw photo
"Man it feels so good," said Cook. "I heard the fans cheering all day, every time you came around a corner there were people cheering. You know, it gives you some motivation over the winter when everyone is talking about everyone else, and they're not talking about you. I wanted to get back up there and get my name back out there. Today I had a good start, and then Branden (Sommers), something must have happened and his engine just quit. I got lucky and I was able to get around. After that, I just kept my head down. I got a little fatigued but not too bad, and I held on."Â
After grabbing the lead from Sommers at mid-race, Cook held off a last-lap charge from Ballance. "I knew a good start would be key today, and my Yamaha got me off the line quick," said Ballance. "I pulled a little bit of a wheelie, so I had to clutch it and everyone got by me. I just put my head down. On the last lap I was getting pit boards that I was closing in, and I thought I might see Bryan up ahead. I was giving it everything I had, and I must have just barely clipped a tree. I went over the bars a bit."Â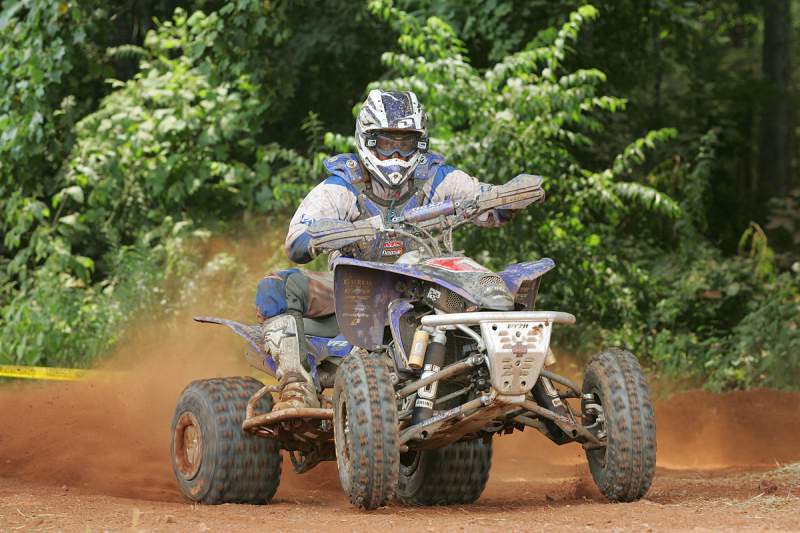 Eight-time GNCC Champion Bill Ballance came from mid pack to grab second.
Krista Shaw photo
Still, Ballance extends his GNCC Series points lead over KTM's Adam McGill, who ended up fifth. Third went to McClure, his first-ever XC1 Pro Class podium finish.
"It's hard racing against these guys," said McClure. "They have the big trucks and the equipment, we just have our little trailer, but we do what we can. Today I had a good start and I just stayed up there all day, didn't make many big mistakes."Â
Ryan Lane scored his best finish of the season with fourth, ahead of McGill. Rockstar Yoshimura Suzuki's Chris Borich turned in an amazing ride after crashing in turn one, shaking off the pain, and making up nearly a minute of time to fight through the pack. Next came National Guard Honda's William Yokley, who was fighting a clogged filter in the dust. KTM's Taylor Kiser, XCBob.com's Matt Smiley and Excell Motorsports' Santo DeRisi rounded out the top ten.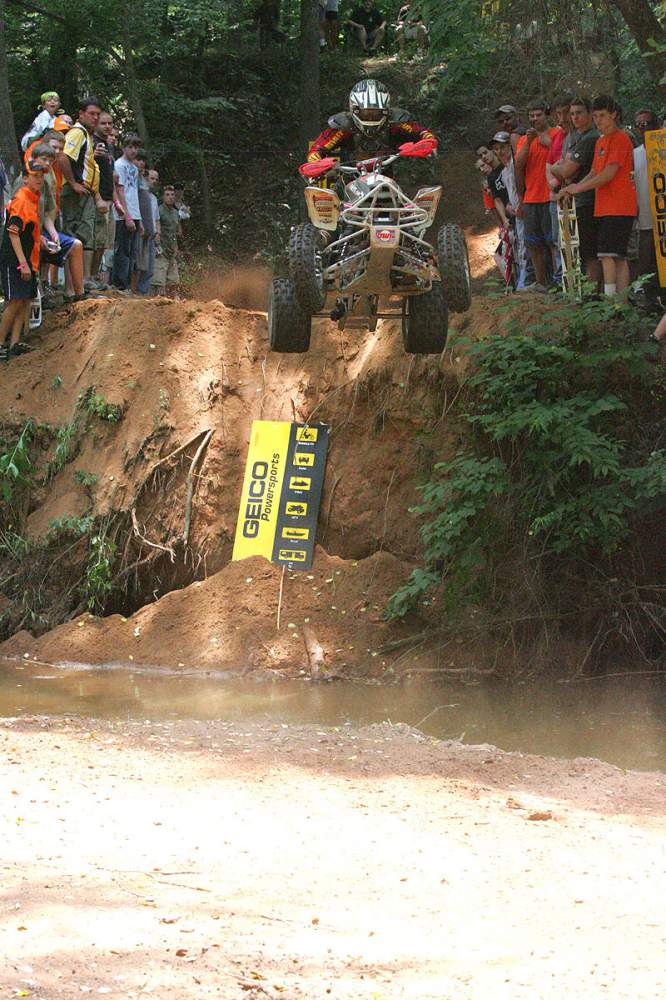 Jarrod McClure stepped up and jumped the famous Stomp Creek Jump on way to his first XC1 Pro podium finish.
Krista Shaw photo
Yamaha's Brandon Sommers grabbed the ITP Holeshot Award and led the first lap, but a crash dropped him back to 11th.
In the XC2 Pro-Am Class, another North Carolina rider, Jeff Maloney, grabbed his first career win. Pennsylvania's Tyler Lenig was a close second, with Ohio's XC2 points leader Don Ockerman in third. "I don't live too far from here, and it was great having all of these locals out there cheering me," said Maloney. "It was tough, Tyler (Lenig) was creeping up on me. Every time I looked back, he was right there."Â
Lenig pushed hard for second. "I was going for it, I wanted that win," said Lenig. "Jeff ran a great race."Â
Ockerman had the early lead after taking the Rekluse Holeshot Award, but he crashed when he hit a tree stump. "There was a big creek jump, and we had decided early in the day we weren't going to jump it," said Ockerman. "I didn't want to take the chance of breaking my machine and not scoring any points. And these guys rode awesome."Â
In the ATV morning race, Tom Clark Motorsports' Honda's Angel Atwell took her fourth win of the season, out dueling series rival Traci Cecco (factory Yamaha). Atwell's niece Kristin finished third overall as the women's class swept the podium again.
Bryan Buckhannon (Open 4x4) and Cliff Beasley (4x4 Lites) kept their perfect seasons alive with victories, while usual suspects Michael Swift (4x4 Limited) and Michael Benson (U2) won their classes. Buckhannon, Swift and Beasley rode Can-Am Outlanders, Benson was mounted on a Kawasaki KFX700.
Racing continues on Sunday, June 22nd with motorcycle action. Defending GNCC Champion David Knight will face fellow Red Bull KTM rider Kurt Caselli, who is making a guest appearance. FMF Suzuki's Paul Whibley has won the last two GNCCs and looks to continue that streak tomorrow. Pro racing begins at 1 p.m.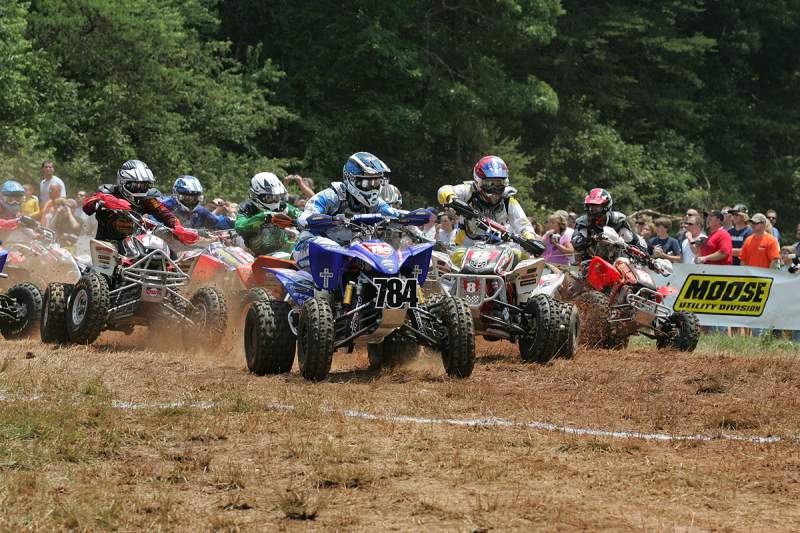 Yamaha's Brandon Sommers took the ITP Holeshot Award, but a crash knocked him out of the top ten.
Krista Shaw photo
Photos by Jason Hooper: [email protected]
Results:
Elka Yadkin Valley Stomp GNCC
Top Ten Overall
1. Bryan Cook Casar, NC (Hon)
2. Bill Ballance Smiths Grove, KY (Yam)
3. Jarrod Mcclure Kaska, PA (Hon)
4. Ryan Lane Bicknell, IN (Hon)
5. Adam McGill West Union, WV (KTM)
6. Chris Borich Sunbury, PA (Suz)
7. William Yokley Tompkinsville, KY (Hon)
8. Taylor Kiser Alva, FL (KTM)
9. Matthew Smiley Kunkletown, PA (Hon)
10. Santo Derisi Casar, NC (Hon)
GNCC XC1 Pro Class Standings (After 8 of 13 rounds)
1. Bill Ballance 177/3 wins
2. Adam McGill 154/3 wins
2. Bryan Cook 154/1 win
4. Brandon Sommers 134
5. Chris Borich 128/ 1 win
6. William Yokley 127
7. Taylor Kiser 118
8. Matt Smiley 105
9. Jarrod McClure 103
10. Ryan Lane 102
Fast Facts:
What: The Can-Am Grand National Cross Country Series (GNCC), America's Largest Off Road Racing Series. Cross-country racing is one of the most physically demanding sports in the world. The nearly three-hour long GNCC races lead as many as 1,800 riders through tracks ranging from eight to 12 miles in length. With varied terrain including hills, woods, mud, dirt, rocks and motocross sections, GNCC events are tests of both survival and speed.
When: June 21 and 22, 2008
Where: I-77 to Exit 73A to Highway 421 South. Go 10 miles to Exit 256, Unifi Industrial Road. Turn left, go 1.2 miles to end of road. Turn right on old US-421. Go 2/10 mile, turn left on Myers Rd. Go 1 mile, race track is on left.
Who: The Can-Am GNCC Series pits the best of the best in off-road racing against each other. More than 1,500 amateur racers are expected to compete on custom-built dirt bikes and four-wheeled ATVs. Top pro motorcycle riders include David Knight, Barry Hawk, Jr., Charles Mullins, Jimmy Jarrett and Shane Watts. ATV pro riders include Bill Ballance, Chris Borich, Chris Bithell, Matt Smiley and Adam McGill.
About GNCC Racing:
The Can-Am Grand National Cross Country series is America's premier off-road racing series. The 13-round championship series is produced exclusively by Racer Productions and has run since 1973. Cross country racing is one of the most physically demanding sports in the world. The nearly three-hour long GNCC races lead as many as 1,800 riders through tracks ranging from eight to twelve miles in length. With varied terrain including hills, woods, mud, dirt, rocks and motocross sections, GNCC events are tests of both survival and speed. GNCC Racing will air weekly television shows on the Versus network starting August 2. GNCC featured sponsors include Can-Am, Parts Unlimited, Moose Racing, Maxxis, Pirelli, Wiseco, Acerbis, Elka, Geico, Klotz, FMF, ITP and Weekend Warrior, and riders compete for over $3 million in series prizes and contingency money. Associate sponsors include Alpinestars, Cometic, HiPer Technology, Laegers, Moose Utility Division, The National Guard, Powersport Grafx, REM, Scott, Thor, Tire Balls, Twin Air, Ogio, Rekluse, and MotoTee's. For more information log on to http://www.gnccracing.com/.
###