Jason Weigandt
Whibley Wins Kentucky
Monday, June 2, 2008 | 12:00 AM
Whibley Takes Second-Straight GNCC Win in Kentucky
Russell scores first-ever XC2 win
Sparta, KY (June 1, 2008) -- FMF Suzuki's Paul Whibley is on fire in the Can-Am Grand National Cross Country Series. The New Zealander followed his muddy GNCC win a few weeks ago with another in completely dry conditions at the Weekend Warrior Spartan GNCC in Kentucky. While GNCC points leader David Knight crashed back to a fifth-place finish, Husqvarna's Glenn Kearney and Whibley's teammate Joshua Strang rounded out the top three, with Knight's Red Bull KTM teammate Nathan Kanney fourth.
The hot, fast, and rough conditions took a toll on the field after three-hours of racing, but Whibley, known for his endurance, managed to grab the lead on the last lap, edging in front of his teammate Strang once again. "It was rough and I had to ride hard, but I think I could have maybe gone another lap," said Whibley. "But I'm not sure, because it was rough and I had the hammer down because I wanted to hold on for the win."

Paul Whibley can win in the wet or the dry.
Jason Hooper photo
The entire pack was close throughout the day until fatigue finally set in late in the game and spread the field apart. After FMF Suzuki's Charlie Mullins grabbed the Racer X Holeshot Award, Knight eventually grabbed the lead but had to withstand heavy pressure from Strang and Kearney. Eventually Knight crashed hard and lost time, and also bent up his bike. "I saw it and it was a pretty hard crash, he was ping-ponging off of some trees," said Kearney.
Kearney was thrilled to get back to the podium for the first time in a year. It also marked the first-time in decades that a Husky made the GNCC podium.
For even more history, the podium positions were taken by a New Zealander and two Australians, a first-ever all-international GNCC podium.
In the XC2 Lites class, Powersports GrafX/KTM's rookie Kailub Russell scored a breakthrough victory, his first pro win. Russell had to outduel Monster Energy/Andrews Yamaha's Dustin Gibson, who grabbed the Thumpertalk.com Holeshot Award and finished second. Monster Energy/Kawasaki's Andrew Matusek returned to the podium with third after fighting the pain of a broken foot, and even led early in the event.
Class points leader Thad DuVall dropped from the race early in the day with mechanical troubles.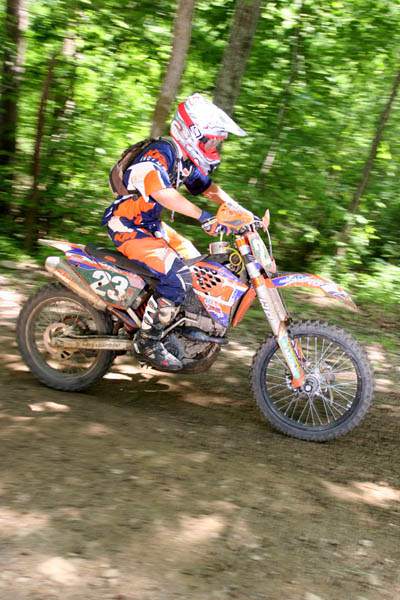 Rookie Kailub Russell snagged his first-ever GNCC win in the XC2 Lites class.
Jason Hooper photo
The Can-Am Grand National Cross Country Series continues in two weeks with the Yadkin Valley Stomp GNCC.