Jason Weigandt
Steele Creek Amateur ATV Race Report
TimeThursday, May 8, 2008 | 12:00 AM
GNCC Reporter Ryan Smith is back with his reports from the Amateur GNCC ATV trenches. Here's his report from Steele Creek:
By Ryan Smith
Jason Hooper photos
On March 29th the Can Am GNCC series rolled through Morganton, North Carolina with over 600 ATV racers in attendance. Despite high gas prices GNCC racers are still determined to racing in America's Premier Off-Road Series.
In the morning race Traci Cecco took the overall win and the win in the Womens class aboard her Yamaha. Lexie Coulter took the second spot on her LTE backed Can Am ride. Kristen Atwell, the niece of Angel, took the third place spot in the class.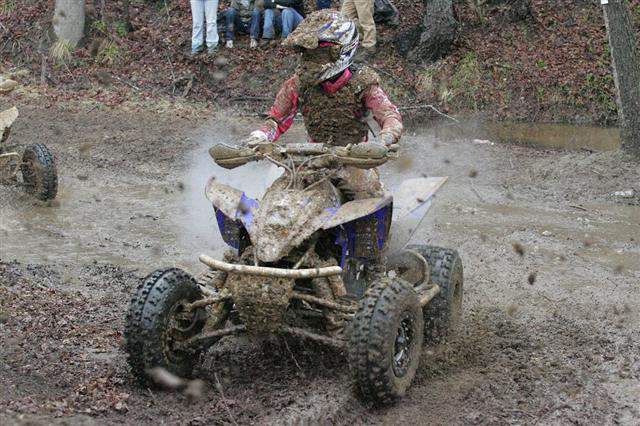 Traci Cecco took the overall win in the morning in North Carolina.
Mike Benson came back to racing, and last years U2 champ wasted no time taking the win in the U2 class and finishing second overall. Second in the U2 class went to LTERacing.com Can-Am's Brandon Sturdivant on his Renegade 800. Third in the class went to last year's runner up in the class, Aftermidnight Racing/Big Nutz Racing's Rob Smith on his Kawasaki ride. John Gallagher took the win in the Super Senior class aboard his Factory Polaris ride for his first win of the year. Tom Skinner took second place followed by Yamaha-mounted Mike Ockerman. In the 4x4 Limited Class, Mike Swift took the win and finished in the third overall position on his factory Warnert Racing Can-Am. Second went to Anthony Voight and third to David Jesse. Bryan Buckhannon kept his perfect season going on his Can-Am with another win in the 4x4 open class, but not before he held off veteran Scott Kilby on his Factory Warnert Racing Can-Am. Scott held on for third ahead of Casey Cardin.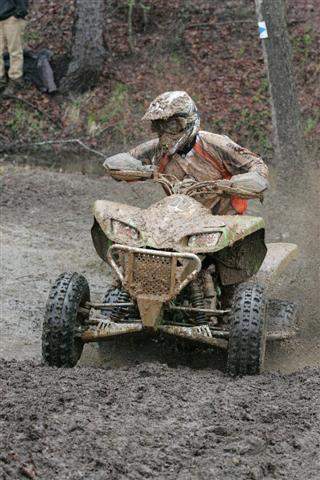 Michael Benson returned to racing with another win.
Clifton Beasley also kept his perfect season going on his Factory Warnert Racing Can Am taking another win aboard his Renegade 500 ahead of LTERacing.com Can-Am's Jerime Dudding. Ken Robey took his factory-backed Kymco to a third place finish in the class.
The 30+ C class was the first Novice class to hit the woods and Aaron Delancey took the win ahead of Gary Parmerter and Mike Muskopf. Tommy Jenks took the win in 36+ C all the way from Alabama. Tommy Mitchell took second followed by Brian Stump. In the young guns class of 16-19 C, Jordan Dusenberry took the win ahead of Andrew Green and Michael Marley. Local North Carolina resident Ken Miller took the win in 20+ C followed by David Burton and Zachary Downs. In the last Novice class to go out and tackle the mountain, Todd Scott took the win followed to the checkers by Nathan Ellis and John Ellenburg.
The afternoon race was packed with plenty of racers not in the XC1 or XC2 class. The highest finishing amateur of Round three was the Ironman out of Senior A Dave Simmons on his GT Thunder/Northridge Yamaha backed ride. Thomas Wright took second place and Glen Pritchard rounded out the top three. In College A, last year's third place finisher came back for some racing and took the win followed by last year's College B champ Parker Jones. Andrew Cornell battled with Parker last year in College B and it looks like it will happen again this year as Cornell held on to the third place finish. In the Junior A class, Mitch Craig took his second win of the year followed by Andy Klingworth and last round's winner Chad Livingston in the third place spot. Dave Hogg took the win in Vet A followed by Mike Husband in second and Mark Thompson in third place.
The highest finishing B rider was Wyatt Westmoreland from the Vet B class. That's a class win and 50th overall. Theron Flatt was in second and Michael Novak took the third place spot. The College B class went to James Davidson, followed by Wilson Racing Polaris Rider Josh Konecheck and David Jones. Junior B was won by Phillip Wall, and Danny Thompson took second followed by Chris McHenry.
The Sport class was won by Joey Margueria followed by John Yokley and Chris Porto. The Can Am GNCC series continues next weekend and the Big Buck in Union South Carolina.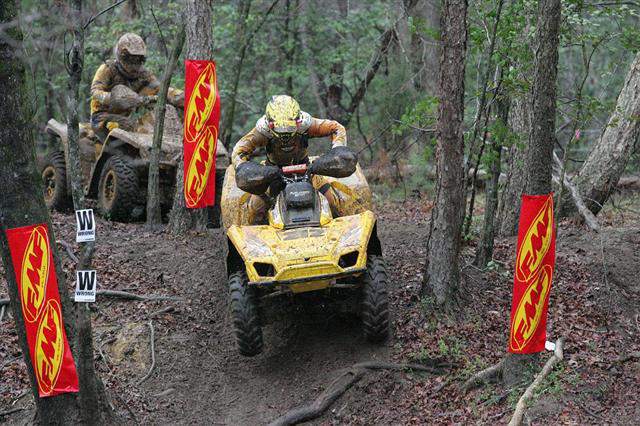 Jerime Dudding and his LTERacing.com Can-Am has been battling Warnert Racing Can-Am's Cliff Beasley all season.