Jason Weigandt
Big Buck Amateur ATV Race Report
TimeThursday, May 8, 2008 | 12:00 AM
By Ryan Smith
Photos by Jason Hooper
The 4th round of the Can Am GNCC series headed to Union, South Carolina for the Big Buck GNCC. Almost 500 atv riders turned out to hit the woods despite high fuel costs. In the morning race, Tom Clark Motorsports rider Angel Atwell took the overall win and first in the women's class. The women made it a podium sweep with Traci Cecco taking 2nd overall on her factory Yamaha and Lexie Coulter taking third place on her LTE backed Can-Am.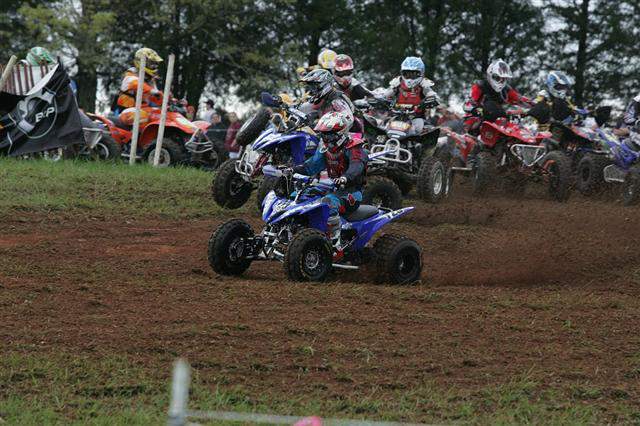 Walker Fowler has had a tough season with an ankle injury,
but he came out on top in Schoolboy this time.
The highest Utility finisher of the day was Bryan Buckhannon, as he just narrowly missed the podium with a 4th place overall finish and 1st in 4x4 open on his Can-Am. Scott Kilby took second on his Warnert Factory Can-Am Outlander and Greg Condon took third on his Miller's Yamaha backed machine. Michael Swift took his third win of the season in the 4x4 limited class aboard his Factory Warnert Can-Am. David Bailey from Flordia had his best ride of the year taking second followed by Andrew Langston in third place. Mike Benson took his 2nd win in his 2nd race of the year aboard his Four-Stroke Tech Kawasaki in the U2 class. He was followed by Brandon Sturdivant on his LTE Can-Am ride.
Robert Smith took third place on his After Midnight Racing/Big Nutz Racing backed Kawasaki. Cliffton Beasley remained perfect on the year taking his 4th win in the 4x4 lites class on his Factory Warnert backed Can-Am. Jerime Dudding took his 4th 2nd place finish of the year on his LTERacing.com backed Can-Am. Ex pro racer Jeff Stoess took 3rd place on his Can Am ride.
David Bullard led all Novice racers with a 10th overall finish and a first in 30+ C followed by Gary Parmerter and Joey Duvall. Markham Donovan took first in 24+C followed by Luke Decesare and Will Wilkinson. Points leader Kevin Gills extended his lead with a win in the 20+ C class followed by David Burton and Big Nutz Racing/Northridge Yamaha backed Cory Blinkiewicz. Kolton Burd came all the way from Montana and won the 16-19 C class followed by point's leader Michael Marley and TJ Shaw rounding out the top three. Tommy Jenks took his third straight win in the 36+ C class followed by Jeff Robinson and Brian Stump.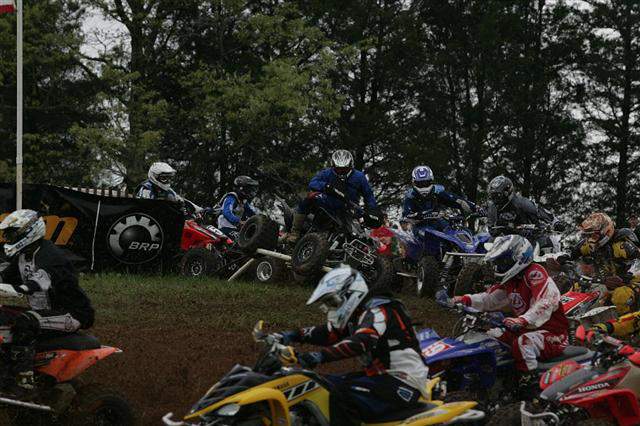 Lots of bar banging in the amateur ranks.
In the afternoon there are many racers that are not XC1 or XC2 and the highest amateur finisher at Round 4 was College A racer Parker Jones with a 27th overall and 1st in College A. Andrew Cornell took the runner up spot and Dustin Pigott took third place. Junior A saw Andy Klingworth win for the second straight race followed by Daniel Frye and Lance Smith. Dave Simmons took another win on his Northridge Yamaha/GT Thunder backed ride ahead of Thomas Wright and Glen Pritchard. In Vet A, Jeff Miller took his third win of the season on his Am-Pro Yamaha backed ride followed by Mark Thompson and Justin Petroff.
The highest finishing B ride came the way of Josh Konecheck winning College B and finishing 51st overall on his Wilson Racing-backed Polaris. Jamie Bithell took the 2nd place spot and Richard Nolan rounded out the top three. Junior B was won for the first time by Destination Cycles rider Chris McHenry. Dirk Decesare took second and Danny Thompson took third place. James Cobb won the Vet B class ahead of Mike Maloney and Fred Mudd. John Cunningham won the Senior B class ahead of Sandy Ruth and Curtis Forrester.
The Can Am GNCC series continues in 2 weeks at Round number 6 the Loretta Lynn's GNCC in Hurricane Mills, TN.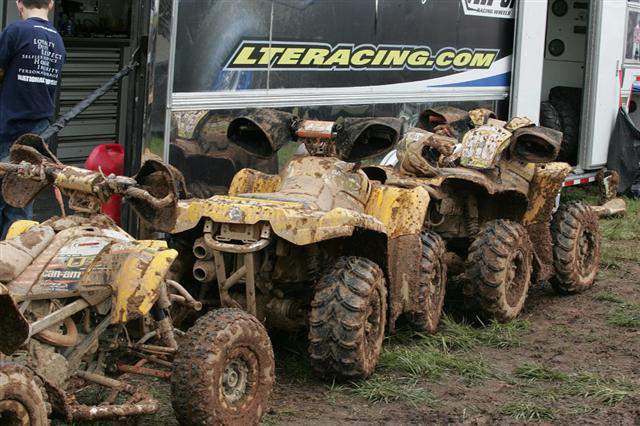 Hard day's work in the pits.