Jason Weigandt
GNCC Quick Fill # 51
Thursday, December 27, 2007 | 12:00 AM
Update: The Wright family who races GNCC and lives in Fairmont, WV, lost their house to fire at Christmas. They had no insurance. They are taking donations at the Fairmont Federal Credit Union and their number is 304-363-5320. Stay tuned for more information on this story. Thanks.
Welcome to Quick Fill. What terrible news that is about the Wrights. We hope the holidays have been fun and safe for everyone else, and maybe the GNCC family can get together and help them.
I've been down in Florida for the last two weeks enjoying the sunshine. GNCC Scoring Manager Tim Boryk owns a house in St. Petersburg and he comes down here during the winter to avoid the Morgantown cold, so I decided to stop by (it's all in the GNCC family for the holidays). I even dragged my lady down here with me, too. Once I get back from this trip, it's on. Anaheim 1 (AMA Supercross round 1) starts next weekend, and after that I won't have another weekend off until Easter. So this is R & R time. I know many of you live and breathe this sport as much as I do, so I hope you've used this holiday time to get away from racing for just a small bit so you can be ready when the new season comes.
Although the funny thing is, as much as I should want to get away from this racing thing, I've never, ever felt the urge to do so. 2008 will mark my eighth season on the GNCC tour, and I've never once said, "I really wish I didn't have to go to another motorcycle race this weekend." I love it that much, and I know you all do, too. So let's get back to the racing business!
First, I found this article on a young GNCC racer trying to make the grade. We love it when local newspapers give GNCC the respect. Click here.
Then I found this story on the Ballance familyï¿Â½" but not about Bill or Brandon's racing exploits. Turns out part of the long-running Ballance family hog farm is closing down, so the newspaper in Bowling Green, Kentucky, wrote a story about it. The racing part of the Ballance clan does get mentioned, but they say that they race motoRcross. D'oh! Go to http://bgdailynews.com/ and type Ballance into the search. You'll find the story Out Of Ballance on the list.
Team GT Thunder is enjoying their time off from the races. I got this report from XCountry photo's Amy McConnell:
Good morning Jason!

Laz & Mary Ann Sommers, Dave & Evie Simmons, Glenn & Amy McConnell, and Lance & Tiffany Simmons just got back from a Carnival cruise to Cozumel, Mexico. Of course, we had to do the Wild ATV Tour on the island. We all had a blast and just wanted to share a pic from our adventure.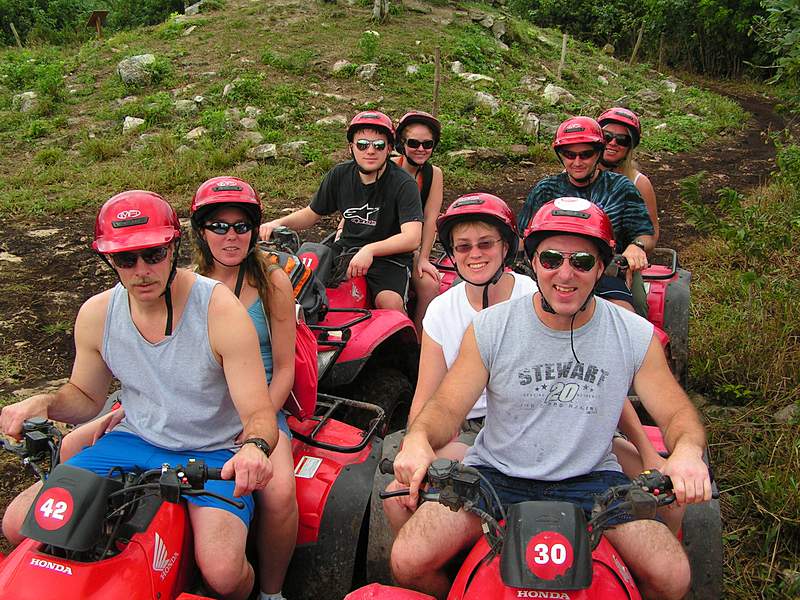 If you want more ATV pics, Harlen Foley and ATVRiders.com has produced a great 21-page photo gallery reviewing the '07 GNCC tour. Harlen even labled the photos so you'll know exactly who you're looking at. Click here.
It will be fun to compare those 2007 photos to the 2008 ones next year, because the ATV scene will look a lot different. A lot of top riders will have new equipment in 2008, which means they're putting in a lot of work right now to get prepared. I know Team Chris (the Warnert Racing Can-Am team featuring Chris Bithell and Chris Jenks) have been testing their DS450s, and KTM has XCs in the hands of Adam McGill and Taylor Kiser. Kiser actually rode a prototype KTM ATV well over a year ago, as the Austrian company used him and a few others to get some early feedback on the machine. So Taylor, the new GNCC ATV #7, is no doubt comfortable riding orange.
Also, Bryan Baker will be back on the Polaris team in 2008, and Yamaha has the Ballance clan under their tent again, as well as Brandon Sommers, Traci Cecco and their new recruit, Walker Fowler. But one rumor that still hasn't become official is the biggest one of them all: Chris Borich to Suzuki. We've been hearing about this one for a long time (well before the '07 season was over) but I still haven't heard an official word out of Suzuki on any GNCC ATV racing in 2008. I know Chris has some LT-R's and has spent time riding them to get them ready, but I still haven't heard anything official. Meanwhile, Suzuki sent out a press release on their bike team back on November 1, amidst rumors of some budget crunching regarding their racing efforts. We'll see how this turns out.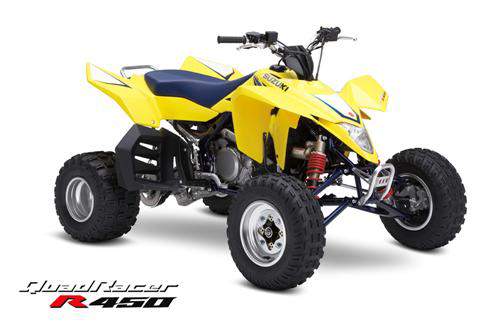 Will CB2 be on one of these in 2008?
On the bike side, everything has fallen into place now that the final piece has a home. Fred Andrews' Monster Energy squad will be back at the races in 2008, now riding Yamahas. Fred will run a team in XC2 Lites with Dustin Gibson and Josh Weisenfels, and he's working on a third rider. Freddy was a driving force behind us starting the XC2 Lites class in the first place, so we're glad to hear he'll still be putting some racers on the track in it. A year ago at this time, Josh and Dustin were virtual unknowns, and now they have rides and a shot at a championship in 2008. That's what the XC2 Lites class is all about.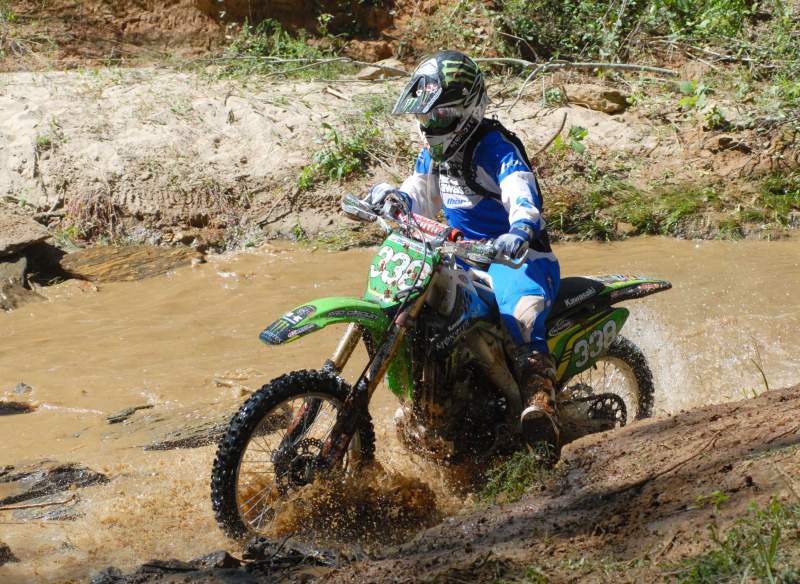 Weisenfels rode a Yamaha early last year before FAR picked him up with a
Kawi ride. He'll be back on Yamaha's in 2008.
David Scearce photo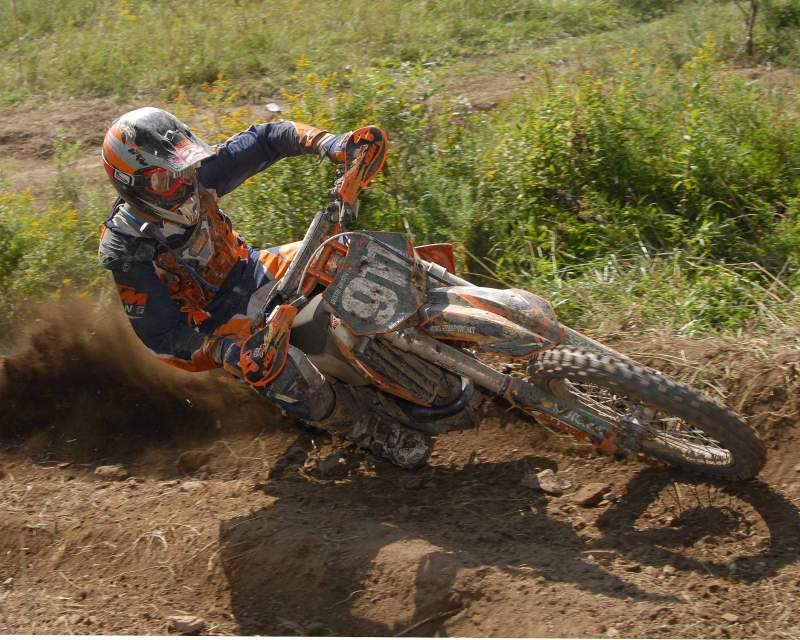 Gibson made the grade this year on the PowerSports GrafX KTM team,
but he'll be on a YZ250F next year.
Jason Hooper photo
Also, Shane Watts sent an email this week regarding his website, http://www.shanewatts.com/, which now has a lot of new info posted including schedules for his 2008 Dirt Wise off-road schools. Hit the site to read more on Shane.
That's going to do it for Quick Fill this week. Hey, it was longer that last week's Christmas Card edition at least! Next week we will have the final GNCC rules and classes posted, although I can tell you most of the issues have been worked out and we're not getting much more feedback. I think everyone is pretty much set. So we'll post those next week and then the news will start picking up for 2008ï¿Â½" we'll all be back down here in sunny Florida in a few months.
See you then!