Mikey Waynes
Time
Tuesday, August 24, 2021 | 2:20 PM

Stemming from the grassroots of family racing, Wiseco has over 75 years experience manufacturing pistons, whether it be for fun, weekend riding, or professional racing. Wiseco is one of the few manufacturers forging pistons in the U.S., providing quality and performance you can trust. Click here to see the latest Tech Tips from Wiseco.
I think I speak for every Announcer or Commentator when I say, names can be difficult to pronounce. Especially for fella from the Midwest, like myself. I always tell the rider, "Correct me if I say it wrong. It's your name, I want to make sure I say it correctly. Even after you tell me, among the 1,000's of names I say in a weekend, I may still mess up a few times. But if you start knocking off wins, it'll force me into repetition of your name."
Will clearly accepted that challenge! Knocking off 7 wins in the Open A Class and putting himself on the Overall Amateur podium. So, he's succeeding because he wants the Announcer to pronounce his name correct, right!? Alright, that's not true at all. But, Will shares what's made him successful in the Open A Class and what's next for him.
GNCCRacing.com: Will Sievenpiper, first off, did I say your name correctly?
Will Sievenpiper: You did! *laughs* Finally!
I told you, keep making those podiums and I'd eventually get it right! Let's get started, tell us a little bit about you. What got you into riding dirt bikes and eventually racing GNCC?
My dad actually raced cars when I was a kid. When I got a little older, around four or five we started riding around on dirt bikes a bit. Raced a little motocross and then dad switched over to off-road. So we obviously switched with him. Started running a local series and we'd run the GNCC when it came to Georgia, or close to it.
Your first full season of GNCC was last year, correct? How'd that go?
Yeah! 2020 was my first full season of GNCC. I ran the Open A Class, but I didn't really know many of the tracks. The only ones I'd ever ran were Georgia, South Carolina, and North Carolina back in the day.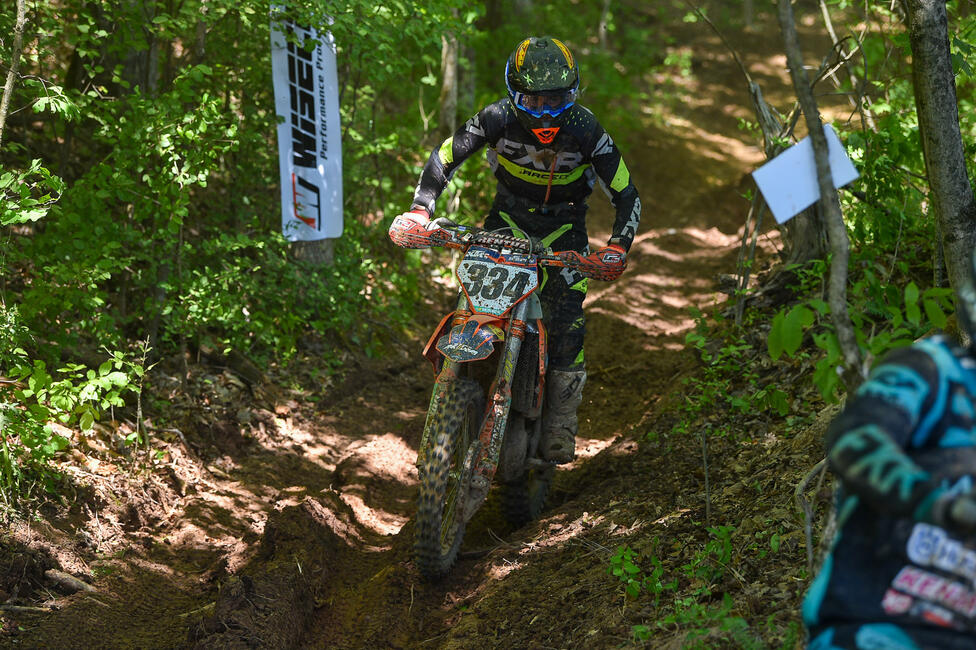 You did well in 2020, but here in 2021 you've been a dominating force. What made the difference for you between then and now?
Yeah, I started the season with two second place finishes and I've won every round since. Prior to the season I started working with Jacob Fetty. Him and Allen Gravitt at KTM have been behind me. We actually went down to Florida and trained. I got to train with Craig DeLong, which was big for me. I finished third in the class in 2020 and this year I should have the championship wrapped up.
Let's talk school, you're in college, right?
I am, yes! I'm working on getting my bachelor's degree in Business Management at the University of North Georgia. I'll be a senior this year, so that's a huge focus of mine. I do pick up some work here and there with friends to have a little spending money.
What's the goal for you as far as GNCC is concerned? Is this just a fun weekend warrior thing, or would you like to see yourself running in the XC1 someday soon?
I would love to run with the guys in the XC1! I would love to work my way into being a top ten guy. But you never know what will happen. I'm going with the flow right now, so if it happens it happens, if not, that's okay too. I've got a good degree I'll be able to fall back on.
Balancing your education, traveling for GNCC, and racing the GNCC can be difficult. How do you find time to train?
Finding time is difficult. But I'm able to get in a lot of cycling and long motos. After COVID hit I was able to switch to doing school online. Which makes traveling much easier since I don't have to be in class on Monday morning.
Saw on social media you had to sit out the last NEPG but mentioned you'd be ready to go for the last four rounds of GNCC. Did you suffer an injury?
Yeah, back in March I had some pain in my lower butt cheek. I thought I pulled something. Actually it started in my lower back and worked it's way down. I thought it had gone away when the back pain was gone, but the pain in my butt wasn't going away. I had it checked and I had a herniated disk in my L4 and L5 vertebra. There's really not much you can do, except rest, and strengthen the muscles around it. I'd say it's about 60% healed. Bothers me here and there but it's tolerable. At the last national I went down pretty hard and aggravated it a bit. I ended up making an appointment to do PRP, which is basically where they pull your blood, spin it and get the plasma, then it goes back into you. Not fun, but it helps tremendously. It takes about a month or two for you to be fully recovered. So, I should be good to go come September 12th for the GNCC.
You're a beast! So looking at the points standings you're sitting pretty good as far as wrapping up the Open A Championship. What's the plan for the remaining rounds?
I will likely run the next couple in Open A. I'd like to move to the 250 A Class. I'd like the challenge of running with JoJo, Bubz and Landrum.
Four different winners in the 250 A Class. There are some serious heavy hitters in the class. That's going to be a good challenge for you.
Yeah, I want to run with those guys. They're some huge names coming up and it'll be a good test for me.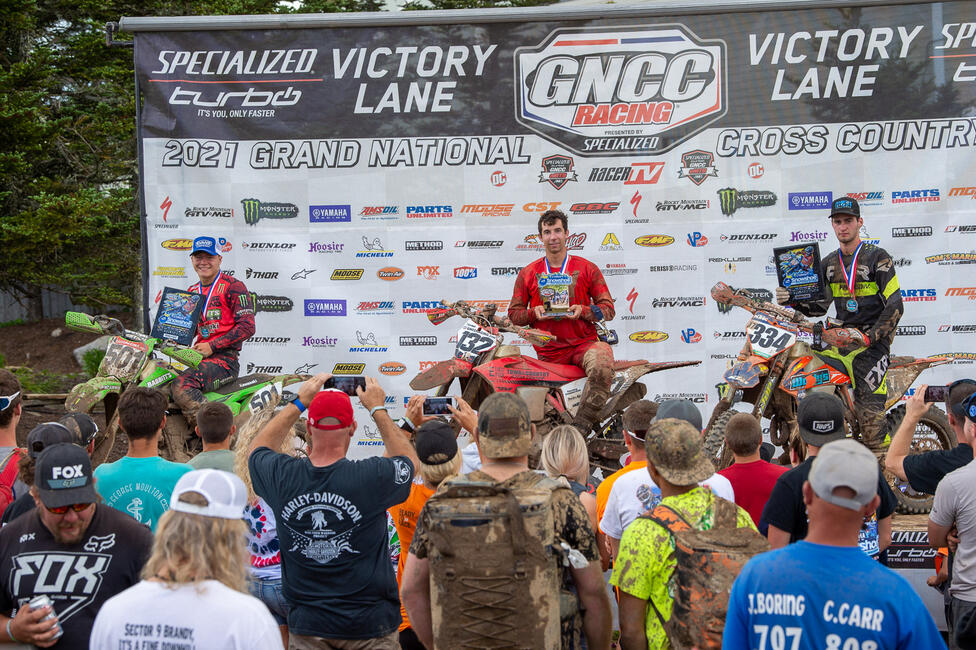 Alright, outside of racing, training, and school, what do you do for fun?
One of my best buddies is actually sponsored by Liquid Force. So we do a ton of wake boarding and surfing. Pretty much any free time I've got we're doing that, or just hanging out on the boat. It's not a lot of free time, I've got a ton of schoolwork.
Who's getting you to the races on the weekend?
Mom and dad for sure! 100% They're there every race. And a few other local guys, Max Grant and Mitch Owenby. So, we've got a solid crew we run with.
Thanks so much for talking with me today, Will. Who would you like to thank?
Thanks for having me! I want to thank Wooly's Cycles of ATL, Allen Gravitt, Jacob Fetty, JDP Suspension, XC Gear, Eline Accessories, G2 Ergonomics, FXR, Matt, Woody, Antti and my Mom & Dad.