Mikey Waynes
Time
Tuesday, May 4, 2021 | 4:25 PM

Stemming from the grassroots of family racing, Wiseco has over 75 years experience manufacturing pistons, whether it be for fun, weekend riding, or professional racing. Wiseco is one of the few manufacturers forging pistons in the U.S., providing quality and performance you can trust. Click here to see the latest Tech Tips from Wiseco.
Anytime I'm able to reference or quote my favorite author, Hunter S. Thompson, you better believe I'm going to do it.
"Life should not be a journey to the grave with the intention of arriving safely in a pretty and well-preserved body, but rather to skid in broadside in a cloud of smoke, thoroughly used up, totally worn out, and loudly proclaiming "Wow! What a Ride!" – Hunter S. Thompson
Thompson's metaphor for life could be applied to racing a GNCC, no doubt about it. More specifically it seems to apply to this week's feature Tuesday Toolbox rider, Hunter Hart.
Hunter is the kind of person that takes advantage of every situation both on and off the track. His focus and intensity is infectious, and you can always count on Hunter to go full throttle. From finding consistency on the race track to creating "outside the box" sponsor opportunities, Hunter is one-of-a-kind!
GNCCRacing.com: I think it's safe to say, everyone knows who Hunter Hart is, XC1 ATV Pro and former XC2 Champion. You've come up through the ranks as a youth rider, so we know you've been riding for a long time. But what was it that motivated you to start racing GNCC?
Hunter Hart: My parents own a motorcycle dealership in Upstate New York, Ithaca Recreation Sports, so it was really just the natural progression of things for me. Honestly, I didn't really have much interest in racing until I was about 7. I attended a local racing banquet. They had games that evening, and I actually won musical chairs. After I won, I got to keep one of the trophies that didn't get claimed by a rider that evening. Shortly after that I went to my mom and told her I wanted to race ATVs the next season. Mom said, "Alright buddy!" Now admittedly I was a bit of a heavy-set kid. So mom asked me, "We can do this one of two ways, go race and have fun or go to win, which is it going to be? Either way is fine with me, but you've got to make that choice." Obviously, I told her, I want to win! We have a really long driveway, so every evening when we'd get home my mom would drop me off at the end of the driveway and I'd run to the house. Then anywhere we went I'd run the driveway to and from until she thought I was ready. Went to our first race and I ended up winning my class. I had no idea I'd even won! The rest is history, now I'm here.
Wait, so we owe a Hunter Hart racing career to musical chairs and sprinting up and down a driveway like Forrest Gump?
Well yeah, that and some dude not showing up to collect his trophy at a local banquet. I got that trophy and it's what motivated me to want more.
Anyway mom could swing by my place and motivate me to run up and down my driveway? I could afford to drop a few pounds…
Oh trust me Mikey, it's a process. Once she starts, she won't stop until she feels you're conditioned to where you need to be. I've got a buddy that has a CrossFit gym now, but before he had that we'd just work out at school. We'd have to get there before class started, so I was up at 5:30 in the morning from the time I was 14-16 to drive to the gym and it was mom who was taking me. So mom has been with me through it all. We'd do pushup or sit-up contest and she was always there keeping me in check.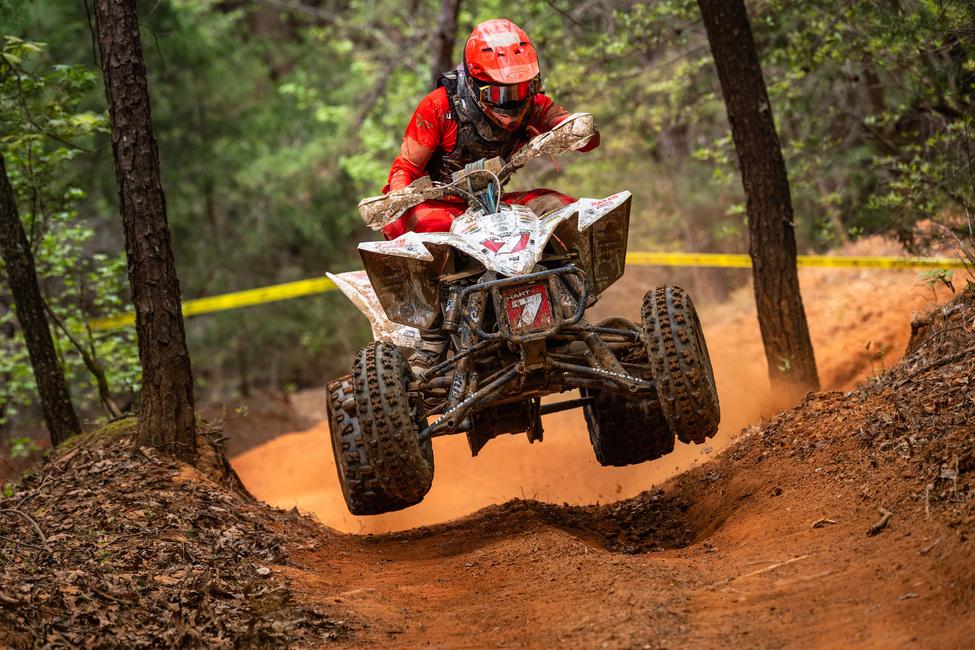 Fast forward to today, XC1 Pro, got one win under your belt at Ironman a few years back and this season you've been very consistent, battling up front.
It took me a little longer than I wanted it to. But I'm hitting my stride now and it's been fun. I came out super strong and I owe a lot of that to a few changes I made. I've been working with Steve Hatch on the mental side of things. I'm not sure a lot of the ATV riders know much about him, but it would pay to learn from him. He was an XC1 Pro on the bike side of things for years and he was a bad dude. ISDEs, Enduros, you name it, he's done it. It's such a huge asset to my program, him and his wife Denise are incredible. They really get you focused on being the best person you can be.
Every rider I've spoke with who's had Steve Hatch in their corner has had positive things to say about him. The mental game is such an underrated aspect of racing, but such an important aspect that it really can't be ignored. You started the season with two podiums. Somewhere at round three or four, during the RacerTV broadcast, I called you out. I said something along the lines of, "Is Hunter Hart for real or not? Were those first two rounds a fluke?" Not to back-peddle on my comment too much, but… We're buddies, I know deep down you're ready and you've put in the work. But I gotta make sure I'm doing my job to create drama and hype on TV. That rubbed you the wrong way, no doubt. How did you use what the silly Commentator said, sitting on his butt watching racing, as motivation?
Oh I was ticked off. It honestly frazzled me a little bit. I had back to back podiums, and I thought, what's it going to take to be legitimized? I mean if it was one, I get it. But I knocked off two in a row. I get it now, you gotta poke the bear a bit. I've been good since, and I feel like snagging a top three at the Hoosier GNCC in round six showed myself and everyone else, I'm for real, I'm not going anywhere but up. I had the goal of hanging with the front runners that race, and I'd say I checked that box off.
Talk about that, hanging with guys like Walker Fowler and Brycen Neal. How much of a learning experience is it for you to key off them?
It's amazing! I was hanging with those guys for the first couple and then fell off a bit. Walker ended up getting around me, and I was okay with that because I knew I could key off of him since you know he's going to make a big push at the end. I checked behind him, and he pulled us through to the finish. Before running with those guys I struggled to figure out how to stop the bleeding. Like once one guy gets around you it's started getting into your head and next thing you know it's a freight train going by you. So rolling with them, seeing their lines, it takes the pressure off of you a bit. I don't have to worry about who's behind me; I just ride and stay patient and looks for opportunities. The only pressure is knowing you have to stay with them, one mistake and it's like a magic trick, poof, they're gone.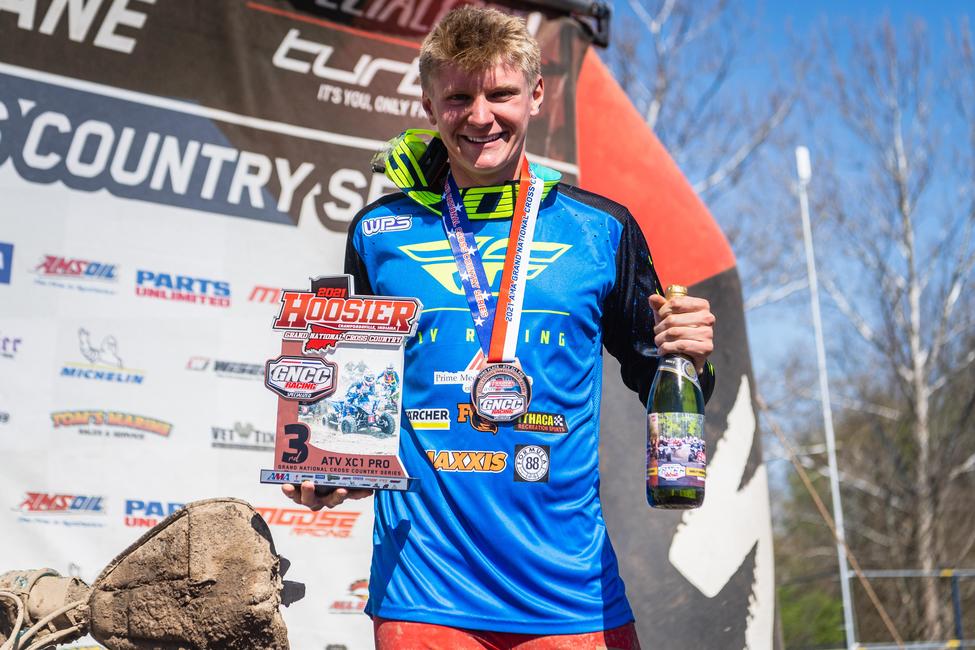 Shifting gears a bit, you've raced motorcycles at the GNCC level, not that long ago, correct?
Yeah, I raced the 4-Stroke C Lites and won the championship in 2016 while I was running College A on an ATV. I'd love to still be able to do it, but it really took too much out on me. Racing twice a weekend at the GNCC put me in a position where I wasn't giving it 100% on Saturday with the ATV. I'd conserve some energy knowing I was going to race again on Sunday. So I made the decision to focus everything on the ATV side of things. I've done some locals and even some stuff on trials.
Alright, so lets fast forward a year or two. Let's say, perfect scenario, Hunter Hart has the XC1 ATV Championship wrapped up with a round or two left, would you race a bike on Sunday?
Umm… If I did, it'd be the AM race. I've been around those three hour races on Sunday afternoon, I'm good on that. I'll leave all that to Stew and the boys. It's brutal out there.
Let's talk sponsorships. You seem to have this uncanny ability to find sponsors outside our industry. Which is brilliant! It seems like everyone from Micro-Pro level are all going after the same sponsors. Which is completely understandable, but you've taken a different approach, tell us about that.
I've always thought, nothing is unattainable. When I ended up going to Outback Steakhouse's headquarters, I was super nervous, like shaking with nerves. Mom told me the worse they can say is no and then you're right where you're at now. So I gave it a shot and that ended up being one of the coolest experiences ever. The people that I met were incredible. I spent probably two hours talking to some of the head executives at Outback, got a chance to show them some videos of me racing and they were blown away with excitement. I mention this to other riders and they're telling me these companies would never take a look at someone like us. But how do you know that? How do you know some large company wouldn't sponsor you without asking? They've all got marketing budgets they work with, why not ask if they want to throw you something.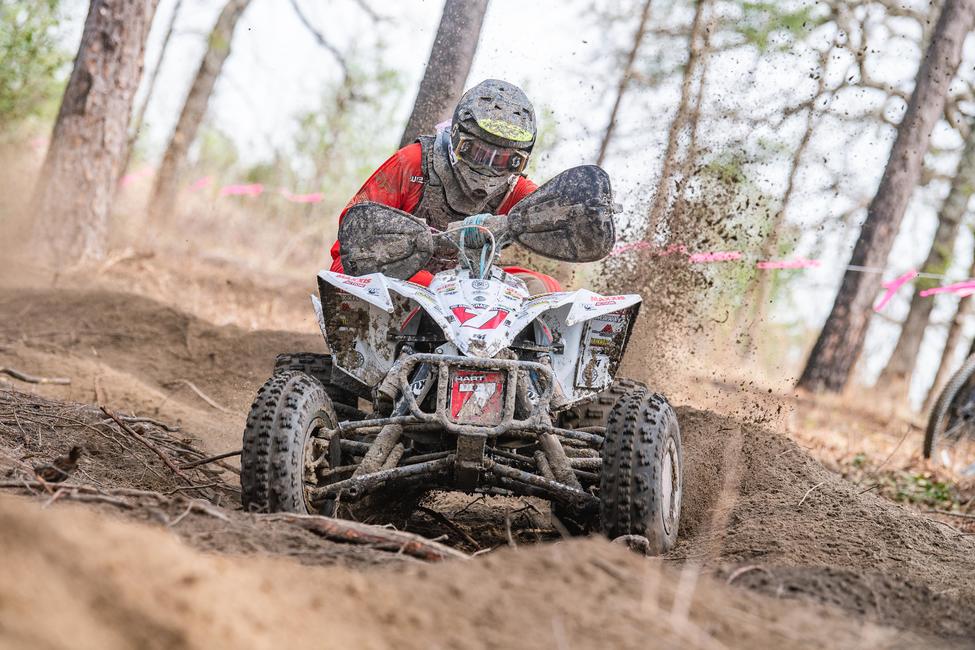 Nailed it! If you ever need a day job, hit me up, because you just described what I do for companies daily. (Gasp! Mikey has a day job too?? I sure do! Haha!)
There's so many cool products out there, why not see if they'll support you. Don't get me wrong, we need the sponsors and support from inside the industry, without a doubt they're very important. But why not see if you can add to that? I'll cold call, say, 100 companies. Keeping in mind these companies know nothing about what I do. But it's a numbers game, you can't be scared of "no" while you're searching for that one "yes." A lot of people get discouraged because they'll call ten places and they get tired of hearing no. It's all about finding that one company that will listen. And even then, you might get an actual conversation with say five or six companies and of those, you might get one. But I promise, it's worth it.
Yup, you just summarized Sales 101. You ever want to hang up the racing boots, hit me up, I'll get you a job with my company. Well, speaking of sponsors, who are the sponsors and folks you'd like to thank?
Thanks Mikey! This was a ton of fun! I gotta thank God for keeping me safe, my mom & dad, Mike Terrango, Johnny Elison, Mike Ferguson, Steve and Denise Hatch, MAXXIS Tires, Ithaca Recreation Sports, Fly Racing, Spider Graphix, Formula 88, Houser Racing, Shop Action Off-Road, Fox, DP Brakes, MX Trophies, Muddy Kotton, Seat Concepts, Conover Racing, Quad Tech, HMF Exhaust, IMS Products, Global Racing Oil USA, Malaska Motorsports, Tire Balls, Carb Sport, Sunstar Sprocket and Chains, Scott, BNR Motorsports, Hinson Racing, ZR Throttle, ICON Coolers, Wickflow, RinseKit, Precision Racing, Evans Waterless Coolant, and most importantly all the fans out there!