Rachel Gutish
Time
Tuesday, November 3, 2020 | 11:45 AM

Stemming from the grassroots of family racing, Wiseco has over 75 years experience manufacturing pistons, whether it be for fun, weekend riding, or professional racing. Wiseco is one of the few manufacturers forging pistons in the U.S., providing quality and performance you can trust. Click here to see the latest Tech Tips from Wiseco.
Bodie Buckhannon and Colby Goodman are the 2020 Micro Overall winners. Bodie and his brother Kody are two of the top Micro ATV riders, often winning their respective classes. He will be moving up to the 90cc (8-12) class next year. Colby Goodman was last year's Micro Overall winner, and successfully defended his title this season. In addition to racing in the micro division, he got some experience in the Youth classes on his 65cc and plans to jump straight into 85cc next season.
GNCCRacing.com: How old are you and where are you from?
Bodie Buckhannon: I'm nine years old, from Daniels, West Virginia.
Colby Goodman: I'm ten years old, from Olin, North Carolina.
Congrats on winning the micro overall! How does it feel?
BB: Thank you! It feels great!
CG: It feels awesome to be able to repeat as the Micro Overall Champion. I was confident coming into the season, but my growth spurt during the off-season made it tough on my little 50cc just to finish every race, on top of being the only rider who had to stop to fuel most races.
What do you think helped you to win this year?
BB: It really helped me riding with my brother and getting pushed by my teammates at the practice track. I also had a lot of support from my family and friends. My grandpa, dad and Charlie Johnson kept my machine in good condition.
CG: The experience I gained last season along with my determination to be the best.
What were some of the best and worst parts of your season?
BB: The best parts of my season were winning nine overalls, and the very best was the two times my brother Kody finished right behind me in second – he never did beat me though! The worst part of my season was at Camp Coker when I flipped once and hit three tries trying to catch back up. Those trees don't move (laughs)
CG: The best parts were probably just winning the first five rounds, especially before COVID hit and took away all the podium stuff – it felt kind of weird to win and just high-five my mom and dad then go back to the trailer. The worst part was the High Point race where I had major bike problems, which carried over into the next two rounds before we got it figured out. But once we did get it taken care of, I was able to get the last two wins I needed and get off the 50cc for good!
How did you get started racing, and why do you race GNCCs?
BB: My dad was racing way before I was born. The first race I went to was in Florida when I was two months old. I have pictures of my dad holding me when he was on the podium. I race GNCCs because I enjoy racing my quad through the woods with my friends.
CG: I started racing when I was six, doing our local series, NCHSA (North Carolina Hare Scramble Association). I won the 50 championship in 2018, then in 2019 I went to Florida for my first GNCC race and came out with the win. I've been doing good enough ever since for my parents to keep bringing me back (laughs).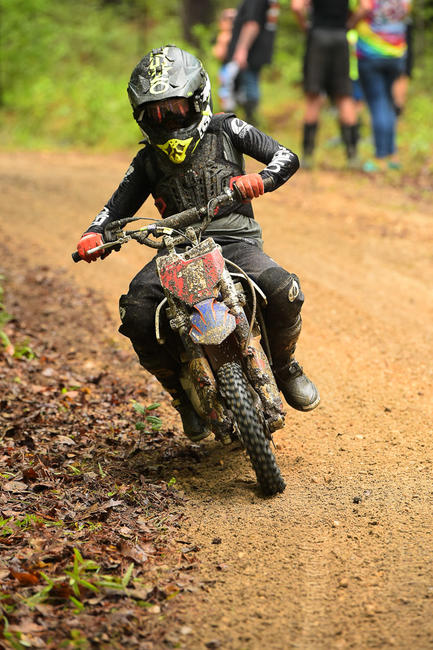 Which GNCC round is your favorite and why?
BB: I really liked the Bulldog because I have a dog named Bull, and I won with a big lead at that track. That's also one of the races where my brother and I went one and two in the overall.
CG: The Hogwaller in Florida is my favorite! I love the sand whoops and palmetto roots. We also get to stay all week with my aunt and uncle and have a great time!
Who is your favorite pro rider?
BB: It's hard to pick. I really enjoy watching McGill, Fowler and Borich battle it out.
CG: Obviously its Stu Baylor because he's the greatest! He rides Yamahas, hunts, fishes and did I mention he rides a Yamaha?
What is your favorite thing to eat for breakfast before you race?
BB: Chocolate chip muffins
CG: I eat spaghetti the night before my race and nothing on race day until my race is over.
What are your plans for next season?
BB: I plan to race the Youth 90 (8-12) Class.
CG: Along with winning the Micro Title this year, I also finished second in the 65 (7-9) class. I feel like with my size it's time for me to go ahead and move up to 85cc for next season.
Tell us something interesting about yourself that does not involve racing?
BB: I like to ski in the winter and wakeboard/tube in the summer.
CG: I can assemble any Husqvarna or Echo chainsaw, weed-eater or leaf-blower… I get lots of practice at my mom's store when I get done with my homeschooling every day. If you ever need a deal, just call and ask for Colby (laughs).
Who would you like to thank?
BB: I'd like to thank God for keeping me safe, my family and friends, SuperATV, Precision racing, DP Brakes, Swampfox Motorsports, Charlie Johnson, John Rogers, the Meadows family, the Stafford family and everyone else who helps support me at the track.
CG: I have a lot of people to thank! My mom, my dad and the rest of my family. All the GTF practice guys who push me to the limit, especially Trevor, Matt, Ayden and Trent. Jared at SR who has been with me from the start. Tim and Matt at Brushy Mountain Powersports. Kevin, Matt and the crew at Cormoto Graphics, Central Power Equipment (my part-time job). Matt, Sharon and Lawson at Matt's ATV. O'neal, Engine Ice, 100%, Factory Effex, ODI, DT1 Filters, Leatt, Mika Metals and Jamie Nicholson at UGPE.