Rachel Gutish
Time
Tuesday, October 27, 2020 | 4:30 PM
Stemming from the grassroots of family racing, Wiseco has over 75 years experience manufacturing pistons, whether it be for fun, weekend riding, or professional racing. Wiseco is one of the few manufacturers forging pistons in the U.S., providing quality and performance you can trust. 
Click here
 to see the latest Tech Tips from Wiseco.
Tyler Cox is the 2020 ATV Youth Overall National Champion. The fourteen-year-old from Valley Grove, Pennsylvania raced his first GNCC in 2017 and started chasing the series in 2019. Cox intends to move up to a full-size machine next year and compete in the Schoolboy Senior class.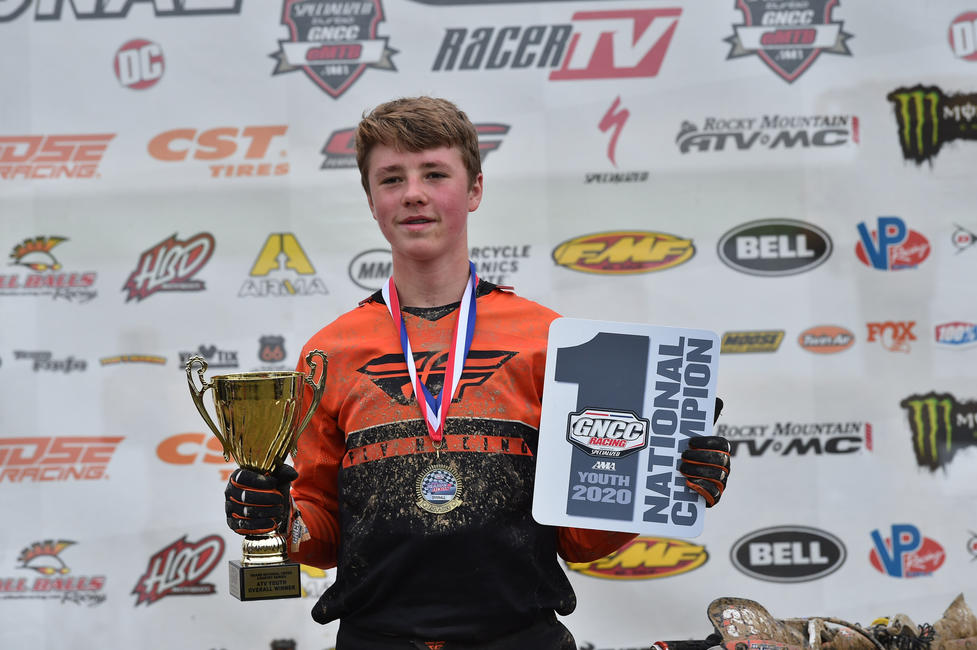 GNCCRacing.com: How does it feel to be the 2020 ATV YXC1 champion?
Tyler Cox: It feels great! I started racing GNCCs three years ago and always hoped I could get here.
I'm sure winning the title took a lot of work – what were some of the things you did for training to help you get here?
I ride a lot and I race just about every weekend. I also attended the Fuel Ministry and Action Off-Road Tune-Up camp to learn even more. I push hard and always try my best.
What was the biggest challenge or obstacle you faced this season?
I need to get better at starts. I only pulled three holeshots this season, so I had to work really hard to make my way to the front. It's tough competition all the way through the pack, and when you start behind it makes everything else harder.
Take us through the ups and downs of your season.
Overall, I am very pleased with my results this season. Thanks to my dad and BNR motorsports my quad was top notch every round. I had a few hiccups here and there – I cut my rear shock line at the John Penton, bent my front spindle at Wild Boar, hit a fence and went flying at High Point, got a stick stuck in my nerf at High Voltage and stalled my quad on the start at Burr Oak. But even with those low points, no matter what came my way I tried to push hard and make the best of it.
Which round was your favorite and why?
Big Buck, because it is a fast track with a good flow.
What are your plans for next year?
I will be racing in the Schoolboy Sr, class next season. I hope to improve my starts and push hard so that I keep getting better. It would be great if I can finish in the top three of the class.
Do you have any long-term goals for your racing?
I hope to move up through the ranks and I want to be able to race for a long time. I would also love to be a pro someday.
Why are you passionate about racing?
It is the only sport I truly love, and it comes naturally to me.
Tell us something interesting about yourself that doesn't involve racing?
I live on a farm and work in the hay fields all summer.
What do you like to do in your spare time?
I enjoy being outdoors. I like snowboarding, bicycling, hiking and kayaking, but most of all riding!
Who would you like to thank?
It takes so many to put a good race program together, and I'm fortunate to have great people and outstanding companies supporting me. We have earned this national championship together – thank you!
BNR Motorsports, Ryan Smith and Josh Merritt. GBC Tires and Johnny Gallagher. Elka Suspension, Fly Racing, Hinson Clutch Components, BRM Off-Road Graphics, BRM Off-Road Graphics, ATV Four-Play, Goldspeed Products, Fasst Company, Fourwerx, Leatt, Glann Innovations, GoPro, ODI Grips, Rath Racing, Tire Spine, Precision Racing Products, TSR Powder Coatings. My friends and fellow racers. Most of all, my family for giving me the opportunity and support!