Jared Bolton
Time
Thursday, January 3, 2019 | 2:50 PM
AMSOIL is proud to be the title sponsor of the GNCC Racing series for the past 7 years. New for 2019, AMSOIL is partnering with the series to bring a GNCC AMSOIL Moto Hero to each and every round. Racers, Fans, and Industry Personnel are welcome to nominate themselves or someone they know who are currently serving in the military, retired from the military, are a first responder or former first responder for this prestigious honor.
Welcome to Quick Fill.
So it begins! The year 2019 is officially here and thus we restart our Quick Fill count. As we roll back over to begin Quick Fill #1 of 2019, it leads to a bit of excitement, as we know the beginning of the 2019 GNCC Racing season is that much closer. We're now just 51 days away from the start of the 2019 season, which may seem like a while but that time will ultimately fly by and we'll be rolling into Big Buck before we know it. When that time comes, we're all in for a treat as not only is the first round exciting in terms of simply getting back to racing, but it's also great to get the GNCC Racing Nation back together and enjoy each other's company.
Before the season begins, we do have a cool contest we're running. We want to see the Ultimate GNCC Garage, so from now until February 1st, you can submit your photos for the chance to win a GNCC Season Gate Pass. That gets you into each GNCC event for FREE! Now, we're not necessarily looking for the best looking garage all around, but more so the best garage that shows you're a GNCC racer and love GNCC Racing. To enter, post your photo to your preferred social media platform and tag @GNCCRacing on Instagram or Twitter, or tag Grand National Cross Country Series on Facebook. Also be sure to use #GNCCGarage.
If you're not a social media user and would still like a chance to enter, I'll extend a special offer to Quick Fill readers. You can enter by just emailing me your photo at [email protected]! Like I mentioned, you have until February 1st to enter and we'll announce a winner on Groundhog Day, February 2nd. We're hoping that Bill Murray will snap out of his Groundhog Day curse long enough to help announce the winner, but don't get your hopes up. This is a pretty cool contest and we'll also share some of the contestants along the way. I know I'm proud of my garage and I'm sure it's only half as cool as what some of you have, so start sharing those photos!
The folks at Dirt Bike Magazine released their annual list of America's Top Off-Road Racers. They've been doing this for a number of years and there's always a good crop of GNCC racers who make this list. This year Kailub Russell actually topped the list, Steward Baylor was ranked third, Thad Duvall sixth, and a slew of other GNCC talent in the top 10. I won't ruin the list for you, so take a look for yourself HERE. Off-road racing consists of so many different formats and terrain types that east coast racers will be left scratching their heads why certain riders beat out their favorites, while folks out west are left in the same scenario just vice versa. Regardless, this list is always worth the read and it's cool to see where your favorite riders end up.
That's going to do it for the intro this week. Ken Hill is back this week and will be checking in as we get closer to the start of the 2019 season. Enjoy all of the Quick Fill goodies and we'll see you back here next week.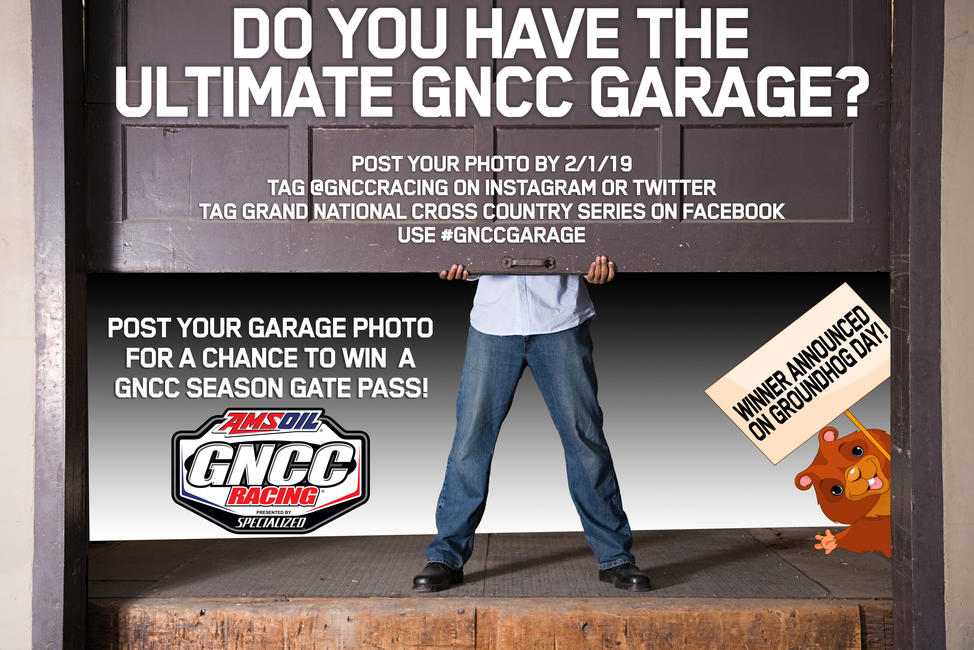 Catching Up With Ken (Ken Hill)
Well hello 2019! I can easily tell most of you had an excellent holiday season as I kept tabs on social media during my hiatus and I have to admit, we did as well! Its been a little over a month and the freezers are full, everyone who ate chow here was full. However, something besides the good eats and family was missing and I am going to go ahead and jinx myself, as the weather for the majority of us in the Mid-Atlantic has been pretty good. Videos and pictures of folks still riding are popping up and that should mean some savings if the temperate conditions hold because running south to ride won't be a necessity. What is a necessity is to get your program completed because these last weeks are going to fly by and we will find ourselves at the opening rounds soon.
The off season, if you can call it that for the riders, is filled with activities that makes this magical time even shorter as thoughts and actions are consumed by having a life off the pegs, a job, non-racing related activities and somewhere in all that have the ability to build next season's race machine. For the main office staff that makes all this possible it can be even shorter as they put the wraps on the banquets, year end stuff that makes businesses roll and get everything sorted out for the new season that is coming as them like a meteor. I really tried to listen and observe more in the later part of the 2018 season both at the track and in general and my hats off to you all.
I asked my wife how we managed to do all we did racing and she says things were different or that we had different goals, so we saw things differently. She may be correct but I think life has been helped by technology and allows us to squeeze more into a days work than we could just a decade ago. It is not uncommon for work and communication to be in full swing at any point during a race or throughout the travel that's required and that includes the Average Joe, a team owner or any one of a million people that make this industry chug along. It truly is inspiring especially for a guy like me who tries his best to live with as little of this stuff as possible!
And of course we are seeing advances in technology in just about every aspect of this sport. From the products we use to how we interact with fans and sponsors, as well as keeping things rolling at our job or our businesses. You can feel the angst when Internet goes slow at a race as grumpy faces sneer at a phone that will not "work"! Hey I am one of them folks, no Internet means my work continues and when the day is done there is still more to do once I find service again. And if scoring goes down, run away, run far away! I mean who would have thought we would have RacerTV doing a complete live production from the races? Now its commonplace but before RacerTV it was a dream and thanks to technology and hard work just look at them go! Oh and more grumpy faces if it has a hiccup or two. It is just funny taking notice of the things that have changed that we now take for granted. From reading about a race months after it happened to live race coverage, things have sure changed.
So, why all this chatter about technology? Well, it took the better part of last season to get the camera needed, but I can now upload literally as I am taking pictures. But once I got it, then it took a learning curve to figure out how to keep things rolling when Internet or cell service conked out. Luckily, I think I have it figured out and will do my best of course but near the end of the season I found myself literally done with my work hours and hours earlier simply due to technology. By the time I realized I had a small amount of free time each round, the season was over but I plan to use that time to capture some things I have been missing quite frankly because there never was any extra time to spare! With that said, I hope and pray we have a great 2019 season and that the weather allows us to enjoy every minute at the races. I also hope that I can get to know more of you in person instead of just through social media. However, I can't make any promises on that extra time because Murphy's Law will find me and fill that time with something else but that should hopefully be the exception, not the rule.
That is all from me this week as I go fire up a chainsaw, pick up a rake and continue to get things done here before we all hit the road for another epic season of racing. As always, may God bless you in all you do and please be safe in your travels!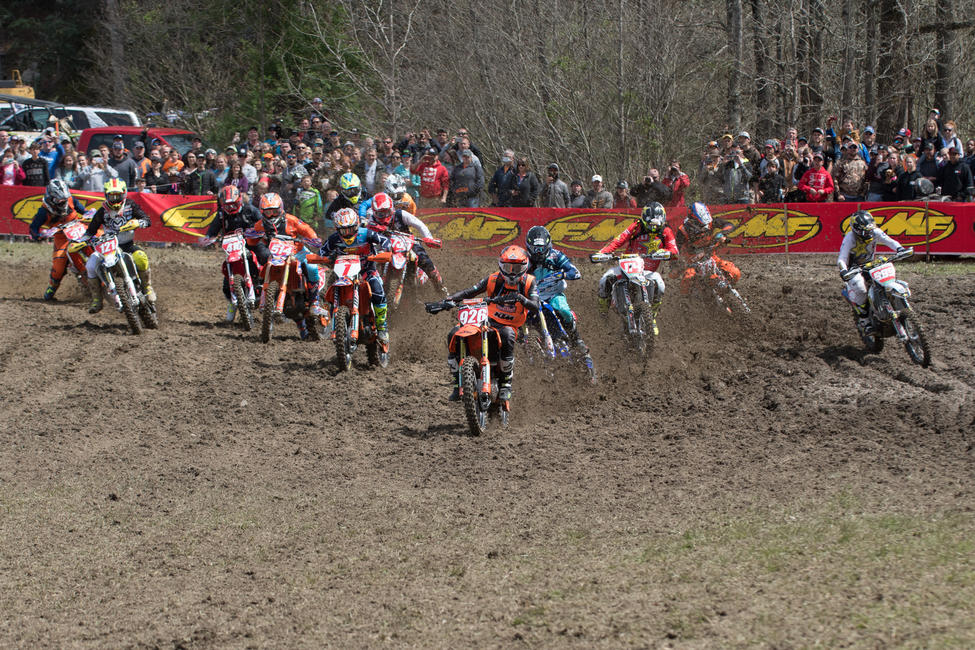 Looking Back on 2018 Part 4 (Jared Bolton)
We'll pick up our weekly look at the happenings of last season as we roll to round four at Steele Creek. If you read last week's edition of Quick Fill, I shared a couple of great older episodes of RacerTV from Steele Creek. These were two races with two incredible finishes that came down to the wire. I've tried for years to wrap my mind around Steele Creek and figure out exactly why it's such an unpredictable event. I've developed a completely hair-brained theory on this and after reading this, some of you are going to sit back and say "wow, Bolt-On has completely lost it". Of course I'm kidding, and this theory is all in good fun.
The reason for the unpredictability of Steele Creek comes from the region itself. Steele Creek is located just by Brown Mountain. While Brown Mountain is known in the off-road world for it's OHV trail system, the mountain itself is known far and wide for something much, much different than off-road riding. The Brown Mountain Lights are a series of unsolved 'ghost' lights that have been seen for many, many years. The tale goes that these orb-like lights appear at random and can be seen from multiple vantage points, including the Brown Mountain Overlook just about 5 miles up Highway 181 from Steele Creek. There have been many theories on the lights over the years. A US Geological Survey in 1922 determined the lights came from passing cars and trains. However, some reports of the lights pre-date automobiles and furthermore a massive flood 1923 wiped out some of these roads and railroad tracks for an extended period of time and the lights were still reported.
This has led to many theories to the cause of the lights. Ranging from gases and scientific phenomena to theories of ghosts and aliens, there is still no definite answer as to what causes these lights. There's also no clear answer to when the lights can appear. These mysterious, unsolved lights obviously have a much wider effect. They must give off some sort of magical power that causes the unexpected to happen and that is why Steele Creek is the most unpredictable event on the GNCC schedule. Now, obviously I'm kidding that those lights have an effect on the event, but the Brown Mountain Lights do exist and it's a pretty interesting story. Look it up on Google sometime, there's a lot out there.
Enough about that, let's talk about the race. As things kicked off for Saturday's ATV race, Chris Borich would jump out front and grab the holeshot. However, Walker Fowler would soon take the lead and it looked as if it was going to be business as usual for Walker. Cole Richardson and Adam McGill would ride most of the race in the second and third place spots, respectively while Brycen Neal controlled for fourth place spot throughout the entire race. The fifth place spot would be passed around with Greg Covert, Chris Borich and Devon Feehan all occupying that fifth place spot at various points in the race.
However, things would change dramatically on the final lap. Cole Richardson had worked his way around Walker Fowler for the lead until the duo encountered an odd scenario. As they came to a short uphill, a lapped rider had stalled in the middle of the hill and was working to get back going. The lead duo dropped into ruts leading up to the hill and had to stop while the rider in the middle of the hill attempted to get going. Adam McGill was just far enough behind them that when they stopped, he was able to get out of the main line, and ride around Fowler, Richardson and the lapped rider to take the lead.
McGill would hold the lead all the way to the finish, taking the win just 1.720 second ahead of Richardson, while Fowler finished third, just a mere 0.440 behind Richardson. Undoubtedly this was the most shocking upset of the 2018 season up to this point and it very well could stand out as one that is not forgotten for years to come. McGill's ability to access the situation and find a successful way around was pretty impressive, and it's equally impressive he was able to maintain that lead mistake free because there's no doubt that Richardson and Fowler were both hungry to take that spot back. Brycen Neal would end the day fourth place while Chris Borich rounded out the top five.
Sunday's motorcycle race would actually see a slightly different story than the opening rounds. Canadian Motocross star Kaven Benoit grabbed the holeshot but Kailub Russell would quickly work his way into the lead. He held the lead for the early stages of the race, but Thad Duvall would come on strong in the middle and latter portions of the race, swapping the lead with Kailub several times heading into the final lap. Meanwhile, Trevor Bollinger had worked his way into podium contention and was also putting in a good ride of his own in front of his hometown crowd.
The final lap would make the race a barnburner as Thad Duvall and Kailub Russell would battle down through the final stages of the race. It was very reminiscent of the Hawk versus Kearney and the Strang versus Mullins battles that had taken place previously at Steele Creek. However, this time there was no last turn pass as Duvall was able to hold his lead and take the win ahead of Russell. Bollinger held on to take third place while Steward Baylor and Josh Strang rounded out the top five.
With four rounds complete in the 2018 GNCC Racing season, it was already shaping up to be one of the most exciting seasons in GNCC history. There had been some tight racing at each round, with Steele Creek producing another weekend that kept everyone on their toes ready for the unexpected. Be sure to check back next week as we roll to round five in South Carolina.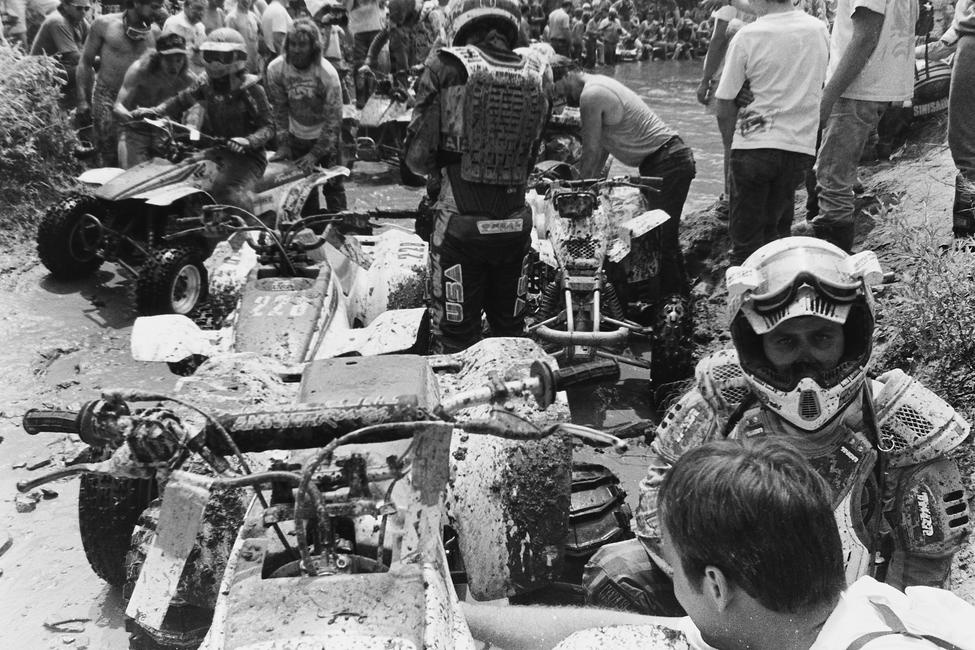 #ThrowbackThursday (Jared Bolton)
We'll throw in some more videos this week, such as this one from Florida in 2007 where Shane Watts broke through to take the win after many folks had counted him out!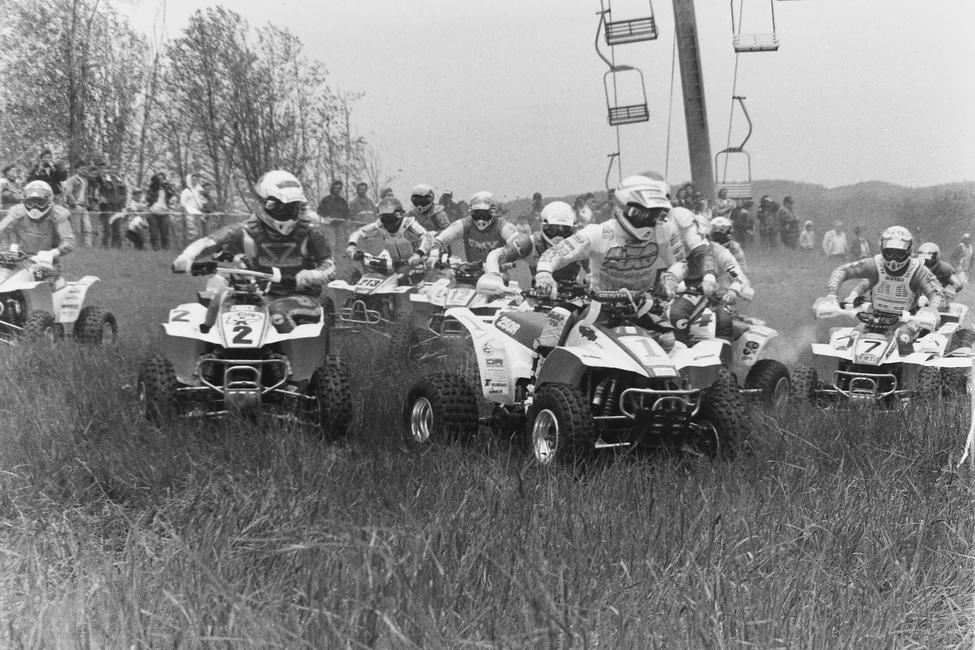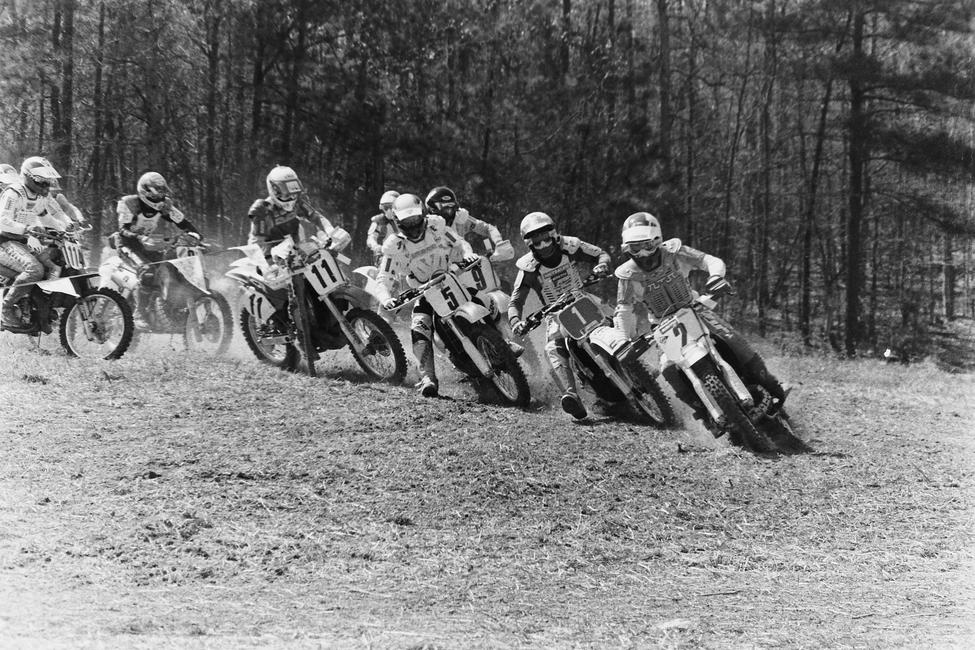 This next video is a pretty cool race. This one is the 2009 Ironman GNCC.