Kayla Bolton
Friday, October 12, 2018 | 12:00 PM
GNCC Live on RacerTV.com This Weekend, October 13 and 14
Powerline Park Hosts Round Twelve of GNCC Series
MORGANTOWN, W.Va. (October 12, 2018) – Tune in to RacerTV.com this Saturday, October 13 at 1:00 p.m. ET for pro ATV racing, and then again at 4:00 p.m. ET for pro UTV racing. On Sunday, October 14 at 1:00 p.m. ET tune in for pro bike racing. The 2018 AMSOIL Grand National Cross Country (GNCC) Series, an AMA National Championship, heads into round 12 – the Powerline Park GNCC from St. Clairsville, Ohio.
Cole Richardson earned his first-ever overall win just two weeks ago at what was considered his hometown race in Pennsylvania. Richardson has been steadily improving all season long, after returning from an injury sustained last year. This Saturday Richardson will be looking to battle at the front of the pack once again and hopefully earn his second overall win of the season.
Walker Fowler is looking forward to his home state race at Powerline Park, where he has earned the overall win four times. Fowler has earned five out of 10 wins thus far in the season, but he is aiming for his sixth win this Saturday in front of his family and friends. As we head into the penultimate round, Fowler remains in control of the National Championship Standings with a 44-point lead over second.
Another rider to keep an eye on this weekend is Adam McGill. This season McGill has been plagued with bad luck and mechanical issues, but he has also managed to earn an overall win at round four, followed by a third place finish just two weeks ago at the Mason-Dixon GNCC. McGill earned the win two years ago at Powerline Park and is no stranger to running up front.
UTV Racing returns with Hunter Miller leading the way. Jamie McCoy sits second after earning the first win of the season in South Carolina, and after earning a pair of third place finishes at the past two UTV rounds he is ready to stand in the center of the podium once again. However, Ohio native, Kyle Chaney earned the win at the Camp Coker Bullet and The John Penton. Chaney sits third in the championship standings due to two mechanical issues at the first two events of the season. Defending UTV National Champion, Cody Miller has not had the season he hoped for. After bad luck struck and a second place finish being his best thus far in the season, he's looking to try and end the season on a high-note by earning the overall win. Collin Truett leads the way in the Single Seat UTV division, as well as the UXC2 Pro class.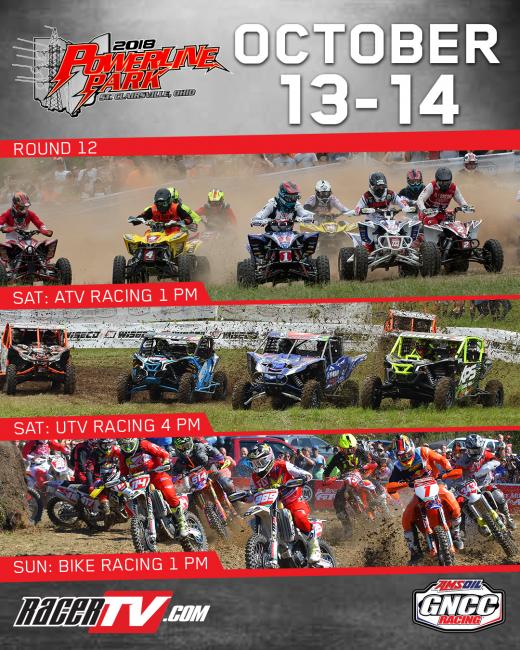 Coming into this weekend fresh off his third overall win this season is Thad Duvall. Two weeks ago, Duvall would battle throughout the duration of the race after grabbing the XC1 All Balls Racing Holeshot Award. As the series heads to the into the penultimate round, Duvall is looking to earn another overall win and close the gap between him and current points leader Kailub Russell.
Russell heads into this weekend with a 40-point lead after having his worst finish of the season at the Mason-Dixon GNCC in Pennsylvania. After suffering through a series of crashes, K. Russell would ultimately have to put himself in a good position to finish the race. With only two rounds remaining, K. Russell is aiming to earn his eighth win of the season and receive valuable points towards his sixth GNCC National Championship.
Steward Baylor Jr. put in a great ride at round 11 at Mathews Farm. S. Baylor lead the way for the first four laps of the race, before Duvall would make the pass stick. After having what seemed to be a bad luck streak during the middle part of the season, S. Baylor is looking to battle at the front of the pack and earn his first win of the season as the series winds down.
Making his way to third overall from the second row, and taking the XC2 250 Pro class win was Ben Kelley. Now with an 18-point gap, Kelley still leads the way in the points standings ahead of Josh Toth. Both Kelley and Toth are the only two riders in the XC2 250 Pro class to earn a win thus far in the season, however Craig Delong and Jonathan Girroir are looking to battle for a win.
Josh Strang made his way onto the XC1 Open Pro podium with a third place in his class, and a fourth place finish overall at the previous round. This was Strang's second appearance on the podium this season, and his first appearance with his newborn son, Maverick. Strang knows what it takes to run at the front of the pack, and he's looking to hopefully earn that overall win this weekend.
A highlight show featuring the event will air on NBC Sports Network on Sunday, November 11, at 3:00 p.m. ET. Click HERE for the full 2018 broadcast schedule.
Link to Saturdays Pro ATV Coverage: http://racertv.com/2018/10/13/gncc-live-powerline-park-pro-atv
Link to Saturdays Pro UTV Coverage: http://racertv.com/2018/10/13/gncc-live-powerine-parkpro-utv
Link to Sundays Pro Bike Coverage: http://racertv.com/2018/10/14/gncc-live-powerline-park-pro-bike
2018 GNCC Live Schedule
| | | | | |
| --- | --- | --- | --- | --- |
| Rd | Date | Time | Event | Location |
| 12 | Oct. 13 | 1 PM | Powerline Park ATV | St. Clairsville, OH |
| | Oct. 13 | 4 PM | Powerline Park UTV | |
| | Oct. 14 | 1 PM | Powerline Park Bike | |
| 13 | Oct. 27 | 1 PM | Ironman ATV | Crawfordsville, IN |
| | Oct. 27 | 4 PM | Ironman UTV | |
| | Oct. 28 | 1 PM | Ironman Bike | |
About GNCC Racing
The AMSOIL Grand National Cross Country Series is America's premier off-road racing series. Founded in 1975, the 13-round championship is produced exclusively by Racer Productions. Cross-country racing is one of the most physically demanding sports in the world. The grueling three-hour GNCC races lead as many as 2,400 riders through tracks ranging in length from eight to 12 miles. With varied terrain, including hills, woods, mud, dirt, rocks and motocross sections, GNCC events are tests of both survival and speed. The series draws talent from all over the U.S., Central America, South America, Europe, Japan, Australia and New Zealand. GNCC Racing is televised weekly on NBC Sports and RacerTV.com. For more information, please visit www.gnccracing.com.
How to Watch
Racer TV and NBC Sports Network (NBCSN) are the official homes for coverage of the AMSOIL Grand National Cross Country (GNCC) events. All 13 rounds, from the season opening Big Buck GNCC in South Carolina to the finale at Ironman Raceway in Indiana, will air in 30-minue; taped-delayed telecasts on NBCSN, while Racer TV provides live streaming coverage of the 1 p.m. ATV and motorcycle races from each event, in addition to the six UTV rounds. Catch all the action at http://www.nbcsports.com/ and http://www.racertv.com/.
About the American Motorcyclist Association
Founded in 1924, the AMA is a not-for-profit member-based association whose mission is to promote the motorcycle lifestyle and protect the future of motorcycling. As the world's largest motorcycling rights and event sanctioning organization, the AMA advocates for riders' interests at all levels of government and sanctions thousands of competition and recreational events every year. The AMA also provides money-saving discounts on products and services for its members. Through the AMA Motorcycle Hall of Fame in Pickerington, Ohio, the AMA honors the heroes and heritage of motorcycling. For more information, visit www.americanmotorcyclist.com. Not a member? Join the AMA today: www.americanmotorcyclist.com/membership/join.