Ben Kelley Dominated XC2 and Battles to Top-Three Overall at Mason-Dixon GNCC
Time
Tuesday, October 2, 2018 | 10:40 AM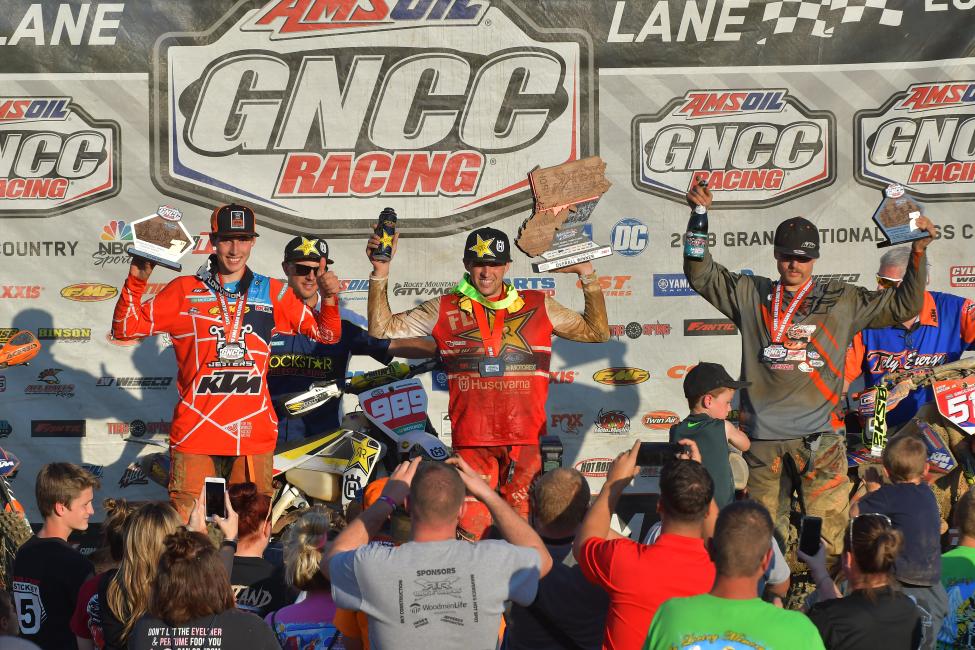 BEN KELLEY DOMINATES XC2 AND BATTLES TO A TOP-THREE OVERALL AT MASON-DIXON GNCC
Kailub Russell Battles Through Adversity to Continue His Bid for a Sixth-Career Title
Round 11 - GNCC Series - September 30, 2018
MOUNT MORRIS, Pa. – Following a three-month summer break, the 2018 AMA Grand National Cross Country (GNCC) Series returned to action on Sunday in Mount Morris, Pennsylvania for Round 11 of the 13-race series with the Mason-Dixon GNCC. KTM-Supported rider Ben Kelley put forth an outstanding performance to not only race his way to a commanding victory in the XC2 250 Pro class, but also power his way onto the overall podium with a solid third-place finish. Just ahead of Kelley in second overall was KTM-Supported rider Steward Baylor Jr., matching his season-best finish in the XC1 Open Pro class. Additionally, FMF KTM Factory Racing's Josh Toth finished second in the XC2 class after an exciting battle with Kelley all afternoon.
Returning to the storied grounds of Mathews Farm and High Point Raceway for the first time since 2003, the Mason-Dixon GNCC presented a fairly new course for most of the riders and teams over the weekend. Rainfall leading up to Sunday's race day made for a tacky, slick and rutted 14-mile course but conditions shaped up to be ideal for the afternoon's racing.
XC1 Open Pro
It was a challenging day for XC1 points leader Kailub Russell, who battled through a series of crashes that ultimately resulted in a nagging shoulder injury for most of the three-hour race. Russell put himself into a good position off the start as he powered his KTM 350 XC-F into second-place behind race-leader Steward Baylor early on. About two miles into lap one, Russell entered a tight single-track section of the course where a low-hanging vine got caught inside his helmet and ripped him off the bike. The five-time GNCC Champion quickly remounted and began his charge from the sixth spot. However, adversity soon struck again for Russell when he clipped a tree with his right shoulder and went slamming into the ground. As a result of the impact, Russell sustained a banged up right shoulder but he continued to fight his way up to third by the halfway point.
Just before the white flag came out, Russell experienced another get-off that would drop him back to fifth but he once again fought back to reclaim fourth on the final lap. Despite a hard-charge to claim fourth in the XC1 class, Russell ended up fifth overall with Ben Kelley's finish on the adjusted time-clock. With two rounds remaining, Russell holds a 40-point lead in the XC1 Open Pro National Championship with a total of seven race-wins behind him this season.
Russell:"Today was a rough one but we were able to keep the bigger picture in mind and pick up some valuable points. I had trouble staying off the ground all day but the big one was on lap two when I clipped a tree with my right shoulder and ended up slamming it into the ground. It's pretty banged up so I just did my best to keep pushing without doing anything dumb. I got up to third about halfway through but then I went down again and lost my chances at a podium."
XC2 250 Pro
It was another intense battle between XC2 250 Pro Championship rivals Josh Toth and Ben Kelley, who have traded off race-wins all season long. On Sunday, it was FMF KTM Factory Racing's Toth who assumed the early lead, with Trail Jesters Racing KTM's Kelley close in tow. The duo swapped the lead multiple times through the first two hours, with Toth at the helm heading into the final hour of racing. However, Toth began to experience cramping just after the two-lap card came out and that allowed Kelley to make his way back to the front.
Toth struggled to stay on pace during the final lap and Kelley went on to build a commanding lead in the class. After three hours of hard racing, Toth held strong to finish second-place in the class and sixth overall for the day.
Toth:"Second isn't where I wanted to be but I did the best I could out there today. Ben and I both got off to a good start and I got into the lead early on, but I was losing a lot of energy leading so I was kind of excited when he got around me. I was following along with him and just cramped up really bad with about two laps to go. I struggled at the end but he stayed the same pace, so congrats to him. All-in-all, it was a good day and I'm happy to come away with second-place points."
Kelley's incredible performance placed him atop the overall podium for the first time in his career, marking a big moment for the young rider as he joins an exclusive list of GNCC Racers to make the overall podium from the XC2 class.
In the 10 a.m. race, KTM-Supported rider Becca Sheets earned her second victory of the season in the WXC class. Sheets engaged in a three-way battle throughout the first half of the race before placing her KTM 250 XC-F into the lead position on lap three. Sheets finished strong to best the second-place rider by 16 seconds.
Round 12: October 14, 2018 – St. Clairsville, Ohio
Overall Results
Thad DuVall, HQV
Steward Baylor Jr., KTM
Ben Kelley, KTM
Josh Strang, HQV
Kailub Russell, KTM
Josh Toth, KTM
XC1 Open Pro Results
Thad DuVall, HQV
Steward Baylor Jr., KTM
Josh Strang, HQV
Kailub Russell, KTM
Overall Championship Standings
Kailub Russell, 7 wins, 272 points
Thad DuVall, 3 wins, 232
Trevor Bollinger, 177
Steward Baylor Jr., 174
XC2 250 Pro Results
Ben Kelley, KTM
Josh Toth, KTM
Jonathan Girroir, SUZ
XC2 250 Pro Standings
Ben Kelley, 5 wins, 268 points
Josh Toth, 5 wins, 250
Craig DeLong, 160