Rachel Gutish
Time
Monday, July 2, 2018 | 9:30 AM
FOR IMMEDIATE RELEASE
(304) 284-0084
[email protected]
AMSOIL Snowshoe GNCC Women's Race Report
Pickens and Jones Take Home Wins at Round Nine
SNOWSHOE, W.Va. (July 2, 2018) – On the weekend of June 23 and 24, the ninth round of the 2018 AMSOIL Grand National Cross Country (GNCC) Series, an AMA National Championship took place at the Snowshoe Mountain Resort. Snowshoe is one of the more gnarly races on the GNCC circuit, as well as one of the toughest courses in the country. In a throwback to the famed Blackwater 100, the start is a live-engine downhill start on the main street of Snowshoe village. The unique two-loop layout at Snowshoe means that the morning riders got to cover over seventeen miles of trail.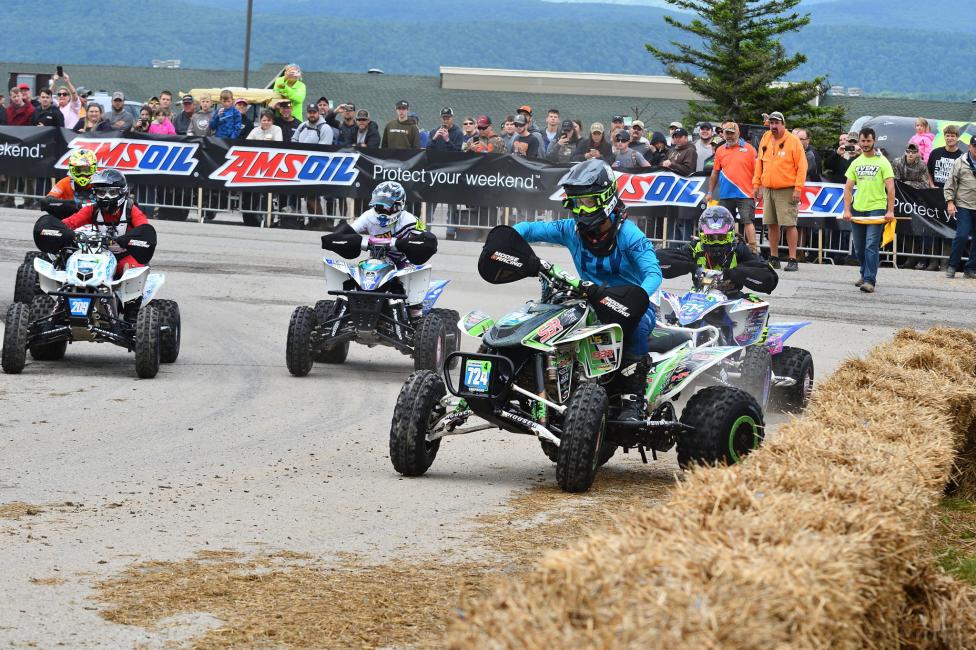 This year, Snowshoe was made even more challenging by the rain that fell off and on during the week. However, that did not stop the racing where around 70 women racers lined up to do battle against the elements and the mountain. Traci Pickens took home the win in the ATV WXC class on Saturday and Tayla Jones was back on top in the Bike WXC class on Sunday.
On Saturday as the ATV morning race began, Megan Shepherd briefly held the WXC lead during the first lap. However, Pickens would manage to get around Shepherd after some trouble struck. Sadiee Gorrell also made the pass on Shepherd when she took a faster line through one of the mudholes. The pass did not stick for long though, as Gorell's clutch began sticking, dropping her back to sixth. Kara Short rode a smooth first lap, passing Shepherd and Gorrell to take over second place, while Shepherd continued to maintain third place.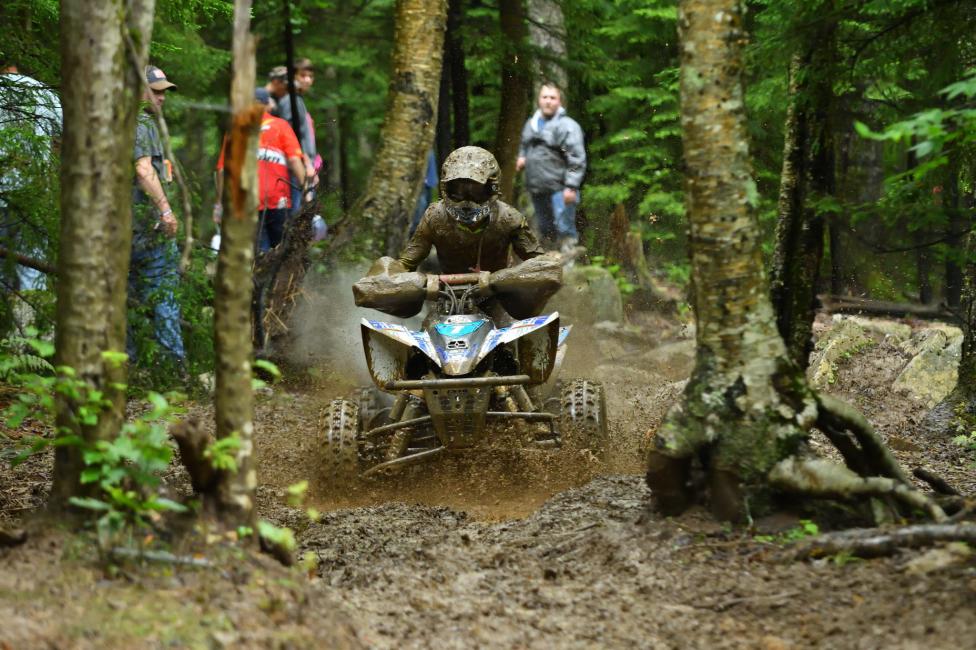 Katelyn Osburn happened to take a bad line and found herself stuck on the first lap, she would finally work her way out and around Shepherd putting her into the third place position on lap two. The two of them continued to battle, swapping places at least six times during the race. Once Gorrell was able to get her clutch fixed, she and Jaida Phillips battled back and forth before Gorrell made the pass stick. After this, Gorrell quickly caught back up to the front of the pack ultimately passing Shepherd and Osburn.
Short was on fire during the next few laps, making up a two-minute deficit from Pickens and taking over the lead for the first time this season. She was able to hold off Pickens and Osburn for a lap, unfortunately she would be passed with one more lap left to go. Meanwhile, Gorrell and Phillips were badly stuck on the last lap. Phillips was pushed back to sixth, while Gorrell managed to stay ahead of fifth place finisher Shepherd, who was having her own troubles with lappers and bottlenecks. Only the top three riders completed the full six laps. After passing Short, Pickens was able to establish a comfortable one minute lead. Pickens said that she "really enjoyed the track this year" and shew as very grateful for the mud fleas and fellow racers who helped the WXC riders through the course.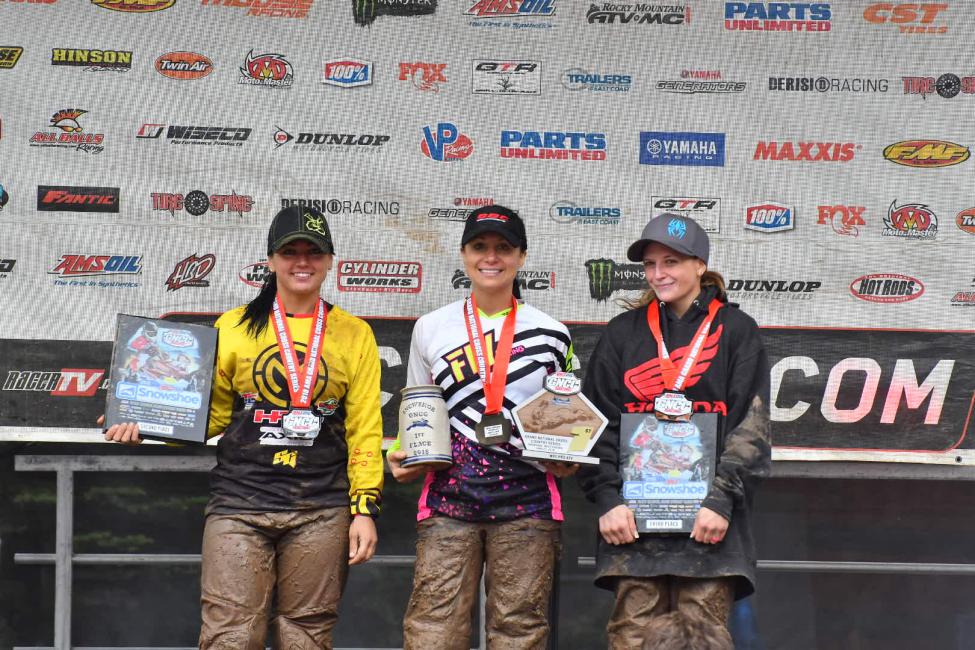 Osburn and Short were in a tight battle coming into the finish, but it would be Osburn who came in just ahead of her to take second place. Osburn stated "it was a really tough track for me … this is definitely a survival race, and I'm just glad I made it through. Short ran a pretty good race taking her first podium finish of the 2018 season, after coming in a close fourth place the previous three rounds.
Morgan Johnson was the winner of a packed Girls ATV class in the 8 a.m. youth race. She is now only four points away from class leader Andrea Rodgers, who finished second at round nine. Gabrielle Lemley rounded out the podium in third. In the Women's ATV class, Hannah Hunter beat out Sydney Sams for the win, and Hailey France earned her first podium of the year by placing third.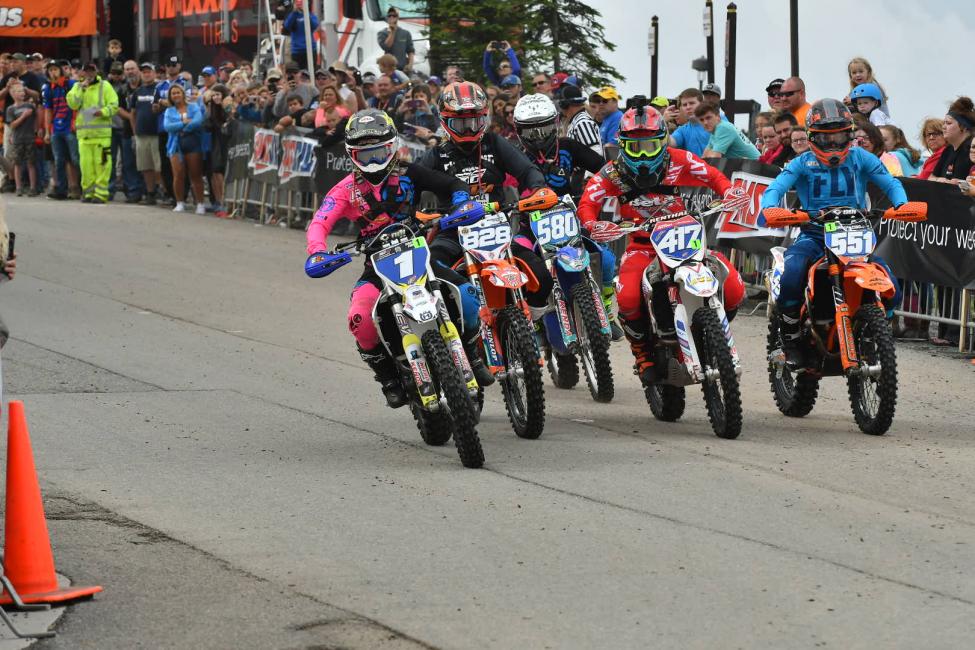 On Sunday, Tayla Jones and Mackenzie Tricker dueled for the lead off the start in the bike WXC class. Those two riders, as well as an almost-healed Becca Sheets, Brooke Cosner and Rachel Gutish swapped positions back and forth several times throughout the first lap, with everyone taking the lead at least once. Unfortunately, Cosner hick a rock as she headed up one of the ski lift hills ultimately ending her day as she suffered from a hip injury. The remaining riders in the lead pack came through timing and scoring with only ten seconds separating Jones, who was in first, from Tricker, who was in fourth. The next pack of riders, Eden Netelkos, Shyann Phelps and Korie Steede were approximately three minutes down from the leaders.
Heading into the second loop, Tricker found herself falling further back from the top three, though never far enough for Netelkos, Phelps or Steede to challenge her. She rode the rest of the race without seeing any other riders in her class, finishing fourth. Tricker comes from a more moto-centric background and admitted "This was my first time at Snowshoe and I'm just stoked to finish in one piece." In the second pack, Netelkos dropped back from fifth to seventh at some point on the west side of the mountain, before falling even further behind on the third loop. This left Phelps and Steede to duke it out for the final top-five spot. They swapped positions several times during the second and third lap, before Steede got stuck not once, but twice, allowing Phelps to take fifth place by over seven minutes. On the other hand, there was very little time between riders in the lead pack, who were engaged in a three-way battle for the lead.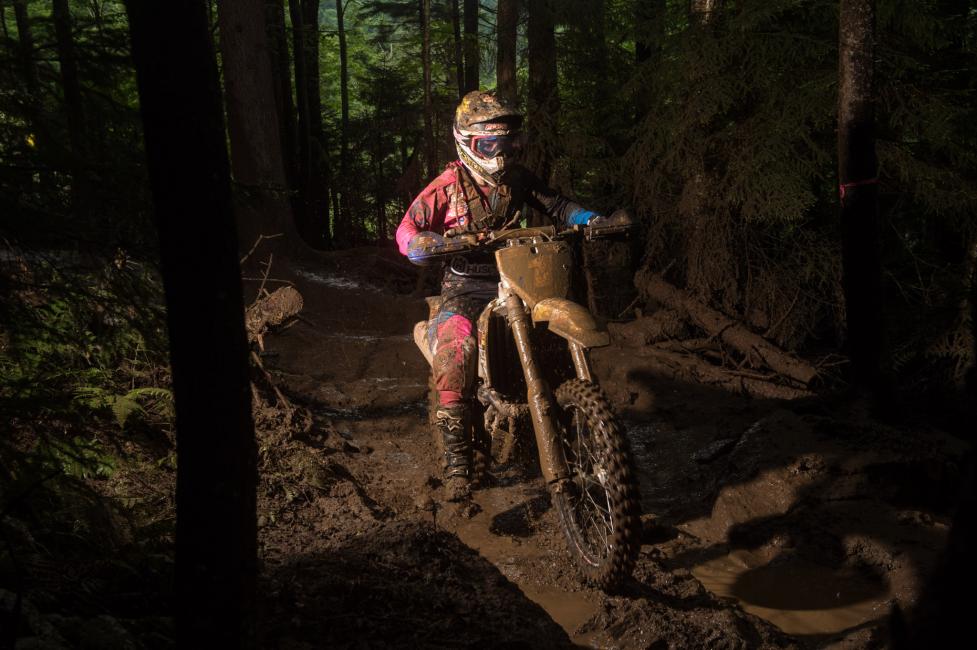 Jones had control over first place until lap three, when the riders entered a tighter, technical section already filled with lappers. In the chaos, Gutish was able to slip past both Sheets and Jones to briefly take the lead, though Jones took it back soon after on one of the fire roads. Gutish and Sheets were still right on her tail, with only two seconds between all three of them heading into the fifth loop. Jones was able to extend her lead when Gutish tangled with a lapper, causing her to get stuck between several tree roots. Sheets also lost valuable time in this section as she was trying to get around Gutish. After that there were no more battles. Jones said, "Overall it was a good race, and I am happy to head into summer break with a win." Second place finisher Becca Sheets told us, "It felt good to come back from my injury with a second place finish in these tough conditions."
Prestin Raines and Jocelyn Barnes battled for the win in the Girls class once again, and again it would be Prestin Raines who was victorious. Kylie Le-Jenkins took third place in her first GNCC of the year. Annalisa Davis won her sixth race this season in the Women's class, while Alli Phillips won in Women's C and was the only women's C rider to complete four laps.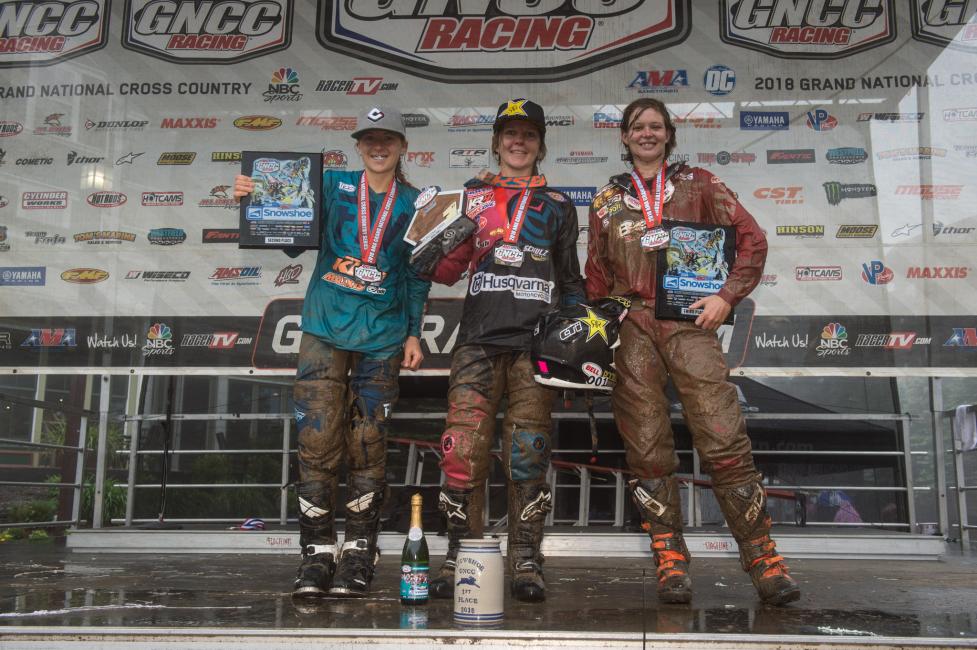 The 2018 AMSOIL Grand National Cross Country Series resumes after the summer break on September 15 and 16 in Harpursville, New York with the Parts Unlimited Black Sky GNCC. ATV and Micro racing will take place on Saturday while bike racing will take place on Sunday.
For more information on the GNCC series, visit the official website at www.gnccracing.com or call (304) 284-0084. Join the conversation on the series Facebook page, follow us on Twitter and Instagram, and be sure to always hashtag #GNCC.
AMSOIL Snowshoe
Snowshoe, West Virginia
Round 9 of 13
June 23 and 24
ATV WXC Pro Event Results:
Traci Pickens (YAM) GBC / Yamaha / Fly Racing
Katelyn Osburn (HON) Spider Graphix
Kara Short (HON) Veterans Family Racing
Sadiee Gorrell (YAM) Maxxis / Fivesixo Graphics / Custom Axis / Pierce Performance
Megan Shepherd (HON) Stewart Boys Racing
Jaida Phillips (YAM) GBC/Rekluse
ATV WXC National Championship Standings:
Traci Pickens (255)
Katelyn Osburn (215)
Megan Shepherd (154)
Sadiee Gorrell (152)
Kara Short (139)
Jaida Phillips (139)
Alicia McCormick (82)
Angel Knox (46)
Sadie Welch (37)
Morgan Solesbee (14)
Bike WXC Pro Event Results:
Tayla Jones (HQV) KR4 / Husqvarna
Becca Sheets (KTM) Fly / Maxxis / Seat Concepts / KTM
Rachel Gutish (BETA) Beta USA / Braaap Shop of Mendota
Mackenzie Tricker (KTM) Trail Jesters / Bonanza Plumbing / KTM
Shyann Phelps (KTM) Racer's Edge / Mike Beeler
Korie Steede (GAS) GasGas / FAR
Eden Netelkos (KTM) Garden of Eden Racing
Brooke Cosner (YAM) Tely Energy
Bike WXC Pro National Championship Standings:
Tayla Jones (248)
Becca Sheets (168)
Mackenzie Tricker (165)
Rachel Gutish (142)
Shyann Phelps (135)
Brooke Cosner (127)
Eden Netelkos (127)
Korie Steede (117)
Shelby Rolen (89)
Felica Robichaud (26)
About GNCC Racing:
The AMSOIL Grand National Cross Country Series ("GNCC") is America's premier off-road racing series, featuring motorcycles, ATVs and Side-by-Sides, for men, women and children of all ages. Founded in 1975, the 13-round championship is produced exclusively by Racer Productions. Cross-country racing is one of the most physically demanding sports in the world. The grueling three-hour GNCC races lead as many as 2,400 riders through trails ranging in length from 8 to 12 miles. With varied terrain, including hills, woods, mud, dirt, rocks and motocross sections, GNCC events are tests of both survival and speed, drawing talent from all over the United States, Central America, South America, Europe, Japan, Australia and New Zealand. GNCC Racing is televised on NBC Sports and RacerTV.com. For more information, visit www.gnccracing.com.
About the American Motorcyclist Association:
Founded in 1924, the AMA is a not-for-profit member-based association whose mission is to promote the motorcycle lifestyle and protect the future of motorcycling. As the world's largest motorcycling rights and event sanctioning organization, the AMA advocates for riders' interests at all levels of government and sanctions thousands of competition and recreational events every year. The AMA also provides money-saving discounts on products and services for its members. Through the AMA Motorcycle Hall of Fame in Pickerington, Ohio, the AMA honors the heroes and heritage of motorcycling. For more information, visit www.americanmotorcyclist.com. Not a member? Join the AMA today: www.americanmotorcyclist.com/membership/join.