FMF KTM Factory Racing's Kailub Russell and Josh Toth Dominate GNCC Round 8 in New York
Time
Tuesday, June 12, 2018 | 11:00 AM
The FMF KTM Factory Racing Team dominated Round 8 of the AMA Grand National Cross Country (GNCC) Series on Sunday with a double-victory from teammates Kailub Russell and Josh Toth in their respective XC1 and XC2 classes. Held in Odessa, New York, the Tomahawk GNCC showcased challenging terrain but both of the series' reigning champions maintained a solid pace for all three hours as they continue to race toward their bid for a title repeat in 2018.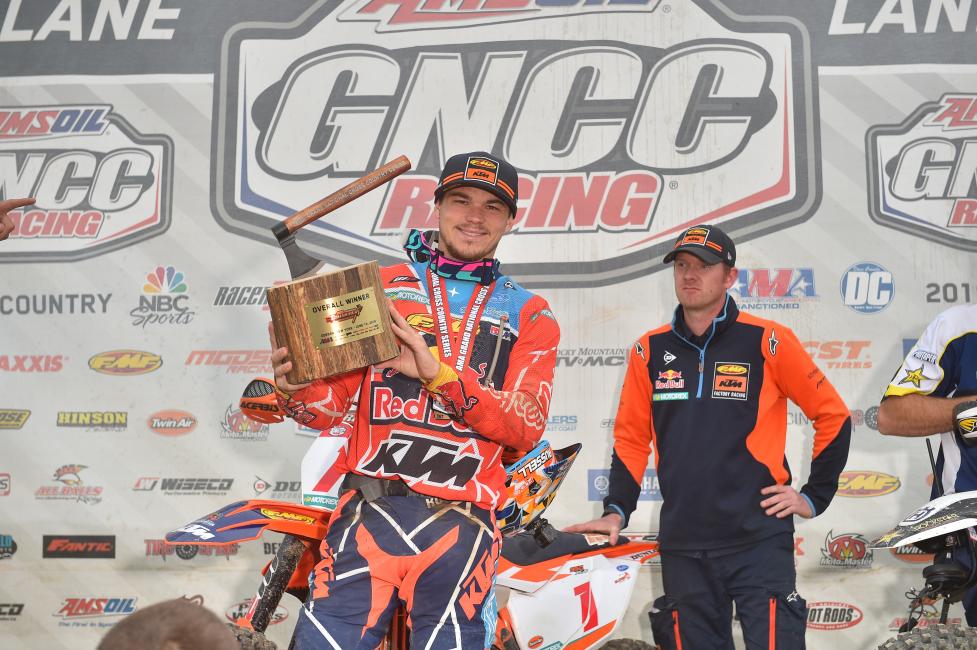 XC1 Open Pro
Russell quickly ignited his KTM 350 XC-F off the start to put himself into a head-to-head battle for the XC1 Open Pro holeshot. Russell bobbled in the first turn to just miss the official holeshot but the five-time GNCC National Champion wasted no time moving into the lead on the opening lap. Russell maintained a steady gap over the second-place rider and rode a virtually mistake-free race on his own to secure his sixth victory of the season and his first-ever at the Tomahawk GNCC.
Russell: "This is always a tough place and today was no different. It was tough for me to get going but I just rode my pace and what I was comfortable doing. I wasn't really comfortable pushing any harder or trying any harder than I was, just because the track didn't really allow it today. Trevor [Bollinger] rode great, he was right on me the whole day. I rode a pretty mistake-free race, I don't think I fell once. I might have had a couple close calls with the lappers but my FMF KTM was running great and we were steady cruising out front."
XC2 250 Pro
FMF KTM Factory Racing's Josh Toth put his KTM 250 XC-F into the lead early on and immediately went to work in charging up to the XC1 field. With a pace quick enough to rival the premier class front-runners, Toth put himself into contention for a top-three overall early on, while pushing hard to extend his lead over the XC2 competition. With as much as a 01:15 gap over second-place on the white flag lap, Toth was on his way to a top-five overall finish until a crash on the final lap cost him valuable time at the end. He finished 47 seconds ahead of second place to capture win No. 5 of the season in the XC2 class and sixth-overall.
Toth: "I got off to a good start and there was dust in the fields so I just took advantage of it in the woods and carried my momentum. I kept a really good pace all the way and then I caught some of the XC1 riders in the field sections, which actually kind of messed me up with the lingering dust, but it was awesome to be up there in the front with those guys. It's definitely a huge confidence booster, especially going into next year I'll be in XC1 so it's helpful to get the experience and know what the pace is."
Trail Jesters KTM Racing's Ben Kelley salvaged a fourth-place finish in the XC2 class after a tough start to the day when he found himself on the ground in turn two. Kelley quickly remounted but he was forced to play catch-up from the last place position. He made it up to ninth by the end of lap one and he continued to fight his way through the field to finish just off the podium for the first time this season. After eight rounds, Kelley still holds an eight-point lead over his factory-backed KTM teammate, Josh Toth, in the championship standings.
Round 9: June 24 – Snowshoe, West Virginia
XC1 Open Pro Results
Kailub Russell, KTM
Trevor Bollinger, HON
Thad DuVall, HQV
Overall Championship Standings
Kailub Russell, 6 wins, 226 points
Thad DuVall, 2 wins, 202
Trevor Bollinger, 143
Steward Baylor Jr., 135
XC2 250 Pro Results
Josh Toth, KTM
Craig DeLong, HQV
Pascal Rauchenecker, HQV
XC2 250 Pro Standings
Ben Kelley, 3 wins, 208 points
Josh Toth, 5 wins, 200
Craig DeLong, 142