Jared Bolton
Time
Thursday, May 17, 2018 | 2:40 PM
AMSOIL is proud to be the title sponsor of the GNCC Racing series for the past 7 years. New for 2019, AMSOIL is partnering with the series to bring a GNCC AMSOIL Moto Hero to each and every round. Racers, Fans, and Industry Personnel are welcome to nominate themselves or someone they know who are currently serving in the military, retired from the military, are a first responder or former first responder for this prestigious honor.
Welcome to Quick Fill.
It seems hard to believe it but we are now essentially halfway through the 2018 GNCC Racing season. With six rounds in the books, the first half of the 2018 season was nothing short of exciting. We've seen some of the closest racing that the series has seen in a number of years and each round proves to be equally as exciting as the last. It seems hard to top ourselves but it continues to happen and as we roll through the season, we've got the potential for some tight championship battles.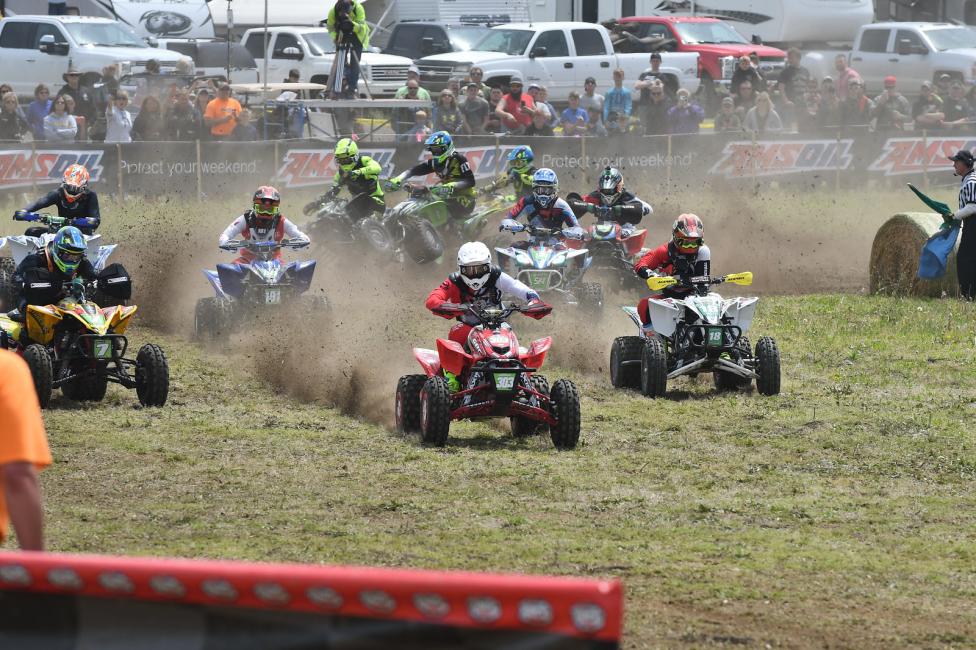 Last weekend's X-Factor Whitetails GNCC proved to be a great event. The threat of rain leading up to the event left some concerns in people's minds but other than a small shower on Saturday morning, the rains stayed away and the race ended up being darn near perfect, other than the dusty field sections. The woods on the other hand, well those were as close to perfect as you could get in most places. Overall, X-Factor was able to live up to it's full potential and hopefully it will help to replace some of the muddy memories from 2017.
As for that racing action, well, Ken will have a brief recap of the ATVs coming up a little later, so I'll take a minute to discuss the bike side because, wow, those boys put on a show once again! Steward Baylor would jump out front and lead the opening laps of the race but it would be his little brother, Grant, who would put on a charge and come from sixth place, all the way up to second at one point. After sitting out the previous round, Grant has been very motivated and it shows!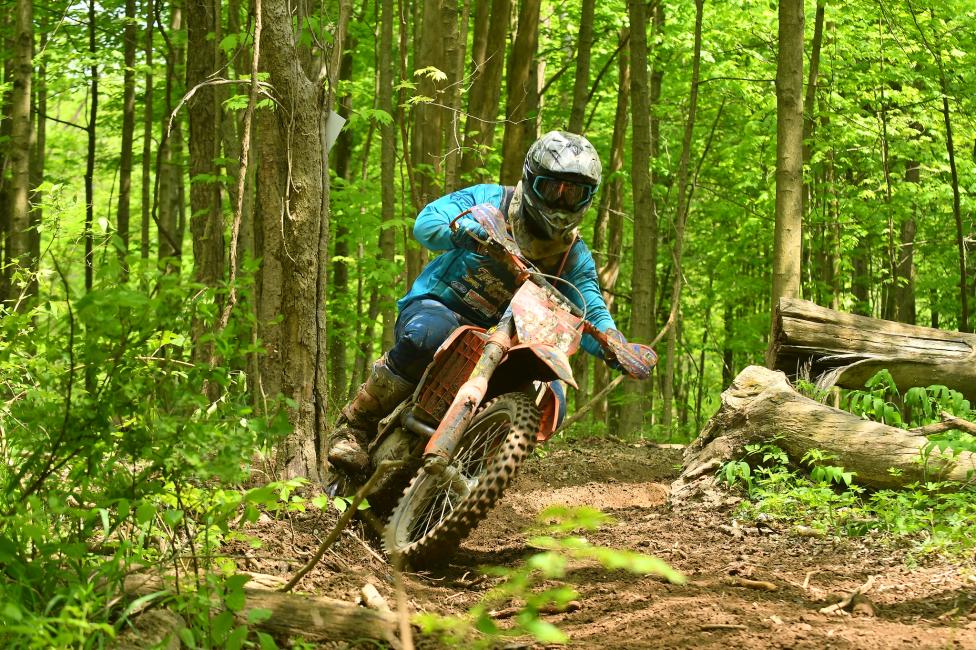 Of course, in the same fashion as several rounds this season, Kailub Russell and Thad Duvall would run in podium spots before charging to the front after the opening portions of the race. These two would once again battle for the majority of the race with Kailub pulling out just enough of a lead to ride on to the win, just six seconds ahead of Duvall. Grant Baylor would hold onto the third place position to claim his first podium of the season while Steward Baylor would end up forth after a couple of small issues dropped him out of podium contention. Trevor Bollinger would have another consistent ride to end the day in fifth place.
The XC2 boys had a pretty interesting race of their own. It was a similar story to some other rounds earlier this season where Josh Toth would jump out front, however, Austin Lee would lead a couple of laps as well. While all of this was going on, XC2 class points leader Ben Kelley would spend the first part of his day charging through the pack. Kelley would eventually work his way up to second place, while Lee would drop out of the lead. Toth controlled the race to take the win with Kelley second and Craig Delong would finally land his first podium of the season in third.
That's going to do it for this week's intro. Quick Fill will be a bit on the short side this week as we're at High Point Raceway gearing up for this weekend's round of ATV Motocross National Championship racing. There's lots of work to finish up here, so we'll save some more goodies for next week's Quick Fill. Enjoy your weekend and we'll see you in Ohio!
Catching Up With Ken (Ken Hill)
It sure looked like we went from one extreme to the other as far as water goes as the record book closes on the second X-Factor Whitetails GNCC. Last year you couldn't buy dust and this year it was thicker than ticks on a coon dog! Ok, so the fields got dusty but the woods were actually really good and that is where I stayed for the majority of the day, seeking out clear air for pictures. The ATV guys got a bit of everything as rain fell on Saturday but the sprinkle during the 10AM race was just enough to control dust for a few laps. By the 1PM race, it had disappeared and the dust began to show its face again. However, the woods continued to stay moist and it shaped up to be a great weekend.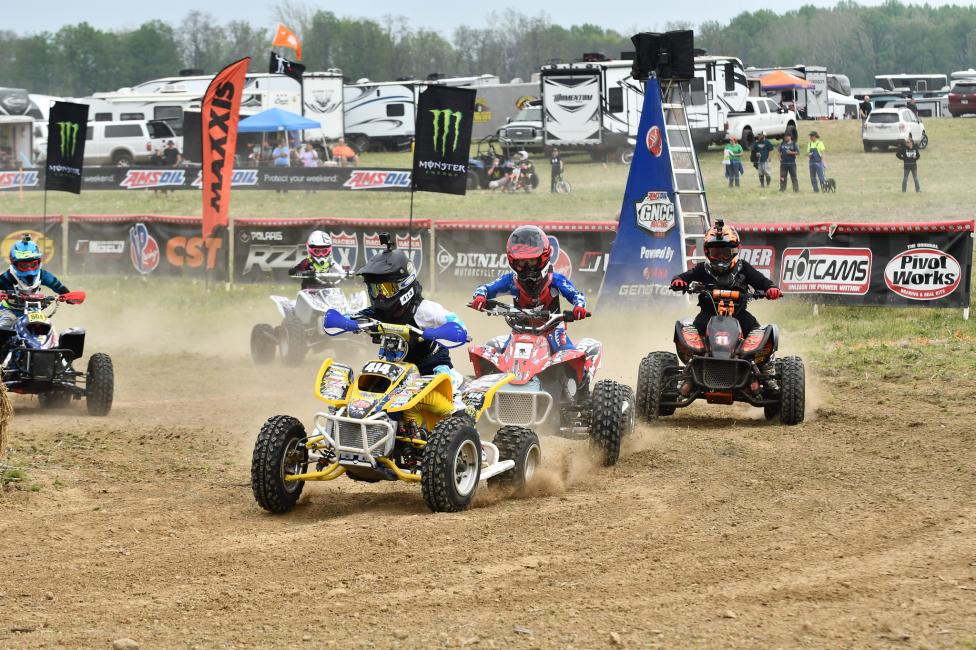 If you ignored the "whitetail" part of this round's title or where it was actually held, you would think there was a hook to this round, a symbol of the unknown. Last year's mudfest saw Johnny Gallagher clinch the win and of course, this year we saw Walker Fowler's hope of taking the win here get crushed in the final turn of racing. The series couldn't have written a better script that offered such a plot twist. It had every component one needs to hammer out an exciting storyline.
The story began the same as we have seen play out so many times over the past few seasons. Walker Fowler would get the lead and run away with it, although this time it seemed just a little different. The plot turned to those running behind him and there was plenty of action going on as Chris Borich, Brycen Neal and Jarrod McClure were working on each other virtually non-stop as they swapped positions just a few seconds behind Fowler. They had enough going on between themselves that I am pretty sure catching Fowler was not a main priority for much of the race.
However, things would change drastically as they neared the finish. As Fowler popped into view, I readied my camera and got ready for him to skirt the final few turns and come into view. Reality yanked me back into its grasp as the crowds attention turned to the last turn. At first, I figured it was cheering or Fowler was doing something to get things cranked up before clinching the deal. When I first got eyes on the action, I could see it was panic that had the crews attention and they were pushing Fowlers quad. We've seen this before, but what happened next would be a bit different as old sneaky snake himself Jarrod McClure was coming into this scene at warp speed. Fowler was pushing as fast as he could as McClure went to the outside and just like that we had a race winner! It all happened so fast that it wasn't until after Borich and Neal came rushing in that I realized what I had seen.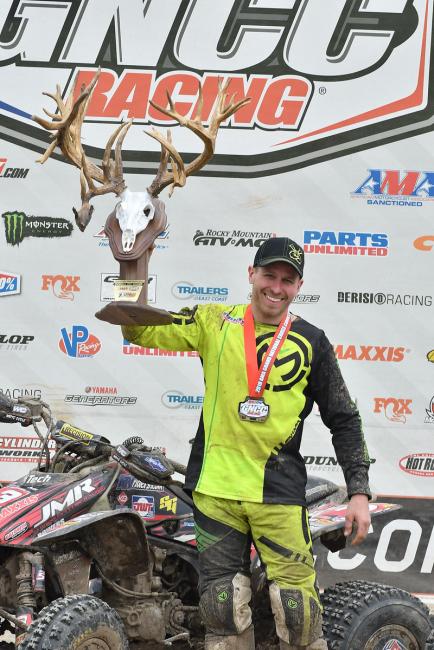 Now McClure was in shock himself as he quickly got some much needed water and sat at ground zero as the insanity of what had just happened sank in. He was stoked to get the win but stated he would rather have earned it and not have it handed to him. Jarrod was on a mission during the last lap coming from fourth to the eventual win after a very impressive burst of effort on that last lap. Borich was rolling with things as he once again found what he needed to get another podium finish. For Neal, he was doing some moves as he sat in line at scoring, I wasn't sure if he was upset at himself for what he may have thought was a just off the podium finish after battling hard with Borich and being so close.
So there it was, May 12, 2018 and I was there! If Fowler had won it would have just been another race but now this round will remain in my memory for a very long time. As a fan of racing, it was spectacular and such a fate twist that marks this round as one which now is starting to build some history, as twisted as it may be. So far the 2018 season has been beating up on our champion and he has been handling it well. Even after such a devastating set of circumstances, he walked away and gathered himself and before long was in the middle of things shaking hands and offering congratulations, proving he is a true champion and a great ambassador to the sport and his sponsors. Personally, I would have probably been over the hill beating on an oak tree.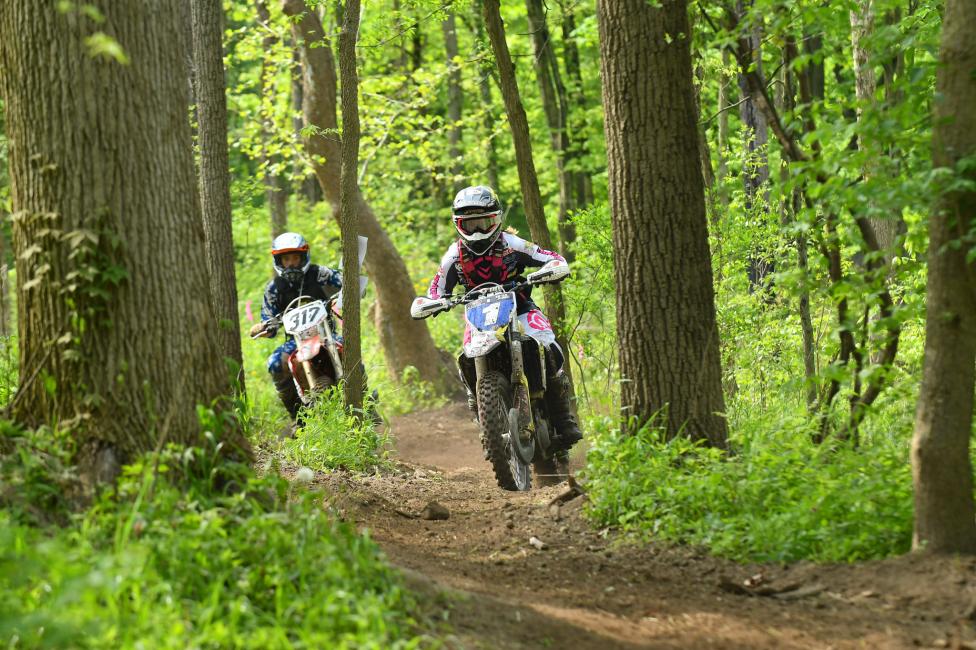 As far as the facility, it sure is a pretty place. The course could be made to be insanely brutal with some very serious sections that could be added. This still being a new venue, I am learning the land but I got to see more of it and holy wow! Indiana never ceases to amaze me at how it can appear so flat and yet have some of the steepest hills ever imagined. Hats off to the crew for a challenging course. The land owner was present and sure seemed like he was in much better spirits this year and was eager to point out some of the changes he had made. The silo tower was very cool and offered fans an elevated look at things especially the podium.
That is all from me this week as I start packing up for this weekend's ATVMX race at High Point. The weather sure isn't looking good here at home and I am hopeful all this rain stays south so we can get this event in without the mess of a full-blown mudder. As always, be safe in all you do and may God bless you all.
#GNCCProm
Check out some of the 2018 GNCC Racing Nation Prom pictures below: