FMF KTM Factory Racing's Kailub Russell Finishes 2nd After Intense Three-Hour Battle at Steele Creek GNCC
Time
Tuesday, April 10, 2018 | 10:30 AM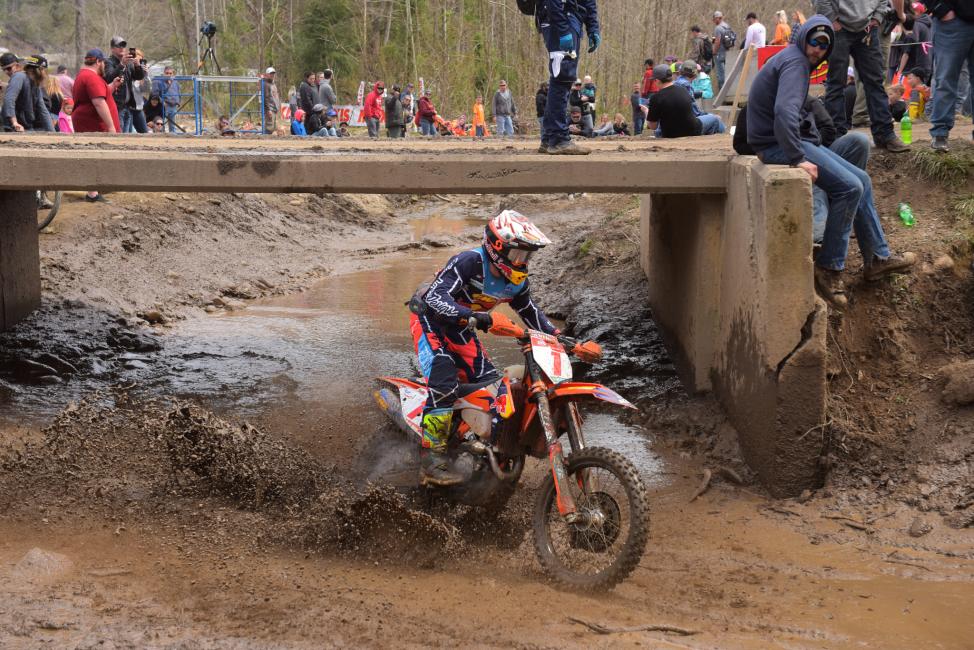 Round 4 of the AMA Grand National Cross Country (GNCC) Series showcased the most intense XC1 battle of the season on Sunday as FMF KTM Factory Racing's Kailub Russell went head-to-head with Thad DuVall for three-hours of hard racing in Morganton, North Carolina. Russell ultimately fell just short of clinching his fourth-straight win after an incident with a lapped rider caused him to lose his lead on the final lap of racing.
Russell got off to a great start aboard his KTM 350 XC-F as he assumed the early lead and took advantage of a clear trail ahead. Russell was able to put a 20-second gap over DuVall by lap two but just as the five-time GNCC National Champion started to break away, he came upon lapped traffic on the course. As a result, Russell lost his gap and DuVall took over the lead on lap three. Russell and DuVall continued to battle back-and-forth for the next few laps but it was Russell who had the upper-hand heading into the final lap of racing. With about 1.5 miles to go, Russell encountered another lapped-rider and while Russell attempted to make the pass, the other rider turned into his line, causing both riders to come to a stop. Meanwhile, DuVall rode by to inherit the lead in the final moments. Russell put forth a valiant charge in the final turns but he wasn't able to make the pass, thus finishing second for the first time in 2018.
Russell: "It stings when you lose like that, it's out of your control completely. I had a 50/50 shot with that lapped rider in front of me but Thad was riding really good and he was able to hang with me and capitalize on the mistake. I tried to run him down in the last few turns and put some pressure on him but the last few turns were super slick and there was nothing I could rally do. He was riding really good and get by when it counted."
XC2 250 Pro
Trail Jesters KTM Racing's Ben Kelley extended his win-streak to three-in-a-row on Sunday with a dominant performance at Steele Creek. Kelley got off to a great start aboard his KTM 250 XC-F and led all seven laps of the race, finishing more than two minutes ahead of FMF KTM Factory Racing's Josh Toth in second. Toth came into Round 4 with uncertainty after being off the bike for the last three weeks due to a finger injury sustained at the previous round. Toth maintained a steady pace all afternoon where he was able to push through the pain and soreness to salvage second-place for the day.
Toth: "Coming into this round, I didn't know how I was going to end up. I was just really hoping for a top-five and I figured a podium would be awesome. I didn't know how I was going to hold up for three hours or if I could hang on or finish, so to be up here is awesome."
Round 5: April 22 – Society Hill, South Carolina
XC1 Open Pro Results
Thad DuVall, HQV
Kailub Russell, KTM
Trevor Bollinger, HON
Steward Baylor Jr., KTM
Josh Strang, HQV
XC2 250 Pro Results
Ben Kelley, KTM
Josh Toth, KTM
Pascal Rauchenecker, HQV
Overall Championship Standings
Kailub Russell, 3 wins, 115 points
Thad DuVall, 1 win, 101
Steward Baylor Jr., 83
XC2 250 Pro Standings
Ben Kelley, 3 wins, 115 points
Pascal Rauchenecker, 88
Josh Toth, 1 win, 80