KR4/Husqvarna Team Report: Wild Boar GNCC
Time
Tuesday, March 13, 2018 | 9:50 AM
PALATKA, Fla. (March 12, 2018) – Daytona Beach's "Bike Week" festivities take place annually every spring and bring a whole host of two-wheeled enthusiasts to the eastern part of the Sunshine State. Just a mere 45 minutes away from the main activities this past weekend was the Wild Boar GNCC, which served as the second round of the 2018 AMSOIL Grand National Cross Country (GNCC) Series. The race hosted a large crowd and many of the big named industry personnel who all witnessed the KR4/Husqvarna team take another step in the right direction for the 2018 season.
After a successful season opener, majority of the team members improved their results in Florida. Headlining the action was Tayla Jones, who made it two-in-a-row in the highly-competitive WXC class. Jones didn't get off to the best start, and things looked to be going in the same direction as last round where it was an all-out battle until the checkered flag. Jones quickly turned around her race and began passing all the competitors who got off to a better start than her and toward the end of the opening lap she was back in the mix with the podium contenders. Jones checked through timing and scoring in first, and never looked back where she took the 10 a.m. overall by over four minutes.
"Florida was good to me once again," said Jones. "I really like the sand and I have a lot of fun riding in it. I had a slow start, plus a crash in the second corner, which put me in last so the first lap was a little tough. Once I got in the lead I just tried to ride my own race, stay smooth and minimize mistakes. I'm stoked to get another race win."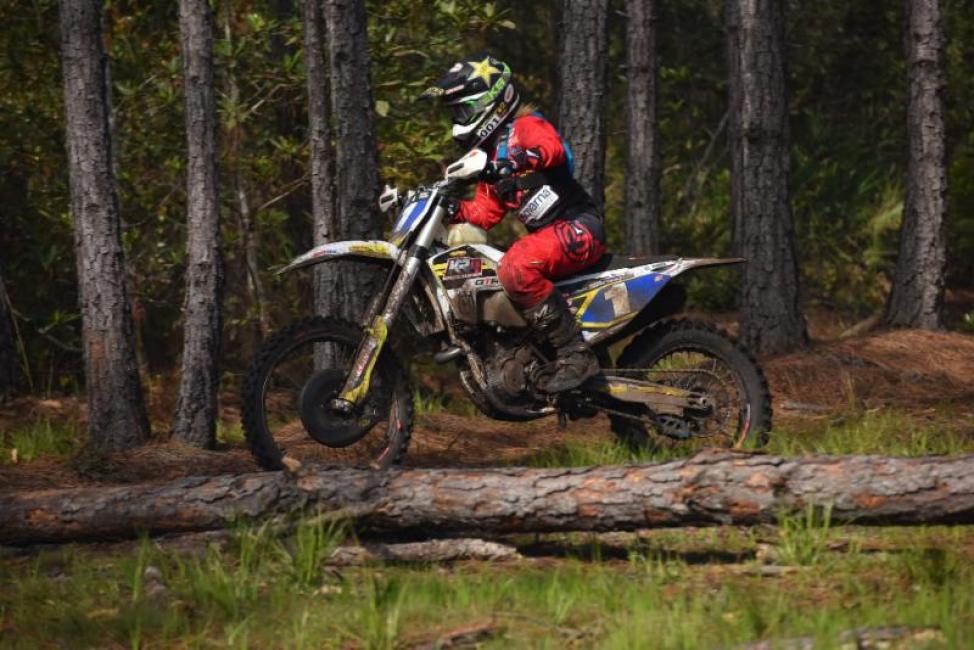 Layne Michael fed off his teammates' success and scored his best finish yet in the XC1 Open Pro class. Michael started outside the top ten and diligently worked his way through the pack to finish fifth in the class. Michael's teammate and class competitor, Cory Buttrick, didn't have the same luck where he struggled with a minor mechanical issue.
"The second round didn't go according to plan, I had a motor issue on lap two so I tried to go easy on the bike," explained Buttrick. "That way I could make it as far as possible to salvage some points - luckily it worked out and we were able to finish."
The KR4/Husqvarna team made another podium appearance where Liam Draper was awarded the $100 holeshot award for the XC2 250 Pro class. Draper kept the momentum rolling through the three hours and finished an impressive eighth place out of 29 riders.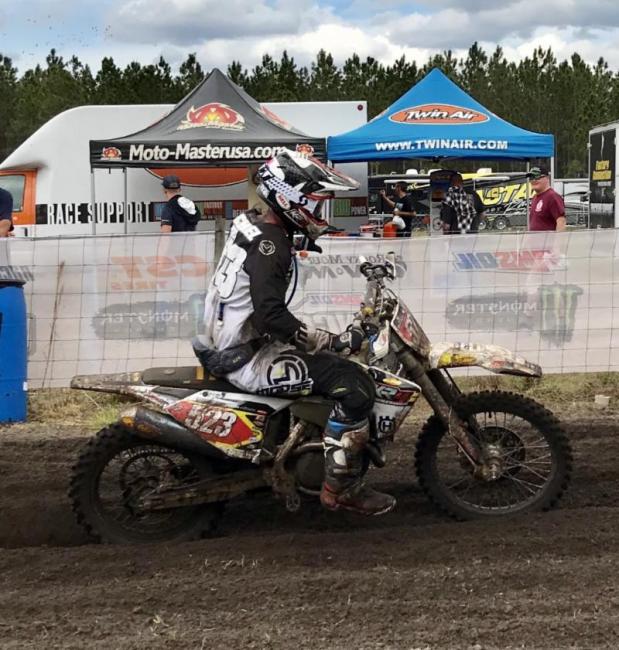 The FMF XC3 125 Pro-Am class also saw a large rider turnout, where Colin Keegan had a break out ride and finished inside the top ten in ninth. His brothers, Conner and Brandon, raced in the 4-Stroke A Lites class were Brandon left with an 11th place plaque and bragging rights within the family over his brother Conner who finished 16th.
Bill Gold broke into the top twenty overall in the 10 a.m. race and finished 5th in the Silver Masters A (55+) class. After making lifelong memories at the Wild Boar GNCC last year, David Espinosa and Esteban Naveda returned to utilize the Arrive-n-Ride Program again this past weekend. The two traveled from the Republic of Equator to try their bid against America's top off-road talent and came away with two top five finishes. Espinosa crossed the finish line fourth, with Esteban right behind him in fifth in the Vet B (30+) class.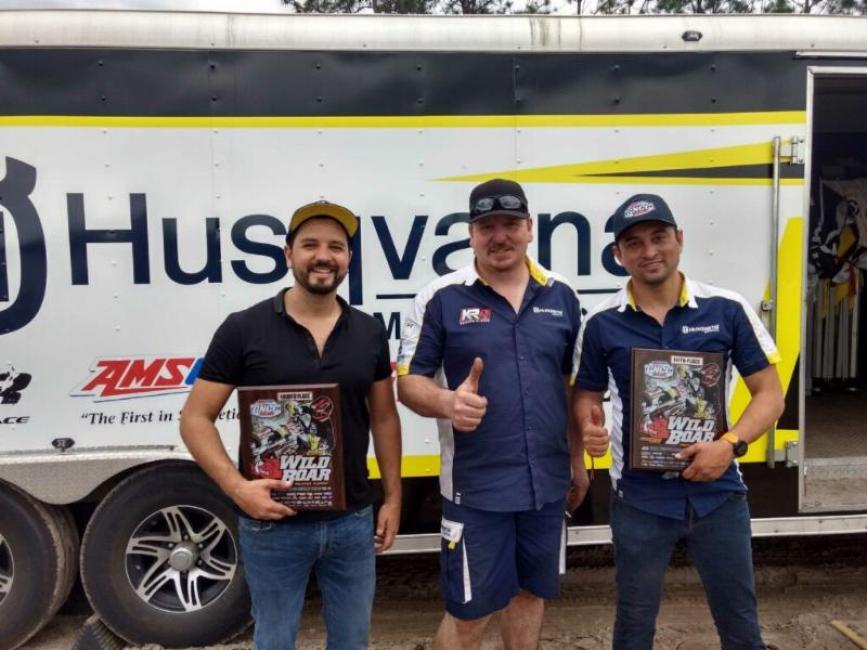 KR4 Performance Team 1 p.m. Race Results:
Layne Michael – XC1 Open Pro – 5th (7th overall)
Cory Buttrick – XC1 Open Pro – 9th (15th overall)
Liam Draper – XC2 250 Pro – 8th (19th overall)
Colin Keegan – FMF XC3 125 Pro-Am – 9th (74th overall)
Conner Keegan – 4-Stroke A Lites – 16th (186th overall)
Brandon Keegan – 4-Stroke A Lites – 11th (93rd overall)
David Espinosa – Vet B (30+) – 4th (128th overall)
Esteban Naveda – Vet B (30+) – 5th (135th overall)
KR4 Performance Team 10 a.m. Race Results:
Tayla Jones – WXC – 1st (1st overall)
Bill Gold – Silver Masters A (55+) – 5th (20th overall)
The next GNCC event will be held this weekend in Washington, Georgia. The General GNCC makes its return to the schedule after a two-year break.
Next GNCC Event: Round 3 – Washington, GA – March 18, 2018
KR4/Husqvarna Team Sponsors:
Husqvarna, Kenda Tire, Moose Racing, AMSOIL, Enduro Engineering, GTR Complex, FMF Racing, Schulz Cycle, Seat Concepts, P3 Carbon, Wiseco Performance Products, ProX Racing Parts, Engine Ice, ODI Bars & Grips, IMS Products, Alco Cleaners, G2 Ergonomics, Twin Air, Moto-Master Brakes, Rekluse, Motion Pro, Cometic Gaskets, X Brand Goggles, TM Design Works, Regina Chains, HBD MotoGraphx, Trail Tech, FPS Racing, Bell Helmets, All Balls Racing, Sidi Boots, Super B Batteries and Nitro Mousse Bibs
About KR4 Performance :
KR4 Performance is a leading professional and amateur race team that participates in the Grand National Cross Country Championships (GNCC), the Full Gas Sprint Enduro Series (FGSE) and the National Enduro Promotions Group (NEPG) series. The 2017 KR4 team took home championships in each respective series. This year Layne Michael will make his XC1 Open Pro debut with the KR4 team, while Tayla Jones will look to repeat her Women's Pro championships. KR4's solid team structure is made up of former GNCC pros, expert motorcycle mechanics, and industry enthusiasts that are 100% dedicated to helping clients achieve their racing goals. Visit www.kr4performance.com for more information. 
About the KR4 Arrive-N-Ride Program :
KR4 is paving the way for the future of off-road racing with its unparalleled Arrive-N-Ride Program, saving riders time, money and hassle. For an affordable fee, KR4 can offset the cost of racing and have everything ready for riders on race day. With the KR4 Arrive-N-Ride program, bikes are prepped by the KR4 team before a race and delivered with gear to riders on race day to the location of their choosing. To learn more or sign up for the Arrive-N-Ride experience, please contact [email protected] or visit www.kr4performance.com. For additional information, follow the team on Facebook, Twitter and Instagram. For the team's photo gallery, visit their Flickr page.