100% Launches Spring 2018 MX Collection
Time
Tuesday, February 6, 2018 | 10:40 AM
100% Launches Spring 2018 MX Collection
New Racecraft and Accuri goggle colorways now available
San Diego, CA (February 6, 2018) - 100% is proud to introduce a new lineup of industry-leading products, including an expanded selection of Racecraft and Accuri goggle colorways. Both of which can be seen on top athletes such as Marvin Musquin, Cooper Webb and the current 250SX West Coast Championship points leader, Aaron Plessinger.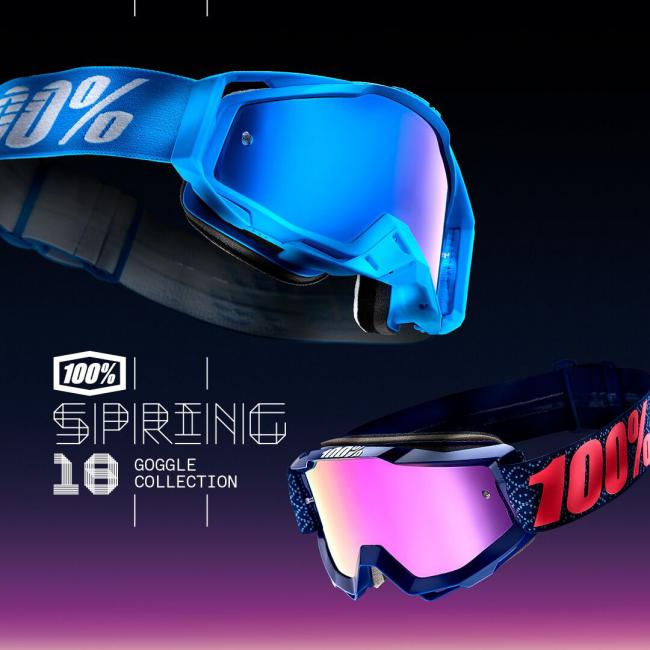 In addition to the new goggle offering, the Spring 2018 collection also includes a fresh selection of men's, women's and youth casual apparel to keep the whole family looking good off the track.
View the complete Spring 2018 collection now at www.ride100percent.com
Connect with us:
Instagram | @ride100percent | @100percent_moto
Facebook | ride100percent
Twitter | @ride100percent
About 100%:
The 100% brand has always been synonymous with motocross Americana and has been linked to many iconic moments that have built the roots and history of what is modern motocross.
Today, as the brand's awareness grows again in Motocross, on Downhill slopes, and BMX tracks, 100% is inspiring a whole new generation of racers and asking them the original tag line, "How much effort do you give?"
Based in San Diego, California, 100% produces a collection of premium goggles, eyewear, helmets, gloves, and sportswear that is designed specifically for today's demanding racer.
100%. The Spirit Of Racing.
For more information, contact [email protected]