Kailub Russell Clinches Fifth Consecutive GNCC Overall National Championship in Ohio
Time
Monday, October 9, 2017 | 3:25 PM
ST. CLAIRSVILLE, Ohio – FMF KTM Factory Racing Team's Kailub Russell wrapped up his fifth consecutive GNCC Overall National Championship on Sunday at Round 12 of the Grand National Cross Country Series in Ohio. Russell's championship-winning performance also marks his 46th career victory, where he now sits tied with Scott Summers for the most overall wins in GNCC history. The success didn't stop there for the FMF KTM Factory Racing Team, as Russell Bobbitt joined his teammate atop the box with a GNCC career-best finish of third overall at Powerline Park.
Kailub Russell came into the penultimate round with a favorable position in the overall championship standings and the Ohio native knew what he needed to do leave a five-time champion. Rain began to fall at the start of the afternoon race but Russell was able to put his KTM 350 XC-F into the second place position off the start. Despite the muddy conditions, Russell quickly vaulted himself into the lead by lap two and he never looked back.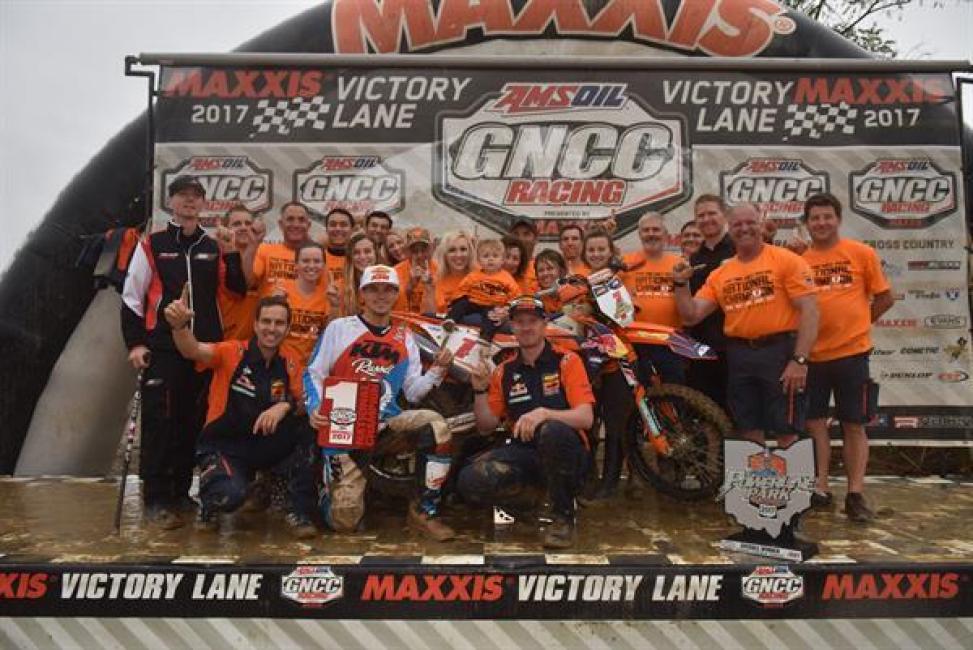 Kailub Russell: "I got off to a top-five start and got into the lead just before the rain started to come down too much. I put in a few solid laps to build a lead and held on to the finish. It was a really fun technical track with the rain and I just had a good time riding my bike today. It's been a great year, I'm happy to get championship win number five and tie the all-time win record."
Bobbitt got off to a sixth place start on the opening lap, where he began his quest for a top five position. Bobbitt was able to climb his way into a top-five position by lap two, where he continued to push his way toward a podium finish. Bobbitt moved into fourth place just after the halfway point and with one lap to go, the five-time AMA National Enduro Champion made his move to overtake the third place position. From there, Bobbitt held strong to capture his first-career podium finish in the GNCC Series.
Russell Bobbitt: "It's been a career goal of mine to get on the GNCC XC1 podium and I'm just happy to get it up there today. Everyone on the team has been putting in a ton of effort and having the guys out on the track today was a huge help - my mechanic did an awesome job pitting me and getting me goggles when I needed them and the other team members pointed out great lines. The rain made it super greasy and the track had to be ridden with a lot of throttle control. The hills got really interesting toward the end of the day with lappers scattered everywhere and the creek jump landing deteriorated and was nasty but I'm super happy to hang in there and get third today."
Antti Kallonen, FMF KTM Factory Racing Team Manager: "I want to congratulate Kailub on his fifth consecutive championship – this year it didn't come easy, it was for sure one of the toughest years. It's been great to work with Kailub throughout his whole career and being with him for every championship step-by-step, and now the fifth one is the best. It's not a one man show so I want to thank the whole team for all of these accomplishments, it doesn't come with just one man doing the work. It's the entire team I want to thank for a successful season and we're looking forward to more!"
Next Event: Crawfordsville, Indiana – October 29, 2017
Overall Results (XC1 Pro and XC2 Pro Lites Combined)
Kailub Russell (KTM)
Josh Strang (HQV)
Russell Bobbitt (KTM)
Grant Baylor (HQV)
Craig DeLong (HQV)
Overall Point Standings
Kailub Russell (290)
Thad DuVall (202)
Ricky Russell (199)
Steward Baylor Jr. (193)
Josh Toth (180)
Grant Baylor (162)
Trevor Bollinger (137)
Craig DeLong (130)
Layne Michael (130)
Russell Bobbitt (122)