Chelsea Taylor
Time
Wednesday, September 27, 2017 | 10:10 AM
FOR IMMEDIATE RELEASE
Chelsea Taylor
(304) 284-0084
[email protected]
AMSOIL GNCC Racing WXC Highlights: Rocky Mountain
ATV/MC Mountaineer Run GNCC
Angel Knox and Becca Sheets Claim Top Honors
MASONTOWN, W.Va. (September 27, 2017) – Masontown, West Virginia hosted 69 different female competitors at the sixth annual Rocky Mountain ATV/MC Mountaineer Run GNCC this past weekend, September 23 and 24. With hot and dry conditions, the racing action wasn't the only thing heating up at the eleventh round of the 2017 AMSOIL Grand National Cross Country (GNCC) series, presented by Maxxis, an AMA National Championship.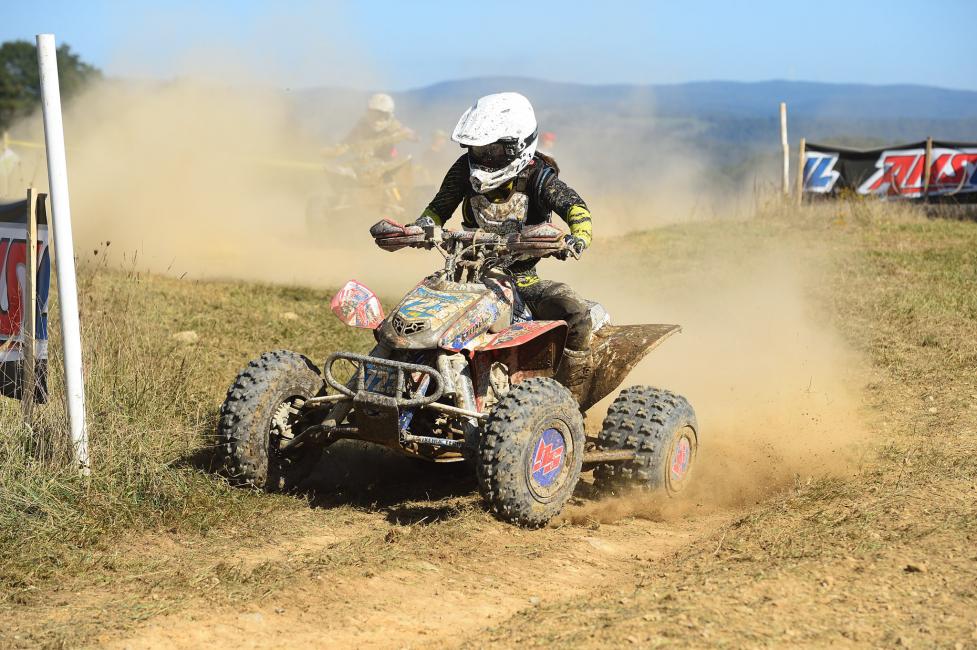 Coming into this round fresh off a podium finish in New York, Pirate MX/Axis/Texiera Tech's Angel Knox picked up where she left off and shot off the start line to earn the holeshot. Ye Olde Cycle Barn's Alicia McCormick was in a close second and made the pass for the lead at the first hill climb. McCormick continued leading for majority of the first lap until getting hung up on some rocks just a mile before the completion of the opening lap, costing her three positions.
Knox took back the lead but felt pressure from Yamaha's Traci Pickens who sat in second. Pickens found a split line in the woods and snuck by Knox. Once McCormick got back on track she quickly worked her way past Knox to the rear wheels of Pickens.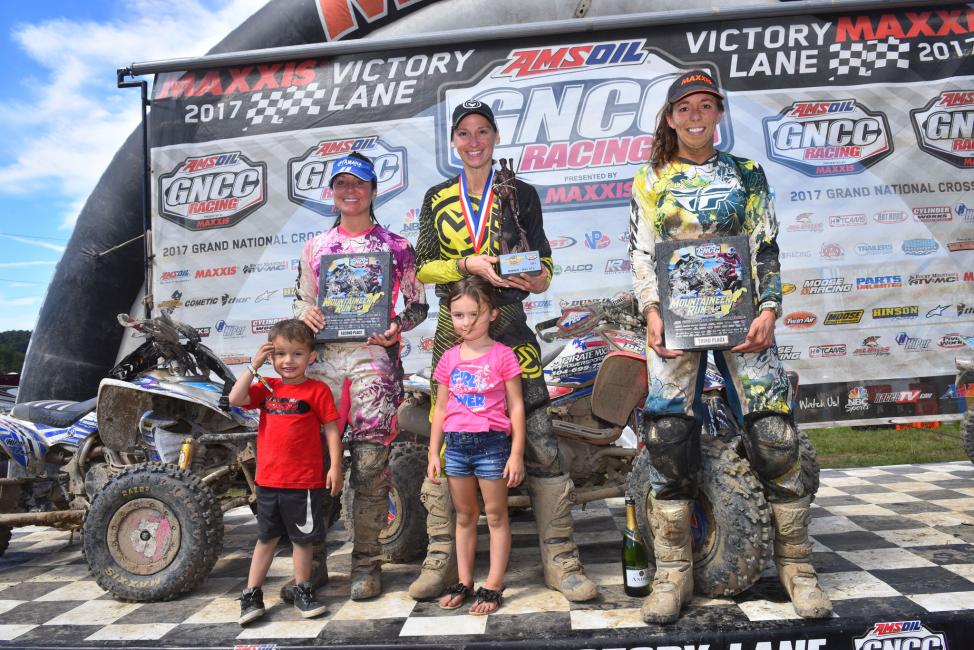 With only two laps remaining, Knox caught back up to the front runners and passed both McCormick and Pickens in a dusty field section as they came up on a few lapped riders. From there, the three were pushing themselves to the limit all fighting for the same number one position.
With only a mile and a half left, McCormick clipped a tree and hurt her hand, but continued the chase, fighting through the pain. Knox managed to hold onto the lead position through the end of the race, with Pickens and McCormick following in second and third across the line.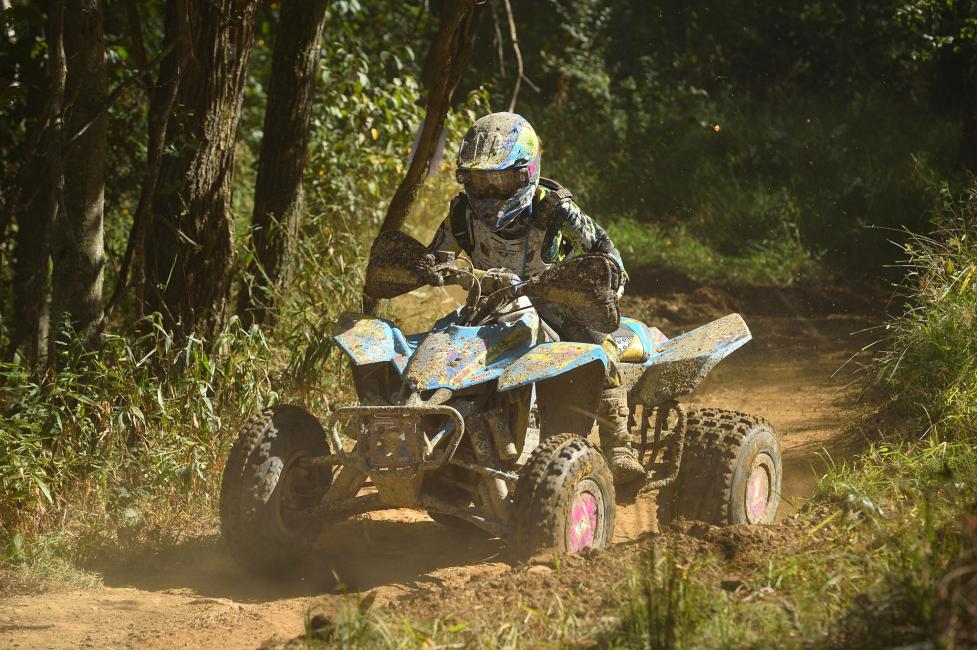 "It was fun and clean racing between three champions and even though I lost my rear brakes with two laps to go it was a fun day of racing," said Knox.
"I felt a huge weight lifted off my shoulders going into this race, not because I've had a great year but because my oldest son, Layne, had just secured the youth overall championship that morning," explained McCormick. "Talk about one proud momma!"
Traci Pickens would also like to give a shout out to her husband Jeff on securing the Vet A class championship, a whole two rounds early! "Jeff's championship made it a great day!" said Traci.
Racing continued on Sunday morning with the two-wheeled bike WXC division. Fly Racing/Maxxis/Seat Concepts/KTM's Becca Sheets took the early lead and continued to lead every lap from start to finish, even after being faced with some mechanical issues.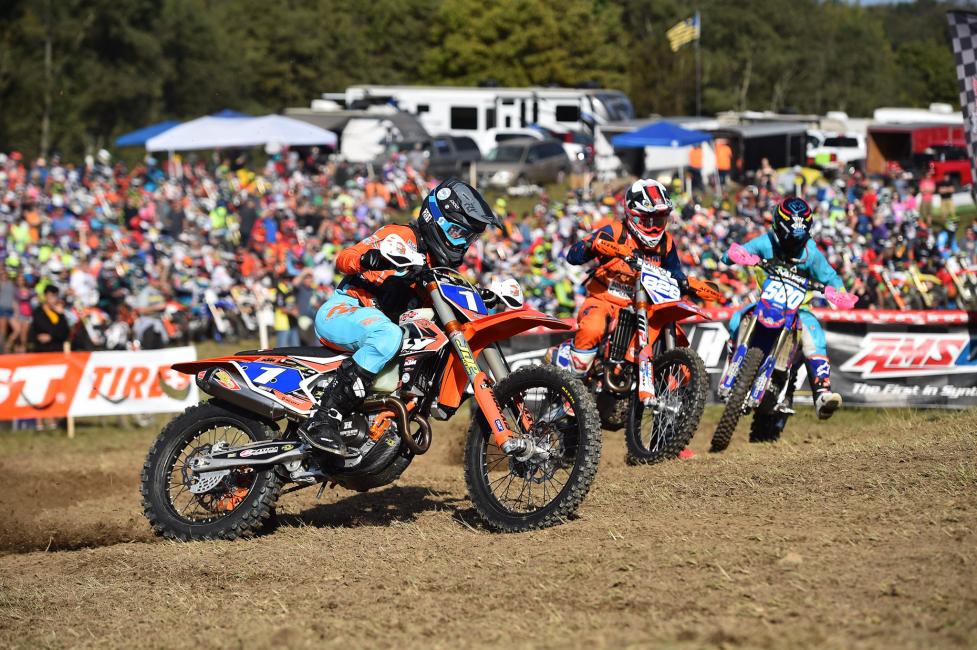 "I had some minor bike issues that cost me some time, but we were able to get them fixed and finished the race out front taking the overall as well," said Sheets. "I just know that I rode really well so I'm pumped on that."
Bonanza Plumbing/Trail Jester's Mackenzie Tricker also had some issues with the lapped riders, allowing The Motorcycle Shop/Kenda/Bell/V3 Off-Road's Brooke Cosner to be within seconds of her on the third lap.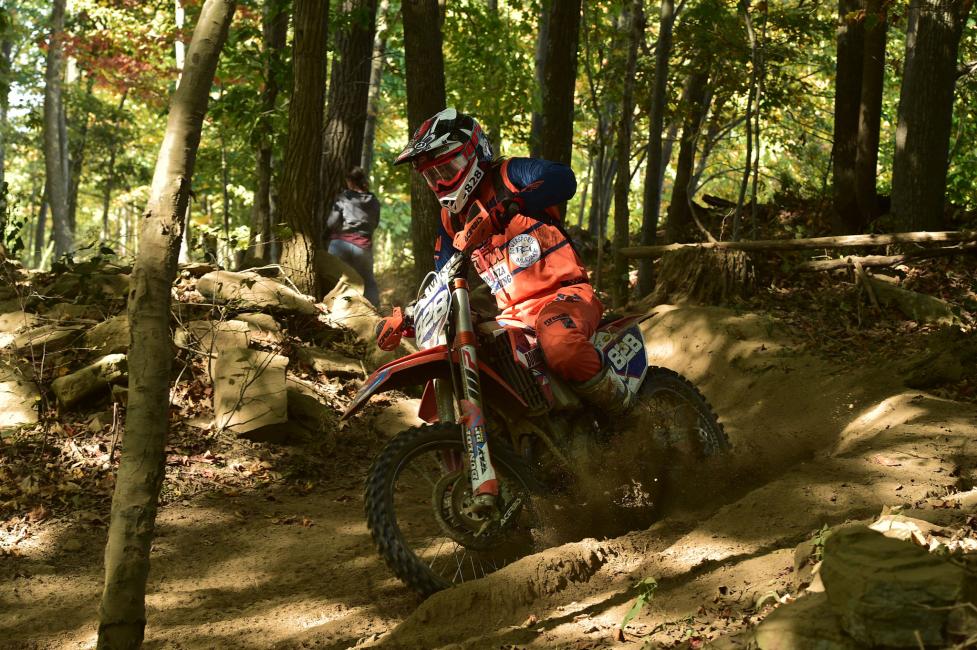 "It allowed Brooke [Cosner] to close within seconds of me and then I really tried to put the hammer down," said Tricker. "I was able to gap her and finish second. On paper it doesn't look great, I didn't win and I race to win, but I'm making huge improvements and these girls have years of experience in these conditions and type of racing so I'm content."
Cosner also had mixed feelings on rounding out the podium in third. "It was definitely a gnarly race for sure with all the dust just lingering and laying all over the rocks," said Cosner. "The track was still good and challenging, but I just didn't have the day I was hoping for."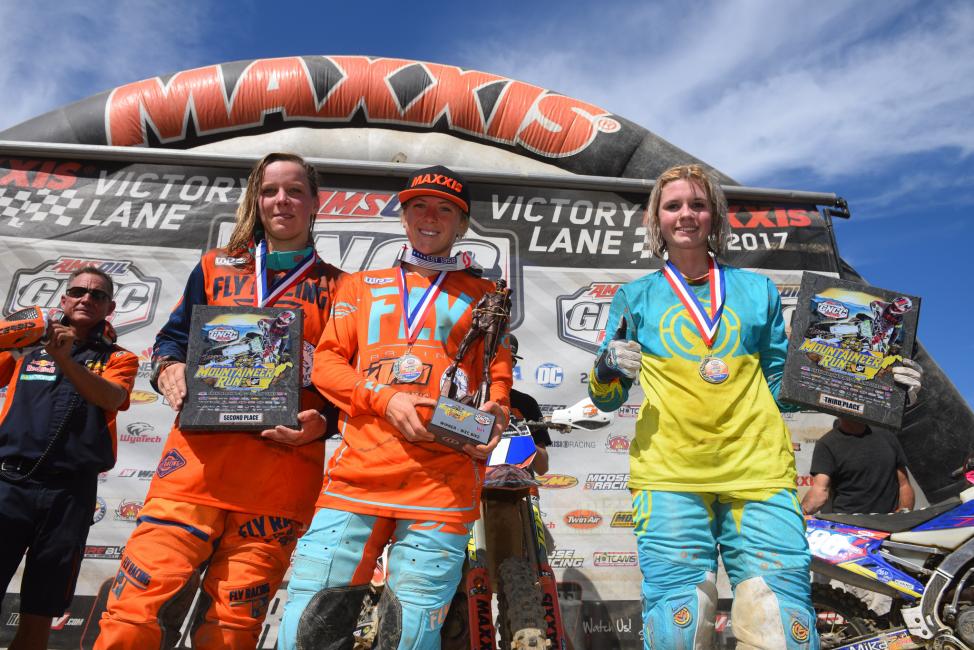 Veronica Whitesell continued her dominance in the UTV women's class on Saturday afternoon earning her fourth consecutive win of the season. Vickie Fowler followed in second.
The 2017 AMSOIL Grand National Cross Country Series travels to St. Clairsville, Ohio in two weeks for the Polaris Ace Powerline Park GNCC on October 7 and 8.
Rocky Mountain ATV/MC Mountaineer Run GNCC
Masontown, West Virginia
Round 11 of 13
September 23-24, 2017
WXC ATV Event Results:
Angel Knox (HON)
Traci Pickens (YAM)
Alicia McCormick (SUZ)
Katelyn Osburn (HON)
Kara Short (HON)
Jaida Phillips (YAM)
Kara Merritt (YAM)
WXC ATV Series Standings:
Angel Knox (176)
Traci Pickens (174)
Katelyn Osburn (165)
Alicia McCormick (156)
Kara Merritt (143)
Kamren Bobb (123)
Jaida Phillips (121)
Melanie Sill (73)
Megan Shepherd (52)
Abbi Troy (49)
WXC Bike Event Results:
Becca Sheets (KTM)
Mackenzie Tricker (KTM)
Brooke Cosner (YAM)
WXC Bike Series Standings:
Tayla Jones (180)
Becca Sheets (173)
Mackenzie Tricker (163)
Brooke Cosner (122)
Rachel Gutish (100)
Kendall LaFollette (80)
Shelby Rolen (74)
Taylor Johnston (46)
Natasha LaChapelle (31)
Rachael Archer (26)
For more information on the series, visit the official website at www.gnccracing.com or call (304) 284-0084. Join the conversation on the series Facebook page, follow us on Twitter and Instagram, and be sure to always hashtag #GNCC.
About GNCC Racing
The AMSOIL Grand National Cross Country Series presented by Maxxis is America's premier off-road racing series. Founded in 1975, the 13-round championship is produced exclusively by Racer Productions. Cross-country racing is one of the most physically demanding sports in the world. The grueling three-hour GNCC races lead as many as 2,400 riders through tracks ranging in length from eight to 12 miles. With varied terrain, including hills, woods, mud, dirt, rocks and motocross sections, GNCC events are tests of both survival and speed. The series draws talent from all over the U.S., Central America, South America, Europe, Japan, Australia and New Zealand. GNCC Racing is televised weekly on NBC Sports and RacerTV.com. For more information, please visit www.gnccracing.com.
About the American Motorcyclist Association
Founded in 1924, the AMA is a not-for-profit member-based association whose mission is to promote the motorcycle lifestyle and protect the future of motorcycling. As the world's largest motorcycling rights and event sanctioning organization, the AMA advocates for riders' interests at all levels of government and sanctions thousands of competition and recreational events every year. The AMA also provides money-saving discounts on products and services for its members. Through the AMA Motorcycle Hall of Fame in Pickerington, Ohio, the AMA honors the heroes and heritage of motorcycling. For more information, visit www.americanmotorcyclist.com. Not a member? Join the AMA today: www.americanmotorcyclist.com/membership/join.
-RP-