Kayla Bolton
Monday, May 25, 2015 | 12:00 PM
Kailub Russell Returns to Center of the Podium at Rocky Mountain
ATV/MC Mountaineer Run GNCC
Nick Davis Earns Second XC2 Pro Lites Win of the Season
MORGANTOWN, W.Va. (May 25, 2015) – Round seven of the 2015 AMSOIL Grand National Cross Country Series presented by Maxxis, an AMA National Championship took place at Marvin's Mountaintop in Masontown, West Virginia for the 4th annual Rocky Mountain ATV/MC Mountaineer Run GNCC.
Factory FMF/KTM's Kailub Russell would get the jump off the starting line to claim the $250 All Balls Racing Holeshot Award, and head into the woods leading the XC1 Pro class. Russell would face a battle with AirGroup/Rockstar Energy/Husqvarna's Ryan Sipes, as they would swap positions multiple times.
"We kind of went back and fourth a few times the next couple laps and it was just tough the first few laps reading the trail and not knowing where some rocks were that you could hit," said Russell.
On lap three, Russell would make the pass stick and go on to take the checkers and his sixth overall win this season. Russell holds the championship points, 79 points ahead of N-Fab/AmPro Yamaha's Grant Baylor.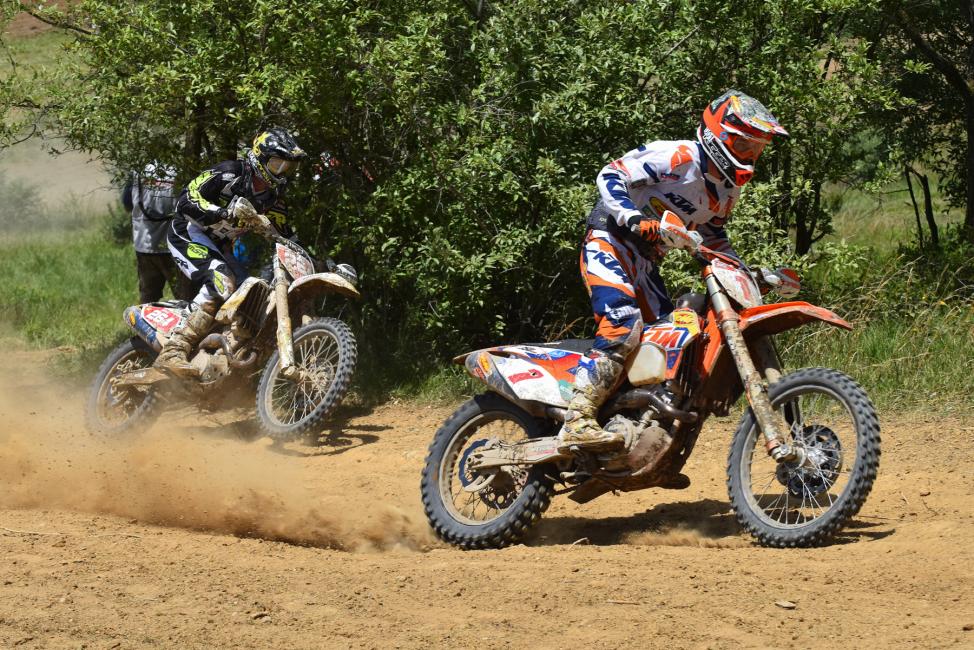 Ryan Sipes has been on a steady incline as he continues to show improvement each round. Sipes, who lead the first two laps and battled with the defending champion Russell, earned his best finish of his GNCC career at the Mountaineer Run with a second overall. "Me and Kailub had a good time out front there, that pace was fun definitely wore me out towards the end of the race," said Sipes.
Rocky Mountain ATV*MC/KR4/FAR's Thad DuVall finished an impressive third place overall after crashing two weeks ago in New York, which ended his day. DuVall started the day mid-pack, but would make a two-lap charge to finish in third place.
Grant Baylor began the day just outside the top five as he pushed his way through the pack, landing just outside of the overall podium. Baylor moves into second place in the championship point's standings with his fourth place finish and due to the absence of Rockstar Energy Husqvarna's Josh Strang. Strang, who raced in New York, was noticeably absent in West Virginia due to a separated shoulder he suffered while practicing just before the Dunlop Tomahawk GNCC.
After winning two weeks ago in New York, JCR Honda's Chris Bach started out just inside the top five, before battling with Baylor and ultimately receiving a fifth place finish. Baylor's teammate N-Fab/AmPro Yamaha's Jordan Ashburn, who had a rough ride two weeks ago, held down the sixth place position in XC1 and seventh overall until the checkered flag flew.
After mechanical issues at the last round and a DNF, Moto Tech KTM's Steward Baylor put in an impressive ride to finish seventh in XC1 and ninth overall. Rockstar Energy Husqvarna's Andrew DeLong had a great jump off the starting line, heading into the woods around third. DeLong would run third the first two laps, before pulling into the pits to have adjustments made from what looked like was caused by a crash. DeLong would lose valuable time and positions during this, and would finish the day fifteenth overall, but eighth in the XC1 class.
Funmart Cycle/FLY/RidePG.com's Adam Bonneur would run inside the top ten all afternoon, swapping positions with Maxxis/FLY/Factory Connection's Chris Douglas. Bonneur would finish the Mountaineer Run GNCC ninth in XC1, while Honda's Takeshi Koikeda rounded out the top ten in XC1.
In the XC2 Pro Lites class, Husqvarna Support Rider Craig DeLong earned the $100 Hot Cams XC2 Holeshot Award and would run inside the top three on the first lap. DirtWise/Maxxis/KLIM's Jason Thomas would soon move into the lead, until a timely pit-stop was necessary on lap five to change Thomas' back tire.
Rocky Mountain ATV*MC/KR4/FAR's Nick Davis would start the day in second behind Thomas. Davis pressured Thomas for five laps, where he would then move into the lead. Davis would not look back and would earn second win of the season.
Raines Riding University/Atlas Yamaha/OffRoadViking.com's Ricky Russell would continue his consistent season with a second place finish in the XC2 class, and eighth overall. Ride On Cycle/Moto Playground's Tegan Temple would follow up his first podium finish in New York with another podium finish in West Virginia this weekend as he rounded out the podium in third.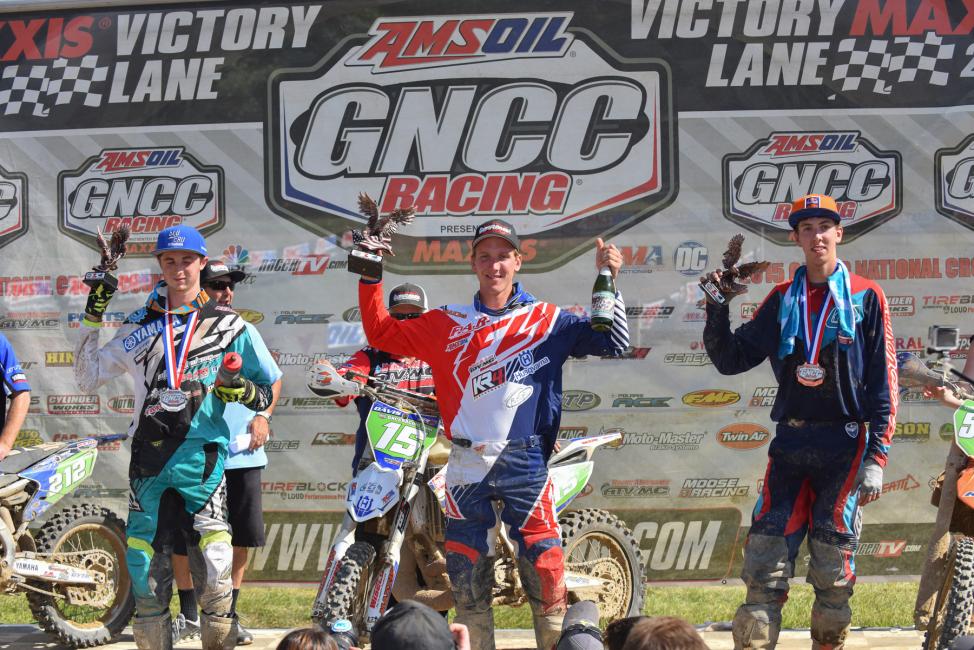 The 1 p.m. race was broadcast LIVE in its entirety on RacerTV.com and can be viewed as an archived video now online by visiting the GNCC LIVE page onRacerTV.com. Race coverage will also be broadcast on NBCSN on Saturday, August 1 at 12:30 p.m.
The 2015 AMSOIL Grand National Cross Country Series resumes June 6 and 7 with the Wiseco John Penton in Millfield, OH. For more information on the series, visit www.gnccracing.com.
Stay up-to-date with exclusive content from the AMSOIL GNCC Series by following the series Facebook, Twitter and Instagram.
Rocky Mountain ATV/MC Mountaineer Run GNCC
Masontown, WV
Round 7 of 13
Sunday, May 24
XC1 Event Results:
Kailub Russell (KTM)
Ryan Sipes (HSQ)
Thad DuVall (HSQ)
Grant Baylor (YAM)
Chris Bach (HON)
Jordan Ashburn (YAM)
Steward Baylor (KTM)
Andrew DeLong (HSQ)
Adam Bonneur (KTM)
Takeshi Koikeda (HON)
*Overall National Championship Standings:
Kailub Russell (205)
Grant Baylor (126)
Josh Strang (118)
Chris Bach (115)
Thad DuVall (102)
Ryan Sipes (97)
Jason Thomas (75)
Jordan Ashburn (74)
Ricky Russell (60)
Layne Michael (60)
*Indicates that the Overall National Championship Standings will determine the 2015 National Champion.
XC2 Event Results:
Nick Davis (HSQ)
Ricky Russell (YAM)
Tegan Temple (KTM)
Jason Thomas (KTM)
Jesse Groemm (BET)
Layne Michael (HON)
Trevor Bollinger (KTM)
Austin Lee (YAM)
Craig DeLong (HSQ)
Ryan Lojak (YAM)
XC2 Series Standings:
Jason Thomas (167)
Layne Michael (127)
Craig DeLong (121)
Ricky Russell (119)
Trevor Bollinger (113)
Cory Buttrick (94)
Tegan Temple (90)
Nick Davis (87)
Austin Lee (77)
Callan May (65)