Jason Weigandt
Rnd 9 - GEICO Mountain Ridge ATVs: Borich is Back
Sunday, July 6, 2008 | 12:00 AM
Borich Back in Victory Lane at GEICO Mountain Ridge GNCC
Close racing results in 7th place finish for points leader Ballance
Somerset, PA (July 5, 2008) -- It took four months, but Rockstar/Yoshimura Suzuki's Chris Borich finally charged back into victory lane in the Can-Am Grand National Cross Country Series. On a wild race day in his home state of Pennsylvania, Borich found his old mojo and topped GT Thunder Yamaha rookie Branden Sommers and XCBob.com's Matt Smiley for the GIECO Mountain Ridge GNCC win.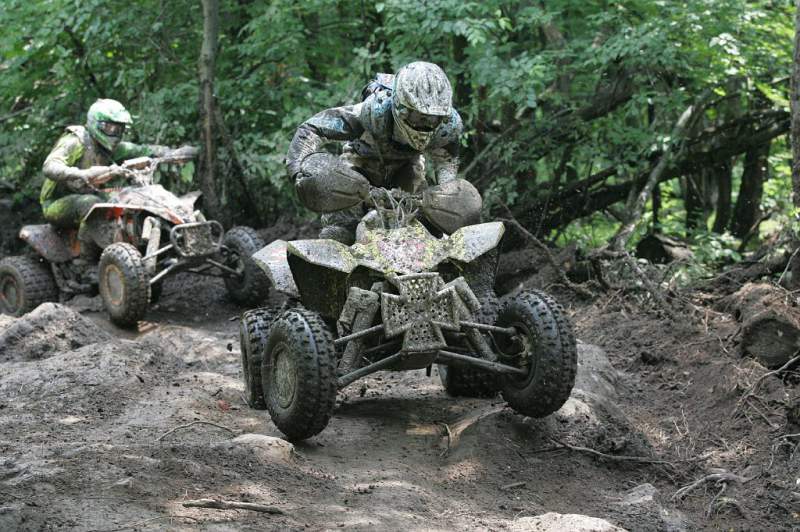 Chris Borich is back.
 
After winning the season-opening GNCC back in March, the perennial GNCC Championship contender has struggled this season. "Nothing has really been wrong all along," said Borich. "We just had a lot of muddy races this year and I've had a lot of bad luck. I knew I could get this new Suzuki back up here. It was a fun race today, we were battling the whole time."Â
The GNCC ATV pack battled fiercely again, with the top 12 riders separated by just 20 seconds at the end of the first lap. Borich suffered a bad start and ended lap one in seventh, but he worked his way into the lead by lap three. Defending GNCC Champion Bill Ballance led early after taking the ITP Tires Holeshot Award, but steering problems brought him into the pits for repairs, dropping him to seventh at the finish. Borich fought with Sommers for the lead on the last lap, while Smiley won out on a fierce duel for third, with GT Thunder Yamaha's Johnny Gallagher taking fourth after sneaking by KTM's Taylor Kiser just a few turns from the finish.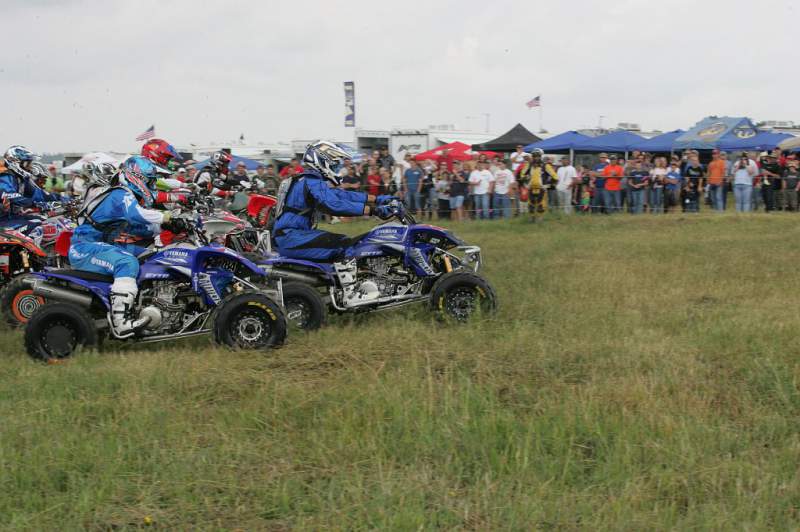 Sommers (left) and Ballance (right) were up front early, but steering troubles dropped Ballance back.
Sommers stayed in the fight and finished second.
Chris Jenks scored his best result of the season on his Warnert Racing Can-Am with sixth. Ballance was seventh and Chris Bithell finished eighth on another Warnert Racing Can-Am. Team Excell Motorsports Bryan Cook was in the hunt for his second win in a row. He led the race at the halfway mark, but a few mistakes dropped him to ninth. Yamaha's Brandon Ballance rounded out the top ten. KTM's Adam McGill, the early season points leader, ran into a few mechanical gremlins and ended up 17th overall.
GT Thunder Yamaha's Don Ockerman won the XC2 Class over Mark Notman and Brian Wolf. Eric Hoyland captured the Rekluse Holeshot Award.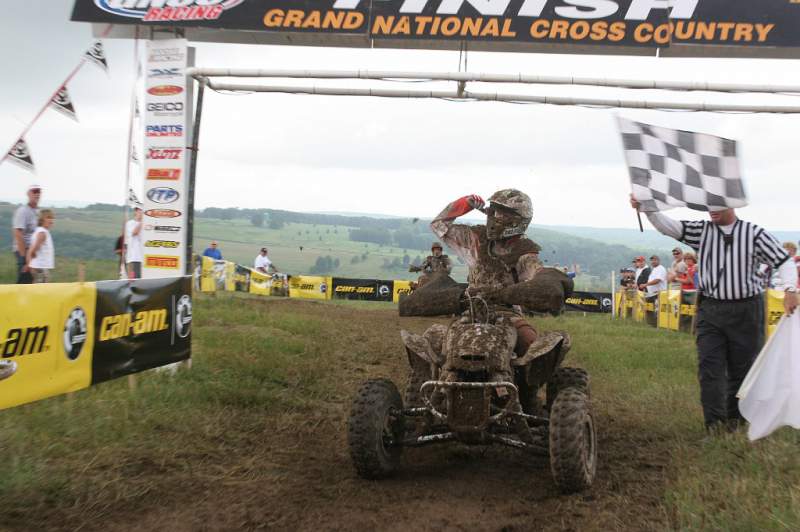 Angel Atwell took her fifth ATVRiders.com Morning Race Overall Win of the season.
The morning race came down to another battle between Angel Atwell and Traci Cecco, with Atwell coming out on top again to capture the ATVRiders.com Morning Race Overall Award. Atwell now carries five wins into the summer break on her Tom Clark Motorsports' Honda. Cecco was second with Kristin Atwell, Angel's niece, on the podium again in third.
Female riders didn't leave their winning to the morning race. In the Youth race, Cheyanne Shadron scored a huge win to top the overall podium, ahead of Matt Harris and Michael Spalding.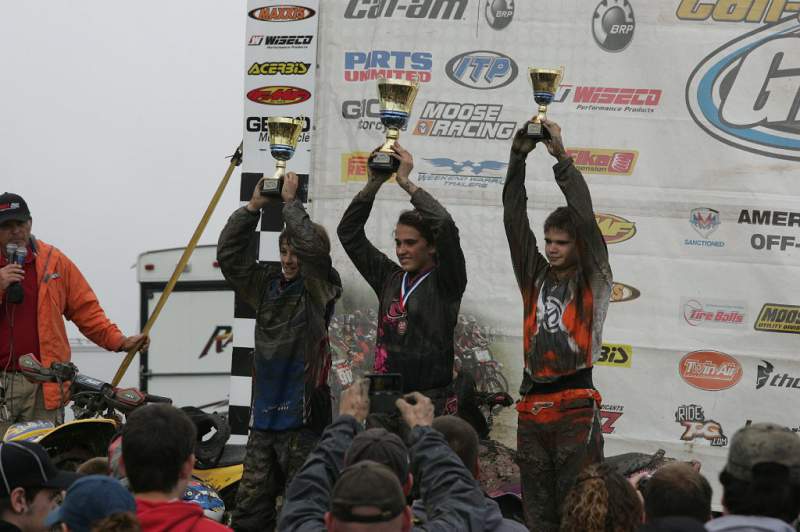 Cheyanne Chadron (center) topped the boys to win the Youth Race Overall.
The GNCC UTV Racing Series enjoyed its second round of racing, with over 40 machines doing battle on the Mountain Ridge course.
The race featured nearly perfect weather, with a slight drizzle on Saturday morning cutting back on dust. The course took the riders through a variety of terrain, from high-speed passes through fields, to massive rock gardens.
The Can-Am Grand National Cross Country ATV Series begins its annual summer break, and racing will resume on September 13 and 14 with the Snowshoe GNCC in West Virginia.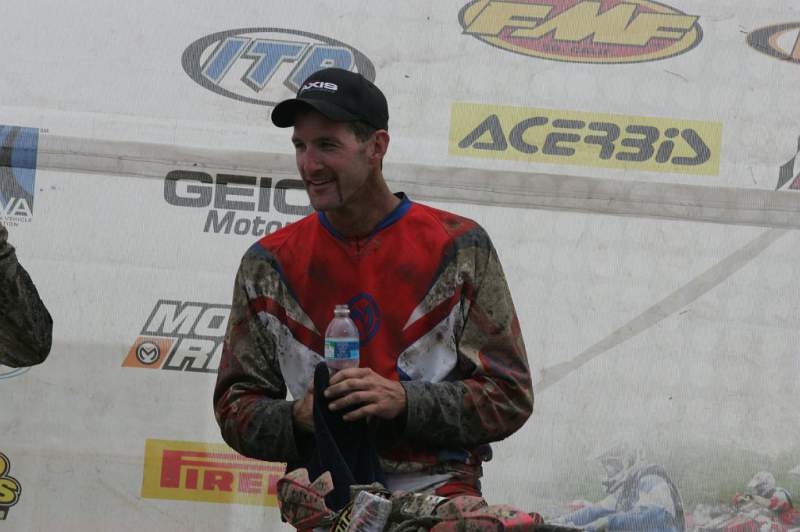 Matt Smiley was indeed smiling after finishing third.
For full results, CLICK HERE.
Photos by Jason Hooper: [email protected]
About GNCC Racing:
The Can-Am Grand National Cross Country series is America's premier off-road racing series. The 13-round championship series is produced exclusively by Racer Productions and has run since 1973. Cross country racing is one of the most physically demanding sports in the world. The nearly three-hour long GNCC races lead as many as 1,800 riders through tracks ranging from eight to twelve miles in length. With varied terrain including hills, woods, mud, dirt, rocks and motocross sections, GNCC events are tests of both survival and speed. GNCC Racing will air weekly television shows on the Versus network starting August 2. GNCC featured sponsors include Can-Am, Parts Unlimited, Moose Racing, Maxxis, Pirelli, Wiseco, Acerbis, Elka, Geico, Klotz, FMF, ITP and Weekend Warrior, and riders compete for over $3 million in series prizes and contingency money. Associate sponsors include Alpinestars, Cometic, HiPer Technology, Laegers, Moose Utility Division, The National Guard, Powersport Grafx, REM, Scott, Thor, Tire Balls, Twin Air, Ogio, Rekluse, and MotoTee's. For more information log on to www.gnccracing.com.