Jared Bolton
TimeThursday, February 23, 2017 | 1:55 PM
Welcome to Quick Fill.
We're quickly approaching the end of the GNCC Racing off-season as the opening round at Big Buck is just over a week away. The first part of the track crew heads out tomorrow morning with Ryan Echols and Bob "The Builder" Pierson heading to Florida to check out a few things there, while I'll be heading to Big Buck to get a jump start on the course layout there and I'm also going to take part in some off-season racing on Sunday!
For us, this means the off-season is already coming to a close. For the majority of GNCC racers, this means you've got just one more week to get the final touches put on everything. Some may say that the off-season has gone by slow, while others may say it has flown by. I think it depends on how busy you've kept yourself and how prepared you are for the upcoming season. Regardless, the time has come to get things rolling and we'll be going racing before we know it!
You do have a few more opportunities to get in some last minute racing this weekend. The Mid-East Hare Scramble Series is in action at Moto-Vated Sports Complex in Gaston, South Carolina while our friends at SETRA will be hosting the Sandlapper Enduro just up the road in Salley, South Carolina. Both of these tracks are a good bit on the sandy side, which isn't what you'll encounter at Big Buck, but they'll make great practice for round two in Florida.
The Mid-East races are pretty similar to GNCC with quads Saturday and bikes Sunday. You can get all the info on that event at mideastracing.com, and the SETRA Enduro is a bike-only event on Sunday, which you can get all the info on at setra.org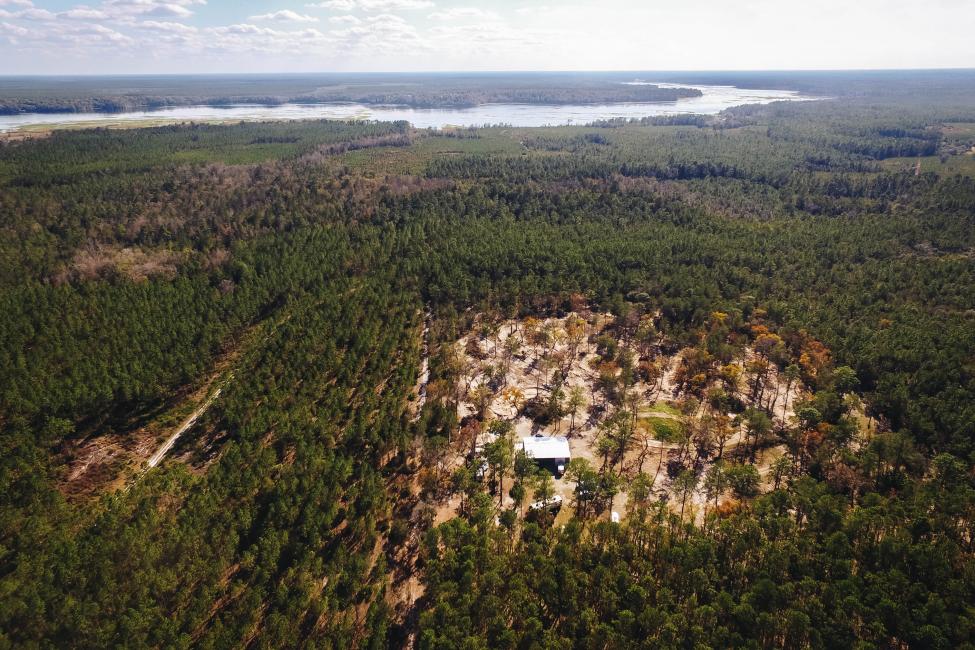 Weekly Updates (Chelsea Taylor)
In just one week, we will be southbound on I-77. While this off-season seems to have disappeared in a blink of an eye, I'm excited to get back into the swing of things and see all our racers. It's always great to reconnect with old friends, but I think I'm most excited to work with our new staff members. You'll be seeing a few new faces at registration, on the track crew and with Racer TV.
Last year's podium announcer, Matt "Megawatt" Watson announced at the banquet that he would no longer be working with GNCC. It was a tough decision, but it will benefit his family tremendously. His daughter is quickly growing up, and if you're a parent reading this then you know just how important it is to be with your children at all of their milestones and that's hard to balance while working the races.
With that being said, we have actually added two new announcers to our crew. Mikey Waynes will be taking Mega's position and announcing the Youth, 10AM and 1PM races, along with the podium interviews. Tyler Shepherdson will be announcing the UTV and micro races, in addition to facilitating the school visits and being a camera operator during the 1PM races.
RacerTV is making a big push to focus on the amateur racers and families. We just had a meeting yesterday to brainstorm ideas for the first couple of races, but if you have any story ideas that would make for an interesting package send me an email at [email protected] and we can see what we can do!
This week I have been extremely busy pushing out pre-season press releases not only for GNCC, but also ATVMX and RCSX. On Tuesday we released an announcement welcoming back our returning GNCC sponsors, and I was surprised when I did that math that we have 40 returning companies! As you may know we have a full sponsor row at each event and if you're wondering if a company that you use will be back click HERE.
While you're making your last minute plans for next week don't forget that camping and practice is being offered from March 6-24. That means you are covered until the Cannonball GNCC! If you have a camper this is a perfect way to save on expenses and make a mini-vacation with your trip. Camping is $20 for the first night, and then $10 each additional night. Practice follows the same fee schedule. Just make sure to call ahead and reserve your spot! Call Anthony at (478) 456-662 to let him know the dates you will be coming.
If that sounds like something you are interested in, then you may also like this deal too! Ranch Russell will have a one-day riding school where racers can freshen up their sand skills for the Wild Boar GNCC. It takes place on Thursday, March 9 from 8am-5pm right on Kailub Russell's private track! Of course Kailub will be there, but Charlie Mullins and Russell Bobbitt will also be joining! The cost is $350 per rider. For all the details, click HERE.
Pre-registration is still open for Big Buck. Your race fee is cheaper, you get a $20 gift card to Rocky Mountain ATV/MC and you'll skip the line at rider registration… All three points make pre-registration a great idea!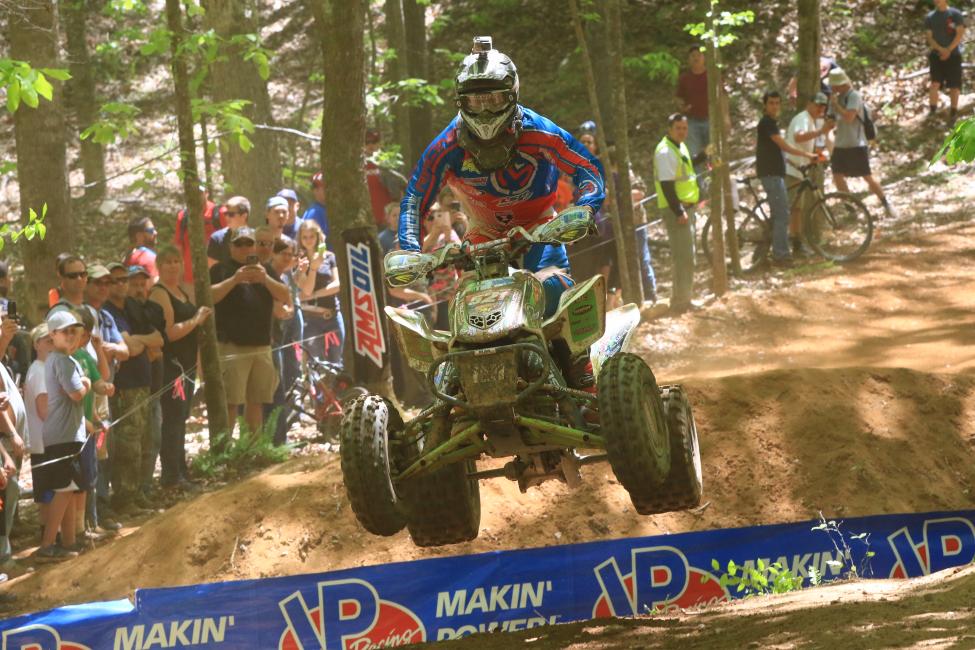 2017 Season Begins Soon! (Rodney Tomblin)
We're only a few days away from the start of the 2017 GNCC Racing season and admittedly it has snuck right up on me. It dawned on me this morning that in one week we will be putting the finishing touches on track layouts, pit structures, signs, banners, sound systems and RacerTV camera shots for the Big Buck GNCC. It is the opening round this season and we welcome back co-sanctions with the fine folks of SETRA. To say I got a little nervous realizing how close it really is may be an understatement.
On the ATV side of things I can honestly say I do not know what to expect. If one reflects on the past couple of seasons then the obvious no brainer is that Walker Fowler will win a third consecutive championship. However, if one looks at the big picture they may see that with a little luck for the other riders they could stand to challenge for the title. The hard part is not having to beat Walker, but it is having to beat him consistently. That's the hard part because since Walker has gotten his machines dialed in he seldom finishes without a win or at least decent position, making him even harder to beat for the title. The key to beating Walker will be being as consistent as he is and hope to best him in the end.
As far what's going on in the GNCC Racing Nation, Adam McGill is on his way to a first this coming weekend. Adam will be racing a Mid-East Hare Scramble race and says he has never been able to do one in years past but he is actually driving up today to South Carolina to teach a school tomorrow and race this weekend. Mid –East is the brainchild and baby of Buren Hamrick, former GNCC Assistant Trail Boss. Buren continues promoting races, which many GNCC top stars use to hone their skills for the national circuit. Adam said he is looking forward to riding, teaching and says that we will recognize a lot of this type stuff in the future.
As far as prep for the upcoming season, Adam says, "Contrary to popular belief, Chris Borich and Johnny Gallagher are not the only ones training in Florida!" Thinking to myself I said "just roll with it Rodney" which led me to a few friendly insults back and forth with Adam and a couple of big laughs. In the end he says "I've been training hard, testing and riding as much as I can, riding the road bike and getting ready for the new season. I'm probably in the best shape of my life and I'm ready to come out swinging for the championship! Is that politically correct enough for you?" As it appears Adam is still Adam and we really don't know what the future holds but it should definitely include Adam McGill in the mix.
Speaking of Johnny G and former Six-Time GNCC champ Chris Borich, the duo have been par for the course training and pushing to new limits. I know the hype leading into last season was great and put a lot of pressure on Borich making the move back Suzuki, but all the quiet and lack of hype may be the fuel he needs this season. Time will tell if Chris has put the extra work required this season or if he is going to rest on his knowledge of what he already was. I feel he will rise to the occasion and that he has some tricks up his sleeves that may surprise a lot of people.
Johnny told me, "I am grinding away daily with Chris and Chad (Wienen) as usual. Chris and I have been hitting Ranch Russell once or twice a week as well. I am also just finishing up Becca's new race bike since it's been raining some." So it sounds like Johnny G is on par working and training. If you recall, Johnny is a monumental part of the WXC champion Becca Sheets program and seems as dedicated to her program as he is dedicated to his own. It's also cool to know the boys are all getting together with Kailub Russell and the limits the ATV and bike guys can push each other to. It's also great to know that the two and four-wheel guys respect one another's disciplines and work to help each other.
The coming days will go quickly and anxieties will run deep, the one thing to remember is to just remain calm and even though it is the opening round it is just another race. If you approach it like that then it may ease some of the stress. The main thing is to get there, be healthy, have fun and enjoy being back with your friends and family of the GNCC Racin' Nation.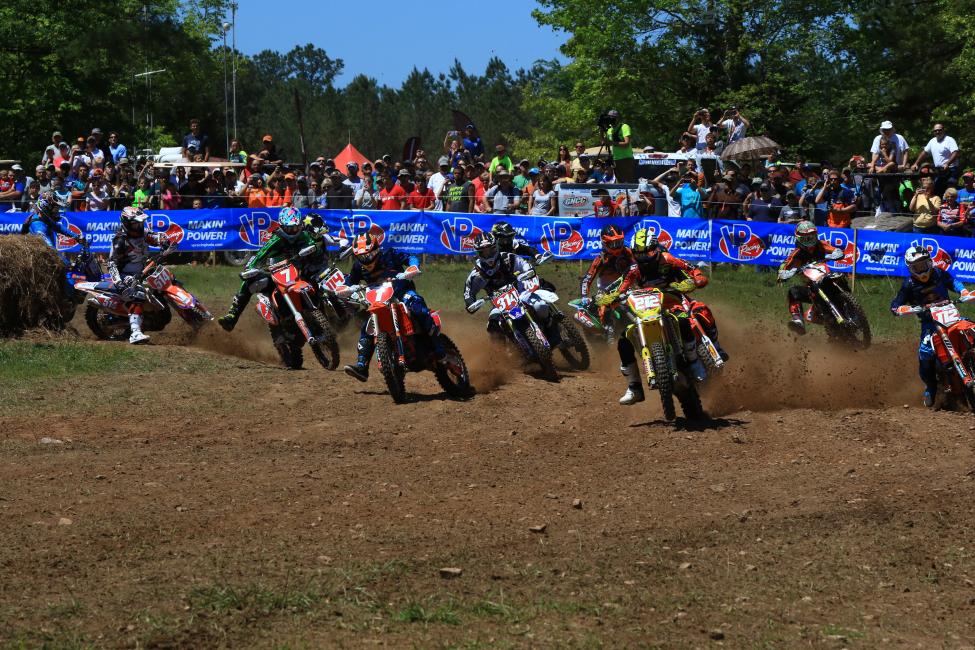 2017 Pro Preview (Jared Bolton)
With round one just over a week away, now is a great time to start looking ahead to the Pro class racing we can expect in the 2017 GNCC Racing season. Obviously the main focus is on the XC1 class, but the XC2 and the new XC3 classes are going to be producing some great racing of their own. Kailub Russell comes into round one the obvious favorite with four championships under his belt and starting the "drive for five" but he will definitely have his work cut out for him.
Last year Kailub made history by claiming the most wins of any bike rider in a single season. This establishes Kailub as a huge favorite in 2017, but also serves as fuel for the rest of the XC1 class to step up as the one to challenge Kailub for the title. Josh Strang is one of the favorites as a challenger to Russell. Strang notched three wins last season and finished the year runner-up. Thad Duvall also came on strong late in the year after a few slight mechanical issues early. Duvall also knows how to win a GNCC event as he's done it a couple of times in the past. By joining the Factory Husqvarna team this season, it could also give Thad the additional boost in support and confidence that he's been looking for.
Jordan Ashburn landed a ride with the Factory Beta team this season after putting together a basically privateer effort last season with support from Westfield Powersports. Jordan had an excellent season and much like the boost Thad received, the additional support and confidence boost could be huge for Jordan. Ricky Russell and Grant Baylor will also be making changes for 2017 with Ricky heading to the N-Fab AmPro Yamaha team and Grant heading to KR4 aboard a Husqvarna. The Yamaha is familiar territory for Ricky as he spent several years aboard the blue machines. For Grant, the Husqvarna is pretty much a new venture but given his past experience aboard a KTM, I'd say he won't have much trouble adjusting to the Husky. As for big brother Steward Baylor, he'll be racing with the same deal as 2016 as a part of the SRT/KTM team and has been looking to improve his results from the past few years. Stu very well could step up and surprise a lot of people.
Chris Bach had a tough 2016 after a mid-season injury sidelined him for several races. Prior to the injury, a pair of podium finishes and three additional top five finishes were shaping up to be a pretty decent season for Bach. This year, he'll also be making a change and switching to an orange bike once again as part of the RPM/KTM team. While Chris claimed his first GNCC win as part of the JCR Honda team in 2015, some of Chris's best end of season finishes have come during his past seasons riding a KTM. Chris finished the 2010 season fifth overall aboard a KTM, and then finished the 2013 season third overall aboard a mostly privateer effort on a KTM.
Last year's XC2 champ, Trevor Bollinger, will be stepping up to XC1 in 2017 and could also prove to be a challenger for race wins and maybe even a title contender. What's this mean for XC2? Well, it's going to be an all-out battle for the title between a number of racers whom all know how to claim XC2 wins already. Coastal Racing Husqvarna teammates Craig Delong and Layne Michael will be two of the favorites for the title.
Of course, they're not the only ones who will be contending for that title. Josh Toth landed a ride with the N-Fab AmPro Yamaha team last season and claimed the win in his first race aboard the Yamaha. Toth's fellow Connecticut rider, Ben Kelley, landed a KTM Support ride this season and that boost in support could help establish him as a title contender as well. There are always a number of new XC2 racers each season as well. This year it sounds like 4-Stroke A Lites class competitors Braxton McGee and Triston Landrum will both be joining the XC2 ranks this season as well.
There's also the addition of the FMF XC3 Pro Am class this season, which will be exclusively for riders aboard 125cc motorcycles. This could end up being one of the coolest classes to watch unfold. The question right now is, who is going to be racing it? Well, we've heard some rumblings from a number of super fast racers from far and wide who are interested in racing this class, so it very well could prove to be one of the most popular class additions we've seen.
All in all, the 2017 GNCC Racing season is shaping up to be one of the best seasons that we've seen in the history of GNCC Racing. It's going to be great to watch it unfold, so stay tuned!
Headlines
GNCC Welcomes Four Co-Sanctioning Series to 2017 Schedule
GNCC Racing Welcomes Returning Sponsors for 2017
Tuesday Toolbox: Dustin Hendershot
NBCSN Television Schedule Announced for 2017 AMSOIL GNCC Season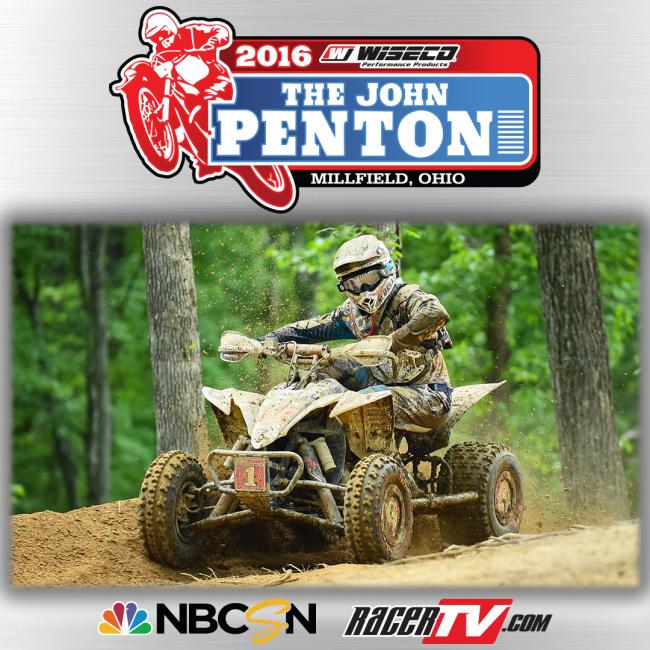 What's New on RacerTV.com?
Throughout the year, RacerTV broadcasted the most exciting action from each round on NBC Sports Network (NBCSN) after each event in a 30-minute highlight show. Each show focused on the most intense racing action of the weekend, either pro ATV or bikes. An additional 13 brand-new full-length highlight episodes featuring the discipline that were not displayed on NBCSN are also available to view on RacerTV.com. To view all 26 highlight shows, click HERE.
News from GNCC, Sponsors and Riders
Ranch Russell One Day Riding School
Looking for somewhere to ride before Wild Boar GNCC to freshen up your sand skills?
Come ride with the best in the business on Thursday, March 9th! Kailub Russell, Charlie Mullins, and Russell Bobbitt are teaming up for the first time ever to bring you a one day riding school to help you prepare for the daunting sand track at Wild Boar. This riding school will be held at Russell Ranch, located 6 miles from the track.
Cost is for the day is $350 per rider. $100 deposit due with application.
A rider's pit crew are welcome to join their rider for the seminars and lunch (+$10), however they will be required to stay at their vehicle during riding sessions.
To sign up email [email protected].