Jared Bolton
TimeThursday, February 9, 2017 | 2:20 PM
Welcome to Quick Fill.
Time is flying by and we're now just 23 days away from going racing at Big Buck! We've finally hit that point in the year where things are really beginning to take off and we're getting a few teasers of the upcoming season. Between off-season racing and a bunch of social media posts, the buzz is starting to grow a bit! These not only give us a little insight into what's going on, but it will also just generally get you pretty excited to get back to GNCC Racing.
While we're on the subject of the 2017 season, if you're an XC1 or XC2 racer or are a current Pro class competitor planning to race the new XC3 class on the bike side and haven't already made your pro pit arrangements, you need to get in contact with Justin Perkins immediately. Drop him at line at [email protected] and let him know you'll be racing a Pro class.
Speaking of Pro racers, former XC1 competitor Chris Douglas has been hard at work with his new company, Motospec. He recently just put out his first product, Motomat, which is a magnetic backed foam pad that attaches to your vehicle and lets you lean your dirt bike, bicycle or whatever against it and not scratch your paint. I told Chris the old Nissan pickup I had when I was a teenager would have loved something like that because it had a good number of dings and scratches left from handlebars. Check out the Motospec website at www.motospecinc.com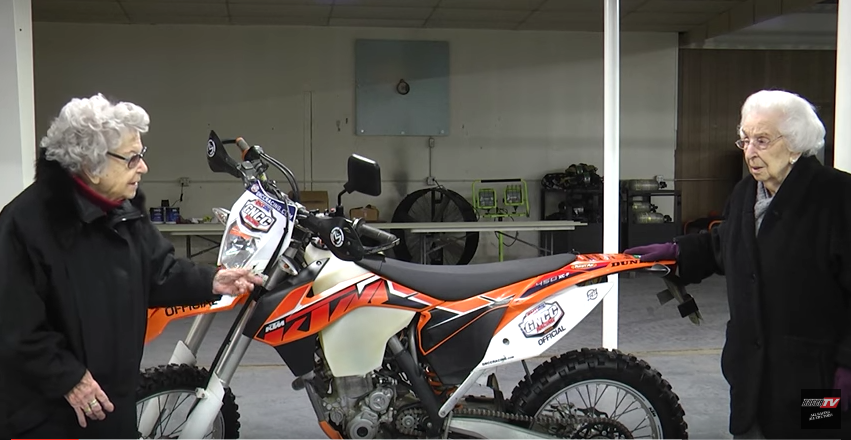 #NoBikesForBeef (Jared Bolton)
The proposed beef tariff is big news right now in the motorcycle industry. Unfortunately, it seems like there's a number of folks online who don't fully understand. I saw one comment that said "big deal, buy a Japanese bike" and others who say it would be nice to have American manufacturing jobs, so those companies should just set up shop here. Well, I feel like these people don't fully understand the potential impact this could have.
This proposed tariff would spell huge trouble for European manufacturers and it very well could cause the elimination of many jobs in the US with companies like KTM and Husqvarna. It would also be extremely devastating for smaller manufactures such as Sherco, GasGas and Beta, who already have a smaller market share. For all of them, a 100% tariff would spell disaster for their sales. At the same time, setting up a facility in the US to build this machines isn't that simple, nor is it cost effective. Wouldn't they have already done that if it was cost effective?
The Bikes for Beef tax proposal is confusing. We recently met with Gramma and Ginga to get their take on the proposal, and they think it's BS too.
Share the links and videos below with Gramma and Ginga as they try to figure out where's the beef with motorcycles! More importantly, take action by using the tools provided by the AMA to contact the United States Trade Representative to withdraw the proposal to include 100 percent tariffs on motorcycles imported from the European Union. Tag your friends and use the hashtag #NoBikesforBeef
The Office of the United States Trade Representative scheduled a public hearing on its proposal to include 100 percent tariffs on motorcycles imported from the European Union in the E.U. - U.S. beef hormone trade dispute. The proposed tariff would apply to motorcycles with an engine size between 51cc and 500cc.
The public hearing begins at 9:30 a.m. Wednesday, Feb. 15 in Rooms 1 and 2, 1724 F Street, N.W., Washington, D.C. AMA President and CEO Rob Dingman will testify, opposing the "Bikes for Beef" tax.
This is a public hearing and the AMA urges our members and others to attend. If you attend, please bring a government-issued identification. You should arrive early to allow enough time to pass through security.
Now more than ever, it is crucial that you and your riding friends become members of the AMA to help protect our riding freedoms. More members mean more clout against the opponents of motorcycling. That support will help fight for your rights - on the road, trail and racetrack and in the halls of government. If you are a motorcycle rider, join the AMA at http://www.americanmotorcyclist.com/membership/join.
If you can't make it, show your disapproval to your local senators and congressman by filling out THIS FORM on the AMA website.
Weekly Updates (Chelsea Taylor)
We are less than a month away from the big day! With that being said, things in the office have been anything but quiet. I've been working on quite a few different press releases announcing new partnerships, getting our events on community calendars and reaching out to local media outlets.
I'm sure things have been abuzz in your households as well with the final preparations coming together for the season opener. Camping will be available from Big Buck all the way until the Cannonball GNCC! Along with camping there is an area to practice at, so it's an ideal situation for those of you who are traveling from up north. For more information and to RSVP please click HERE.
As you start making your travel plans go ahead and pre-register for the first four rounds. Save yourself money and time! If that isn't a good enough reason, don't forget about the $20 Race Gas gift card that you'll receive for each race too!
It's been no surprise that Trevor Bollinger is staying with the JRC Honda team as he makes his XC1 Pro debut, but it seems as if another team member slid under the radar. Earlier this week the official team announcement went out informing us that Austin Lee would be riding red as he continues his search for the XC2 title. Austin was out for most of the season with an injury last year so it will be interesting to see what he can bring to the table this year. The Raines Riding University/Atlas Yamaha/OffRoad Viking/Trail Jesters team was also released, and Bolton will have more information on that below.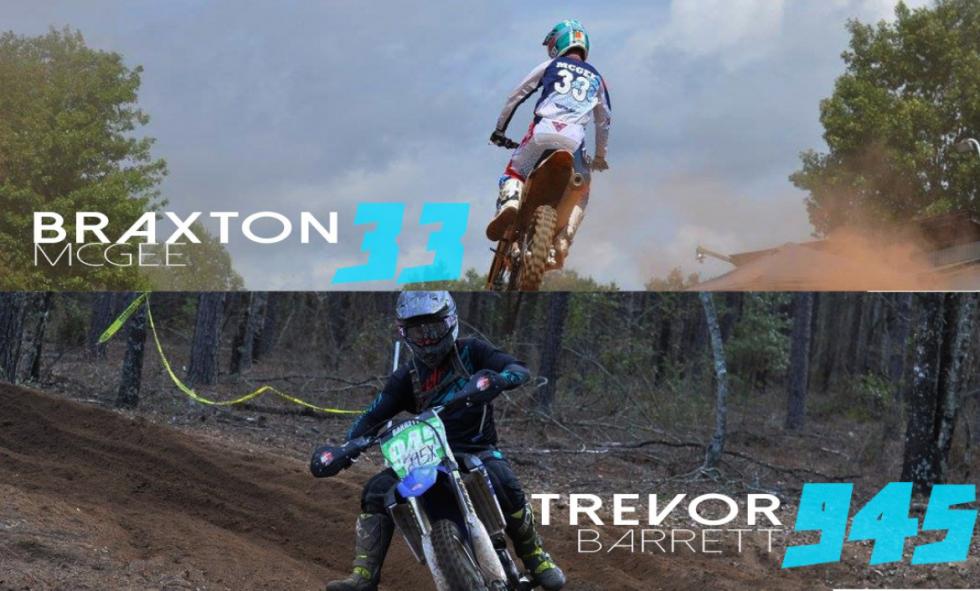 Raines Riding University/Atlas Yamaha/Offroad Viking/Trail Jesters Team Announced (Jared Bolton)
Another big piece of news to come out this week was the announcement of the Raines Riding University/Atlas Yamaha/Offroad Viking/Trail Jesters team and they're looking to be pretty strong! The team will be made up of a number of riders, with two at the forefront of the team in the XC2 class. Several weeks ago I caught up with Braxton McGee who mentioned he would be on a new color for 2017 and this announcement revealed exactly what color that would be.
Braxton, along with Trevor Barrett, will make up the team's XC2 effort. Both of these riders are strong additions to the team as Braxton finished runner-up in the 4-Stroke A Lites class last season but landed several wins and a Top Amateur finish along the way. Barrett has also landed in the Top Amateur spot before and had some top 10 XC2 finishes last season. With the right amount of support behind these riders, they could very well establish themselves as contenders in the XC2 class.
Joining them to contest the 250A class will be Zack Toth. Yes, that is the brother of XC2 competitor Josh Toth. Zack had a stellar 2016 season contesting his local NETRA series in New England, claiming the 250A class title there. He's looking to ride that wave of success into GNCC and contend for the 250A class title as well as Top Amateur honors. The team doesn't end there, either! Returning to the team will be Brody Johnson who will be making the transition to the big bike ranks in the 200A class. Brody's 2016 season was cut short due to injury but he was able to land a number of podium finishes and a win in the Supermini 14-15 class prior to that injury.
With this much talent, these guys are definitely going to be one team to keep an eye on as the 2017 season develops. Ross Mauri with Trail Jesters had a little insight into the addition of Zack to this team and you can view his latest blog HERE.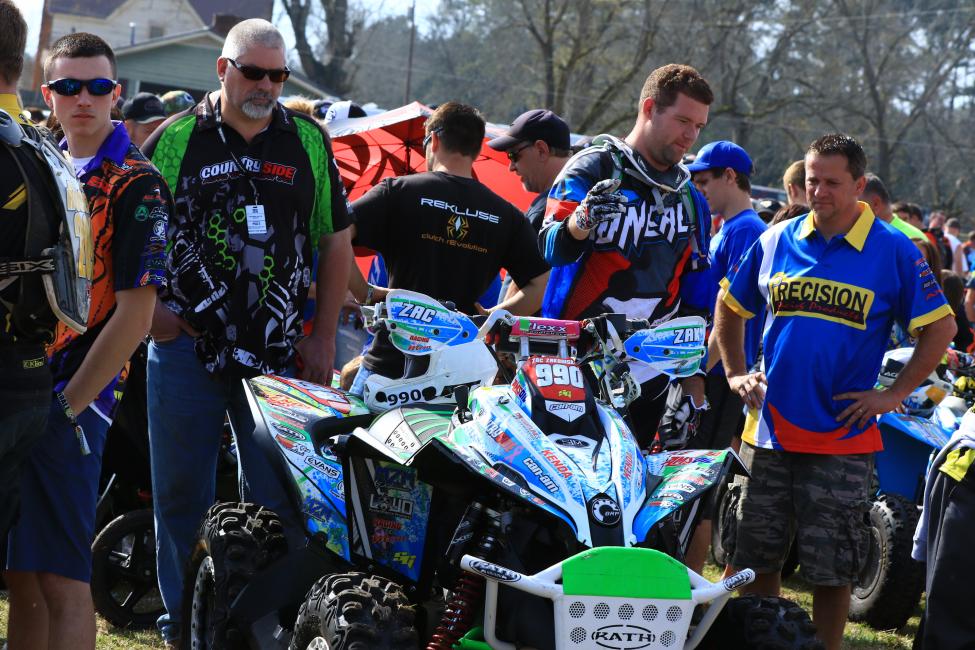 Waves of Anxiety (Rodney Tomblin)
The quickly approaching race season sets waves of anxiety as riders and teams prepare for what could prove to be one of the most highly competitive championships in history. All the makings are there for this to happen as there seems to be so much focus and very little announcements of program changes in the GNCC Racin' Nation. There have been a few changes here and there but the majority of changes are just a few shifts in different directions. This, too, points to positives, as the more familiar folks are with their programs then the easier it is to progress it.
The flip side of the great things going on in our world is like anywhere; there may be some who may not be making a return this season for one reason or another. The reasons range from money, to time and for some, even the desire. This sport weighs in heavy on folks and so many of us have so much invested that we let things slip by in the "real world" which will eventually catch up. Some may want to explore other opportunities and broaden their horizons, which is always a hard step to when you feel you have so much at stake.
This year there will be some faces missing from the starting lineups. One individual I recently spoke to has reached this crossroads in his career and says he just wants to shake things up a little. Zac Zakowski, 4x4 Pro and UTV XC1 contender, told me last year he felt like he needed a change of some sorts. I wondered what he meant and whether he meant changing up his program with a new brand or just stop racing altogether. The conclusion is to broaden his horizons.
Recently Zac told me that he is "Just chilling at home making phone calls and follow ups with sponsors and companies. Things are going pretty good. I'm just trying to get some last minute stuff to test." Zac tells me he has a whole new car and folks will be surprised when he rolls it to race. He told me that the racecar had just been built and he has spent very little time in the new practice car. However, he says it is one of the best UTVs he has ever driven. He said it was so much fun he put 60 miles on an extremely tiny track the first day alone, so to say he is inspired is an understatement.
Zac said he was going to totally switch things up and even though he will not race the GNCC UTV, he may be seen in the 4x4 Pro class but if he was it would be limited. He said he went to Florida and didn't even take a quad and the only way he will ride is if he borrows a machine. Knowing Michael Swift at Team UXC, he possibly may have an open invitation. Swift, by the way, is healing up from what I hear and we will try to have an update next week on his status and how things have gone since the crash at Ironman.
The obvious question now is what Zac will be doing since he is not racing GNCC but has built a race machine. The answer I got was "Seven weekends, 14 rounds of TORC, UTV World Championship Derby in Wisconsin. Maybe some locals but that's it!" That seems like a big scale back and actually is for someone who lined up at nearly every place he could race. And if you wonder what he will be driving, he told me he would be riding some with Walker Fowler who just recently got a UTV and would be racing in that realm as well this year. Why would Zac be testing with him? I'm no rocket scientist but Walker I know Walker is in a blue machine. I'm just saying!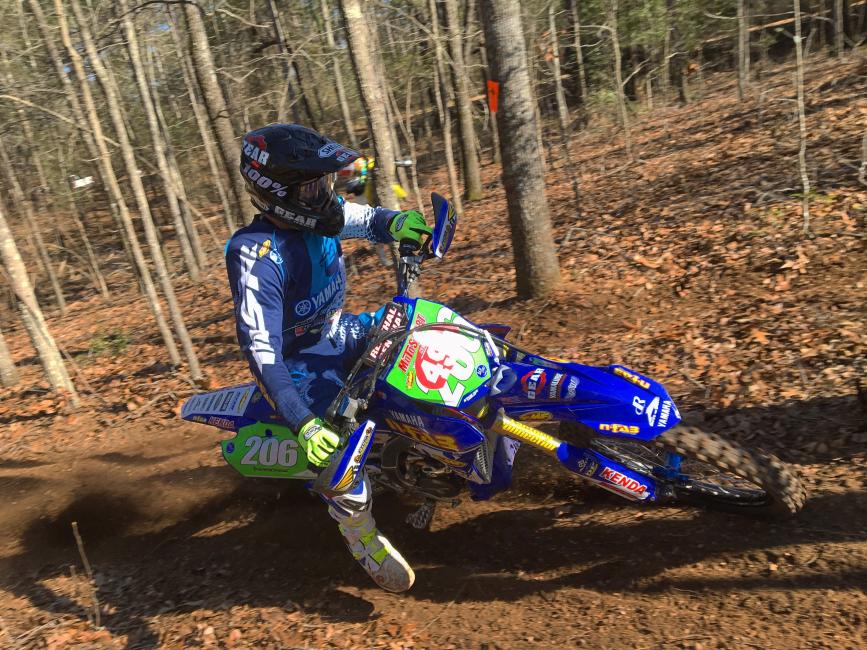 Baylor Squeaks A Win! (Jared Bolton)
By now a good majority of you have probably heard, or read about, or seen video footage from last weekend's opening round of the AMA National Enduro Series. The Sumter National Enduro always stands out as one of the biggest events of the early stages of a new year. Even years when the Sumter Enduro has not been part of the National Enduro Series, it stills sees huge numbers of riders trying their hands in the sands of South Carolina. I made the trip down to check out the action, and have a little fun riding around on my dual sport, and I'm glad I did because it was a great race.
For anyone who has never been to an enduro event, it's not a spectator sport. The courses are so long and spread out that it's hard to see much, and throw in the fact that they typically only ride a section one time, that makes it even more difficult. However, if you know where to go, you can follow the action and see it all unfold. For me, this was pretty easy since I've been to Sumter more times than I can think of off the top of my head. The SERMA club needed an extra hand at the "in" check of section two, so I spent the morning helping organize everyone before they started the second section and once we were done there, I took off to catch up on the action in the Pro class.
I caught them early in section four and picked a spot to hangout and watch for a little while. Watching those guys come through, it was pretty obvious that Steward Baylor and Kailub Russell were the two gunning for the win. Of course, Thad Duvall, Russell Bobbitt and Andrew Delong all three looked incredibly fast as well. I missed a bit of section five after being flagged down and asked to look for somebody that possibly needed help but caught back up to them at the end of the sixth and final section.
By the point, everyone has been in the saddle for quite a while and things really begin to take its toll on you. It was pretty obvious watching some of the other A class riders come through this section (C-classes cut off after four sections and B-classes cut off after five sections) However, as the Pro class riders made their way through, it was pretty obvious that a number of them were still gunning hard. Of course, once again, Steward Baylor and Kailub Russell were both extremely fast coming to the finish. Kailub looked like a man on a mission and later I would find out why.
When it was all said and done, Steward Baylor would squeak out a win by just over one second ahead of Kailub. After six sections of racing, and mind you that at an enduro, you're not racing head to head, Stu would win by just a single second! Of course, who knows what the outcome could have been. The word circulating back at the clubhouse after the conclusion of the race was that Kailub actually had a little crash in the final section, which cost him a little time. It goes to show that every second counts and many times you need to ride as flawlessly as possible in these slower, tighter enduro events.
Thad Duvall would end the day a solid third place overall ahead of Russell Bobbitt and Andrew Delong who would round out the top five. There was a number of other GNCC regulars in attendance including Trevor Bollinger, who finished a solid sixth overall. Keep in mind that Bollinger was on a 450, which any 450cc machine can be a lot of bike to handle in an enduro. Seventh went to Cory Buttrick while Grant Baylor finished eighth in his first national event aboard a Husqvarna. Jesse Groemm and Josh Toth rounded out the top ten while Chris Bach ended the day in 11th. Bach seemed to spend a lot of the day re-adjusting to the KTM and he's always willing to admit that enduros are not his strong point. While 11th may not seem like the kind of result one would want, Chris has to ultimately be fairly satisfied as it was a great learning experience.
Thorn Devlin claimed the Expert-AA class win ahead of GNCC regulars JoJo Bowden and Alex Teagarden who both put together pretty stellar rides while neither of them have a lot of past enduro experience, so great job to those guys as well! Another interesting note is that XC1 ATV competitor, Landon Wolfe, brought out his bike and ended up coming away with the Open-A class win. That's a pretty tough class and Landon had some pretty good times, ultimately finishing the day 48th overall. What's even more impressive is that Landon did this from back on row 74! Any experienced Sumter Enduro rider will tell you that the later rows make for a tough day because by the time you get to the trail, the course has gotten a little on the rough side and there's always a few spots that develop where a rider on an early row misses a turn in the thick pine needles and has to double back just a hair. This happens repeatedly until the main line in some places is actually slower than the originally marked line. Landon was definitely at a slight disadvantage back there, but he overcame it and put together a stellar ride.
Headlines
Raines Riding University/Atlas Yamaha/Offroadviking/Trail Jesters Team Announcement
Yamaha Launches ATV/SxS bLU cRU Racing Support Program
JCR/Honda Announces 2017 Race Team
AMSOIL Introduces New Diesel Oils to Exceed Updated API CK-4 Requirements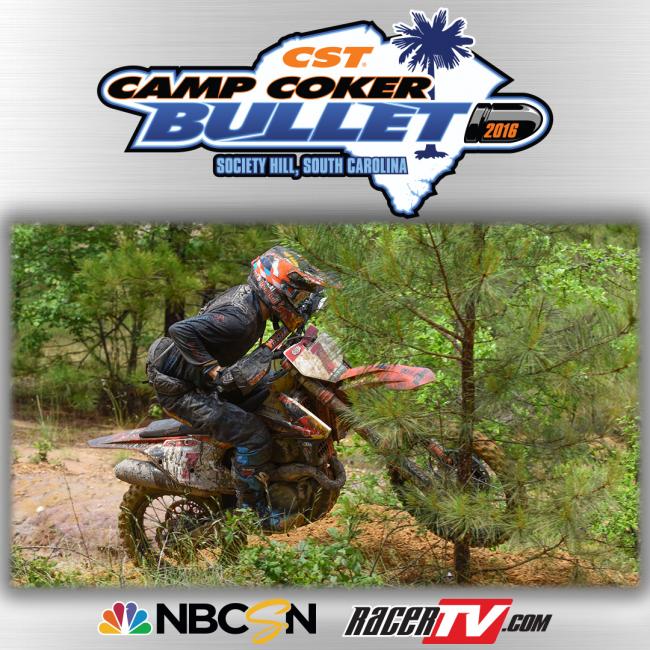 What's New on RacerTV.com?
Check out the 2016 season's NBCSN shows online now! These highlight shows are in addition to the GNCC LIVE coverage, now entering its fifth season, that features nearly 100 hours of all 32 pro race events. Filmed and produced on-site by the West Virginia-based RacerTV crew, GNCC LIVE brings live streaming video coverage from all 13 rounds of the GNCC series, allowing fans from all over the world to follow Pro ATV, Pro Bike and Side-by-Side racing all season long. To view the GNCC LIVE archived footage, click HERE.
News from GNCC, Sponsors and Riders
No Beef for Bikes
The Bikes for Beef tax proposal is confusing. We recently met with Gramma and Ginga to get their take on the proposal, and they think it's BS too.
Share the links and videos below with Gramma and Ginga as they try to figure out where's the beef with motorcycles! More importantly, take action by using the tools provided by the AMA to contact the United States Trade Representative to withdraw the proposal to include 100 percent tariffs on motorcycles imported from the European Union.
Tag your friends and use the hashtag #NoBikesforBeef
To read more, click HERE.