Speed Racer - Local Newspaper Article on Quinn Bergman
Time
Saturday, November 18, 2017 | 3:40 PM
Speed Racer Youngster Bergman Tearing up The Tracks
Story by Will Fehlinger with the Herald-Tribune
These days, it's not unheard of to hear about young people being heavily involved in travel team sports.
But what Batesville's Quinn Bergman has been able to accomplish as an 8-year-old is certain to allow him to stand out among his 3rd-grade peers at Batesville Intermediate School.
Traveling with his parents, Doug and Suzi Bergman, to tracks around the state of Indiana and as far away as the East Coast, Bergman captured the overall checkered flag on Sept. 9 in New Berlin, New York; the bright-eyed youngster beat out close to 60 competitors to win the Grand National Cross Country (GNCC) Micro Championship in ATV racing.
No small feat, considering he just wrapped up his first full year of racing earlier this month.
"I like winning, it doesn't get better than that," Quinn said, "but the whole (experience) is fun for me. When we started this sport, I knew it was going to be the one sport that I liked and something I wanted to keep doing."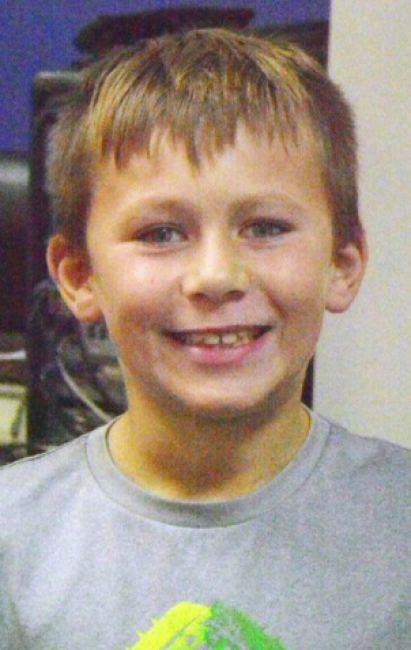 For Bergman, the thrill began as a preschooler.
"The Indiana Cross Country Racing Circuit (IXCR) has a race at a family farm in Canaan (Jefferson County) every year and we went a couple times to watch," explained Suzi. "He first raced when he was turning four and a couple more times the next year. This was his first year racing the entire Indiana circuit and Grand National circuit."
By his mother's calculations, the family has logged over 9,200 miles already in their motor home, toting their young racer to spots in Georgia, New York and North and South Carolina.
"Of the six 50-micro GNCC races, he won three, racing up to 60 kids," his proud father noted. "My dad couldn't get off work, so he retired just to go along to New York to watch Quinn."
Suzi decribed a typical race.
"It's a timed race, from 45 minutes to an hour," she said. "Each class by motor size is on a different row and, every 30 seconds, a row takes off on the course that is anywhere from 2 to 4 miles long through woods, up and down hills and across creeks and fields. Every kid has their own transponder and each lap is tracked by a computer. At about 35 minutes, they wave a white flag and onto the checkered flag."
"There could be 250 kids going into the woods within 5 minutes," Doug added. "They start out at 150 (cubic centimeters) and go down to 70. All run at the same time, but overall points scoring and individual rows are scored separately. He finished third at 70 cc at Grand Nationals, competing in an 11-year-old class."
The Indiana circuit begins in February at Attica's Badlands and continues at sites mostly located in the southern or western parts of the state, i.e. Bedford, Greencastle and Crawfordsville, the latter's Ironman Raceway being Quinn's favorite. Then it's on to the national trips, when a cadre of Hoosier kids and their entourages set off for tracks such as Snowshoe in West Virginia.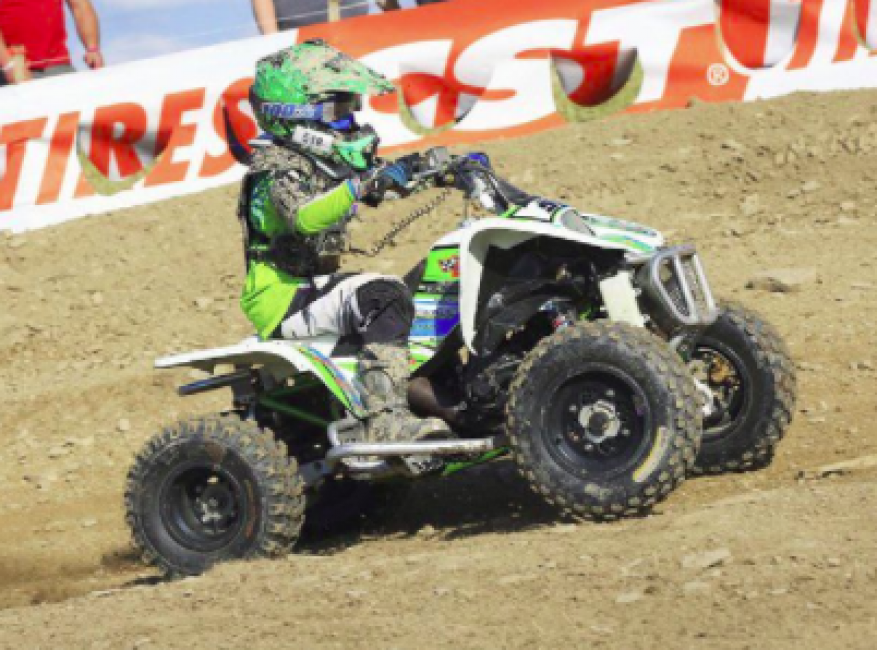 "We roll in with our motor homes and whoever's first saves spots for all the Indiana families," Doug related. "We camp together all weekend." Suzi added the mini-vacations start Thursday with racing at two different times on Saturday.
As Doug says, 26 racing weekends provide more than enough practice time, but Quinn sometimes heads to an indoor track in Kentucky with one of his small fleet of ATVs and dirt bikes.
"We have a 20-acre farm with a little trail back in the woods," Quinn said. "Our neighbors bought a little land that they don't really use, so they let us do stuff back there. Dad made me a little track with some jumps."
The family team has had to learn on the fly when it comes to circuit sponsorship and finances, as Suzi noted.
"It being our first year, we went in kind of blind," she said. "We didn't know the types of sponsors to get or what they do for you. We learned some will pay entry fees or give out free tires, for example."
On that front, Quinn is faring well.
Moose Racing is doing all his apparel, Kenda is providing tires and DP brakes and clutches. Locally, Daffodilly's and Affinity Graphics and Tees are behind him, as well as Doug's excavating outfit. R C Motor Sports, Brookville, builds his motors while Oldenburg's Hilltop Motorsports help him with realignments.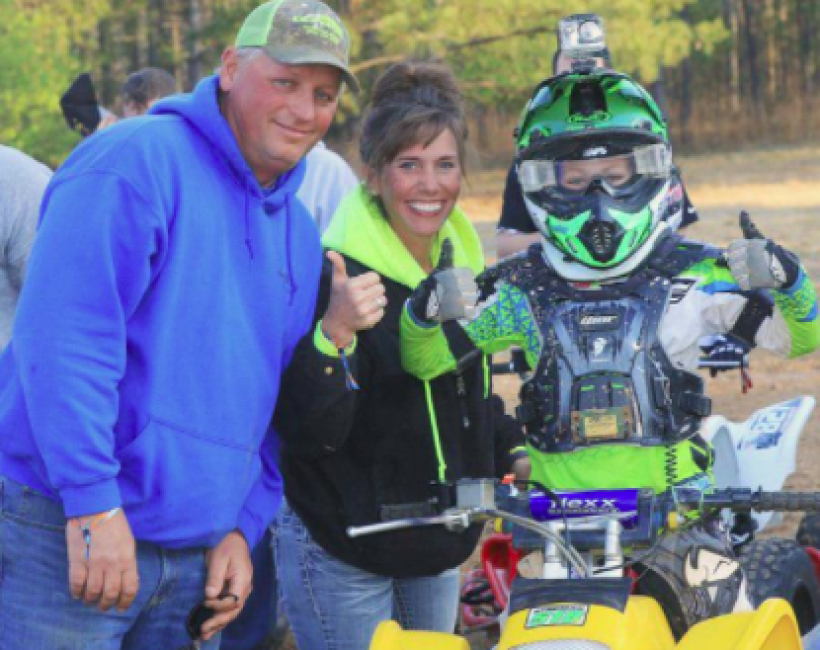 What does Quinn's racing crystal ball reflect?
"I want to be a pro racer like Adam McGill," he says of an idol who fist-bumps every young racer at the Grand National courses.
Doug says his son will race strictly 70 cc's next year, but not before awards banquets this winter in West Virginia and Lawrenceburg, celebrating great national and Indiana seasons, respectively.
But Quinn doesn't think long-term. He's looking forward to the start of shotgun season Saturday.
"We just bought a new blind and I'm going deer hunting with my dad this weekend, in the rain," he grinned.
Will Fehlinger can be contacted at [email protected] or 812-934-4343, Ext. 112.